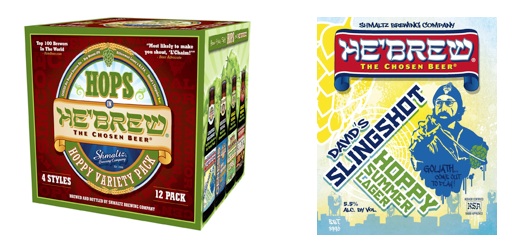 (NEWS) "How to Say Hops In HE'BREW" – Shmaltz Brewing's Summer Variety Pack & Debut HE'BREW Lager!
HOW TO SAY HOPS IN HE'BREW Shmaltz Brewing Debuts the Hops In HE'BREW Hoppy Variety Pack, A Limited-Edition Seasonal 12-Pack Featuring Four Shmaltz Selections, Including the First-Ever Lager in the HE'BREW Beer Line-up, David's Slingshot Hoppy Summer Lager
Clifton Park, New York & Beyond! – June 17, 2013 – As craft beer continues to gain mainstream momentum, it is remarkably clear that beer drinkers love their brews hopped up. IPA's are the most popular single beer style in the American craft beer market right now, and there is little indication that our desire for the bitter end in our brews is abating anytime soon. Shmaltz gives hopheads a reason to rejoice by introducing the Hops In HE'BREW Hoppy Variety Pack®, and the newest member of the HE'BREW® line-up — David's Slingshot Hoppy Summer Lager®. In honor of David and his slingshot, Shmaltz raises its glass to the little guys who are making a BIG impact in the beer industry at large.Hops In HE'BREW Hoppy Variety Pack® (May – August 2013)
Giving new meaning to "adult education," Shmaltz's brand spanking new Hops In HE'BREW Hoppy Variety Pack® will have you memorizing this equation in no time: four hop-centric, 12 ounce beers in one Hoppy Variety Pack equals a very happy hophead. The Hops In HE'BREW Hoppy Variety Pack® is made up of Genesis Dry-Hopped Session Ale®, Hop Manna IPA®, Bittersweet Lenny's R.I.P.A.® and HE'BREW's debut seasonal lager — David's Slingshot Hoppy Summer Lager®. Variety packs are the spice of the craft beer world and the fourth most popular craft beer "style" in the country; combine the enthusiasm for variety packs with the fervor over hoppy beers and you have a match made in craft beer heaven — the Hops In HE'BREW Hoppy Variety Pack®. Please note that outside of the Hops In HE'BREW Hoppy Variety Pack®, David's Slingshot® will only be available on draught nationally.
Scoring a Hop Victory With David's Slingshot Hoppy Summer Lager® (May – August 2013) Once upon a time a young shepherd named David defeated the Goliath summer lager market by using his slingshot to fling a cascade, saaz, summit, citra and crystal hop into a smooth, refreshing, seasonal brew. The result: a victorious, sessionable summer sensation with plenty of hoppy goodness, and a bit of rye on the finish. David's hand-crafted slingshot will prove a beer-force to be reckoned with at any summer gathering. Look for HE'BREW's® first lager on draft, or in 12 ounce bottles as part of the Hops In HE'BREW Hoppy Variety Pack® this summer.
"It's fascinating how craft beer is surging while big beer companies are trying to catch up by marketing look-alike 'craft' beers," says Jeremy Cowan, Proprietor of Shmaltz Brewing Company. "Craft brewers are now releasing a slew of 5% abv lagers and ales — true session beers — across their entire production in order to storm the shelves and taps held in the past so securely by the largest competitors. These fizzy golden beers perhaps appear similar to the largest mass produced distant relatives — but with a level of craftsmanship, detail, innovation found only in the small batches and risk taking of the family of passionate small business artisans. Our first HE'BREW® lager, David's Slingshot, is our way of stepping into the action in mainstream settings — with an obvious signature Shmaltz style — our chosen shtick!"
About Shmaltz Brewing Company Ranked in 2013 as one of the "Top 100 Brewers in the World" by RateBeer.com, Shmaltz won 9 Gold and 5 Silver Medals in the Word Beer Championships in 2012. A recipient of the "Distinguished Business Award" by the Brooklyn Chamber of Commerce, Shmaltz was also included in the "Top 50 Fastest Growing Bay Area Companies" by San Francisco Business Times.
Established in San Francisco in 1996 with the first batch of 100 cases of HE'BREW Beer® bottled, labeled, and delivered by hand, Shmaltz has sold more than ten million bottles of beer to date. Along with their acclaimed line of HE'BREW Beers®, Shmaltz introduced its sideshow-inspired Coney Island Craft Lagers® which celebrate the spirit of "America's Playground." Shmaltz offerings are available in more than 30 states through 35 wholesalers at more than 3,500 retail specialty shops across the U.S.
In 2010/11, Shmaltz proprietor Jeremy Cowan published his small business memoir, Craft Beer Bar Mitzvah: How It Took 13 Years, Extreme Jewish Brewing, and Circus Sideshow Freaks to Make Shmaltz Brewing Company an International Success. A free sampling of Chapter One and suggested beer pairings, can be viewed at www.craftbeerbarmitzvah.com.
With the opening of the "World's Smallest Brewery" in Coney Island, NY (1-gallon at a time, since 2011), Cowan spearheaded the creation of the non-profit New York City Brewers Guild in 2012 and serves as its President.
After 16 years as one of contract brewing's loudest cheerleaders, Shmaltz is breaking with tradition and opening its own New York State production brewery. Located in Clifton Park, NY, 10 minutes north of Albany's capital district, Shmaltz's new home boasts a 50-barrel brewhouse with 20,000 barrels of annual capacity. The heart of Shmaltz's new operation features a custom-made, 5-vessel manual workhorse brewhouse as well as 8 fermentation and 2 bright beer tanks manufactured in the US from Oregon's JV Northwest. The 120-bottle-per-minute packaging line comes from the well respected Italian experts at SBC/BC International. The new Shmaltz brewery will package 12 and 22 ounce bottles and kegs of their diverse core and seasonal favorites. The official, public grand opening bash will take place on Sunday, July 7, 2013.
Cowan recently appeared at the 2013 Craft Brewers Conference speaking about the transition from contract brewing to in house production as well as small batch brand strategies. He has also presented at the Great American Beer Festival, BevNet's Brewbound conference, Beer Advocate's Extreme Beer Festival, the Atlanta and the St. Louis Jewish Book Fairs, and the San Francisco and New York Jewish Museums.
Shmaltz Brewing beers have appeared in such distinguished media outlets as The New York Times, CNN Headline News, The Onion, Fox Business News, Beer Advocate Magazine, Celebrator Beer News, Ale Street News, NPR's "Weekend Edition," New York Magazine, Men's Health, Playboy, Associated Press, Reuters, MSNBC, San Francisco Magazine, The Jerusalem Report, New York Jewish Week, Washington Post, MAXIM, Forbes.com, Smartmoney.com, Entrepreneur.com, Epicurious.com and BrewBound.com.
———————————————————– From the label of David's Slingshot Hoppy Summer Lager®
As a young shepherd, David famously vanquished the giant Goliath with a hand-crafted sling. Our modern anti-hero Bart Simpson clowns through childhood with a slingshot. Homer, Caesar, and Thucydides wrote of slings. The IRA, the Incans vs the Conquistadores, and Native Americans have all wielded this iconic weapon of the underdog. A low-status tool, ancient slings were rarely preserved in the tombs of the wealthy. Michelangelo's David embodied resistance and epic beauty in the Renaissance. Slingshots meant merry mischief to Dennis the Menace, Calvin, Woody Woodpecker and the Beverly Hillbillies. A musician and poet, the teenage David rescued his sheep from the mouth of lions. The first to unite the entire nation of Israel, the lineage of the Messiah descends from him. In Samuel 17, rising to the boasts of a mighty enemy, David refused the armor and weapons of the King, instead proclaiming victory, "Not by my sword but by my Spirit." David in Hebrew means "Beloved". I am approaching the age that my dad, David, died when I was a teenager. A lifelong Special Ed teacher and summer Army reservist, he served as both loving mentor and affable prankster — a dedicated advocate for the underdog. In Alchemy, the Star of David equals the mystical union of male/female & earth/sky leading to nirvana. The 6-pointed Brewers Star blends fire, water, malt, yeast, hops, and the character of the brewer. In the spirit of a slew of Davids and Slingshots, Shmaltz hoists our tribute to the glory of Summer… L'Chaim!
From the label of Hop Manna®
In the book of Exodus, the ancient Hebrews survived 400 years of bondage before the ultimate supreme court dropped the 10 deadly Plagues on the land of the taskmasters and the head dictator, Pharaoh. Even then, only begrudgingly, did he Let My People Go. The freedom ride across, nay through the sea left a band of wandering nomads broke and suffering, no doubt with a profound hunger — and a mighty thirst. Enter the Manna: a glorious gift to nourish body and soul. Manna was said to combine the tastes of everything most delicious to each individual, depending on their desire. And as the Good Book says, Each shall gather according to one's need and shall enjoy a double portion for thine chosen day of rest. Manna fed the entire tribe, but tradition suggests the righteous received manna ground in a heavenly mill, while the wicked had to grind it below for themselves. Hear o' Tribe of Shmaltz — Behold: A celebration of the flower of the craft beer revolution! A golden opportunity to feed your inner hop head and rejoice in HOP MANNA, our newest delicacy of the modern He'brew Beer family. L'Chaim!
– Jeremy Cowan, proprietor
For more information, please visit: www.shmaltzbrewing.com ###
Contact Info
Company: Shmaltz Brewing Company
Contact: Jesse Cutler
Email: publicity@jpcutlermedia.com