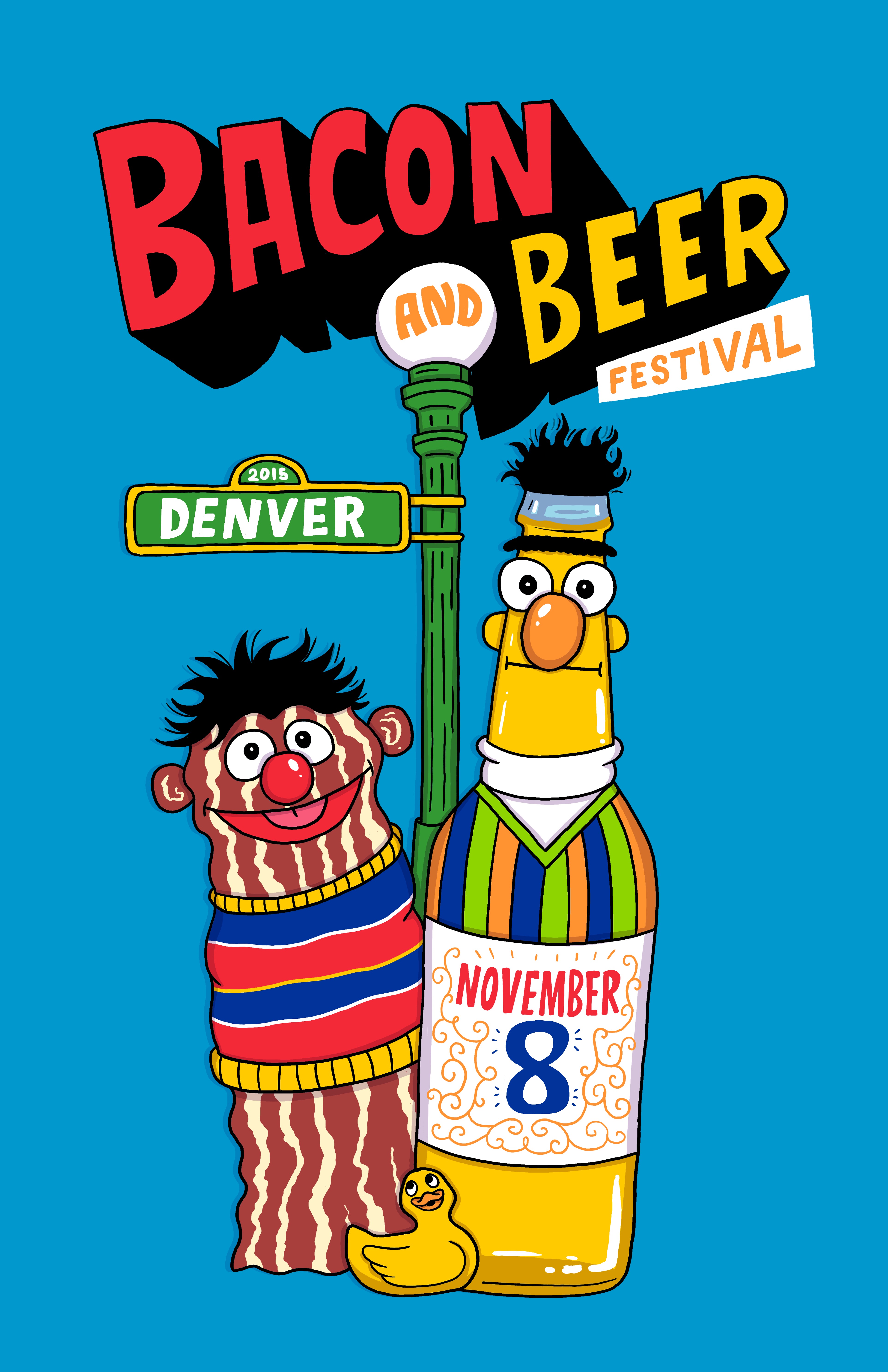 Denver Bacon and Beer Festival Returns for a Fourth Year
Dinner and festival will have you praising the lard!
DENVER – Oct. 7, 2015 – For the past three years, EatBoston and Denver Off The Wagon have been bringing mouth-watering, innovative bacon dishes paired with thirst quenching beers to the people of Denver. This year Imbibe Events is joining the duo to help create the ultimate bacon and beer spectacular. The Denver Bacon and Beer Dinner and Festival will take place the weekend of November 7th and 8th.
"Anticipation is already building for this year's weekend of festivities," said Aaron Cohen, founder of the Bacon and Beer Festival series. "Denver has been a great host to us and I am so excited to see what the city has in store of us this year!'
The weekend will start with a five course beer dinner featuring five local chefs paired with five different breweries at The Lobby (2191 Arapahoe St. Denver CO) on Saturday from 6:00 – 9:00 p.m. Participating restaurants and breweries include Second Home Kitchen + Bar, The Lobby, Max's Wine Dive, Great Divide Brewing Company, Wit's End Brewing Company, Call To Arms Brewing Company, Crooked Stave Artisan Beer Project, Spangalang Brewery and The Post Brewing Co. Pairings will be announced later this month. Tickets go on sale on October 7th at 10 a.m. MST for $75.
Sunday afternoon, bring your appetite to the Denver Bacon and Beer Festival at The Glitter Dome (3600 Wynkoop St., Denver CO) from 2:30 – 5:00 p.m. The fourth annual festival will feature more than 50 restaurants and breweries.
Participating breweries and restaurants include:
4 Noses Brewing Company
ACGolden Brewing Company
Argyll Whisky Beer
Bacon Social House
Blackbird Public House
Block & Larder
Boulder Beer Company
Brazen Neighborhood Eatery
Breckenridge Brewery
Butcher's Bistro
Call to Arms Brewing Company
Colorado Cider Company
Crazy Mountain Brewery
Crooked Stave Artisan Beer Project
Denver Beer Co
Elevation Beer Company
Epic Brewing
Euclid Hall
Fiction Beer Company
Great Divide Brewing Company
Grimm Brothers Brewhouse
Hopdoddy
Ignite
Jax Fish House Glendale
Kachina Southwestern Grill
Kevin Taylor Restaurant Group
Left Hand Brewing Company
Lena
MAX's Wine Dive
Mockery Brewing
Next Door Union Statoin
Oskar Blues Brewery
Our Mutual Friend
Prost Brewing Co
range
Ratio Beerworks
Renegade Brewing Company
River North Brewery
Rocky Mountain Institute of Meat
Second Home Kitchen + Bar
Spangalang Brewery
Storm Peak Brewing Company
Strange Craft
Telegraph
The Corner Office
The Lobby
The Post Brewing Company
Wit's End Brewing Company
Wynkoop Brewing Co
In the past three years, these two events have raised more than $57,000 for Project Angel Heart and Metro Caring. Last year the festival introduced Beast in Show, the people's choice for best restaurant and brewery. In 2014, the people named EDGE Restaurant and Former Future Brewing Company.
Festival tickets can be purchased online starting October 7th at 10 a.m. at imbibe-events.com  for $50 – $75.
About Eat Boston
Eat Boston conceives and produces unique food events originally in Boston, but now across the country. The events often feature multiple restaurants serving food around a specific ingredient or theme, along with supporting local non-profit organizations. Some events include Guacaholics Anonymous, Ice Cream Showdown, Tacopocalypse, Steakcation, and the BLT Battle at Sea Karaoke Harbor Cruise. For more information on Eat Boston visit http://www.wheretoeat.in.
About Imbibe Events
Imbibe is a Denver-based event production and ticketing company that coordinates with the best restaurants, bars, music venues and other fine establishments to create craft events! Imbibe has produced events such as the Denver Beer Festivus, Collaboration Festival and the Big Eat. For more information, visit www.imbibe-events.com.
Contact Info
Company: Lexa PR/Imbibe Events
Contact: Alexandra Weissner
Email: alex@lexapr.com