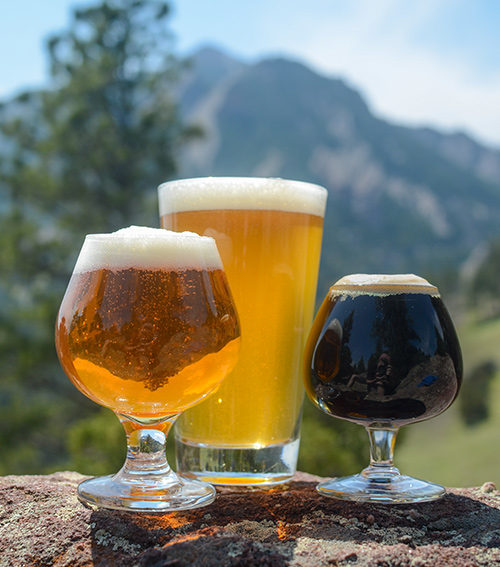 Camping with Craft Beer
The weather is getting warmer, the days are getting longer and everything is in full bloom—which can only mean one thing: It's camping season!
When it comes to beer for camping, I recommend bringing a combination of both cans and bottles. For outdoor adventures like hiking and kayaking, bring some cans of crisp, refreshing, low alcohol styles like pilsners, wits and pale ales (it's important to keep hydrated). Cans are also lighter and easier to carry, and they can be crushed to ease packing-out your trash.
For the campsite itself, bring some choice bottles—you know, the ones you've been saving for a special occasion. Big, rich, boozy beers are great for passing around the campfire at night. If anything, they'll keep you warm!
As for cooking at the campsite, I recommend doing most of the prep work at home. Not only will it give you more time to bond with Mother Nature, but it also makes cleaning so much easier (scrubbing cooking pans in the middle of the woods isn't exactly my idea of fun).
Here are two of my favorite tried-and-true, beer-infused camp-friendly* recipes. Both of these recipes pair extremely well with stouts and porters—especially chocolate and smoked versions.
*These recipes would be a stretch for a back country outing, but for a weekend getaway at your favorite state park or car camping (glamping) these recipes are sure to make for some happy campers!
Chocolate Stout Baked Mac n' Cheese
Not to toot my own horn (too much), but this is quite possibly one of the best recipes I've ever invented. It calls for five different types of cheese, including Gorgonzola, which is one of my favorite cheeses to pair with stouts. This dish serves 4-6, but feel free to double it up for a larger group.
Ingredients
½ cup butter (1 stick) ¼ cup flour ¼ cup chocolate stout (or dry stout) 1 cup half and half ¼ lb. Brie 8 oz. cream cheese (1 package) ¾ cup crumbled Gorgonzola cheese 1 ¼ cup shredded cheddar cheese ¾ cup grated Parmesan cheese, divided 2 cup dry elbow pasta Salt and pepper ½ cup panko or bread crumbs disposable (aluminum foil) baking pan with lid Charcoal, lighter fluid, matches etc.
Directions
Boil pasta in salted water until al dente, strain and put aside. In a medium size, heavy-bottom pot, melt the butter over medium heat. Whisk in the flour to form a light roux. Slowly whisk in the beer and half and half. Add the Brie and cream cheese to the sauce, stirring until the cheeses are melted and incorporated. Stir in the Gorgonzola, cheddar and half the Parmesan. Stir until cheese sauce is blended and then add the pasta. Taste and adjust the seasonings as desired with salt and pepper.
Pour mixture into disposable baking pan and top with remaining Parmesan cheese and panko crumbs. Put the lid on the pan and seal it super tight. Refrigerate and store in a cooler until ready to cook. When ready, create a fire pit, light the coals and "bury" the mac & cheese in them, making sure that the hot coals are both under and on top of the pan. Do not put the pan directly on the fire—just the hot coals. Cook for 20-30 minutes (depending on the temperature of the coals).
Stout-Infused Marshmallow & Bacon S'mores
Chocolate, beer and bacon all mixed together—need I say more? Didn't think so. Supplies you will need for the campsite include: box of graham crackers, thin chocolate bars, six strips of bacon and beer marshmallows (recipe below).
Skewer the marshmallows on a stick (or coat hanger) and cook over a fire until brown on the outside and soft and gooey on the inside. Layer the s'more: graham cracker first, then chocolate, then beer marshmallow, then bacon, and cap it off with another graham cracker.
Beer Marshmallows
Ingredients
½ cup powdered sugar 3 packets unflavored gelatin 1 cup cold, flat stout, divided in half 2 cup sugar ½ cup light corn syrup ¼ tsp salt 2 egg whites 1 Tbsp vanilla
Directions
To make the beer flat, whisk it in a bowl for a minute, then refrigerate for an hour. Pour half a cup of the beer in a mixing bowl and sprinkle gelatin over it, set aside. In a medium saucepan, heat the granulated sugar, corn syrup, salt and other half cup of beer over low heat, stirring until the sugar is dissolved. Increase heat and bring to a boil until the liquid reaches 245°F.
Remove pot from heat and pour liquid over the gelatin mixture, stirring until gelatin is dissolved. Beat mixture with an electric mixer on high speed until it has nearly tripled in volume, roughly 10-12 minutes. In a separate mixing bowl, beat egg whites with an electric mixer until they hold stiff peaks. Add egg whites and vanilla to sugar mixture and beat until just combined.
Lightly grease bottom and sides of a square cake pan, dust bottom and sides with powdered sugar. Pour mixture into loaf pan and sift some powdered sugar evenly over top. Chill marshmallow, uncovered, until firm (at least four hours), then cut into squares.
Beer Pairings
Roasty malt flavors really play well with both of these recipes—especially with the added smoke from cooking over an open fire. As with most recipes that include beer, I suggest pairing each dish with the same beer used to make it. Recommended styles include chocolate stouts, dry stouts, porters and smoked porters.
Recommended Beers
What's your favorite beer to camp with?
CraftBeer.com is fully dedicated to small and independent U.S. breweries. We are published by the Brewers Association, the not-for-profit trade group dedicated to promoting and protecting America's small and independent craft brewers. Stories and opinions shared on CraftBeer.com do not imply endorsement by or positions taken by the Brewers Association or its members.