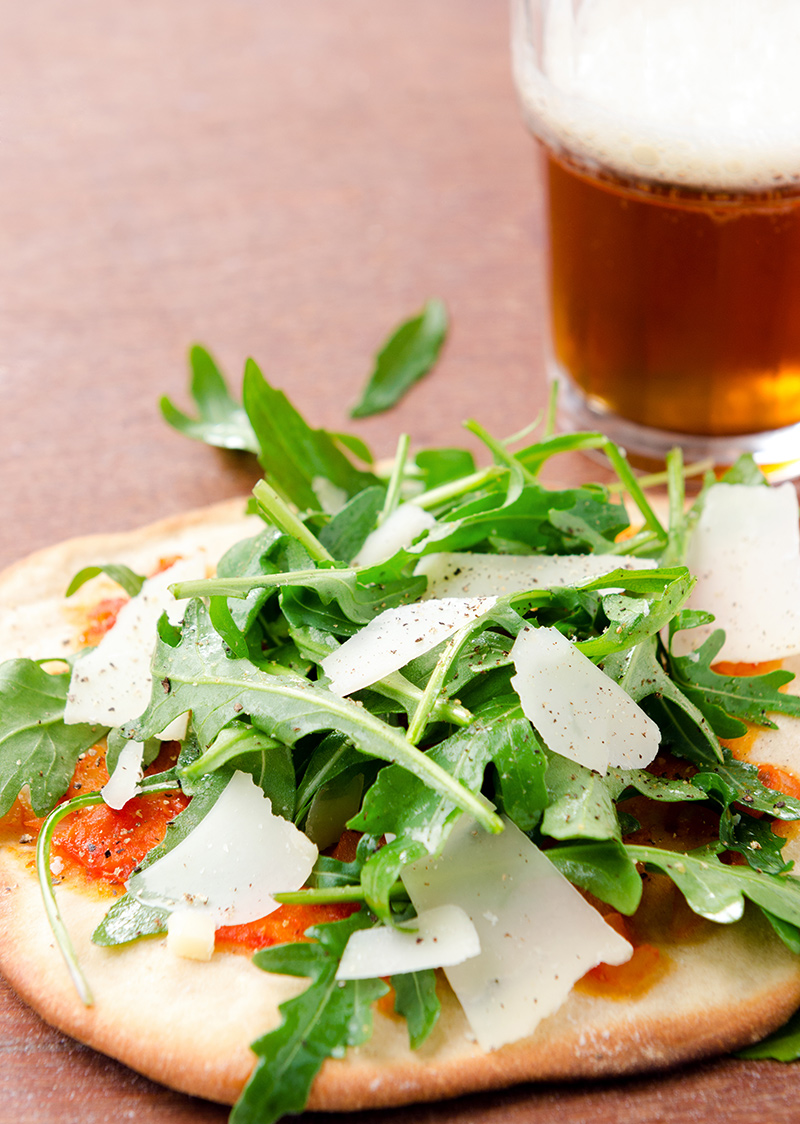 Craft Beer and Pizza: 7 Regional Pies and Pints
With three billion pizzas sold in America every year and 350 slices eaten each second, it's no doubt that we love pizza. And since we also adore beer, it is only fitting that pizza and beer have become quite the dynamic duo. Our pizza obsession lead me to discover these seven regional pizza styles and craft beers made nearby that compliment each unique pie perfectly.
Chicago Deep-Dish & Double IPA
The Windy City is known for Midwest appetites and they have a pizza to match. A deep-dish pizza can easily measure four inches high and requires a knife and fork. To ensure that the cheese doesn't burn on these pies, the toppings are loaded upside down—cheese, toppings and then sauce. These deep-dish masterpieces are baked in a round steel pan and can be filled with any typical American pizza toppings, but the most popular choices are chunks of juicy Italian sausage, green peppers and mushrooms.
To stand up to this dense pie, grab one of these imperial or double IPAs from Chicago.
Atrocious Double IPA | Haymarket Pub & Brewery | Chicago, IL Camel Toe Double IPA | Piece Brewery | Chicago, IL Messenger Imperial IPA | Spiteful Brewing Co. | Chicago, IL Simcoe Ninja Imperial IPA | Pipeworks Brewing Co. | Chicago, IL
New York Thin Crust & Blond Ale
There are an estimated 1,600 pizza places in New York City serving the city's famous thin-crust style. It's rumored the crust has a one-of-a-kind flavor due to the mineral content in the city's water. Quite fitting for the fast-paced city, New York pizza is often served by the slice, folded lengthwise and eaten on the go.
This thin and simple pizza needs the lightness of a blonde ale as to not overshadow its subtle flavors.
Beached Blonde | The Blind Bat Brewery | Centerport, NY Blonde Belgian | Andean Brewing Co. | Blauvelt, NY Beyond Blonde | Water Street Brewery | Binghamton, NY Honey Blonde | Yonkers Brewing Co. | Yonkers, NY Steadfast Golden Blonde Ale | Steadfast Beer Co. | Albany, NY
Philadelphia Tomato Pie & Fruit Beer
Pizza in America usually consists of three main components: crust, sauce and cheese. But in Philly, they abandon the cheese and make something known as a tomato pie, in which a chewy, bready dough is baked into a square or rectangular shape and covered in rich, slightly sweet, chunky tomato sauce.
Play up the sweet and tart flavors from all of those tomatoes with a fruity beer.
Alexander Saison | Free Will Brewing Co. | Perkasie, PA Cherry Dunkelweizen | Vault Brewing Co. | Morrisville, PA Cranberry Kolsch | Dock Street Brewery | Philadelphia, PA PYNK A Tart Berry Ale | Yards Brewing Co. | Philadelphia, PA Schuylkill Punch Raspberry Ale | Manayunk Brewing Co. & Restaurant | Philadelphia, PA
California-Style & Wheat Beer
Made popular by Wolfgang Puck more than 30 years ago, this pizza isn't characterized by a cooking method, a topping or the crust. California-style is known for leaving off the traditional toppings and instead using fresh or unexpected ingredients like barbecued chicken, arugula, shredded carrots and goat cheese.
Compliment the fresh vegetables on this pie with a lighter wheat beer.
Half-wit | Bravery Brewing | Lancaster, CA Hell or High Watermelon Wheat Beer | 21st Amendement Brewery Cafe | San Francisco, CA Lemon Heights Hefeweizen | Tustin Brewing Co. | Tustin, CA Witte Snack Belgian Style Wheat Beer | Acoustic Ales Brewing Experiment | San Diego, CA Wahoo White | Ballast Point Brewing Co. | San Diego, CA
St. Louis-Style & IPA
The St. Louis pizza crust is so thin and crisp, it's often compared to a cracker. Atop this wafer-like crust, you'll find an oregano-filled sauce. Finally it's topped with a unique mixture of cheddar, Swiss, and provolone.
With the boldness of the oregano and more distinctly flavored cheeses, these hoppy IPAs from St. Louis breweries can stand up to the flavors and act as a palate cleanser.
Divided Sky Rye IPA | 4 Hands Brewing Co. | St. Louis, MO Imperial IPA | Ferguson Brewing Co. | St. Louis, MO Northdown IPA | Square One Brewery & Distillery | St. Louis, MO Six Row Black IPA | Six Row Brewing Co. | St. Louis, MO STLIPA | Urban Chestnut Brewing Co. | St. Louis, MO
Quad City-Style Pizza & Brown Ale
The pizza dough found in the Quad City—a group of five cities on the Iowa–Illinois boarder—is seasoned and malt-heavy, giving it a toasty taste. Ground cayenne and red chile flakes give the sauce a kick. A thin layer of sauce and toppings, usually ground sausage spiked with fennel, are embellished with a mixture of Italian cheeses. Finally, these pizzas are thin-crusted, meaning Quad City's pies are relatively fast to make fresh—20 minutes or less, start to finish.
A malty, nutty brown is ideal for the bready crust and flavorful enough to stand up to the spice of the sauce.
Farmer Brown Ale | Great River Brewery | Davenport, IA Raging River Ale | Front Street Brewery | Davenport, IA Scotch Terrier Rauchbier | Blue Cat Brew Pub | Rock Island, IL The Bennie | Granite City Food & Brewery | Davenport, IA
New Haven-Style Pizza & Stout or Porter
This Connecticut pizza is cooked at ultra-high heat in a brick oven, taking only a few minutes to reach crispy perfection. Toppings are simple and typical of the rest of the country, except for the white clam pie. The crust of this special pizza is drizzled with olive oil, topped with oregano, chopped garlic and juicy littleneck clams, and served with grated Parmesan cheese.
The silkiness of the clams pairs texturally well with a smooth stout or porter.
Back East Porter | Back East Brewing | Bloomfield, CT Damn Good Stout | BruRm At Bar | New Haven, CT Imperial Russian Stout | New England Brewing Co. | Woodbridge, CT Midnight Oil | Beer'd Brewing Co. | Stonington, CT Moonbeam Stout | Cambridge House Brew Pub | Granby, CT Toadstool Oat Stout | Firefly Hollow Brewing Co. | Bristol, CT
---
Kristen Kuchar, author of Mac n' Cheese to the Rescue, is a writer and editor that is fortunate enough to cover her greatest interests: travel, food, and craft beer. The Chicago native recently returned from a twenty-one state culinary and beer road trip where her passion in both increased even more. She is also a member of the Pink Boots Society.
CraftBeer.com is fully dedicated to small and independent U.S. breweries. We are published by the Brewers Association, the not-for-profit trade group dedicated to promoting and protecting America's small and independent craft brewers. Stories and opinions shared on CraftBeer.com do not imply endorsement by or positions taken by the Brewers Association or its members.