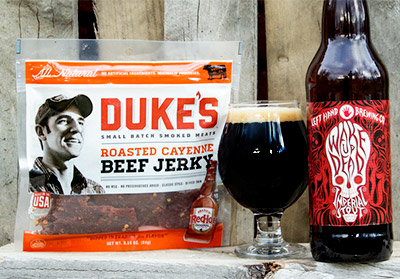 Craft Beer, Meet Craft Jerky: Colorado Edition
There is no better place to kick back and enjoy a fresh, crisp brew than the Napa Valley of craft beer: Colorado.
At Duke's Small Batch Smoked Meats, our jerky-obsessed company prides itself on the craft of making jerky. From the cut of meat, to the simplest of ingredients, all the way to the preparation and smoking techniques—we consider every detail an art. That's why it came as no surprise when Justin "Duke" Havlick chose Left Hand Brewing Company, which upholds similar values of using uncomplicated ingredients, to help promote the newest trend of pairing craft beer with Duke's craft made jerky.
Below are the favorite pairings of Duke's Smoked Meats and Left Hand Brewing Company. And trust us, they are nothing less than craft perfection!
How to Pair Jerky with Craft Beer
The general rule of pairing beer and jerky is to start with the milder items and work your way up to the bolder flavors. Ideally, you want to start by tasting the jerky first, smelling the aroma of the beer and then taking a sip, letting the flavors settle on your tongue. Repeat. Enjoy.
Something to keep in mind while pairing is the intensity of flavors. For example, you don't want to pair a spicier beer with a spicy jerky. Start with a mild jerky and beer and work your way up through various levels of boldness and intensity.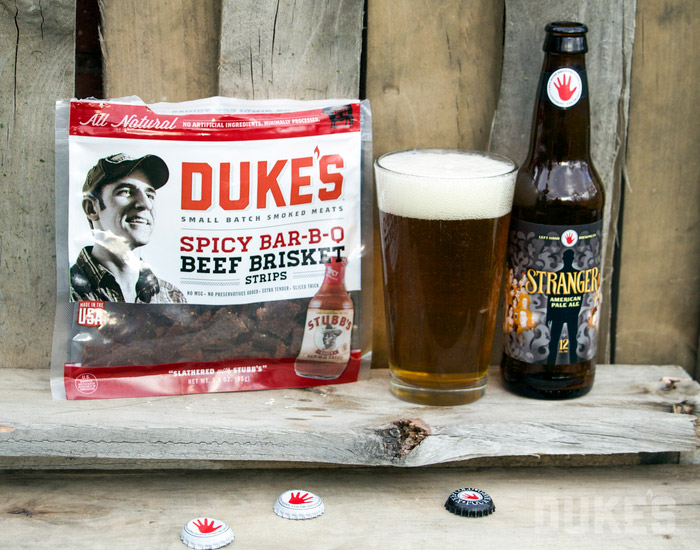 1. Duke's Spicy Bar-B-Q Beef Brisket Strips & Left Hand Stranger Pale Ale
Take off your hats and salute Old Glory; the Stranger Pale Ale and Spicy BBQ are an all-American grand slam. The elegance of the pale ale promotes a refreshing taste of classic American hop varietals—citrus, pine, grapefruit—finishing with a crisp and refreshing carbonation experience.
Interestingly, the spiciness of the jerky is toned down by the pale ale, and finishes with a unique taste of molasses and brown sugar—nicely setting your palate up for round two.
---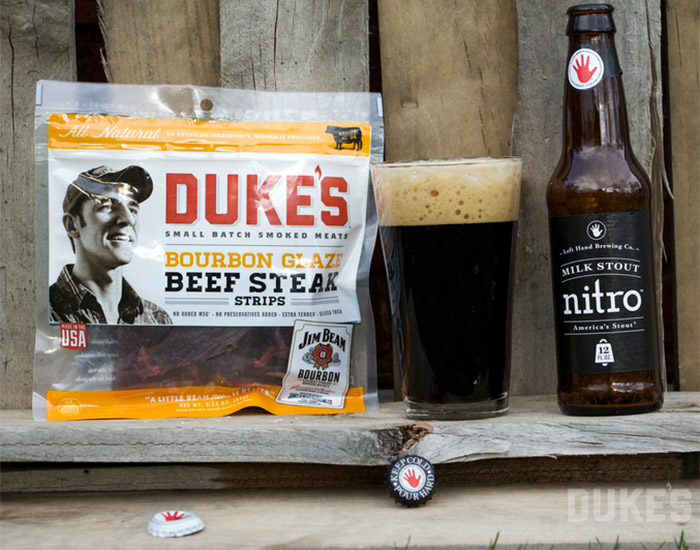 2. Duke's Bourbon Glaze Steak Strips & Left Hand Milk Stout Nitro
The thick, premium, hand-cut steak strips exude a meaty tenderness with undertones of whiskey and sticky-sweet molasses. The strips are smoked slowly until they reaches a level of utmost tenderness and replicate a fall-off-the-bone feel and taste.
The smooth, malty sweetness of the Milk Stout balances the smoky bourbon glaze, leaving your palate with a velvety mouthful, perfect for a night by the fire.
---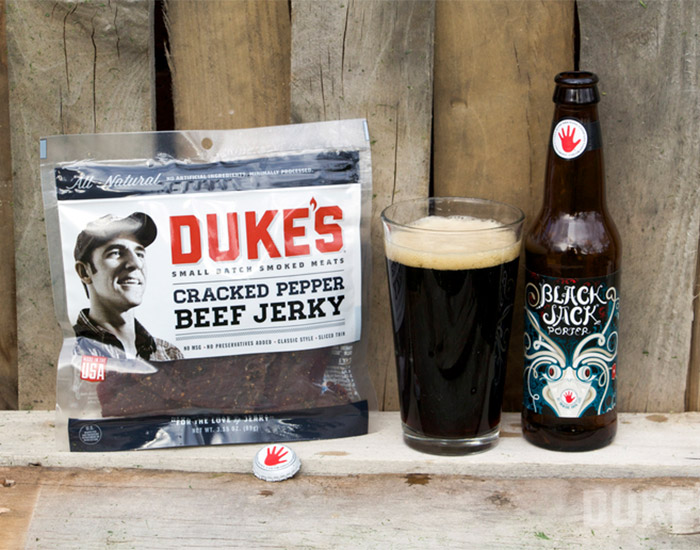 3. Duke's Cracked Pepper Beef Jerky & Left Hand Black Jack Porter
This unique combination creates a robust harmony between the herbal and spice notes of both beer and jerky. The English-style porter has strong notes of dark chocolate and espresso that pair nicely with the peppercorn, brown sugar and espresso flavors of the Cracked Pepper Jerky.
The sweetness of the beer calms the spiciness of the pepper, leaving a well-balanced aftertaste that is very satisfying!
---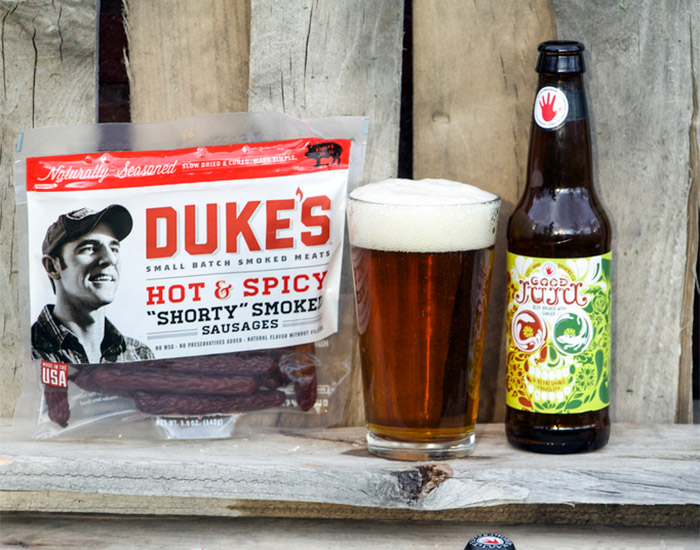 4. Duke's Hot & Spicy "Shorty" Smoked Sausages & Left Hand Good Juju
The first bite of the Hot & Spicy Sausages leaves your palate with a manageable spiciness filled with accents of paprika. The Good Juju provides a delicious transition to a sweet spice of ginger, leaving your palate clean, refreshed and savoring a perfect balance between spice and heat.
---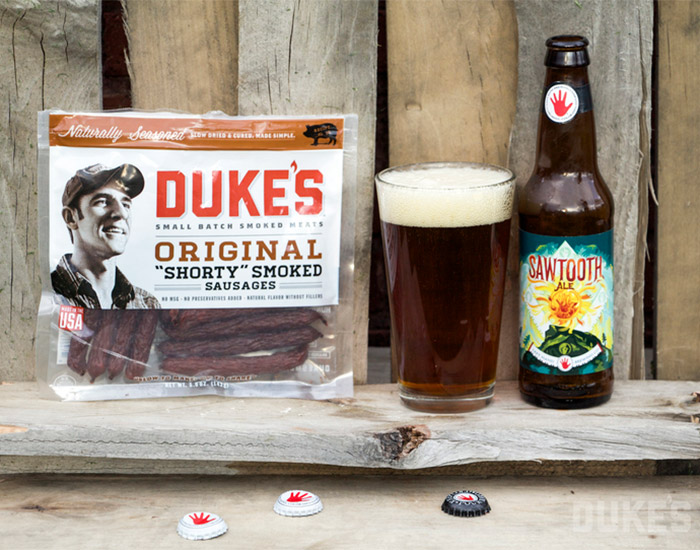 5. Duke's Original "Shorty" Smoked Sausages & Left Hand Sawtooth Ale
Don't fix something that ain't broke! Duke's Original Shorty Sausage and the original Sawtooth Ale are a study in classic finesse that showcases how both a proper sausage and craft beer should be made.
The smoked sausages are slow cured over hardwood smoke and dried for seven days. The ale is a perfect balance between malt and hops, providing an approachable accompaniment with a restrained sweet aftertaste.
---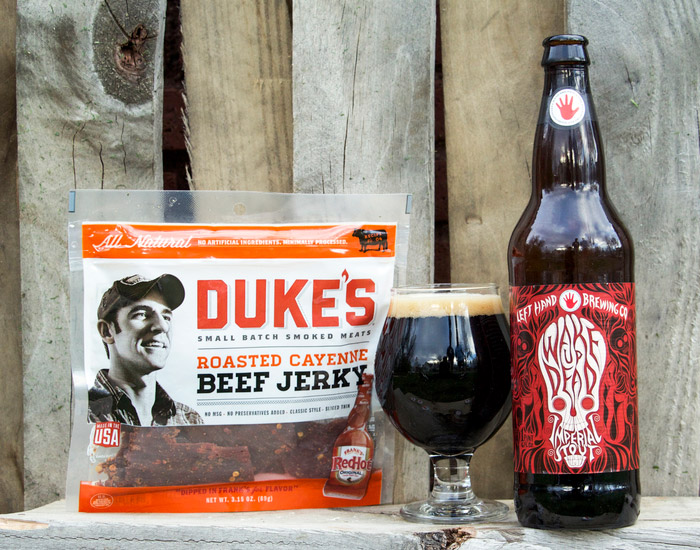 6. Duke's Roasted Cayenne Beef Jerky & Left Hand Wake Up Dead
The in-your-face, delicious Cayenne Jerky exudes big flavor and strong pepper notes. The unrestrained malt sweetness of Wake Up Dead Imperial Stout is tamed by the Franks' Red Hot marinade, or perhaps the other way around.
This balanced pairing leaves an unforgettable aftertaste of dark chocolate, spice and overall deliciousness that keeps you begging for more—that is, if you can handle it!
---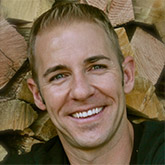 Company Founder and President Justin "Duke" Havlick is doing exactly what he loves to do: combining his love of food with his love of the outdoors (he lives in Boulder, CO, after all). Justin started making his own jerky on his backyard smoker. His friends loved it, especially the flavors produced by the marinades Duke used. So DUKE'S Smoked Meats was born.
CraftBeer.com is fully dedicated to small and independent U.S. breweries. We are published by the Brewers Association, the not-for-profit trade group dedicated to promoting and protecting America's small and independent craft brewers. Stories and opinions shared on CraftBeer.com do not imply endorsement by or positions taken by the Brewers Association or its members.