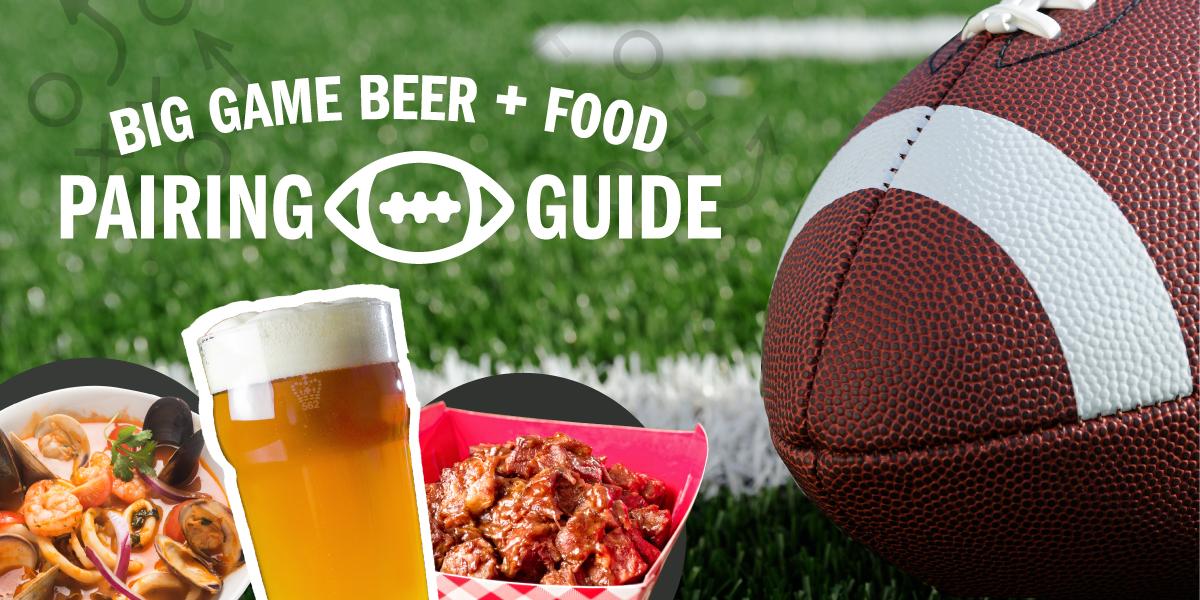 Game Day Beer & Food Pairing Playbook
The Super Bowl is the pinnacle of American sports pageantry. The culmination of a hard-fought, grind it out season, where but one victorious team will be crowned champion, sending their fanbase into frenzied exaltation.
For the rest of us, it's the ultimate Sunday Funday complete with our favorite beverages and lots of food. Just as the game itself is hyped to monumental proportions, so too should your game day snacks. Super Bowl Sunday is a time to step out of the normal tailgate fare!
Ensuring that your beer and food pairings are just as much of a spectacle as the half-time show is what we hope to accomplish with our CraftBeer.com Game Day Pairing Playbook. We choose dishes that represent the teams in Super Bowl LIV in Miami and matched them with regional craft beers that pair well with the dishes.
Kansas City Barbecue Burnt Ends
It's been 50 years since the Kansas City Chiefs have made it to the big game. While KC has been absent from football's biggest stage, the region is a perennial powerhouse in the barbecue world, known throughout the world for mastering a variety of dry-rubbed, low and slow smoked meats accompanied by a rich and smoky tomato-based sauce. Of all of the cuts that the area's chefs have perfected, the razzle-dazzle of Kansas City barbecue has got to be brisket burnt ends.
(More: Hidden Symbols, Easter Eggs and the Dark World of Drekker's Beer Art)
Aptly named, burnt ends are the fatty sides of beef brisket that slowly absorb layers of flavor over the course of the smoking process. Like so many animal parts this country discounts as refuse–like grouper cheeks, tuna collars or duck livers–burnt ends were realized to be a true delicacy for their intensely flavor and built-in scarcity that is often the first item off the menu in a barbecue shack if the pitmaster decides to share them with the public at all.
Like KC barbecue itself, pairing beer with burnt ends offers a lot of variety. A traditional complement American lager works to cut through beef fat and dense smoke and sauce, while the concentrated flavors can match bold, strong beer styles like a doppelbock or strong stout. Still, a beer with a good amount of acidity offers the opportunity for a truly exciting pairing experience akin to a double reverse or flea-flicker back to the quarterback for an 80-yard touchdown. We've even seen it paired with an experimental beer with cinnamon that would be the equivalent of an onside kick.
If you're looking to enjoy some Kansas City-style barbecue brisket burnt ends, you better get an order in now. The beer options will be a little easier to find.
San Francisco Cioppino
The Bay area's culinary style is known for making the most of the abundantly fresh ingredients from the surrounding areas, kind of like taking what the defense gives you and working it to a classic West Coast offensive advantage. It's no secret that many of those ingredients come from the Pacific Ocean, and San Francisco embraces Cioppino, an Italian influenced fish stew. Cioppino offers beer pairing opportunities like a potent passing game looking for a big playoff of the catch of the day.
(More: Easy Tips for Beer and Pizza Style Pairings)
That big catch in San Francisco might include a combination of fish, squid, crab and a variety of shellfish (often, the shell is included in a savory broth). The use of delicate shellfish makes preparation a delicate balance of cooking to avoid making the flesh rubbery. While the dish is delicate, the stew's flavor offers a variety of beer pairing, as well.
To start, clean and crisp and malt leaning beers, like a pilsner or Kolsch, match the buttery flavors of shellfish without overwhelming the subtle flavors. Other beers that might coax out the freshness of the sea include a bone-dry saison or even a roasty stout. There are plenty of beers that will find separation for a highlight-reel catch of the day, just don't forget plenty of fresh sourdough bread for whatever is left over.
Check out our playbook for these super pairings complete with local favorite craft beers from the two teams' home cities. Then keep scrolling for more details on how these pairings score high in our book.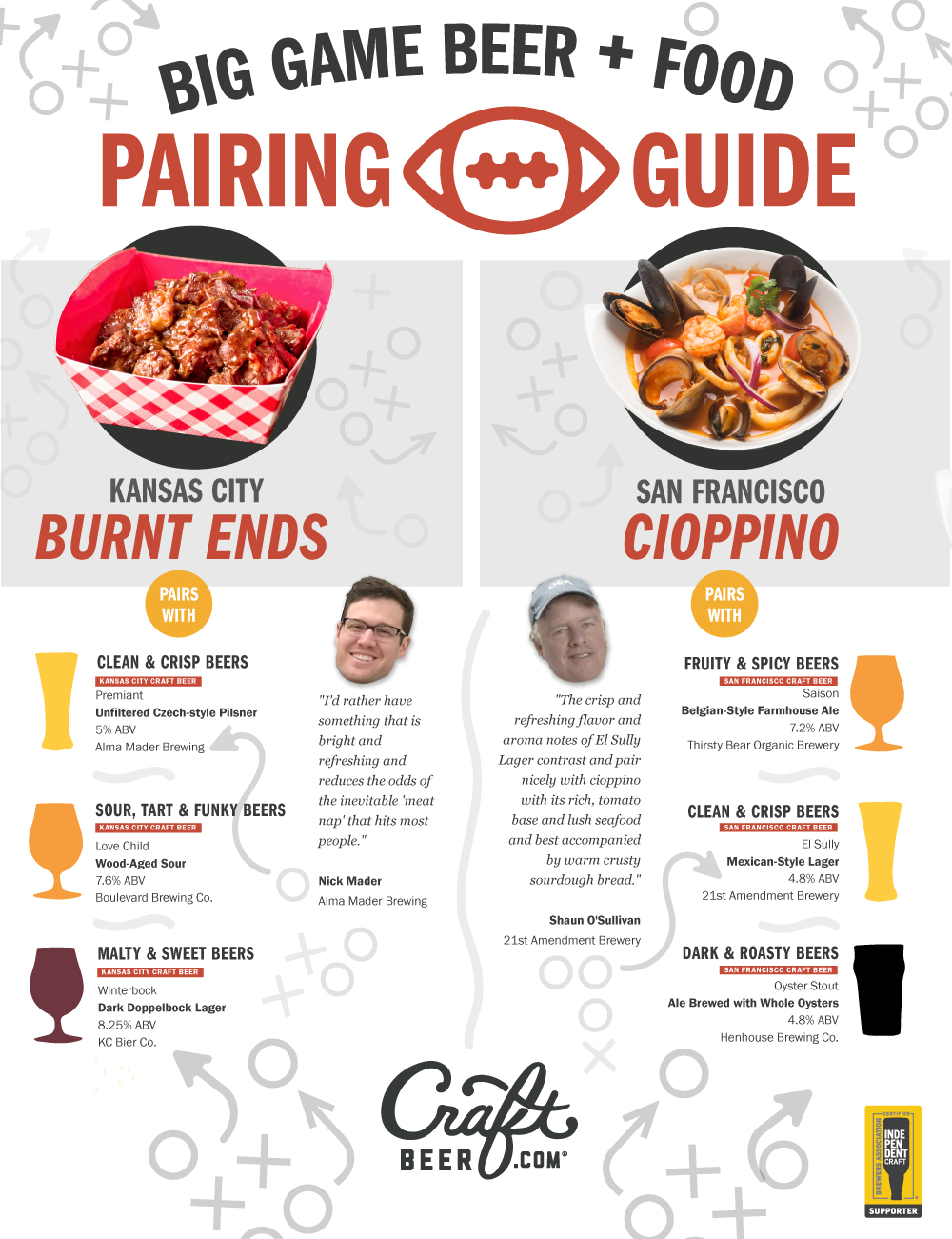 Why These Super Game Day Beer Pairings Work
Kansas City Pick: Burnt Ends
If you're visiting Kansas City, Nick Mader from Alma Mader Brewing gave us some insider tips on where to find the best burnt ends in KC.
"My favorite spot for burnt ends lately has to be Slap's BBQ. They offer burnt ends every day, but when they're out they're out. Slap's is part of a new wave of BBQ we're experiencing here that isn't too sauce heavy. I really recommend this spot for a no-frills, authentic Kansas City BBQ experience."
"For the beer pairing, I'd go with Premiant, our Czech-style pilsner. It has a full-bodied malt character but finishes crisp with a noble hop bite that acts as a good palate cleanser. I'd rather have something that is bright and refreshing and reduces the odds of the inevitable 'meat nap' that hits most people."
(More: Don't Drink Another Beer Before Reading This)
Kansas City Craft Beers to Pair with Burnt Ends
Premiant | Alma Mader Brewing | Unfiltered Czech-style Pilsner
KC BBQ burnt ends are so intensely flavorful, sometimes the beer needs to come running in, screaming at your palate, TIME OUT!
Love Child | Boulevard Brewing Co. | Wood-Aged Sour
Burnt ends, meet sour beer; your new Mah-homey. This combination elevates savory nature that performs effortlessly on the center stage of your palate.
Winterbock | KC Bier Co. | Dark Doppelbock Lager
Complementary roasted flavors set up a zone-blocking scheme to create running lanes for the doppelbock to leap into the (burnt) endzone of rich meaty goodness. Who says defense wins championships? Y'all just got burnt…ends.
San Francisco Pick: Cioppino
We leaned on long-time San Francisco craft beer pioneer Shaun O'Sullivan at 21st Amendment Brewery to tell us about his favorite beer pairing with cioppino.
"Pairing cioppino, a seafood and fish stew which originated in San Francisco from Italian immigrants in the 1800s, is paired well with the 21st Amendment's El Sully Lager. The crisp and refreshing flavor and aroma notes of El Sully Lager contrast and pair nicely with cioppino with its rich, tomato base and lush seafood and best accompanied by warm crusty sourdough bread."
(More: Girl Scout Cookie Beer Pairing Guide)
San Francisco Craft Beers to Pair with Cioppino
Saison | Thirsty Bear Organic Brewery | Belgian-Style Farmhouse Ale
What time is it? Game time! Saisons bring out salinity and natural sweetness while cleansing the palate.
El Sully | 21st Amendment Brewery | Mexican-Style Lager
It's Gooooood! Only 4 times has the Super Bowl been decided by a field goal attempt. A lager with seafood is always a safe bet, but every once in awhile, the beer shines when no other beer will do.
Oyster Stout | Henhouse Brewing Co. | Ale Brewed with Whole Oysters
You play to win the game! On paper, this food and beer pairing is a sure bet. Complementary and contrasting flavors highlight a potent offense with such a sessionable beer. Stout and shellfish offer a classic match-up that, win or lose, is sure to be a memorable Super Bowl…of cioppino.
From us here at CraftBeer.com, we hope you enjoy the big game, the commercials, and sipping beers from small and independent craft breweries as you watch the sports spectacle unfold.
CraftBeer.com is fully dedicated to small and independent U.S. breweries. We are published by the Brewers Association, the not-for-profit trade group dedicated to promoting and protecting America's small and independent craft brewers. Stories and opinions shared on CraftBeer.com do not imply endorsement by or positions taken by the Brewers Association or its members.