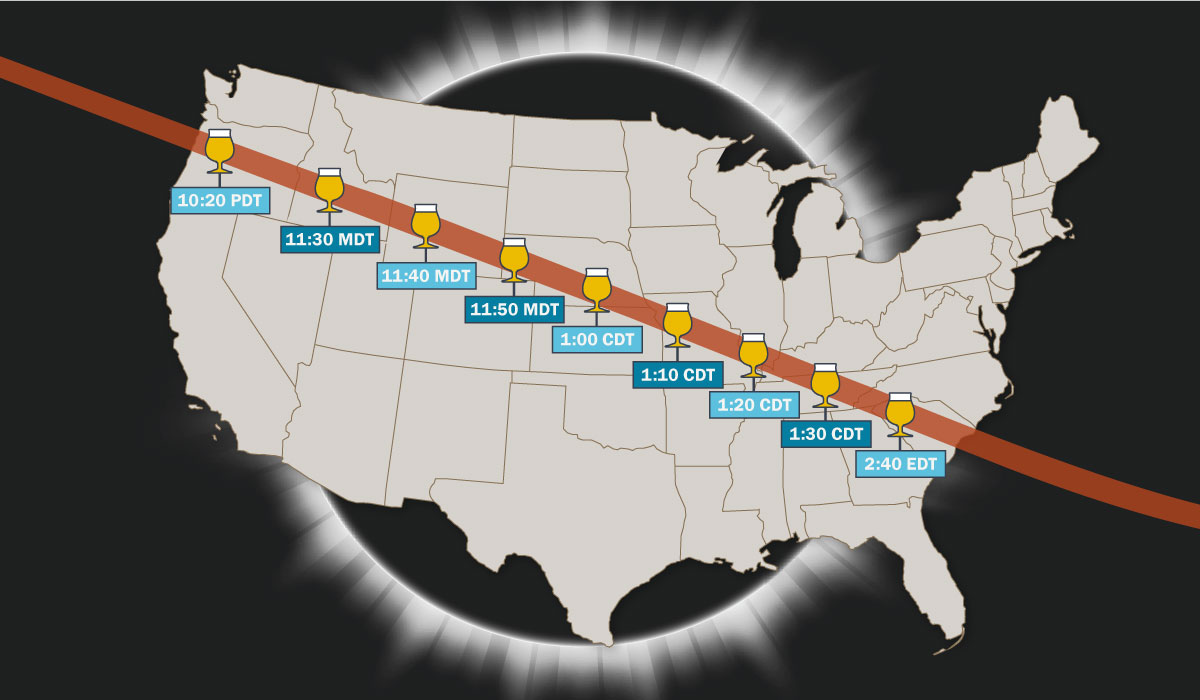 10 Breweries with a Great View of the Solar Eclipse
There aren't many reasons for a craft brewery taproom to open early on a Monday morning. But this year, a once-in-a-century astronomical event has brewers in the 70-mile-wide stretch of area in which a total solar eclipse will turn day into virtual night will offer plenty of great drinks to consume while safely — get your solar filter glasses ready — watching.
It has been nearly 100 years since a total solar eclipse has crossed the United States from coast to coast, so brewers within the path of totality on Aug. 21 have been planning parties since NASA announced the path of the eclipse across 12 states. The blackout begins at 10:15 a.m. local time on the Oregon coastline — where some brewers are opening for breakfast — and ends about 2:45 p.m. EDT as the eclipse passes through Charleston, off the South Carolina coast and over the Atlantic Ocean.
If you haven't already booked a room in the cities that will be in the dark, you're unlikely to find one at this point, but if you are already planning to be in the path of totality, here are 10 great options for where to drink, watch the heavens and party like it's the end times. Depending on where you are, you'll have roughly 2 minutes of standing in the moon's shadow.
(BEER TRAVEL: Plan Your Next Beercation)
Gilgamesh Brewing | Salem, OR | Time of totality: 10:17 a.m. for 1 minute, 54 seconds
While Portland may have bragging rights on the number of craft breweries, Salem is hands-down the winner in the battle of the solar eclipse. While it may seem that Portland's 99.3 percent coverage isn't a deal-breaker, for this month's eclipse it's all about totality, and Gilgamesh Brewing in Salem is launching its all-day party with breakfast starting at 8 a.m. Included in the $25 ticket is a buffet breakfast, a 22-ounce bottle of its commemorative Eclipse Beer and lawn access for some of the best viewing in all of Oregon. Come early and stay for the after-party.
Idaho Brewing Co.| Idaho Falls, ID | Time of totality: 11:32 a.m. for about 1 minute, 41 seconds
If you're looking to view the totality from the upper West, your best option is probably Idaho Falls, home to Idaho Brewing Co. where you can witness a nearly two minutes of total darkness before noon. Self-proclaimed "Head Minion" Wolf Wolfram has created a special porter for the eclipse. From 8 a.m. on, you can order from a food trailer and drink Where the Sun Don't Shine Total Eclipse Porter from the brewery's parking lot. "Roberto (a 'Lesser Minion') will probably be making breakfast tacos," Wolfram says, and he plans to rope off the parking area and invite people to bring in their telescopes and other viewing devices.
As a bonus, Idaho Falls is about a two-hour drive to Yellowstone and Grand Teton national parks, if you fancy a hike after your eclipse and porter brunch.
(VISIT: Find a U.S. Brewery)
Prairie Pride Brewing Co. with Kinkaider Brewing Co. | Grand Island, NE | Time of totality: 12:58 p.m. for 2 minutes, 34 seconds
The Midwest isn't typically a "must see" destination, and small towns across the path of totality are making the most of their moment. Prairie Pride Brewing Co. is one of several breweries that is hosting a weekend-long party for locals and visitors alike. Co-owner and brewer Alex Briner is teaming up with Broken Bow, Nebraska's Kinkaider Brewing Co.'s taproom for three days of drinking, live music, games, food and — of course — eclipse watching.
"Our town only has a population of 50,000, and they're expecting 30,000 people to come to Grand Island for that weekend," Briner says. "We're hosting a viewing area in the parking lot with a (ticketed) VIP party on the roof. Our rooftop only holds a maximum of 50 people, so it's first come, first serve."
The brewery, which normally opens at 4 p.m. on Mondays, will get things started at 11 a.m. They've brewed a saison for the solar event. Keep in mind that Nebraska is one of three states — along Tennessee and Kentucky — that bridges two time zones. Prairie Pride is in the Central time zone.
(READ: What Makes a Sour Beer Taste Sour?)
Logboat Brewing Co. | Columbia, MO | Time of totality: 1:12 p.m. for 2 minutes, 37 seconds
The first of two Columbias on this list, Columbia, Missouri, beats out St. Louis, which falls outside the area of totality. It also has one of the longest durations of totality in the state, a fact that Logboat Brewing Co. is exploiting. Normally closed on Mondays, the brewery will be opening its doors at 10 a.m. "We're having a beer release, Moon Speck, which is a black ale being released in cans that afternoon," says co-owner Andrew Sharp. The brewery is bringing in live bands to stretch the after-party to midnight.
You can also catch the totality from Kansas City (for 27 seconds if you're downtown at 1:08 p.m.) or Jefferson City (a better bet with 2 minutes, 29 seconds of darkness beginning at 1:13 p.m.).
(READ: 7 Offbeat Places to Drink Craft Beer)
Hopkinsville Brewing Co. | Hopkinsville, KY | Time of totality: 1:24 p.m. for 2 minutes, 40 seconds
Back in May, the horse Always Dreaming won the Kentucky Derby with a time just shy of 2 minutes, 4 seconds. The fastest horse in America ain't got nothing on the solar eclipse, however, as it reaches its point of "greatest eclipse" — where the width of the moon's shadow is widest, the altitude of the sun in the sky is near its highest and the duration of totality is nearly the longest — just over Hopkinsville, Kentucky. It's where the Hopkinsville Brewing Co. plans on a special opening along with a limited beer release. Like several other brewers on this list, this brewery is playing with the themes of light and dark. Owner and head brewer Kate Irving has brewed two beers, a pale ale (dubbed Annularity) and a stout (Nightrider). Currently the brewery plans to be open from noon until 3 p.m.
Tennessee Valley Brewing Co. | Clarksville, TN | Time of totality: 1:25 p.m. for 2 minutes, 18 seconds
If you're in Nashville, stay put. The totality there will last just less than two minutes starting at 1:27 p.m. But if you want a bit of nature with your, well, nature, check out the newly launched Tennessee Valley Brewing Co. in Clarksville, Tennessee, where husband-and-wife owners Eric (also the brewmaster) and Wendy Brannstrom have been working around the clock on both the brewery's build-out — they opened July 1 — and the solar eclipse's build-up.
"We obviously read about (the eclipse) early on, but it's been an interesting development trying to finish the build-out and having less than a month to plan," Eric Brannstrom says. Part of that plan is serving up an as-yet-unnamed chocolate mint porter that they will be pouring for the eclipse. "There are some really good names flying around — some are really humorous — and we're trying to come together on a really good name."
A former assistant brewer with Hereford and Hops in Escanaba, Michigan, Brannstrom has been making mostly session beers in the few weeks the brewery has been open. Both he and his wife have a background in business, so a focus on customer service means they'll have plenty of viewing spectacles for their guests when the mid-day moon arrives on Aug. 21.
(READ: Tennessee Brewery Releases Special Eclipse Beer Glass)
Currahee Brewing Co. | Franklin, N.C. | Time of totality: 2:35 p.m. for 2 minutes, 30 seconds
Much like Oregon, the beating heart of craft beer in North Carolina — Asheville — is not prime viewing for the solar eclipse, although, with 99.2 percent coverage, it's not a bad place to hunker down for the day if more beer trumps more moon shadow. But if it's the totality you seek, head up to Franklin, where Currahee Brewing Co. is located along the Little Tennessee River in the heart of Cherokee country, complete with a nearby reservation and casino.
Brewmaster Taylor Yates is pairing his brewery's first anniversary with the arrival of the eclipse. Planning for the solar eclipse "was one of those things we had to prepare for as we got started. The (Town Economic Development team) came to us and said, 'We're already fully booked,' so they wanted us to be involved," Yates says.
"A lot of the breweries here are making American hop-forward beers, but we are focusing more on European-style beers," Yates says, explaining that the house lager "Wayah" (the Cherokee word for "wolf") is made with Weihenstephan yeast and New Zealand hops.
For the combined first anniversary party/solar eclipse watching, Currahee will be bringing out some unique casks and creating a black and tan with the Wayah and Kawi ("coffee") stout, which is its winter seasonal revived for the eclipse celebration. The brewery will open at noon.
(RELEASE: Mother Earth Brew and Payette Create Eclipse Beer)
River Rat Brewery | Columbia, S.C. | Time of totality: 2:41 p.m. for 2 minutes, 30 seconds
While many cities across the path of totality have been planning for the eclipse, South Carolina's capital was one of the first to realize the import on tourism, which — in addition to the respectable hour for imbibing — makes the home of the women's NCAA 2017 basketball champs the perfect place for brewery hopping.
Columbia's second-oldest craft brewery, River Rat Brewery jumped on the eclipse party boat early on. "As soon as we found out about the eclipse, we knew we were going to be open," says taproom manager Lauren Sanberg. "Because we have a huge open lawn area, nothing is really inhibiting the eclipse. We'll have a kegerator outside for our beer-loving friends to enjoy this historic event."
The brewery is whipping up a brand new beer, the Moonraker IPL, which will be on its menu through the fall. Its in-house chef will be curating a menu that will include a Dark Side of the Moonpie, among other cleverly named dishes. They've even come up with their own eclipse meme: "Get Mooned at River Rat Brewery."
And lest you doubt Columbia's seriousness about the numbers flocking to the city, the University of South Carolina pushed back its move-in weekend a full week because of a lack of hotels for returning students and their families.
(RECIPES: Cook with Beer)
Swamp Cabbage Brewing Co. | Columbia, SC | Time of totality: 2:41 p.m. for 2 minutes, 30 seconds
If the River Rat lawn is full, head over to Swamp Cabbage Brewing Co. where head brewer Douglas Boyd is also combining an anniversary celebration (it opened Aug. 17, 2014) with an eclipse party. "We were only the third microbrewery to open in Columbia" after Conquest Brewing Co. and River Rat, says Boyd, "So we've always had a big celebration on the Sunday closest to our launch date."
The brewery has a small outdoor seating area with limited picnic table and chair seating and is inviting customers to bring lawn chairs or blankets. The two-day party will feature a half-and-half beer combo made with the brewery's Sabal Palm Blonde and Bald Cypress Porter.
Revelry Brewing Co. | Charleston, SC | Time of totality: 2:46 p.m. for 1 minutes, 33 seconds
As the eclipse bids farewell to the U.S., you can say goodbye to it from the rooftop bar at Revelry Brewing Co. The brewery has created a Schwartz Lager in collaboration with neighboring Tradesman Brewing Co., which will be bringing a white stout to stay in line with the dark-light nature of the year's most dramatic celestial event.
As Revelry Brewing partner Sean Fleming so aptly puts it, "It's a play on light-colored beers tasting dark and dark-colored beers tasting light."
And with that, raise your glass to the heavens and enjoy!
CraftBeer.com is fully dedicated to small and independent U.S. breweries. We are published by the Brewers Association, the not-for-profit trade group dedicated to promoting and protecting America's small and independent craft brewers. Stories and opinions shared on CraftBeer.com do not imply endorsement by or positions taken by the Brewers Association or its members.