More than 60,000 beer enthusiasts will gather at the Great American Beer Festival® to celebrate their beloved beverage this October. While Coloradans sure do love their craft beer, a decent portion of festival goers fly into Denver International Airport (DEN). If you're one of them, you'll be delighted to know that there is plenty of craft beer at DIA so you don't even have to leave the airport for the beer festivities to begin. The Denver airport is an airport for beer lovers — and here's why.
Kick off Your Trip at the Fourth Annual Beer Flights Beer Garden
Perfect timing for all of the GABF travel, the Denver International Airport holds the Fourth Annual Beer Flights Beer Garden from September 28 to October 9. Taste a wide variety of beers from 10 breweries across Colorado. You'll find this beer celebration on the plaza in the terminal before you get to security. The beer garden is open daily from 11 a.m. until 7 p.m. with live music from 4 p.m. to 6 p.m.. Try 10 2-ounce samples of Colorado brews in a souvenir glass for $10.
Here's what you can sample:
(BEER TRAVEL: Plan Your Next Beercation)
Denver International Airport: Find Craft Beer Year 'Round
Maybe you aren't flying in for the festival. Don't worry! All year round you'll find restaurants and bars throughout the airport with noteworthy beer menus. These spots are sure to ease the pain of a delayed flight.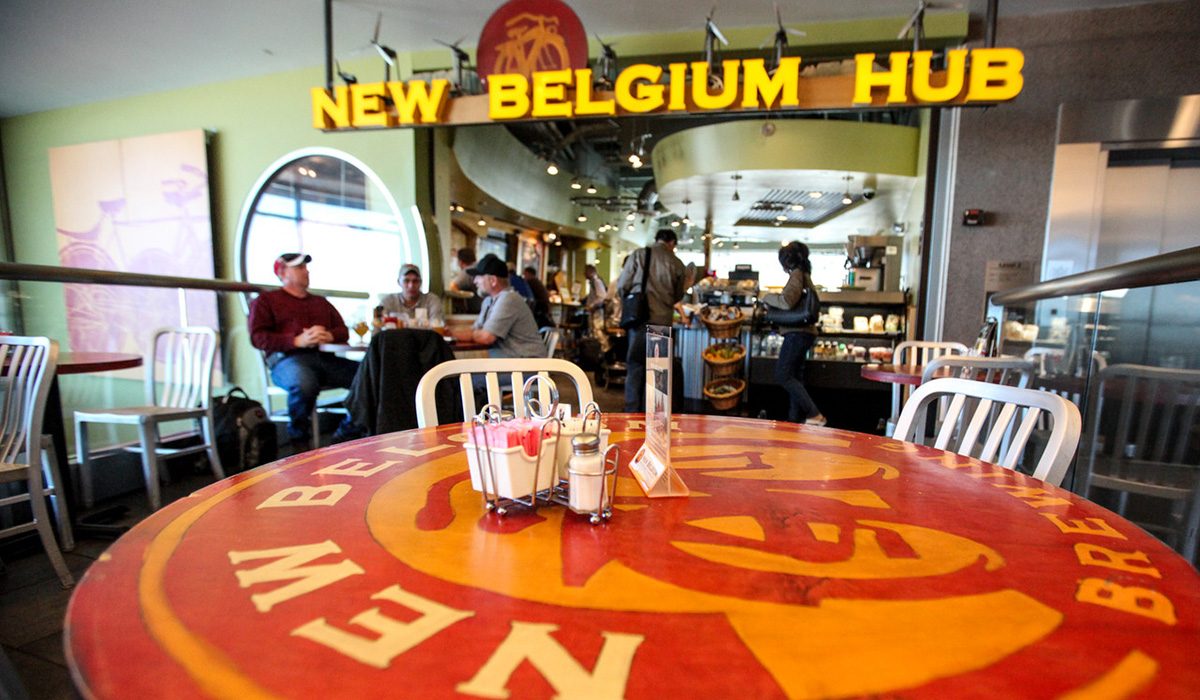 New Belgium Hub
Where to Find It: B Gates, near Gate B60
What to Drink: On draft, you'll find Voodoo Ranger IPA, the classic Fat Tire Amber Ale, 1554 Enlightened Black Ale, and seasonal brews. Bottle options include Abbey Belgian Style Dubbel Ale, Trippel Ale with coriander, and more.
What to Eat: A variety of starters and sandwiches, including veg options. Beer-laden dishes include a cheese dip infused with 1554 served with pretzels, signature chili infused with 1554, a beer waffle for their fried chicken and waffles, and Fat Tire beer-battered fish n' chips.
(LEARN: Beer 101 Online Course)
Boulder Beer Tap House
Where to Find It: Jeppesen Terminal, Level 5 West
What to Drink: You'll always find Boulder Beer's solid core beers on tap – Mojo IPA, Pulp Fusion Blood Orange IPA, Shake Chocolate Porter, Hazed Hoppy Session Ale, Buffalo Gold and Singletrack Rye Pale Ale. They'll also have rotating limited release and barrel-aged beers.
What to Eat: Soups, sandwiches, and salads. Opt for a menu item that's made with their awesome beer, like the beer brat or the porter blended with vanilla ice cream and chocolate sauce.
Rock Bottom Brewery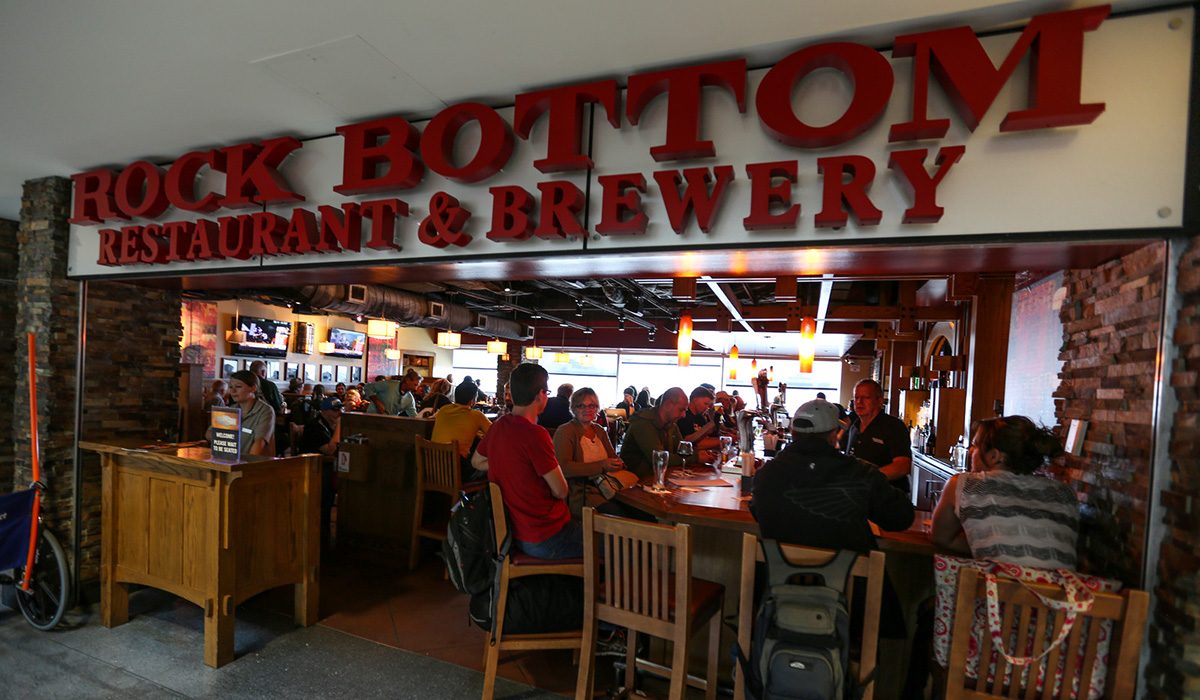 Where to Find It: Concourse C, near Gate 32
What to Drink: Rock Bottom's staple brews: Rock Bottom Red Ale, Wheat Ale, India Pale Ale, Molly's Titanic Brown Ale, and seasonal beers.
What to Eat: Soups, salads, sandwiches, burgers. House favorites include mac n' cheese, fish and chips, and veggie tacos with roasted zucchini, mushrooms, red peppers, avocado, red onion, and pico de gallo.
(FALL SEASONALS: Offbeat Pumpkin Beers for 2017)
Red Rocks Bar & BBQ
Where to Find It: Jeppesen Terminal, Level 5, East
What to Drink: Draft brews include Dunkle from Prost Denver. Boulder Beer bottles are available including Mojo and Shake Porter.
What to Eat: BBQ platters and sandwiches with classic accompaniments, such as BBQ beans, coleslaw, chips, and potato salad.
Root Down DIA
Where to Find It: Concourse C
What to Drink: Offering an expansive selection of all Colorado craft beers, listed from light to dark; Steamworks Kolsch to Great Divide Yeti
What to Eat: Everything! From lamb sliders to a strawberry rhubarb shortcake with whipped cream and candied ginger anglaise, you'll be sure to find something to pair with your beer choice.
(LEARN: CraftBeer.com's Big List of Beer Schools)
Ready to leave for Denver?
When you're ready to head into the city, check out the easy transportation options offered by the RTD. The Denver Airport Rail takes you right into downtown Denver.
Once you're there, use the CraftBeer.com Brewery Finder to explore the hundreds of breweries along the Front Range and throughout Denver.
CraftBeer.com is fully dedicated to small and independent U.S. breweries. We are published by the Brewers Association, the not-for-profit trade group dedicated to promoting and protecting America's small and independent craft brewers. Stories and opinions shared on CraftBeer.com do not imply endorsement by or positions taken by the Brewers Association or its members.