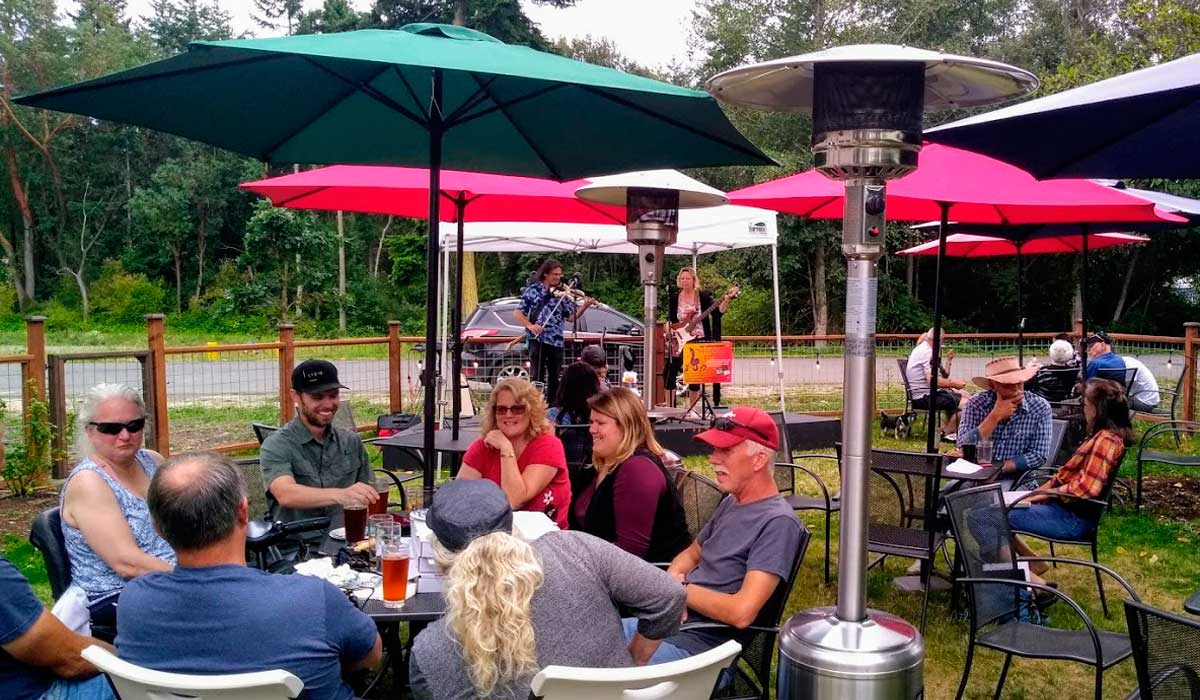 11 Things I Learned Working at a Small-Town Brewery
Let me first say, cities are great. Seattle is a particularly amazing city. A mecca of great beer, too. I worked there for 5 years as a marketing and PR professional. But last year my life changed completely. My wife and I got an offer to move two hours away, to a small, rural area bordering the town where we both grew up, Port Townsend. We would be horse caretakers on a large farm. I took a job at a local craft brewery. It was a full lifestyle shift.
Port Townsend, Washington, is a small, waterfront town that calls itself a "Victorian seaport and arts community" due to the well-preserved Victorian architecture and the artistic types that moved there.
I've always appreciated and loved craft beer. But working at Discovery Bay Brewing has imprinted upon me an entirely new appreciation for the true community-building power of craft breweries. I'd like to share what I've encountered, so here are 11 things I learned about the power of craft beer and breweries after working at one.
Beer truly does bring people together
Humans connect over beer. Working at the brewery, I've seen people start conversations with strangers and end up friends–all over a pint or two of locally-brewed ale.
There's a reason beer has been a staple of civilization for millennia. Breweries are keeping alive a long tradition of camaraderie over the simple combination of water, grain, yeast, and hops. It's what beer is all about.
Craft beer is about so much more than IPAs
IPA's continue to be strong sellers and their popularity is far from diminishing. I'm a hophead myself. However, working at the brewery and trying new beers has expanded my tastes to the wonderful world of dark beer.
A dark, malty beer is distinct, comforting, and can be easy on the palate without sacrificing complexity. Discovery Bay Brewing gives stouts, porters and brown ales their due respect (along with offering several great IPAs, of course).
People love to talk about beer
Talking beer while drinking beer is what a tasting is all about. It's a joy picking apart flavors and aromas, or talking favorites with an equally passionate friend. That's why it's no surprise to see plenty of animated conversations happening over a flight of four, six, eight, or 10 styles from the taps. I especially love seeing our patrons jotting down tasting notes in travel-worn beer journals.
(More: Sandi Vojta Keeps Family Tradition Alive in South Dakota's Black Hills)
Beer unites generations
At Discovery Bay Brewing, you'll encounter beer lovers in their 20s and 30s with plenty more in their 60s, 70s, and older. It's more than a shared passion for craft beer. There is wisdom exchanged and mutual respect when generations sit down at the brewery together.
You might picture a brewery founder as a hip, 30-something, but the age spectrum is fully represented in the brewery world. The owners at Discovery Bay Brewing are (mostly) retired from their lifelong careers, and were homebrewers for 15-plus years before sharing their perfected concoctions with the community.
You can bring the whole family
Many breweries, like Discovery Bay Brewing, are family-friendly. If you have kids, you might be grateful for the opportunity to enjoy a relaxing afternoon in the beer garden while the kids play with the assortment of toys and games available. There's no reason having young'uns around should keep you from peak brewery enjoyment.
(More: Montana Brewery Inspired by Careful Artistry of Bonsai)
The industry is incredibly friendly and supportive
I've seen more mutual respect and support among brewing professionals than I have in any other industry. It's inspiring to see that businesses can not only coexist, but can uplift each other, in what might appear to be a fiercely competitive market.
Customers' love variety when it comes to beer, the shared challenges of competing against larger forces, and the practicality of cooperation when it comes to agricultural resources may have something to do with it. But I think any brewer will tell you the craft beer community is a unique and wonderful thing to be a part of.
Craft beer is just getting started
Some people love to talk about the craft beer boom as a trend that is past its peak. I can tell you this is not true. Not at all. The last few decades have, quite frankly, changed the world of beer in historic ways. Now that the door is open for brewers, and the demand for good beer steady and unrelenting, I expect you'll see this golden age continue for many, many more decades.
You're never too old to start appreciating the variety of beer
One of the most remarkable things I've seen working at the brewery is when an older person who has drank nothing but the same lager-style beer from a can their entire life decides to try a craft beer, and is changed forever. Once they feel like they're in a comfortable environment, and that their peers had moved on to new styles, they're willing to give it a taste.
You are never too old to have brand new experiences with beer, and you never know what might be your next obsession.
(More: The Tiny California Brewery in a Tiny California Town)
Beer goes great with a book
I love to see people reading at the brewery. It's a beautiful combination of two things that make life enriching and satisfying. I hope to see more people reading at breweries; it's perfectly alright to read at a pub! It could even spark an interesting conversation with someone. At Discovery Bay Brewing, we even put up a spot where you can grab a free book after grabbing your favorite pint.
Putting the phone down
There's nothing wrong with looking at your phone at a brewery. There are even great beer apps out there. But sometimes it's liberating to put your phone away and get lost in the moment while you're at the brewery, being with friends, taking in the live music, talking to the bartender, or just looking around the room. Beer is the perfect anti-phone – a timeless activity that demands we enjoy the moment and the space we're in.
Brewery events are community-building fun
At the brewery, we've had so much fun coming up with events that bring people together. New friendships are made all the time, during sea shanty sing-a-longs, taproom trivia, a locally-famous open mic, live music, story jams, and more.
It truly has transformed my perspective. I'm grateful for the experience of working at Discovery Bay Brewing and watching the joy spread across the community. If you ever get the chance, next time you're in Port Townsend, make sure you visit us!
CraftBeer.com is fully dedicated to small and independent U.S. breweries. We are published by the Brewers Association, the not-for-profit trade group dedicated to promoting and protecting America's small and independent craft brewers. Stories and opinions shared on CraftBeer.com do not imply endorsement by or positions taken by the Brewers Association or its members.