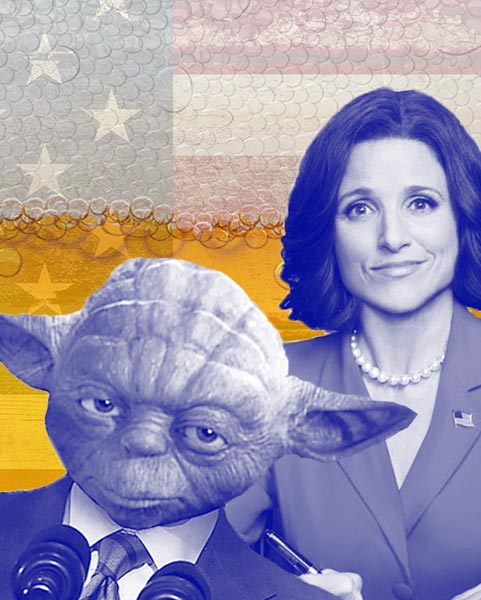 8 Beers We Want to Share with Favorite Fictional Presidents
Presidents of the United States fascinate us. We think we know what they do — governing, diplomacy, fancy state dinners, golf — but an administration is so highly-guarded and spun every which way by pundits, most of what we think we know about the life a president is likely an illusion.
Thank goodness we have Hollywood to bring the job of a president to life. The best fictional commanders in chief impart oratory vibrato, MacGyver-esque intelligence or comedic levity to the land's highest office. I admit that I can name more about Jed Bartlet's successes in office than successes of actual presidents. Shameful? A little. 100 percent American? Absolutely. Here are the craft beers I'd crack open with my favorite fictional presidents.
President Tom Beck | Deep Impact
President Tom Beck, played by Morgan Freeman in the 1998 movie Deep Impact, was in an impossible situation. First, there was the issue of the 7-mile-long space rock coming toward Earth. Then the Messiah spacecraft mission to blow up the rock failed, splitting it into two fireballs aimed at the planet. Then Russian missiles failed to get the job done. Bombs did eventually destroy the larger of the two comets, sparing millions from an "extinction level event," and President Beck delivered a speech about rebuilding. If I could sit down with President Beck, I'd open a bottle of Cigar City's Hunahpu's Imperial Stout, 2014 Batch #2. Employees lovingly nickname it the "Post-riot Huna" (for reasons I'll let you Google), but if anything can survive the tidal wave, my money is on Huna — and President Beck deserves one.
President James Marshall | Air Force One
First as cavalier hustler Han Solo, then archeologist/investigator Indiana Jones, Harrison Ford finds himself in the role of President of the United States in 1997's Air Force One. Marshall, along with the First Lady, their daughter, and a handful of Cabinet members and advisors are returning from a trip to Moscow when Air Force One is hijacked by terrorists, led by Gary Oldman. Marshall's resourcefulness keeps himself and his family alive and the nation out of a second Cold War during tumultuous hours on the plane, ending with the lead hijacker's death-by-parachute strangling at Marshall's hands. If I could sit down for a beer with President Marshall, we'd share a bottle of Odell's Russian Pirate. He's good at crushing them, just ask Gary Oldman.
Dave Kovic | Dave
Presidential doppelgänger and all-around nice guy Dave Kovic gets tossed into a mess at the White House when he's asked to step into the role of president when the actual president has a stroke doing something he definitely shouldn't have been doing. Kovic, played by Kevin Kline, does a bang up job of convincing everyone, including the First Lady, he's the actual president. Eventually, the First Lady, played by Sigourney Weaver, realizes she actually likes [the guy pretending to be] her husband. Dave outsmarts D.C. players to get out of the Oval Office and back to his normal life — except that life is now one where the First Lady is his new lady. If I could share a beer with Dave, it would be Spotted Cow, a cream ale from New Glarus. Well-made cream ales are one of those styles that can help you show a non-craft believer what they've been missing, just like nice guy Dave Kovic did when he took the Oval Office.
President David Palmer | 24
You may recognize Dennis Haysbert as the Allstate man, but before he was selling insurance, Haysbert played 24's presidential candidate, then president, David Palmer. He was one of the longest-running presidential confidants of CTU agent Jack Bauer. Assassination attempts, terrorist plots, cheating wives and suspect little brothers are all part of the fray that met Palmer as president. He understood that as an agent, Bauer sometimes had to break the rules in the name of national security. If I could share a beer with President Palmer, we'd raise a glass of Dark Horse's Bourbon Barrel Plead the 5th — which, of course, we can't talk about the reasons why it fits his presidency, but it does.
Selina Meyer | VEEP
David Palmer would have traded Selina Meyer's days in the Oval Office in a heartbeat. Instead of terror plots and assassination attempts, Meyer's biggest problems are generally brought on by her ego and lack of human compassion — and her staff's bobbled attempts to hide that from the public. Meeting Meyer for a beer, I'd expect it to play out like this: She'd give me a big fake smile when we met, take one sip, hate it, come up with a political excuse to leave and then bitch to Gary about my poor taste in clothes, the beer and how millennials have ruined America on her way out to (presumably) nowhere important. To avoid that scenario, I want to choose a flavor she'd never expect from a beer (presuming she's used to whiskey and red wine), so I'd choose Avery's Fortuna, an ale aged in tequila barrels with lime zest and salt. It's a beer where I wrote simply "Drops jaw …" in my Untapped check-in. I'd hope it would leave Meyer a bit speechless, too.
Leslie Knope | Parks & Rec
The series finale of Parks and Recreation includes [SPOILER ALERT] a scene where secret service-looking officers surround an older-looking Leslie and Ben at Jerry's funeral. While the series never explicitly says Pawnee, Indiana's, favorite daughter — well, a favorite when she wasn't trying to fight Paunch Burger's 512 oz soda — was actually elected to the office of president, I'm going to 'ship President Leslie Knope all day long. The only thing that rivaled Leslie's love of public service was waffles from JJ's diner, so there's no doubt Leslie and I would share a snifter of Funky Buddha's Maple Bacon Coffee Porter and toast Ms. Knope's love of country, town and breakfast foods (and VP Joe Biden).
Jed Bartlet | The West Wing
Binge watching the West Wing during the 2016 presidential race will make you want Bartlet back (I'm not the only one who would pull the lever on a Sheen/Whitford, Whitford/Lowe, Janney/Schiff ticket, right?). Of all Jed Bartlet's West Wing soliloquies, there's something about the season 2 finale, Two Cathedrals, that gets me (Yes, I know the name of the damn episode off the top of my head. Total #SorkinObsessed). In the minutes after [SPOILER ALERT] Mrs. Landingham's funeral in the National Cathedral ("You know you could lay the Washington Monument down on its side in that church?"), feeling guilty over hiding his [SPOILER ALERT] M.S. diagnosis from the public, deciding whether he was running for another a term, Bartlet walks the sanctuary, yelling at God in a mix of Latin and English, calling him a "feckless thug" before lighting a cigarette, taking one puff, and grinding it on the floor of the cathedral before leaving. If I could sit down with Jed Bartlet, we'd share a bottle of Russian River's Salvation, since that's what Bartlet had been desperately seeking.
Yoda
Yes, I realize Yoda never played a fictional U.S. President, but in an Ipsos Public Affairs poll released in late 2015, respondents (reportedly) said they'd vote for Yoda over the frontrunners of both campaigns (Chewie and Obi-Wan would also have had the honor of Commander in Chief under the same poll). If we could sit down for a beer with Master Yoda, we'd grab a few cans of Anderson Valley's The Kimmie, The Yink and the Holy Gose, in honor of his clarity and sound judgment that would do us all a load of good right now. Plus, I imagine that a gose is exactly the beer I'd want if stuck in the swamps of Degobah.
Which beer would you want to open with your favorite fictional president?
CraftBeer.com is fully dedicated to small and independent U.S. breweries. We are published by the Brewers Association, the not-for-profit trade group dedicated to promoting and protecting America's small and independent craft brewers. Stories and opinions shared on CraftBeer.com do not imply endorsement by or positions taken by the Brewers Association or its members.