Thousands brave the punishing sun outside the entrance of Duluth's Bayfront Festival Park, tickets in hand and ready to be scanned. These eager drinkers are sweating through their t-shirts to be one of the first to enter the 2015 All Pints North Summer Brew Fest, an annual four-hour craft beer festival featuring nearly 100 breweries from Minnesota and beyond. When admission begins, everyone shuffles forward like cattle—with those in front making a beeline for the booths of famous and favorite breweries.
I, however, choose to hang back with my group, more than content to start with some local flavors like Bent Paddle Brewing Co., Voyageur Brewing Co., Fitger's Brewhouse and some of my personal favorites from the Twin Cities. After all, everything north of Minneapolis is new to me.
The northern Minnesota beer scene has only truly begun to blossom over the past decade. That doesn't mean the love of craft beer hadn't already cemented its way into the hearts of Minnesotans living near the shores of Lake Superior—only that few breweries had populated the area.
Today is a different story. Ten minutes into All Pints North, it's already clear why the festival has proven so popular in just four years, drawing beer lovers from as far south as Austin, Texas. Craft beer is ingrained into North Shore drinking culture, inspired by the pristine waters and outdoor adventures that the great lake and surrounding woodlands offer. You can see it in the name of some of the breweries, like the aforementioned Bent Paddle and Voyageur.
To understand the connection between adventure and craft beer in northern Minnesota, I talked to a few of the local brewing community's long-time champions.
"A Little San Francisco"
Laura Mullen was an independent event planner when, more than a decade ago, she scored her biggest client: the Minnesota Craft Brewers Guild. This was her introduction to craft beer, inspiring her to start her own sampling festival in 2004. Her relationship with the guild only strengthened over the years, and by 2007 she was running its large-scale events.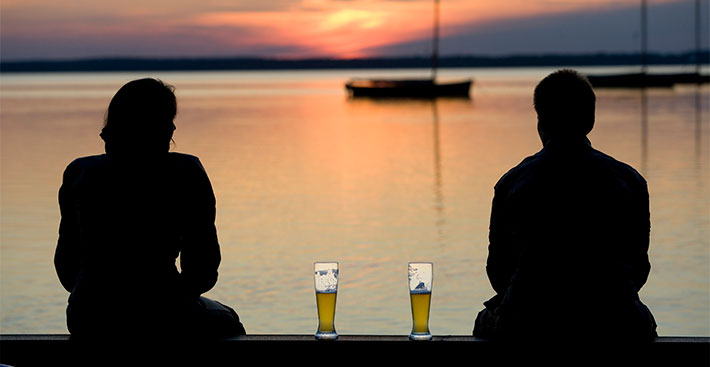 "It took about three years to get going," Laura explains. "About a year thinking about partnerships, a year of writing a business plan, six months fundraising and six months of build out. We opened in May 2013."
At the heart of Bent Paddle Brewing Co. was a love for the outdoors and what it can offer a craft beer drinker. This made a move away from the Twin Cities to Duluth necessary in order to see their vision truly come to fruition. Both Bryon and Colin left their Twin City-based brewing jobs in order to make the move up to Duluth for Bent Paddle.
"Duluth is a really fun town," Laura says in discussing the move up even further north. "It's like a little San Francisco, people like to say. It's hilly, has a cool fog. It's a very beautiful outdoors town. If you look at the lake, it looks like an ocean."
That would be Lake Superior, and it plays a vital role in Bent Paddle's brewing process.
"Ridiculously Good Water"
"It's a very soft water and mimics the mineral content of the Czech Republic where Pilsener was born," Laura explains. "We do a basic charcoal filter of the City of Duluth's municipal water, but that's it. We don't have to take anything anyway. It's a ridiculously good water."

Love for Lake Superior is echoed by other North Shore brewers, like Mike Prom, owner and CEO of Voyageur Brewing.
"It just has all the qualities we need," says Prom. "It doesn't have a flavor. It's as close to using bottled water as it gets. And the cold temperature is great" for cooling hot wort as a beer heads to fermentation, he says.
The lake, and the sense of adventure it inspires, is also what drew Prom up to Grand Marais, two hours north of Duluth—we're talking basically Canada at this point. Prom owned an outfitting business, which was expanded to a brewery after he and his co-founders fell in love with craft beer as an accompaniment to outdoor vacations and festivals.
"Lake Superior is really why people travel up the North Shore," Prom explains. "We really see people associating our beer with their adventure—getting a beer on the way there and a growler on the way home."
"Fascinating To Watch"
All in all, there's an excitement behind the Northern Minnesota craft beer scene and its unfolding possibilities, not unlike the thrill of biking down a steep hill or reaching the summit of a rough 10-mile hike. Dan Schwarz, co-founder of Lift Bridge Brewing Co. and current President of the Minnesota Craft Brewers Guild, is thrilled with the growth.
"The Duluth and northern Minnesota craft beer scene is very exciting," says Schwarz. "There is a long brewing history in the area, and combined with some phenomenal growth, it has been fascinating to watch."
Schwarz spends a couple of weeks each year in the Duluth area with his family. "It's fun to experience the beer as a beer consumer and a tourist," he says. "The breweries do a great job of creating a true northern Minnesota craft beer experience."
That Minnesotan authenticity comes from blending craft beer with the great outdoors. Bent Paddle, for instance, has partnered with Loll Designs, an outdoor furniture company based in Duluth that specializes in using recycled goods in their products. At first, Loll designed Bent Paddle's tap handles; now the brewery has created Lollygagger, a pale ale named in Loll's honor, and is donating five percent of sales to Cyclists of Gitchee Gumee Shores (COGGS), a local cycling non-profit.

"COGGS is trying to make the first urban, 100-mile, single-track bike path in Duluth and in the nation," explains Bent Paddle's Laura Mullen. She estimates the project, which involves connecting a number of existing trails, is about two years from completion.
In the meantime, there's no shortage of opportunities to get your thrill in the outdoors while traveling along the northern shore of Minnesota. And at the heart of each adventure, there's a brewery ready and willing to fill up your growler.
CraftBeer.com is fully dedicated to small and independent U.S. breweries. We are published by the Brewers Association, the not-for-profit trade group dedicated to promoting and protecting America's small and independent craft brewers. Stories and opinions shared on CraftBeer.com do not imply endorsement by or positions taken by the Brewers Association or its members.