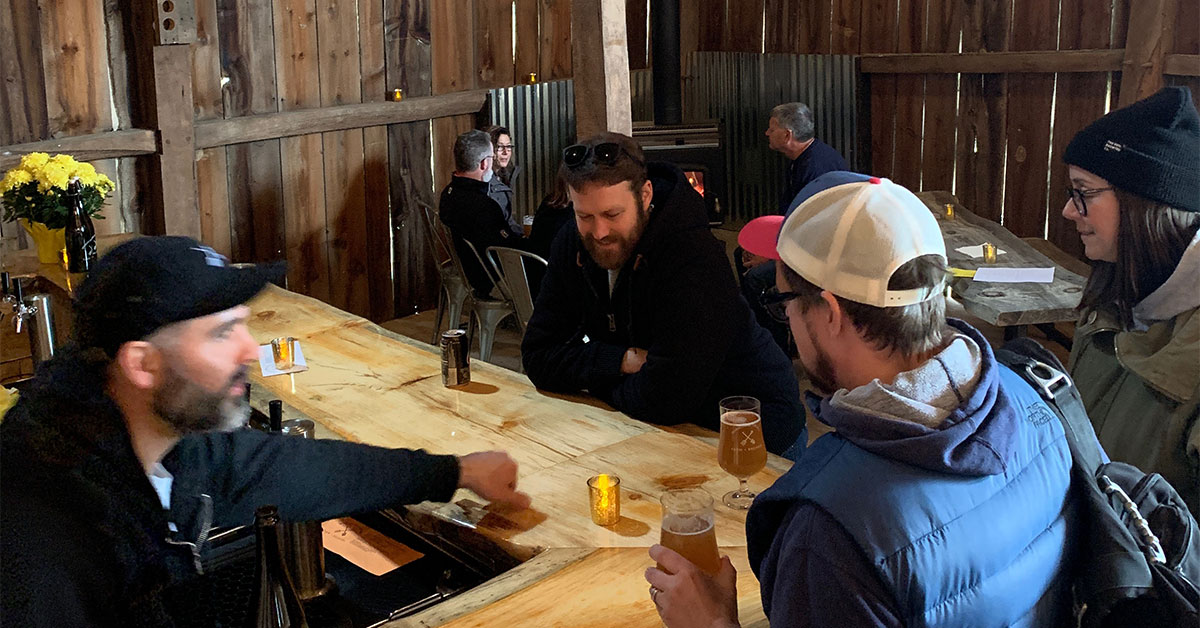 An Emerging Crop of Community-Supported Breweries
Community-supported agriculture programs (CSAs) have been gradually gaining steam in the United States and Canada during the 21st century. Consumers pay upfront for a guarantee of the farm's produce, giving farmers cash in advance to grow and harvest crops. In the last few years, farm breweries and rural brewers working with family farmers have picked up the business model.
Community Supported Farm Breweries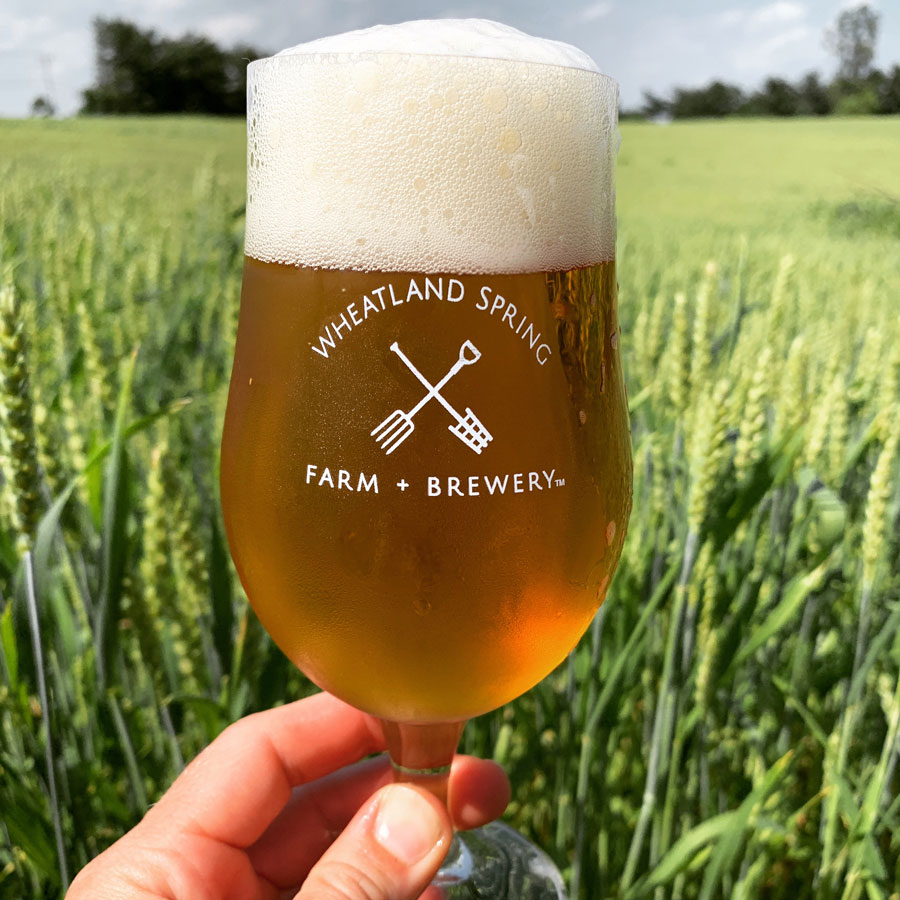 Family-owned Wheatland Spring Farm + Brewery of Waterford, Virginia, is thriving as a community-supported farm brewery. Owners Bonnie and John Branding got the idea while observing agriculture during the five years they lived in Germany. Upon returning to the States, the couple decided to buy their own 30-acre farm in Northern Virginia.
(More: There's No Taste Like Home: Booming Beer Agriculture Supports Local Brewers)
The land was first farmed in 1832; the brewery, originally a barn, dates from then. The Union Army burned it down during the Civil War but it was rebuilt in the 1870s. The taproom was built in 1920. The Brandings try to operate the place like an 1800s European farm brewery. Last year, the family planted about 18 acres of wheat for the beer. They draw the water from a well on the farm. Wheatland Spring also buys ingredients from other nearby family farms. A fall release consists of a smoked sweet potato beer with root vegetables grown on a farm across the street.
"We look at what is coming out of the ground next and that determines our next beer," Bonnie Branding says. "It takes almost a whole year (from planting to brewing). That's why the CSA model seemed sensible for us," she explains.
As a community-supported farm brewery, Wheatland Spring Farm + Brewery offers a program called Fork & Rake. "All the money raised goes directly into farming activity," Bonnie Branding asserts. About 60 people joined this year.
There are four levels of membership, ranging from $150 to $700 a year, that boast perks like special access to beer release days, growler fills, and discounts on glassware and clothing sold at the brewery. At the higher "Land Steward" membership level, the brewery names you "an honorary land steward" to a plot of their cropland; you'll get a map showing you "your" land.
Wheatland Spring's highest membership level is "Barrel Patron," which not only assigns you your own barrel, but allows you to work with the brewer to design a beer. Only three Barrel Patron level memberships are offered each year; they sold out fast in 2019.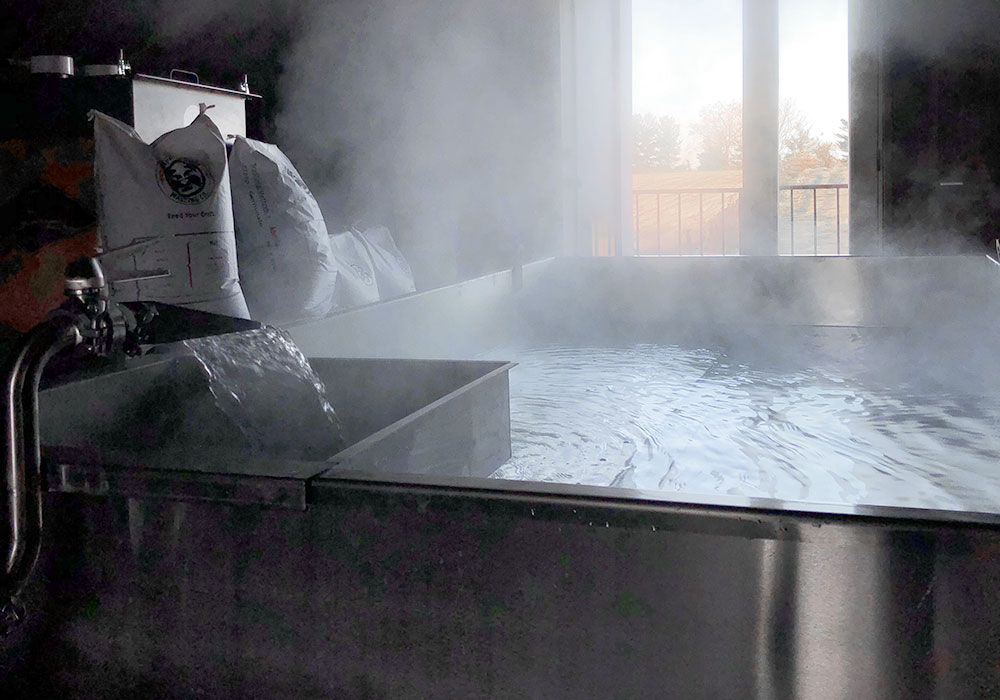 Across the Potomac in Adamstown, Maryland, Mad Science Brewing Company at Thanksgiving Farm is also a community-supported farm brewery. Founder Brian Roberts started his taproom because: "My wife told me to get a hobby."
"It originally started as crowdsourcing, like Kickstarter. But I came up with this instead," says Roberts. "That paid half our start-up costs. The rest came out of my pocket."
At Mad Science Brewing Company, everything has scientific names, including its two levels of membership: Elemental ($350) and Radioactive ($180). Members get growler fills, discounts on merchandise, and special access to events, including an annual picnic in October.
"Everybody brings a side dish. We provide the main dish. Everybody gets free drinks," Roberts says.
People tend to sign up around holidays and birthdays.
"People buy memberships as gifts," Roberts says. "We get the most around Father's Day and Mother's Day."
(Related: New York Farm Breweries are About Local Agriculture, Not Location)
Breweries Create CSAs Collaborating with Local Farmers
A little further north, near Philadelphia, Tired Hands Brewing Company of Ardmore, Pennsylvania, produces small batches of beer sourced with local ingredients. Tired Hands collaborates on its CSA with other local farms on a 10-week summer program. Show up at the taproom once a week in between July and Labor Day and you get a four-pack of Tired Hands' latest beer. Additionally, each week Tired Hands gives members a fresh loaf of bread baked in its Brew Cafè; plus two cheese blocks, fresh fruit and vegetables and occasional goodies like pasta sauce and tomato jam from partner farms. Participants paid $760 plus a three percent processing fee in 2019.
The 4-year-old program gets between 10 and 25 takers a year, says program administrator Rob Berliner: "We get a good mix of new faces and familiar ones."
You get the beer of the week, but Berliner says no one has ever complained about the selection.
"Consumers are excited to get whatever they get and try it all out. It's the spirit of discovery that drives them," he says.
A law in New York state designed to boost local agriculture offers farm brewery licenses to breweries who source a certain percentage of their ingredients from New York state farms. Big aLICe Brewing in Long Island City, New York, started as a CSB but is now open to the public. All patrons can enjoy farm-grown products. In addition to buying hops and other ingredients from in-state farms, "we use quite a lot of honey from our own rooftop hive and we work with rooftop urban farms" for chili peppers, maple syrup and coffee, head brewer Jon Kielty says.
(More: Florida Breweries Utilize 'Fresh From Florida' Label Once Reserved for Oranges)
CSAs and Breweries Work Together
Some small breweries, like Yolo Brewing Co. in West Sacramento, participate in a way that doesn't directly include beer. They serve as a pick-up point for veggies from the Center for Land-Based Learning. CSA members collect a weekly veggie box Tuesday evenings at Yolo, which helps boost Yolo's business (some CSA members stick around for the brewery's Tuesday night trivia).
"A couple people will stay for a beer or fill up a growler." says manager Peter Halldorf. CSA members even get a discount on growler fills.
(More: Engrained Brewery Sows Organic Mindset and Reaps Rewards)
Community-Supported Brewery Models Without Farms
An Oregon public house has taken the CSB in another direction. 7 Devils Brewing Co. in Coos Bay uses its "iPint" program to support its concert series. About 300 beer lovers a year buy an iPint (short for investor pint) for $125. Members get a card entitling them to one "drinkable dividend" beer a week all year. If you can't make it during a given week, you can loan the card to a friend, says manager Carly Otis, as long as both of you are of legal age.
The money raised is earmarked for the concert series in 7 Devils' public house and covers most of the bands' fees. The place hosts about 100 shows a year, bringing in a variety of local and out-of-state performers playing everything from rock to country to Celtic to gypsy jazz.
"Some folks just drink their pint; others bring their family for dinner," Otis says.
A brewery that opened in 2019 in Auburn, Maine, adopted the CSB approach to fund its operations. Side By Each Brewing Co. offers members several options. The idea is to get people to pay in winter for a year of vouchers for beer. That keeps money flowing during the slow season and keeps people coming all year long. Members get other perks, including growler fills from the pilot system not available to the general public.
About 40 members signed up the first year, says co-owner Ben Low. People who joined later got a prorated share. Annual memberships range from $425 to $1,400, but Side By Each is learning that offering six-month memberships makes the program more affordable.
"One thing we learned, which wasn't really surprising, is that (membership) is a pretty big chunk of change for someone to put down at once. By doing a six-month share, we can reduce costs for people," Low observes. "If they're happy, they can renew another six months."
Side by Each raised $50,000 of its start-up costs through its Founders Community members. Those "Founding" members get lifetime discounts and other perks.
"We find that CSB members will put their growler on the counter, have a pint or two and make their decision. We're also happy to provide a taste," Low says.
Side By Each generally doesn't give brewery tours to the public–"You can see the brewery from the tasting room," Low notes–but he and his partner will take members backstage. "We'll let them see ingredients, walk them through the brewing process and taste some beers in process along with some finished beers," Low explains. "Kind of educational for them but also fun."
In this age of conglomeration, by joining a CSB, you are supporting your local brewery while getting something in return. You also may be supporting your local farmers who are under the same pressure in this age of corporate farming. Without your local farmers, life would be much tougher, if not impossible or more expensive, for your local brewers.
CraftBeer.com is fully dedicated to small and independent U.S. breweries. We are published by the Brewers Association, the not-for-profit trade group dedicated to promoting and protecting America's small and independent craft brewers. Stories and opinions shared on CraftBeer.com do not imply endorsement by or positions taken by the Brewers Association or its members.