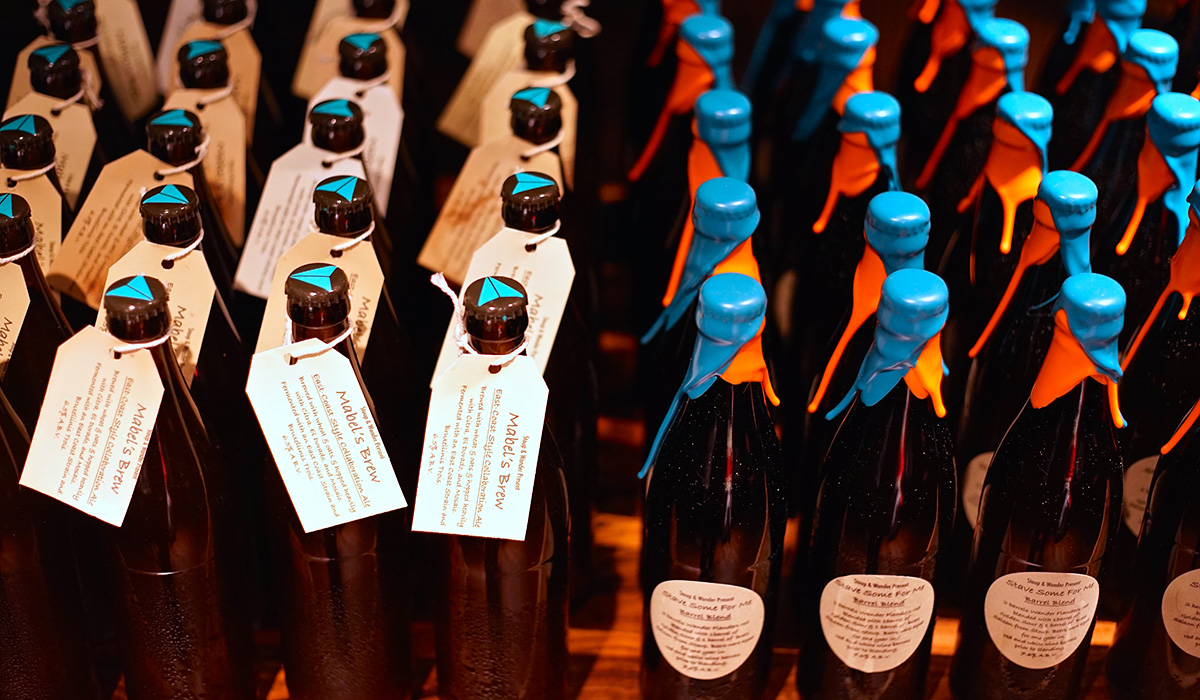 Barrel Blending: American Brewers Explore the Unknown and Complicated
On a stereotypically grey evening in Seattle, 40 beer fanatics gathered at Stoup Brewing for an intimate evening with some of their favorite brewers to discuss, dissect and experiment with a trend quietly, though certainly, sweeping through the craft beer movement: barrel blending.
A few months before this particular evening, Stoup had participated in the Washington Beer Collaboration Festival with Wander Brewing, of Bellingham, Washington. The two breweries created three beers together for that event, one of those being Stave Some for Me.
Stave Some for Me was the anomaly in the line-up. This beer had not been brewed by these two parties, instead, coming to fruition by blending barrels that had already been in Stoup and Wander's cellars. Inspired by the successful (let alone delicious) result, the main players for both breweries put on an event to demonstrate how they did it. This brings us to back to that room of 40 giddy craft beer enthusiasts.
(READ: The Evolving Role of Women's Contributions to Brewing Beer)
A Science Experiment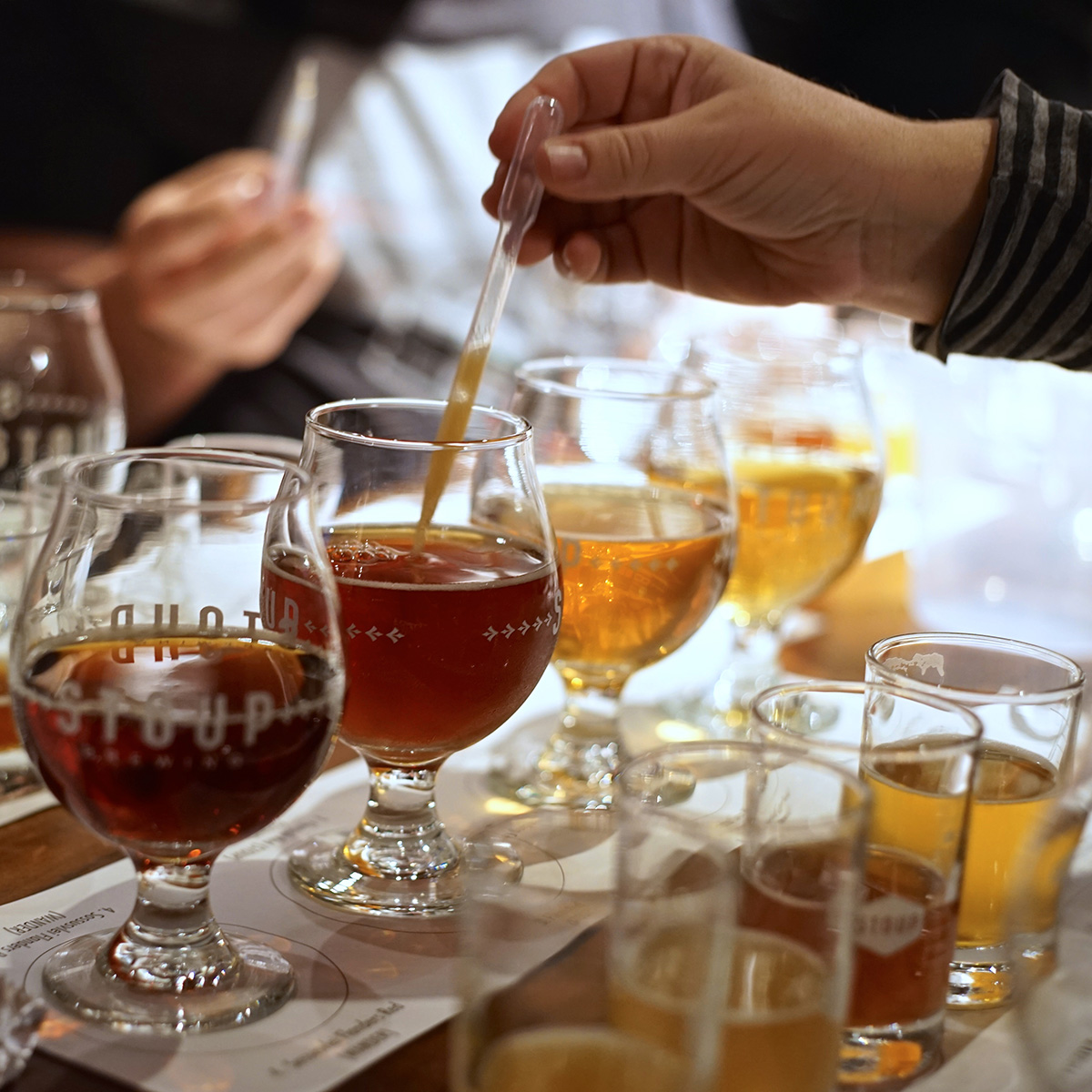 After a brief, informative presentation on the concept of barrel blending by three brewers — Brad Benson and Robyn Schumacher of Stoup, and Chad Kuehl of Wander — attendees were presented with their very own science experiment complete with pipettes, books for notes, four different beers and tulip taste testers. From there, guests were blending their very own brews, testing what mixed well together.
As guests conducted trials (and occasionally errors) with different beer combinations and quantities, the room effortlessly and immediately transformed into a 21+ science class. The energy was infectious.
At the end of the evening, it was evident that guests had grasped the concept of why, as consumers, we should be excited about barrel blending: This practice presents brewers with a truly limitless landscape for their craft.
(READ: The New England Style IPA is the Anti-IPA)
Let's break it down: Brewing with barrels is, on its own, experimental, creative and uncertain. Adding a barrel to a recipe means that even the most experienced brewer has no guarantee of a beer coming to fruition in the way they would want. On the flip side, aging beer in barrels means that a beer can become more delectable and complex than a brewer could have dreamt.
Brewers Blend to Explore the Unknown
Now, take this already-unpredictable barrel aged beer and step it up a notch. Add in another variable, like another barrel aged beer, or perhaps a brew that is more hop-forward with a completely different flavor profile. This is where magic happens.
In mixing these two beers together, the brewer has the opportunity to make a beer greater, much greater, than the sum of its parts. It is the possibility to create something unlike we've ever tasted before.
"The majority of breweries out there want to go this avenue," says Kuehl, as he describes the practice. "We're interested in exploring the unknown. One plus one doesn't always equal two. Sometimes it equals three and sometimes it equals one."
"There's this magic in barrel-aged beers, and we have to be ready for it." Troy Casey, Casey Brewing & Blending
Stoup and Wander aren't the only breweries making note of this technique. Barrel blending is being practiced by celebrated establishments coast-to-coast — two of those being Allagash Brewing Company in Portland, Maine, and Casey Brewing and Blending in Glenwood Springs, Colorado.
"[Blending] is never boring. It's always challenging," says Troy Casey, owner of Casey Brewing and Blending.
(VISIT: Find a U.S. Brewery)
And it's not just challenging for Casey. He explains that blending also thrives off of passion and creativity.
"My old job was all about lagers, and making a lager successfully is brewing by numbers. You are trying to hit certain targets. It's analytical. There's some romance to it but the heart of it is churning it out, and making it as consistent as possible. It's not as emotional," Casey says. "So for me, when I wanted to venture to start my own project, I had some experience making barrel-aged beers. That was my passion, and that is what I wanted to do when I started Casey. To me there's this magic in barrel-aged beers, and we have to be ready for it. That's why I love these styles. There is always something new and you can always work to make flavors that haven't been done before."
What Brewers Want from Barrel Blending
What do brewers look for in regards to flavor, aroma, texture, as they create said magic? We asked Jason Perkins, brewmaster at Allagash Brewing.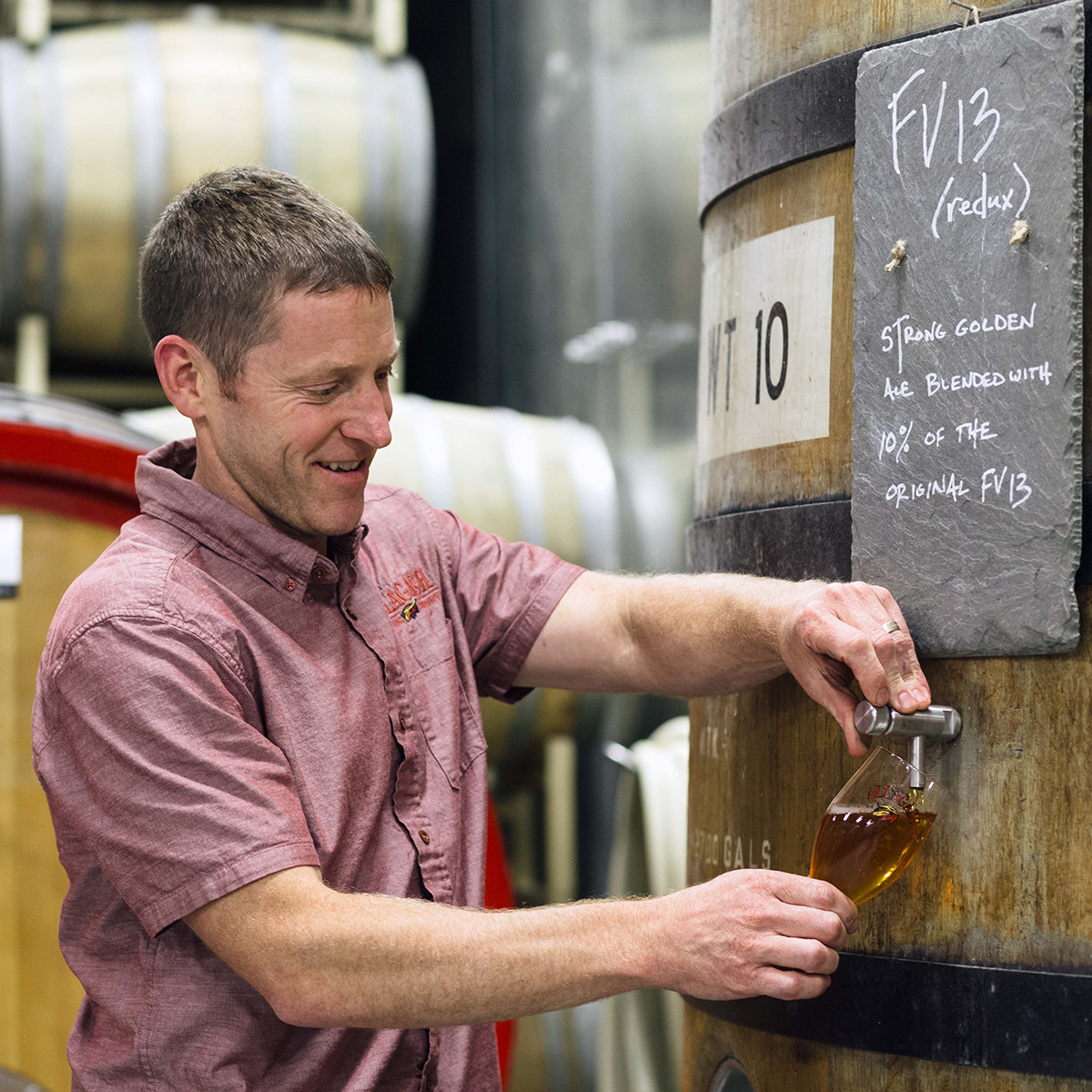 "Classic short answer — it depends! It depends on what you're trying to create in the end," he says.
Perkins takes Allagash's celebrated Curieux as an example. Curieux is created by blending Allagash's Tripel that has been aged in bourbon barrels for seven weeks with a portion of fresh Tripel.
"The blending purpose is simple. We are looking to temper, or blend, the flavors of the intense oak. We aren't diluting the bourbon character but opening it up," explains Perkins.
(BEER & FOOD: Try These Tips for Pairing IPAs and Food)
Casey Brewing and Blending oftentimes has different reasons for blending. Since its opening, Casey has made a point to stay local, brewing with native Colorado fruit. When it comes time to blend their brews, this is a major factor they consider due to the acidity that the fruit may or may not have created within their beers. Recently, the Casey team has also been blending with hoppy beers as well, allowing them to explore complexities that are new to their wheelhouse.
You Have to be Willing to Dump Beer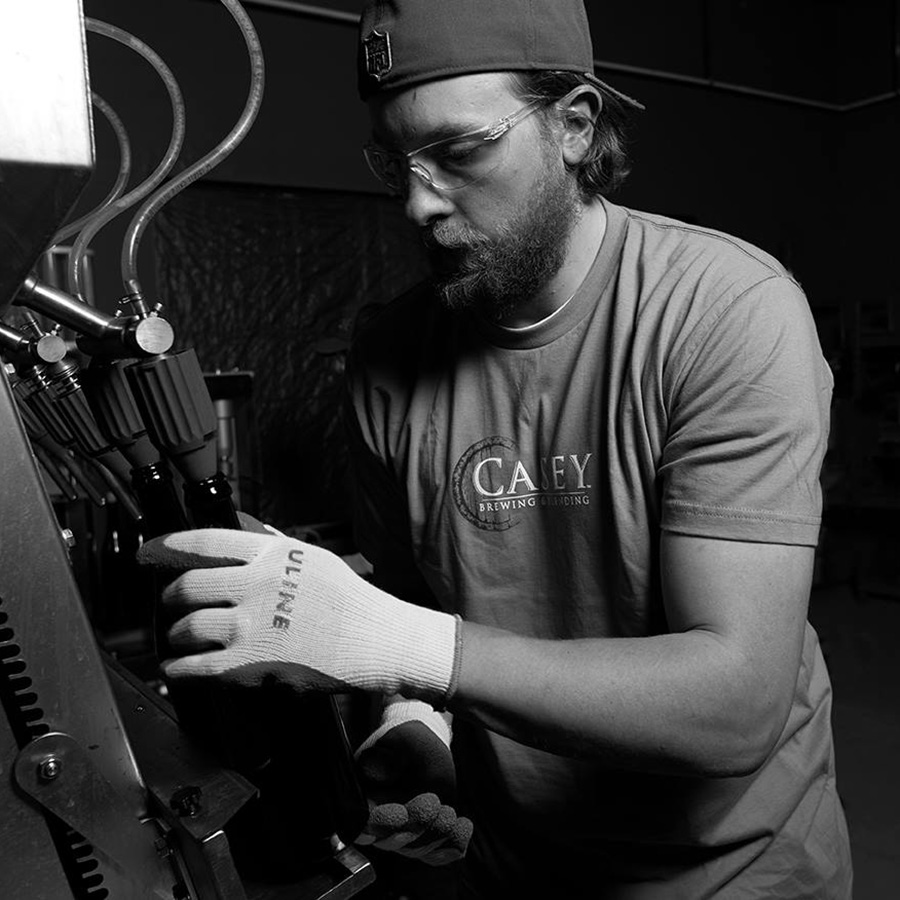 And though Perkins and Casey may have different recent reasons for blending, they are in complete agreement on why not to blend a barrel. For these two breweries, barrel blending is not for incorporating a mediocre brew into a final product. They're not afraid to accept defeat and toss a barrel that didn't come to fruition.
"It's important to know what not to use," says Perkins. "As a brewery, if you're starting a [barrel aging] program you have to go in with the expectation that you might not use all the barrels you're going to make. If you're not dumping beer your quality isn't as good as it could be."
"We dump a lot of beer," admits Casey. "One of the reasons we called it Casey Brewing. It's how we let the consumers know how proud we are. This is my family's name. When we sell a beer it's going to be nothing but the best quality. If people think about blending as trying to blend out a flavor, all you're doing is taking a good beer and adding a bad beer to it, making it mediocre at best."
(READ: Breakthroughs in the Science Behind Malt Flavor)
Another thing that Casey and Perkins have in common? How they see this practice continuing to resonate and expand within the craft landscape.
"We are already seeing breweries focus on this," says Casey. "We are seeing breweries put in a lot of effort to make these styles."
Stay Open-Minded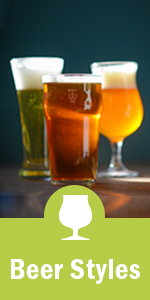 And as we, the consumers, taste test and work through the endless barrel-blended creations, Perkins has a piece of advice: If you pride yourself on being familiar with certain styles, or if you're new to the concept of mixing brews together, stay open-minded and talk to the beer's creators.
"It's hard [to pick out the styles you're drinking] without a little bit of an understanding of what the brewer was intending," Perkins explains. "In a lot of cases it's a blend of multiple different beer styles, so it would be hard to pick out the components without some assistance from the brewer."
It's advice that is easy to swallow, as demonstrated by that intimate, experimental event back in Seattle.
As Stoup and Wander wrapped up the evening, their attendees snatching up their take-home bottles of Stave Some for Me and shaking hands with their craft idols, it was very apparent that this trend is going to be a fun one to explore.
CraftBeer.com is fully dedicated to small and independent U.S. breweries. We are published by the Brewers Association, the not-for-profit trade group dedicated to promoting and protecting America's small and independent craft brewers. Stories and opinions shared on CraftBeer.com do not imply endorsement by or positions taken by the Brewers Association or its members.