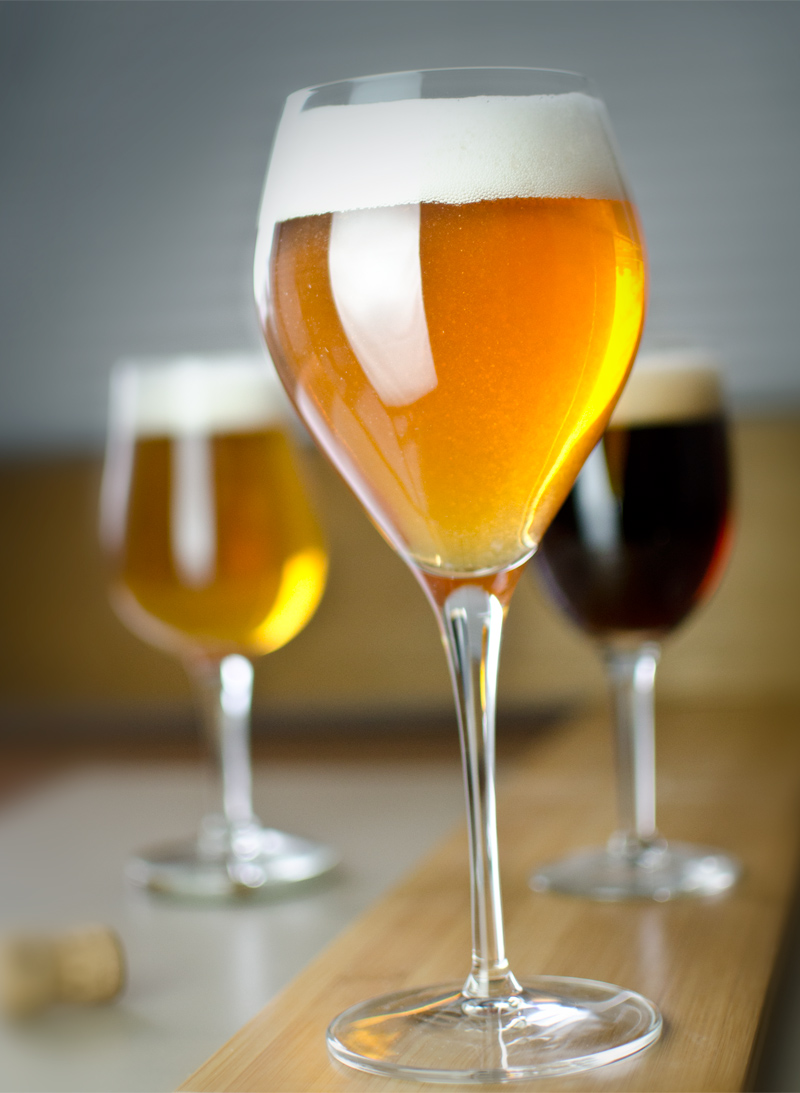 Beer-Wine Hybrids: Two Worlds Collide
Wine was my first love. Beer is my true love.
From retail to restaurants to winery work, I spent six years pursuing a career in wine. I had the honor of being trained by one of the world's few Master Sommeliers, and even moved to California specifically to work in the wine industry.
Wine fascinates me. It gets me excited. I absolutely adore wine.
And if it wasn't for wine, I might never have uncovered my love for craft beer. Studying wine helped give me an understanding and appreciation for well-crafted alcohol beverages. Wine trained my palate and taught  me how to taste and pair.
One of the beers that helped me make the leap to craft beer was Dogfish Head's Midas Touch, an usual grain and grape hybrid, made from an ancient recipe that scientists were able to recreate from alcohol residue found in King Midas's tomb. The flavors blew me away. It was rich and vicious, almost Sauternes-like, yet bright, refreshing and bubbly.
Midas Touch was, in a sense, the gateway beer that led me to seek out and try craft beer. From there, I uncovered a passion for hops, a love of rich, dark malt and a fascination with wild yeast beers—all because someone decided to infuse beer with wine.
Although beer-wine hybrids aren't exactly new, the concept is rapidly becoming a big trend in craft beer. Dogfish Head continues to push the boundaries of its beer, but now they're not the only ones. A couple dozen breweries all over the country are experimenting with wine barrel-aging. Some breweries are even using wine yeast strains in fermentation. An even smaller group are brewing with wine must—freshly pressed grape juice that includes the skin, seeds and stem.
Fruity, oaky and complex—wine-inspired beers artfully combine the best of both beverage worlds. Here are some of the world's best vino-infused beers from the breweries pioneering the hybrid movement.
Russian River Brewing Co.
Santa Rosa, CA
Originally founded by Korbel Champagne Cellars, Russian River Brewing Co. has been at the forefront of the wine barrel-aging movement since the late 90s. Growing up in a wine-making family, Russian River's renowned Co-owner and Brewmaster Vinnie Cilurzo was born with fermentation in his blood. His background in wine, combined with a passion for sour, barrel-aged Belgian beers, inspired Cilurzo to create some of the most sought-after, highly-coveted wine barrel-aged sour beers in the world.
"The idea in using wine barrels was to take my favorite component of Belgian lambic beer, which is Brettanomyces yeast, and create a beer based around those flavors of the Brett," notes Cilurzo. "For Supplication, the whole idea is to match the flavors of the beer with the specific flavors of the wine that was once in the barrel,in this case Pinot Noir, with the fruit (cherries) and meld them all together into one cohesive beer."
Russian River's wine-inspired beers include:
Temptation: Blonde ale aged about nine to 15 months with Brettanomyces, Lactobacillus and Pediococcus in used Chardonnay barrels from local Sonoma County wineries.
Consecration: Dark ale aged for four to eight months with black currants, Brettanomyces, Lactobacillus and Pediococcus in Cabernet Sauvignon barrels from local wineries.
Supplication: Brown ale aged for about 12 months with sour cherries, Brettanomyces, Lactobacillus and Pediococcus in used Pinot Noir barrels from local Sonoma County wineries.
Dogfish Head Craft Brewed Ales
Milton, DE
As part of its off-centered mission, Dogfish Head Craft Brewed Ales has been focused on beer-wine hybrids since the late 90s. Inspired by ancient brewing and winemaking practices, Dogfish Head was one of the first modern-day craft breweries to experiment with grape juice and must in the brewing process.
"One of our rallying cries at Dogfish has always been 'analog beer for the digital age,'" says Sam Calagione, president of Dogfish Head. "So many ancient beverages were hybrids, incorporating grains and grapes as they can compliment each other so well to reach exponential levels of complexity. It's possible to look backwards for inspiration instead of always looking to the future."
Dogfish Head's wine-inspired beers include:
Midas Touch: Somewhere between wine, beer and mead, Midas Touch is brewed with white Muscat grapes, barley, wildflower honey and saffron.
Red & White: A big, Belgian-style witbier brewed with coriander and orange peel and fermented with California Pinot Noir juice.
Noble Rot: A beer-wine hybrid brewed with botrytis-infected Viognier must, Pinot Gris must, pilsner and wheat malts and fermented with a distinct Belgian yeast strain.
Sixty-One: A continuously-hopped IPA brewed with California Syrah grape must.
Block 15 Brewing Co.
Corvallis, OR
Block 15 Brewing Co. launched its barrel program shortly after opening in 2008. They started out with one Pinot Noir barrel and six Bourbon barrels, but have since expanded the program to include Chardonnay, Syrah, Cognac, Port and Brandy barrels. While most brewers choose to barrel-age beers already in their portfolio, Block 15 designs each of its beers specifically for the barrel that it will be aged in.
"I look at barrels in general as another ingredient for the beer," says Nick Arzner, founder and head brewer at Block 15. "When first working with a barrel type, I spend some time with the aroma and look of the inside thinking about what it may contribute to the beer. We then use the knowledge we have of various grains, hops, yeast, bacteria and fruits, and build a beer for that barrel."
For its fifth anniversary this March, Block 15 started brewing with wine grapes, adding fresh southern Oregon Petit Verdot grapes to a Brett-fermented blonde ale.
Block 15's wine-inspired beers include:
Framboise White: A strong mix fermented wit matured in Chardonnay barrels with local golden raspberries.
The Demons Farm: Black farmhouse ale matured in Pinot Noir and Bourbon barrels with local tart cherries.
Golden Canary: Yearly blend of mixed, open-fermented wild and sour ales from various wine barrels, aged up to three years.
Captain Lawrence Brewing Co.
Elmsford, NY
Captain Lawrence Brewing Co. began brewing with wine grapes and aging in wine barrels right out of the gate. In 2006, when the brewery opened, Captain Lawrence took home the gold medal at the Great American Beer Festival in the German or American Sour Ale category for Cuvee de Castleton—a golden ale aged with Brettanomyces and Muscat grapes (seeds, skins and all) in wine barrels.
"The romance of the barrel is something that really caught my attention," explains Scott Vaccaro, owner and head brewer of Captain Lawrence. "Putting the beer into the barrel and nurturing it in the hopes that it transforms into the beer I envision—I find that similar to winemaking."
Captain Lawrence's wine-inspired beers include:
Cuvee de Castleton: Golden ale aged with Brettanomyces and Muscat grapes in wine barrels.
Rosso E Marone: Belgian-inspired dubbel aged in wine barrels with red grapes and Brettanomyces.
Golden Delicious: American tripel, dry-hoped with Amarillo hops and aged in apple brandy barrels.
Other notable breweries producing beer-wine hybrids:
Have you had an amazing wine-beer hybrid? Share your tasting experiences in the comment section below!
Photos © Brewers Association & ClaudioBrisighello via Flickr CC
CraftBeer.com is fully dedicated to small and independent U.S. breweries. We are published by the Brewers Association, the not-for-profit trade group dedicated to promoting and protecting America's small and independent craft brewers. Stories and opinions shared on CraftBeer.com do not imply endorsement by or positions taken by the Brewers Association or its members.