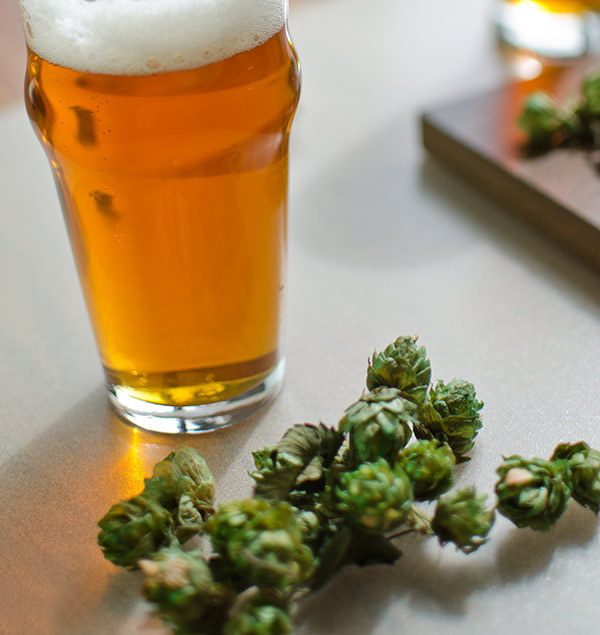 Birth of a Hop
Fact: beer lovers love hops. Long gone are the controversial, and shameful to some, bitter beer ads of the 1990s. With more than 2,800 craft breweries in America, hops are having a heyday, and the full-flavored beer envelope is being pushed to infinity and beyond.
Hops' bitter balance to malt's sweetness is essential to the majority of beer styles, but that's not all the mighty hop flower bestows upon beer. Tell me the following flavor descriptors of common hop varieties don't get your attention: earthy (Saaz), hay/grass (Hallertau), resinous (Columbus), Sauvignon Blanc (Nelson Sauvin), lemon (Centennial), lemongrass (Sorachi Ace), orange/tangerine/floral/rose (Cascade), grapefruit (Chinook), mango (Citra®), raspberry/blueberry (Mosaic), woody/mint (Northern Brewer), pine/catty (Simcoe®).
These beauties weren't always the popular, well-tapped hop giants that they are today. Each one was once an emerging experimental hop variety.
Test Tasting
I recently participated as a taster in a study on experimental hop cultivars at Oregon State University's Department of Food Science and Technology. This fascinating process got me thinking about the life cycle of the mighty hop flower and how hops come of age.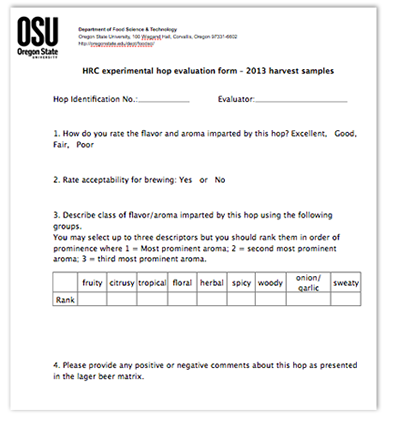 For any one hop variety that makes it to market, several hundred people have often provided feedback. It can take up to five years' worth of tasting the hop at different stages to get it ready for primetime.
For our tasting, OSU provided beers brewed with experimental hop cultivars from the 2013 harvest in Oregon and Washington. As taste testers, we were asked to rank each beer according to the class of flavors and aromas we detected.
By sharing what we perceived in each of the unnamed hops, we were weighing in on their fate as potential new hop varieties. We were either improving their chances to make it to market…or weeding them out. Download evaluation form.
A Snapshot of the World Hop Market
Currently, there are about 200 varieties of hops commercially available. Dr. Thomas H. Shellhammer, professor of food science at OSU, estimates there another 100 advanced lines of experimental hop varieties now in development world-wide, perhaps 5-10 of which might come to market within the next twelve months.
A few short decades ago, brewers around the world used a mere 40 or 50 varieties. Beer lovers are lucky to be in the midst of a hop rush that will take our taste buds to even higher places.
That means hop growers will play an increasingly important role in the craft beer scene—and brewers know it. As Tony Magee of Lagunitas Brewing Co. shared recently via Twitter: "Who would u guess 2 be the most important person in US craft brewing? A brewer…? Think again. He's a Hop grower named Jason Perrault! Word."
In this video, Hopunion, LLC talks with Jason Perrault who shares just how difficult and amazing the hop plant is: "Hop Breeding Series: The Basics."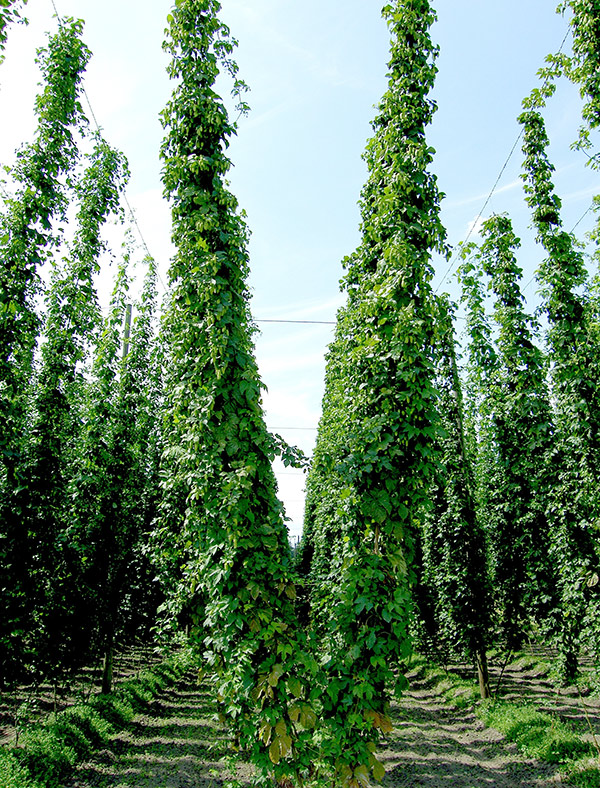 Here are some fun facts about the world of hops:
There are an estimated 4,800 hop farmers worldwide, with less than 100 in America.
But those few American hop farmers more than pull their weight. The United States is home to about 30% of today's world hop supply.
Hops are grown asexually, mostly from cuttings of the original or by crossing with another variety. Crossbreeding doesn't just combine the traits of the parent plants—it can introduce unexpected new characteristics.
Experimental hops are nurtured via traditional breeding methods similar to apples (think Fuji), grapes (Merlot anyone?) and many other agricultural products.
Hop crosses have a very high mortality rate with one estimate at 90-95 percent.
Baby yards (first year plantings) typically yield 40-70 percent compared to mature fields.
As they grow, experimental hop varieties are tested for disease resistance, agronomics, bittering and flavors and aromatics. The final test, of course, is interest from brewers.
Hops used in beer are the plants' flowers, and come from the female plant only.
Hops are one of the most labor intensive crops in the world. Every bine (not vine) is hand strung with one estimate at more than 1,500 strings per acre.
At harvest, it is estimated that every acre of hops may have been touched by human hands more than 7,000 times.
According to Hopunion Hop and Brew School, the typical cost for bringing a new hop variety to the market is approximately $1.5 million.
Craft brewers recently surpassed large global U.S. brewers for usage of aroma hops—a trend that is expected to continue to grow.
Hop Variety Timeline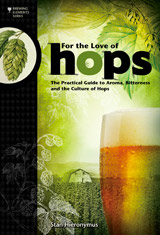 It takes about ten years (on average) to develop each new hop variety—thus the less than two hundred worldwide varieties today. Here's one version of the hop creation process, as described by Stan Hieronymus in For the Love of Hops: The Practical Guide to Aroma, Bitterness and the Culture of Hops (p. 69).
Year 0: Make crosses.
Year 1: Seedlings are grown in greenhouses and selected for powdery mildew resistance
Years 2-4: Plants are field-assessed, evaluated and harvested, chemically analyzed. The Oregon Hop Commission and the Hop Research Council decide which look promising. The HRC was established in 1979 by brewers, dealers, and growers to fund and direct U.S. hop research. Boston Beer Company and Sierra Nevada Brewing became members relatively recently, and the Brewers Association joined the HRC in January 2012.
Years: 5-8: Selections grown on multi-hill plots. Plots harvested for accurate yield date. Evaluation continues, complete data collected. Samples sent to breweries for pilot brews. Breweries select favorites.
Years 9-???: Selections grown in commercial farm plot (15-30 hills, or one-acre plots). Tested at multiple breweries. Brewers accept or reject the hop.
Experimental Hops in Action
Here are some examples of craft brewers who are breaking new ground with experimental hops:
Ales for ALS | Fundraiser for Lou Gehrig's disease Ales for ALS is a multiple year effort encouraging breweries to work with this unique hop blend to reach a $1 million fundraising goal. In 2013, Russian River and Bell's Brewery were involved and hops donated to the brewers by Loftus Ranches and Hopunion. Hops: HBC 462, Mosaic (formerly called HBC 369), HBC 344 and HBC 366.
Bale Braker Brewing Company | Yakima, WA Beer: Double Bubba's Brew (double IPA) Hops: ALS hop blend (HBC 462, Mosaic: formerly called HBC 369, HBC 344 and HBC 366)
Deschutes Brewery | Bend, OR Beer: Hop Henge Experimental IPA Hops: Cascade, Centennial, Millennium, Chinook, and 1 experimental variety
Summit Brewing Company | St. Paul, MN Beer: Summit Extra Pale Ale (modified version) Hops: HBC 291, HBC 344 and HBC 366
Spoetzl Brewery | Shiner, TX Beer: FM 966 Farmhouse Ale Hops: Meridian
The Top Hops
Once a hop does make the big time and becomes commercially grown, it's fascinating to watch brewers adopt it and see which varieties are the most popular from year to year. The Brewers Association Hop Usage Survey reports:
The top three hops used in 2007-2008, 2008-2009 and calendar 2009 were Cascade, Centennial and Willamette. These three varieties alone accounted for 42%, 44% and 38% of total pounds of hops used in their respective survey years. Craft brewer hop usage is heavily skewed towards aroma varieties.
CraftBeer.com will never stop researching and publishing information on this amazing ingredient in beer. Check out which hops are used at your local brewery taproom or brewpub and be sure to keep an eye out for any fringe brewers playing around with the next up-and-coming hop star.
CraftBeer.com is fully dedicated to small and independent U.S. breweries. We are published by the Brewers Association, the not-for-profit trade group dedicated to promoting and protecting America's small and independent craft brewers. Stories and opinions shared on CraftBeer.com do not imply endorsement by or positions taken by the Brewers Association or its members.