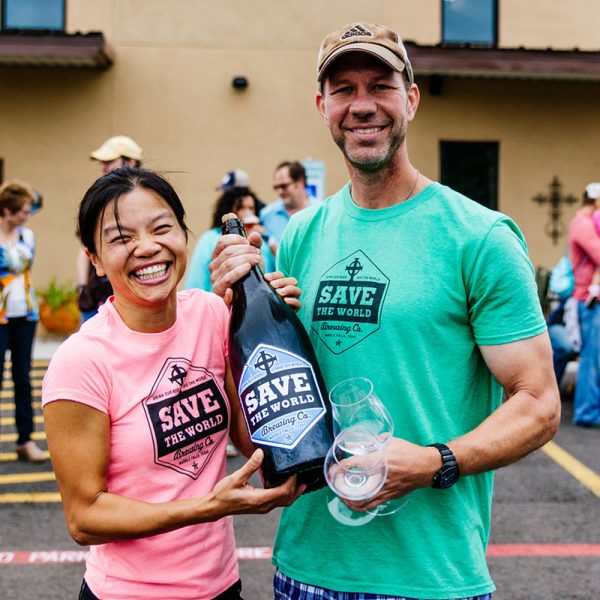 9 Brewery Couples On Their Strong Relationships and Successful Breweries
People often warn you should never mix business life with personal life, but we found brewery couples who are breaking those rules, and having success building strong breweries and strong relationships.
We talked to nine brewery couples to hear how they met — and perhaps, more importantly — share the perks, and the pains, of running a small business together.
Sarah & Justin Brigham | Sycamore Brewing Co. | Charlotte, NC
Role in the brewery: Co-owners
Together: 11 years
How did you meet: I'm originally from Bermuda and was back home from college on summer break working as a Jet Ski tour guide. Justin was working on a catamaran at the time. We met on a dock at the end of the day. I was refueling the jet skis, and Justin was washing down the boat. We exchanged a few smiles and have been together ever since.
First date: Our first date was the night we met. My friend's band, "Home Grown," was playing at a local bar. I gave Justin tickets and insisted that he come.
What inspired you to open a brewery together: We wanted to create and produce something that would make people happy.
How has working together impacted your relationship: It's made us respect each other even more.
What is one thing you've learned about each other by working together: No business talk until after coffee.
What is the most memorable beer you've shared together: Drinking our lager after medaling in the lager category at GABF. Such a high!
(MORE: 9 Weird Brewery Names and the Stories Behind Them)
Kristin & Ryan Scott | Odd 13 Brewing | Lafayette, CO
Role in the brewery: Ryan is the owner and "head of everything" and Kristin is the owner and head of sales.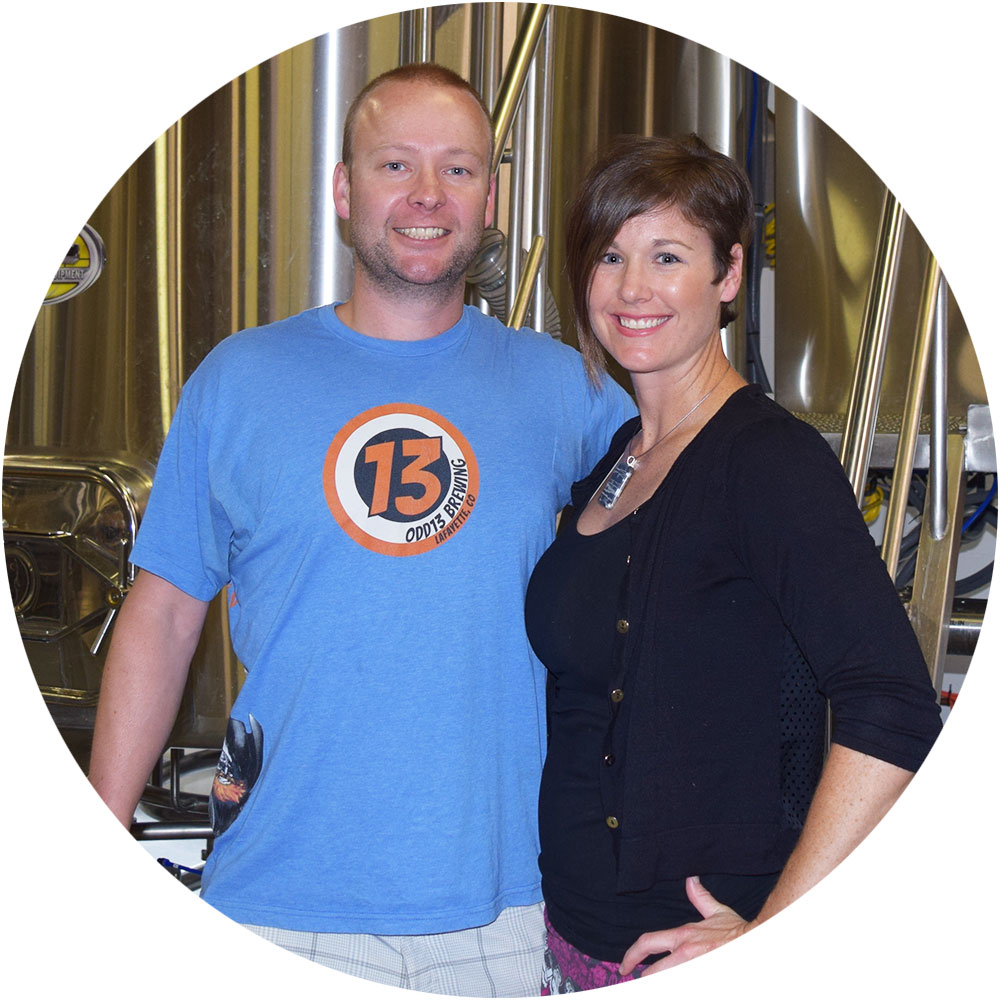 Together: Married 13 years
How did you decide to open a brewery together: Ryan began homebrewing in our kitchen in 2009, after doing about a year of research (no joke). In the fall of 2012, both our kids were in school, and I was definitely getting the "itch" to do something outside the household. I have always had an entrepreneurial spirit, and that's why I chose to major in Business and get an MBA. Starting a business from the ground up sounded like a great challenge and an exciting opportunity to play a large role in defining and growing a company. After moving to Colorado, Ryan and I visited breweries almost every weekend. We really enjoyed the beer scene and noticed several small breweries opening and growing rapidly. Finally, it clicked: this was my opportunity to start something from the ground up. Plus, I get to do it alongside my best friend, and husband, Ryan. How many people get to do that?
How has opening the brewery influenced your relationship: It's not just a personal relationship anymore, it's bigger than that, which is super amazing and has brought us even closer over the past three and half years. It's not "Where are we going on vacation this year?" it's "What is our forecasted growth for the year? And what do we need to do to make that happen?" which is much more thought-provoking and interesting, if you ask me.
What advice would you give couples who work together: Understanding each others' roles is pertinent for a successful business partnership. If a couple opens a business together, and both have the desire to make the final shots, there could be a lot of frustration, which will ultimately have negative effects on their personal relationship. Ryan and I have a great working relationship. While he respects my opinions, we talk through every major decision together. However, at the end of the day, Ryan makes the final shots.
When it's just you two, enjoying some alone time, what style beer are you reaching for: Ryan and I enjoy spending a few days a week at a local brewery or beer bar. We enjoy several styles and we will reach for something we have never had before gravitating towards a beer we have had in the past. I think we definitely have a tendency to reach for hop forward styles (West Coast and New England Style), as well as funky/sour styles.
(MORE: The Internet Loses Its Mind Over This Oreo Beer)
Julie Verratti & Emily Bruno | Denizens Brewing Co. | Silver Spring, MD
Role in the brewery: Emily is the Director of Business Operations and is in charge of finances, strategic planning, managing the tap room, and HR. Julie is the Director of Business Development and is in charge of the wholesale operation (we self-distribute) and business/community relations.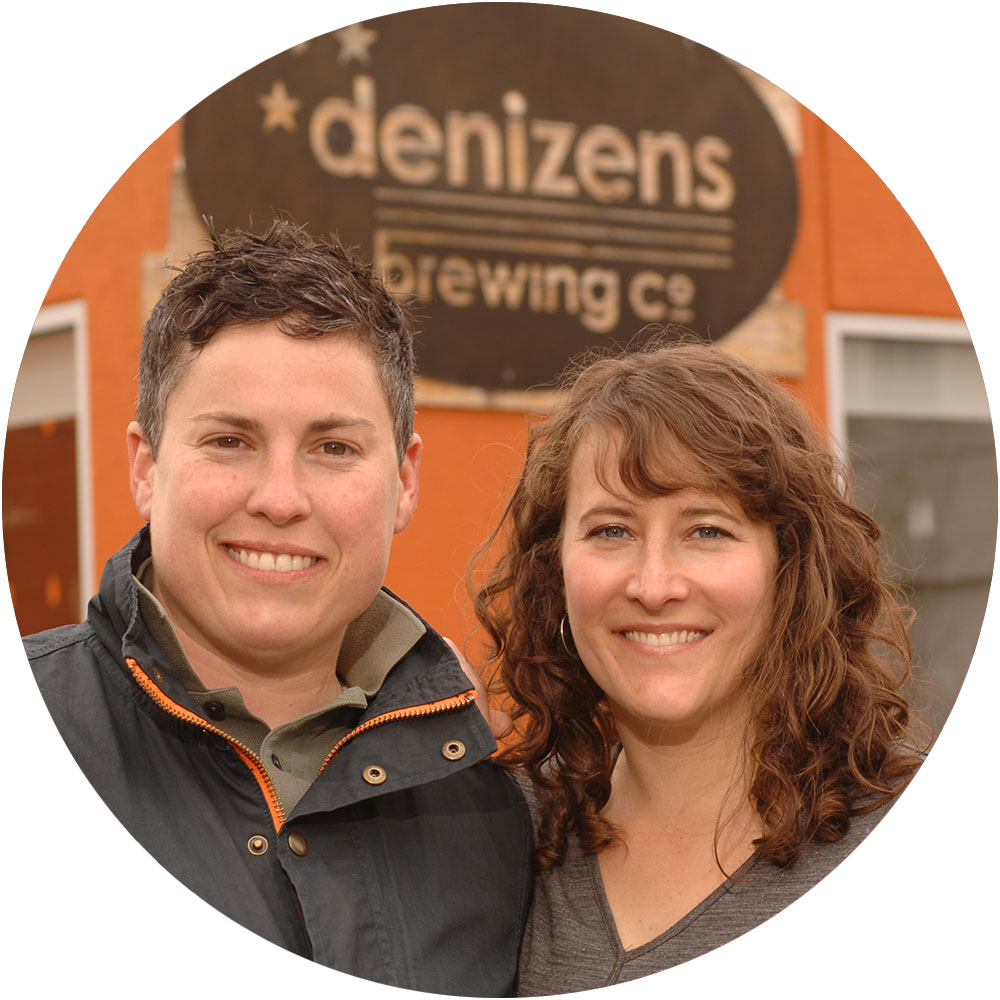 Together: 12 years; Married 8 1/2
How did you meet: We met working together on the presidential campaign in 2004 in Boston.
How did you decide to open a brewery together: We both had an entrepreneurial itch and also love beer. We live in one of the most diverse areas in the DC metro region and knew we wanted to create a community focused business in our hometown of Silver Spring. We saw an opportunity to both serve the community and build a business around something we both love by partnering with our brother-in-law Jeff Ramirez. Jeff had formerly brewed at Iron Hill and Mountain Sun, so he was the perfect third partner for this venture. All three of us have unique skill sets that we bring to the business, and it allows us to focus on the things we are good at doing. We all jumped in together in 2013 and opened our doors in 2014.
How does working together impact your relationship: It complicates and also simplifies things. The complications are that there is no break from each other. Having completely different responsibilities in the company helps with that, though. The reason it simplifies our relationship is that we have common goals in all areas of our lives, and that common purpose brings us closer and also makes petty fights not worth it.
What's one tip you'd give to couples wanting to start a brewery: Having a third partner and also clearly defined roles has helped us start and run the brewery together as smoothly as possible.
Most memorable beer shared together: The most memorable beer we shared was the first one we drank that was brewed at Denizens. After all the hard work to get the brewery operating and our doors open, that was by far the best beer we've had.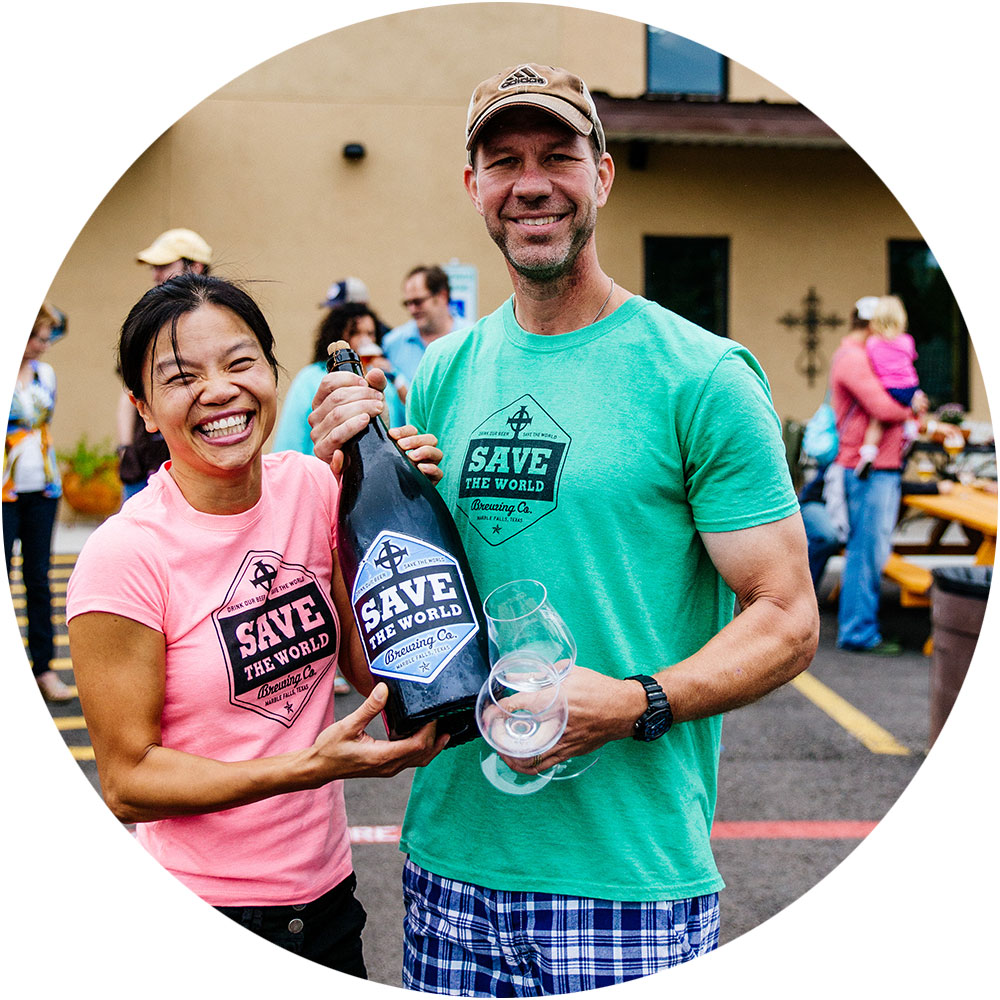 First date: December 1995, dancing and a drink in the French Quarter of New Orleans
Together: 22 years
Role in the brewery: Dave is the owner and brewer, and Quynh is the owner and chief executive officer.
What inspired you to open a brewery together: My passion has been for brewing, and Quynh's has been for charities and giving, so we decided to combine our passions and create a philanthropic brewery.
What have you learned about each other through this process: I have an even greater appreciation for how hard working, diligent, and what a perfectionist Dave is. He is uncompromising in attaining his goal of brewing world-class quality beer. We have learned how to work professionally together, specifically respecting each other's roles and thus responsibilities. We have learned that neither of us should be the "boss" or direct supervisor of the other.
What's one tip you'd give to couples who want to start their own brewery: Keep your marriage as the first priority, which means carve out time away from the business, and don't get mad at each other over business related issues.
What is the most memorable beer you've shared together: Dave's experimental batch of Sol Vinum, our golden strong ale aged on crushed viognier and muscat canelli grapes. He made a small batch to release at our one-year anniversary party, and it was so beautiful to behold and delicious that it appeared to have run dry at the party. However, at the end of the day, we were very pleasantly surprised to find a small amount left in one keg, so we shared that back at our home sitting on the deck looking out over the lake relaxing after a very hectic anniversary party. It was the perfect culmination to our first full year in business and really reinforced why we took on this grand adventure, as I call it–our love of beer.
(BEER 101: Test Your Beer Knowledge)
Stephen & June Gerteisen | Arkose Brewery | Palmer, AK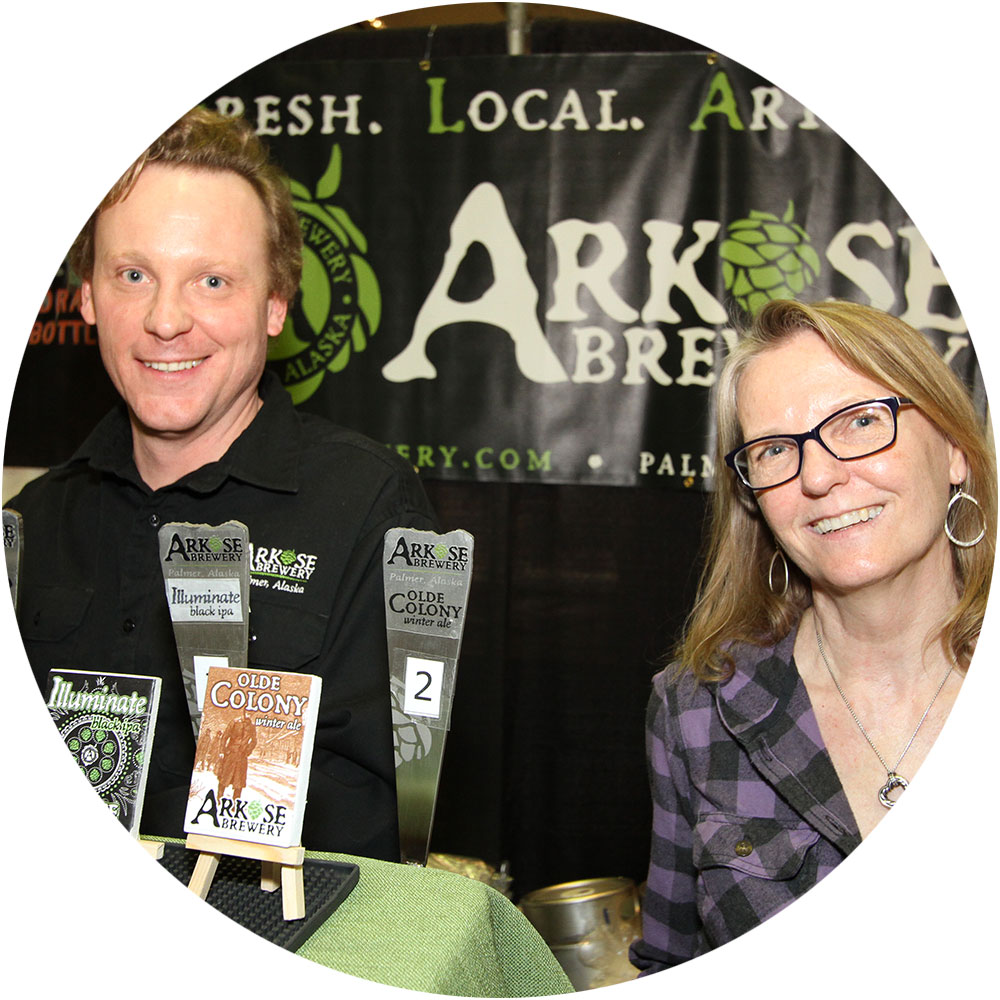 Role in the brewery: Stephen is the co-founder and head brewer and June is the co-founder and creative director.
Together: 16 years; Married 14 years
How did you meet: We met at a friend's party in San Francisco where we both were living at the time. We discovered that we both spoke fluent German, and we were inseparable from that time on.
How did you decide to open a brewery together: Stephen had an entrepreneurial streak that was ignited after he attended a beer appreciation class and worked as a keg washer in Anchorage. In 2007, he attended the UC Davis Master Brewers program in Davis, California. It was on the drive back to Alaska that we began plotting our own brewery.
How has owning a brewery impacted your relationship: It is not only owning a brewery but planning the brewery that has impacted our relationship. In 2010, in the midst of our planning and just before signing all the loan paperwork, I was diagnosed with breast cancer. Having never faced something like this before, our world was turned upside down. We didn't know what this could mean for our future, but I was lucky, and it was caught early. We were even more convinced that opening a brewery was the right thing to do and a year later, we opened. The brewery is something that we created from scratch and continue to build on each and every day. We are lucky to be able to do this together. It has brought us closer and made us stronger.
Best part about working together: What could be better than spending most of your time with your soul mate? We can be totally ourselves while working hard at what we do for the benefit of one another. He brings the science and the soul, and I bring the art and the heart.
What is the most memorable beer you've shared together: When we opened in 2011, we only had one beer on tap! It was Blue Skies Organic Ale and that is by far the most memorable because it was the result of all we had worked towards over the previous two years. Now we have over nine beers on tap with more on the way.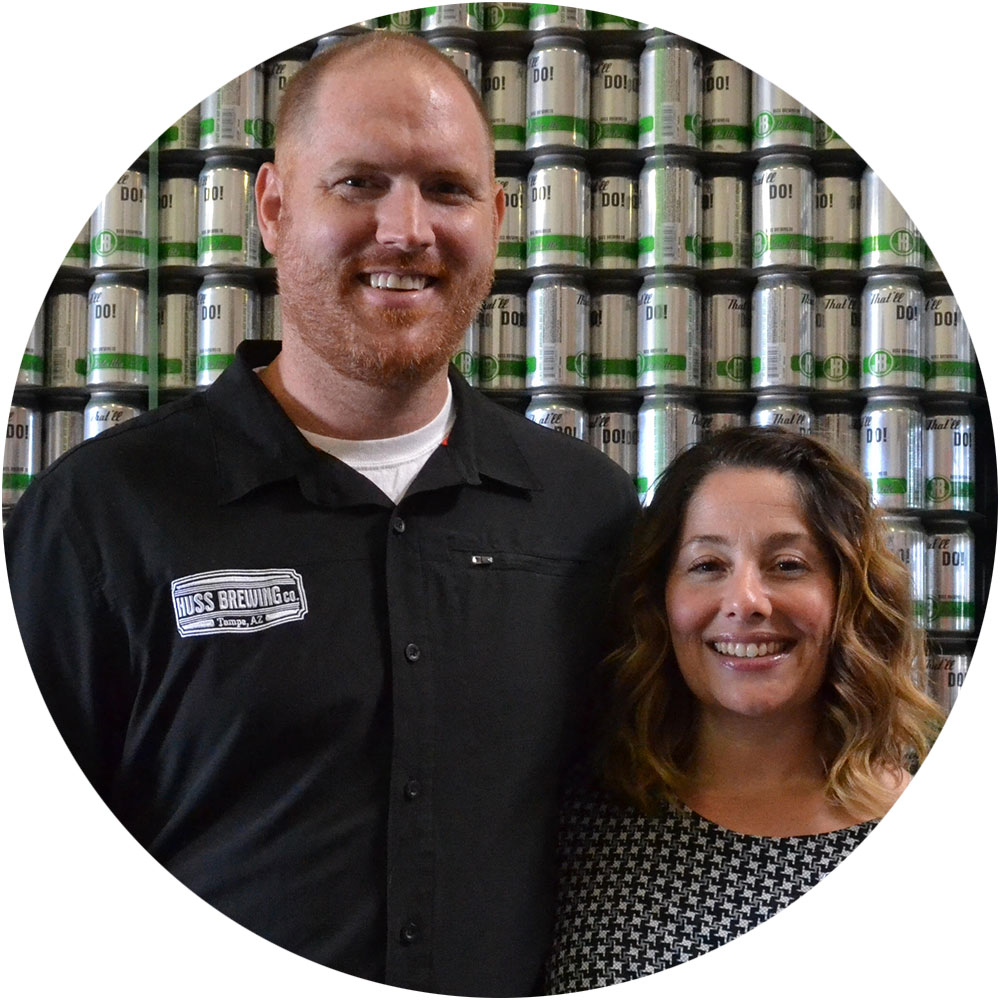 Role in the brewery: Jeff is the head brewer, and Leah manages all things sales, marketing, and for the taproom.
Together: 11 years
First date: On our first date we went for beers at the Yard House.
How did you decide to open a brewery together: When we first found out I was pregnant we worked a beer fest for our employers at the time. That day we started talking about it and realized that we wanted to stay doing what we were doing and also create a legacy for our family in Arizona. Both of our fathers have their own businesses and coming from the Midwest you are raised with the hard working entrepreneurial spirit.
Best thing about working together: The best thing about working together is just being able to see your best friend during the day. It's amazing to go to beer events together and both have our work hats on. There's a mutual understanding of our industry, and we both love it so much. It's so great to have him as my rock there when I have a hard day and not have to explain why because he already knows!
What is your favorite meal to share together and what beer do you pair with it: It's so cliché, but we both love a great steak. We are totally meat and potatoes people! He loves to drink our Magic in the Ivy Pale Ale, and I have the Scottsdale Blonde Kolsch.
(Beer Styles: What is an India Pale Ale?)
Role in the brewery: Both owners and brewers
Together: 4 years; Married 2 years
How did you meet: Because of beer, obviously! We were both working front-of-house at a beer bar in Boston, then one day we went to a heavy metal show together and the rest is history.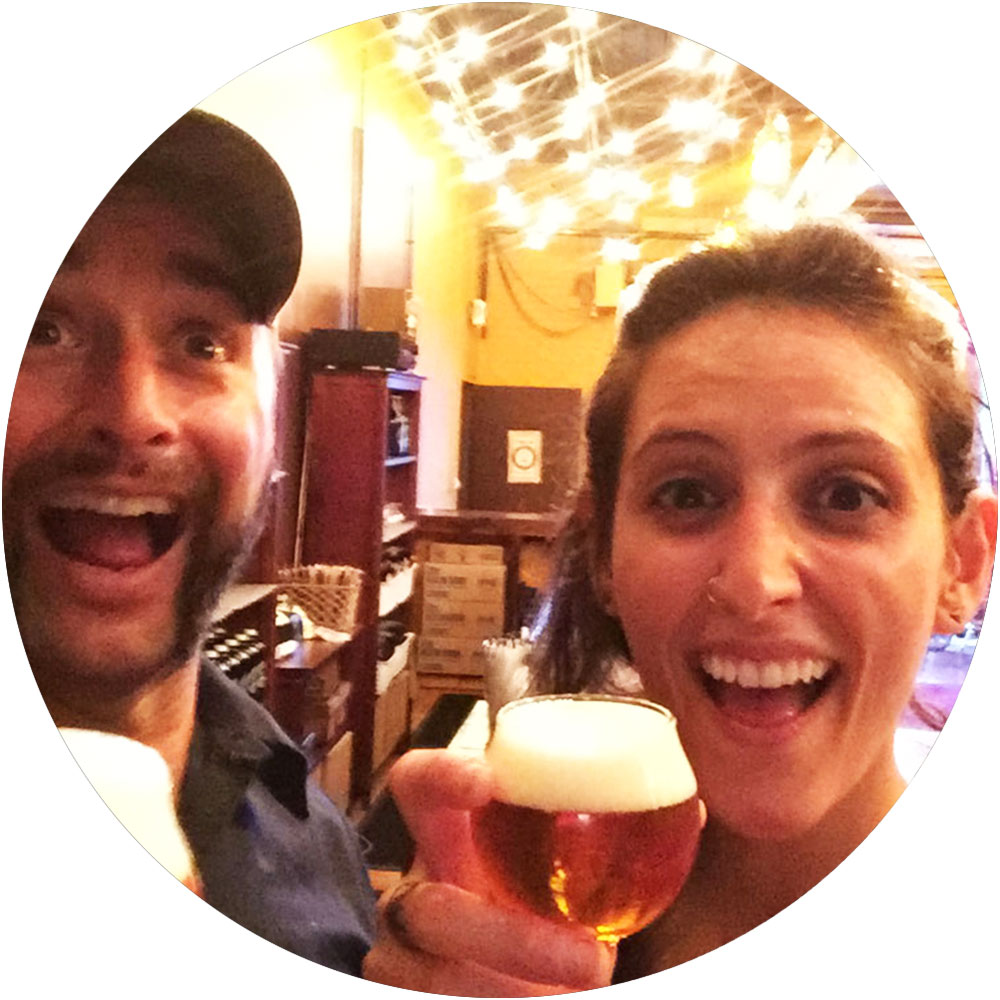 How did you decide to open a brewery together: It's weird to think that there was ever a time when we weren't doing this, but it's something that Jared had been trying to work towards for a while, and it took the two of us to make it a reality. We've both been brewing and drinking craft beer since we were legally allowed to. Armed with inspiration from a revelatory trip to Belgium, a notebook of ideas, and his first home brewing kit, Jared has been at it constantly for over a decade. My love of beer was initially sparked by all the unique label artwork I'd seen in the bottle shop, and once Jared looped me in on his weekend brewing sessions after we first started dating, it was a done deal. After a slew of jobs in and around the beer industry, dozens of weekends spent at both local and faraway breweries, and several brainstorming and fantasizing sessions, we took the plunge and got started!
What is the best thing about working together: Whoa. Um, all of it? Or maybe the feeling that we're both entirely on the same team, working toward the same goal. We complement each other really well and have a nice workflow when brewing together; there's a lot of nonverbal communication and we know each other's strengths, weaknesses and peeves. We're both involved in all aspects of the business — from recipe creation to ordering supplies and equipment to business development to fielding all the random emails we get, and we're constantly bouncing ideas off each other throughout the day (and into the wee hours of the morning). And at the end of the day, we get to sit back together and enjoy this beautiful, crazy thing we built together. Plus, the brewery just takes so much time and energy that if we weren't there together, we'd never see each other!
Where was the most memorable beer-cation you've taken: Tough call, but probably our trip to Asheville for our first wedding anniversary. The small brewery scene down there is really vibrant, plus we got to check out the new Sierra Nevada and Oskar Blues breweries. It was also the last trip we took before we started brewing at Bone Up. Having moved all our equipment in and being in the midst of our buildout at the time, we had a real appreciation for all the hard work that goes into building a brewery.
What is your favorite beer to enjoy together: Extra Naked, our cream ale. We always say that our beers are like our children and we don't like to play favorites, but really this one wins every time. It usually tastes best after a long day of production work.
Nathaniel & Andrea Miller | Big Choice Brewing | Broomfield, CO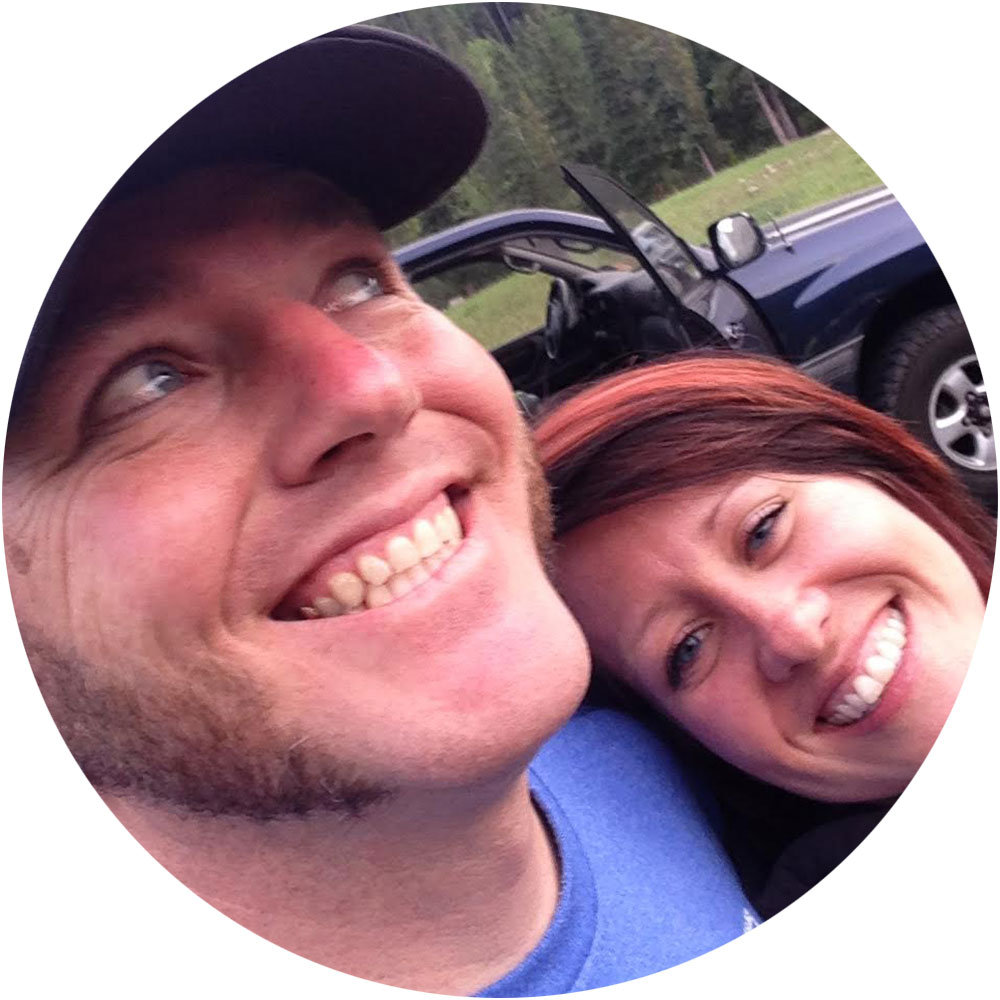 Role in the brewery: Nathaniel is the brewmaster and owner, and Andrea Miller is owner and manages community and events.
Together: 16 years
How did you meet: We met in Boulder at the Walrus. Nathaniel had just got done with Battle of the Bands, and I was visiting friends that attended CU. I couldn't resist his bright pink hair.
How did you decide to open a brewery together: Nathaniel worked with his good friend Tyler Ruse to open it up. I wasn't sure about it as it was such a risk to own your own business. I kept my mouth shut and next thing you know, we were in the brewing business. I came into the picture about a month before we opened, when I asked if any event planning or promoting had been done for the opening. When he said no, I stepped in and put it together. I was hooked!
How has opening the brewery influenced your relationship: This has truly strengthened our relationship. It takes great patience and compromise to work with someone that you then have to go home with. We are always working on separating our personal life from our business. That can be pretty hard, but we have managed.
Since working together, what's one thing you've learned about each other you didn't know already: Nathaniel is constantly in awe of the tremendous amount of work I put forth and am capable of achieving, and I am always surprised by his creativity and ability for developing forward thinking beers. I am cautious and think, "I don't know about that," but his ideas always hit the mark.
What is your favorite beer to enjoy together: We love trying new beers together and seeing what each likes and dislikes about them, which is always different. But the one constant is that we really enjoy our Disconnected Red IPA.
(MORE: How to Pair Beer and Cheese)
Clarke Pelz and Cindy Drinkwater | Cynosure Brewing | Anchorage, AK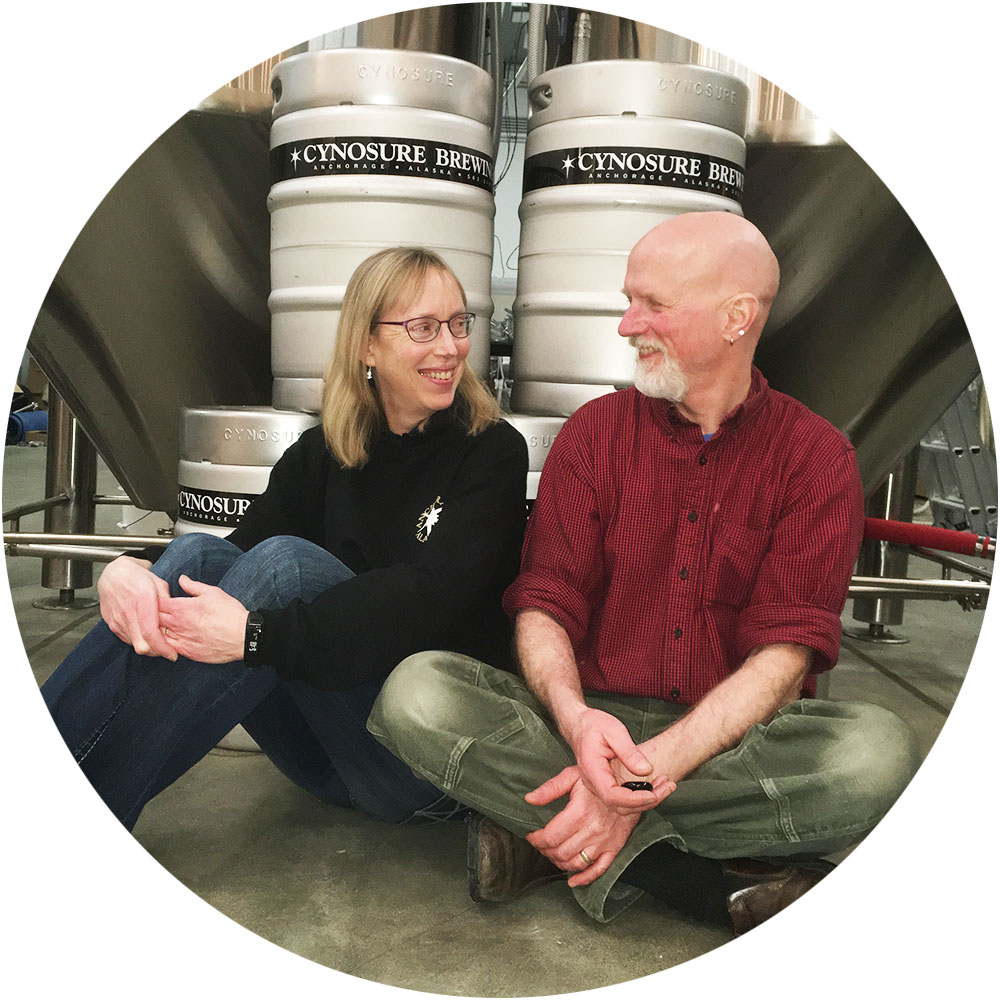 Role in the brewery: Currently, Cindy manages the taproom and Clarke does just about everything else: brewing, bookkeeping, taxes and so on.
Together: 24 years; Married 19
How did you meet: As it turned out, we grew up 40 miles from each other in Massachusetts, but we met in Anchorage through mutual friends and backcountry skiing.
What inspired you to open a brewery together: Clarke was working professionally as a brewer, and when he turned 50 we decided it was now or never for him to open his own shop. He envisioned a comfortable space to enjoy beers that were well balanced, flavorful and sociable. Clarke had the vision and Cindy was drawn into the project as an innocent bystander. We've always loved each other's company and perspective on life; working the brewery together seemed a way to enjoy more of both.
What is the best part about working together: Working the serving counter together and hearing from happy customers who are enthusiastic about our beers and taproom. Knowing that we accomplished those goals through our combined efforts.
Favorite beer to enjoy together: We enjoy most any beer together, so it's hard to pick a single favorite. There are so many great beers available now it's more a matter of context. So, the beers stashed in a creek after a long hike in the Chugach, the beers at the lodge after an afternoon skiing or the beers at a favorite watering hole after a long day at work all rank pretty high.
CraftBeer.com is fully dedicated to small and independent U.S. breweries. We are published by the Brewers Association, the not-for-profit trade group dedicated to promoting and protecting America's small and independent craft brewers. Stories and opinions shared on CraftBeer.com do not imply endorsement by or positions taken by the Brewers Association or its members.