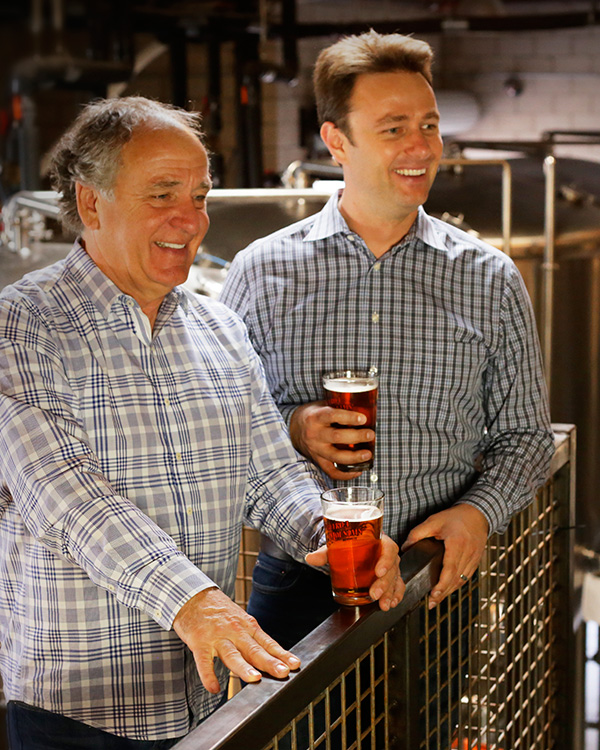 Brewing Up a Family Tradition
Rick Ivey and his son Austin opened Rusty Beaver Brewery in rural Virginia a year ago this Father's Day weekend. Ask them the best advice for anyone thinking about launching a brewery and Rick is quick to answer.
"Don't run out of beer!" he proclaims, which they did in their third week of operations. "Because when you do, it's not like the restaurant business where you can call your supplier to bring you more steak or chicken. You're closed for at least two weeks while you make more."  But, he says, the good news is they underestimated how great the demand for better beer would be in Caroline County, Va.
Even with that early flat spell, a year later the Rusty Beaver has a loyal clientele. To celebrate their first year and Father's Day, Austin—who handles the brewing—will unveil a light blonde session beer. Christened "Top Down Summer Ale," the beer is named in honor of one their early and regular customers.
"She's a real cute blonde who drives a Jeep. She announced one day that 'my top is down'—referring to the (removable) roof on her Jeep—and that gave us the idea," says Rick. He adds that both the customer and her husband feel honored to have inspired a beer at the Rusty Beaver.
Craft beer has a long history of fathers and sons in business together. On this Father's Day, you don't have to look too far to find the re-emergence of this family business tradition. And it should be no surprise that daughters, too, are getting into the business of making craft beer with their dads.
Four Family-Owned Breweries
Rinn Duin Brewing | Toms River, NJ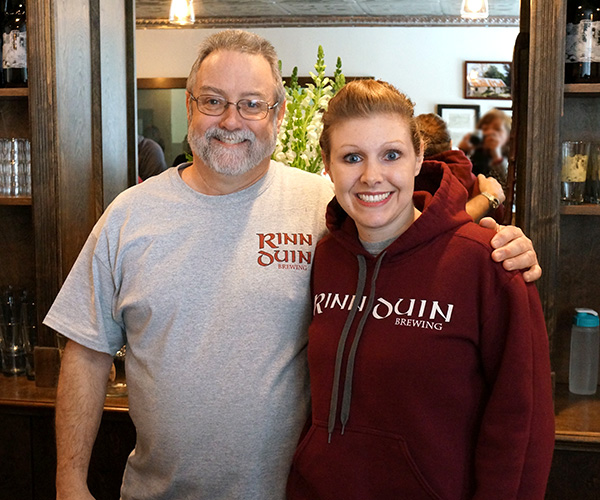 Jacqui and Chip Town opened Rinn Duin Brewing in Toms River, N.J., in January—after, as Chip explains, "We were both lucky enough to lose our jobs" in the recession. Rinn Duin plans to be open for business on Father's Day with discounts on pints and growlers.
"There seems to be a strong tradition of dad getting treated to a few beers at the local brewery," says Chip, a former banker. "Since this is our first Father's Day, we'll be paying attention to what is going on." Jacqui, who has a marketing background, reports that a local restaurant, Chef Mike's in nearby Seaside Park, also plans to offer Rinn Duin craft beer pairings with its menu items on Father's Day.
Chip had been a longtime homebrewer when Jacqui began joining him on weekends as a way to explore her interest in chemistry, her college minor.
"I started making beer because I was interested in the science," she says. "While we were brewing, my dad and I would discuss the possibility of opening a brewery. We wrote our business plan while we were making beer."
They knew that a father-daughter craft beer brewing team would be uncommon, if not unprecedented.
"I wanted to be able to say we were the first ever," says Jacqui. "I researched it and couldn't find any others, but I decided I wasn't going to make that claim if I couldn't back it up."
Figueroa Mountain Brewing Co. | Buellton, CA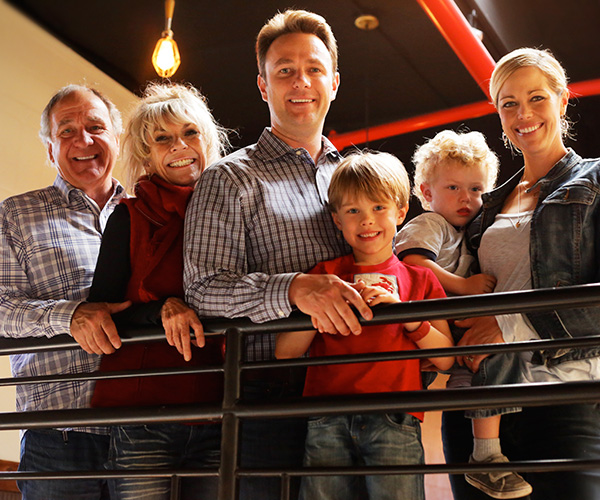 On the other side of the country, Jim and Jaime Dietenhofer at Figueroa Mountain Brewing Company are heading for their four-year brewing anniversary in November. They report that Father's Day ranks strong on the list of brew holidays, such as the Memorial Day and Thanksgiving weekends that bring customers into the tasting room. For Father's Day, they are releasing FMB 101, a seasonal kolsch-style lager to honor the "one-oh-one" highway in central California where the mountains meet the sea.
"Beer and Father's Day go hand-in-hand," says Jaime, who reports a longtime interest in craft beer and brewing.
"My dad said, 'Go to college first,'" he says (where, Jim reports, his son blew up a small brew kit in his dorm room). "Then when I graduated, he said, 'Go to grad school.' After grad school, I told him I still wanted to brew beer.  He said, 'Get some job experience first,'" Jaime recalls.  "But after 18 years of talking about it and interviewing 150 brewers we finally opened Fig Mountain."
Galaxy Brewing Co. | Binghamton, NY
At Galaxy Brewing Company, father and son brewers Mike and Seth Weisel will roll out a whiskey barrel-aged saison for Father's Day. They also plan to offer beer pairings in the restaurant.
"We didn't do any market research, but we hear a lot of chatter among our male customers about the importance of observing Father's Day," says Seth, who made the transition to brewer after an "unenthusiastic" stint as a biology teacher. He calls his choice to get a master brewer's certificate at UC Davis "the best decision of my life."
Pateros Creek Brewing Co. | Fort Collins, CO
On Father's Day at Pateros Creek Brewing Company, the first beer for dad and a son or daughter will be free. Father and son brewing team Bob and Steve Jones have noted increasing attendance at brewery tours on and around Father's Day since they opened in June of 2011.
"Working together has been what I expected," says Steve. "There have not been any surprises, except sometimes dad tells me to stop spending so much money—but he manages the finances, that's his job."
The work relationship seems to be going well, as the two will take their family vacation together this summer.
The Family that Brews Together…
All of the father and son/daughter brewers interviewed agree on the absolute necessity of defining their individual roles in the business and being good communicators with each other.
"I've seen other father and son teams in business not work out," says Jim Dietenhofer, the elder partner at Figueroa Mountain. "But Jamie and I have good skill sets that complement each other. It's been very rewarding to see him grow into a good businessman. "
Jamie is also introspective about the success of their partnership.
"You know, I have sons now," he says. "Fathers think their sons are not listening to them. But I saw my father be successful in his previous business. I was listening."
CraftBeer.com is fully dedicated to small and independent U.S. breweries. We are published by the Brewers Association, the not-for-profit trade group dedicated to promoting and protecting America's small and independent craft brewers. Stories and opinions shared on CraftBeer.com do not imply endorsement by or positions taken by the Brewers Association or its members.