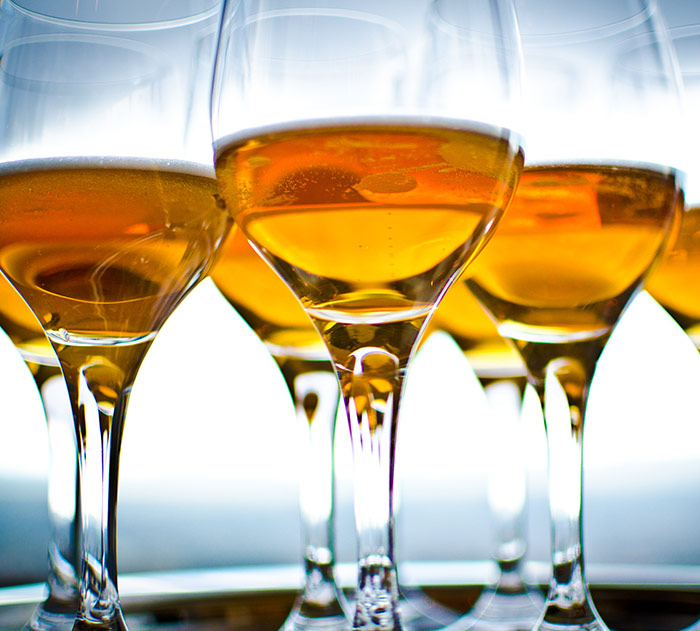 Bringing Craft Beer to America's Culinary Students
In the craft beer world, almost any mention of Siebel Institute of Technology or the University of California at Davis will be taken as a reference to one of the top brewing programs in the country. Both Siebel and UC Davis have long been known as leaders in craft beer education, producing some of the best brewers our generation has seen. But who is leading the way to educate the chefs and restaurants that actually serve, pair, or design entire menus around craft beer?
Small and independent craft brewers are pushing the boundaries of beer styles, flavors and quality at a pace that has never been seen before. While craft beer bars are keeping up with this quick pace, chefs and restaurants are on the hunt for craft beer knowledge that's specifically tailored to their industry — especially about creating craft beer lists that pair with their menus.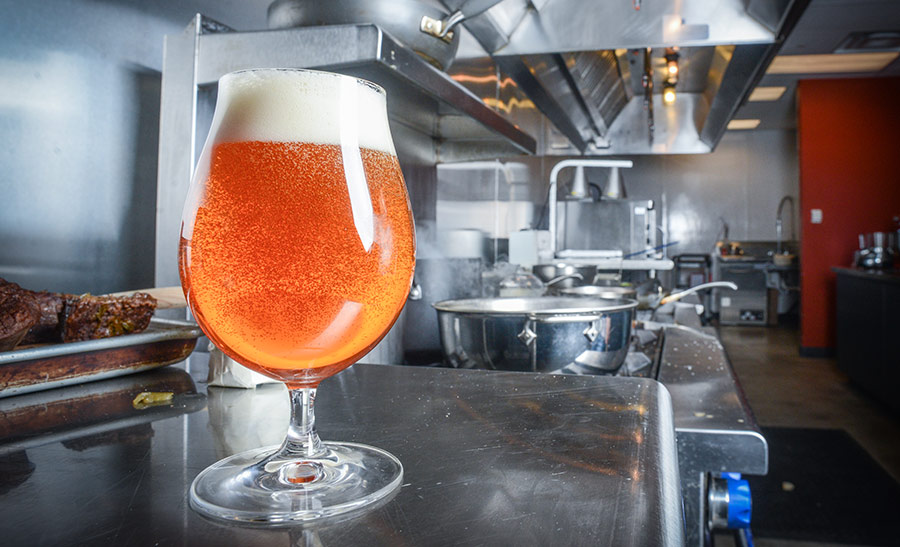 Navigating the World Wide Web
The easiest (and most frustrating) answer out there is: "Just Google it!" And yes, chefs and restaurateurs out there are Googling "craft beer" and hitting search.
The first few results that pop up are from companies and organizations who have paid dearly for Google ad space on this search term. After that, it's mostly a hodge-podge of websites for local establishments, beer-by-mail clubs, industry news and reviews and hopefully a few educational sites like CraftBeer.com.
But let's face it: not many of us ever make it past the first few search results. At a quick glance, you might easily assume there's not much information on beer and food out there. Some establishments, therefore, feel they're already ahead of the curve and can keep pouring everything in the same frozen glass. (But let's forgive them; they know not what they do.)
Ok, so you've spent your five minutes on Google. What's next? How about reading a book on the topic of craft beer, so you head to Amazon and type in "craft beer." At first, these results are encouraging. There's The Complete Craft Beer Course, by Josh Bernstein; Tasting Beer, by Randy Mosher; The Oxford Companion to Beer, edited by Garrett Oliver.
But when it comes to titles that speak directly to chefs and restaurants, the top hits seem to put the beer-food relationship in a small, outmoded box: Cooking with IPA, Bar Bites with Beer, The Beer Chili Bible … these don't really identify with the food today's creative, craft beer-loving chefs are serving.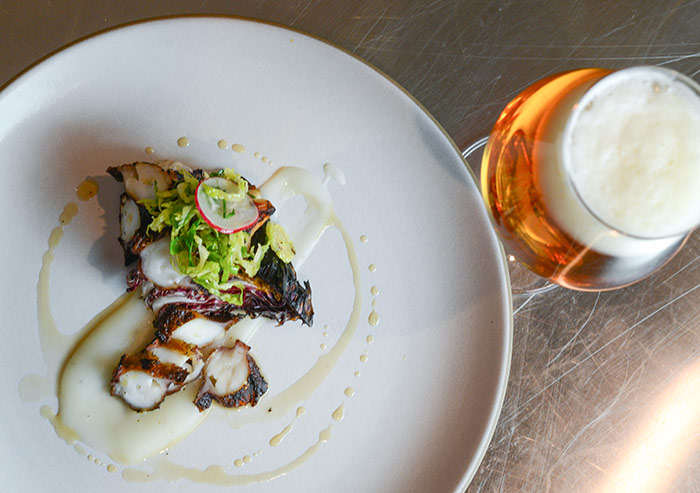 So now you've found some great introductions to craft beer and have gathered a little more information, but frustrated chef and restaurant operators still haven't found many answers.
What's missing, or at least harder to find, are the voices of those who are confidently breaking new ground. Where are the small and independent chef-driven restaurants who can talk about how they pair craft beer to their menus? Where are the chefs who can explain what has worked for them, and how they have updated their menus to pair with craft beer? Where are the restaurants that have complete beverage programs in place for wine, cocktails and craft beer, who can share how they execute their program? And, most importantly, where did these pioneers find the most complete information to educate staff on how to order, store, pour and pair craft beer?
With so many new people embarking on the culinary road to pairing and serving craft beer, education and awareness for the beverage is becoming more and more important. While there is plenty of craft beer information out there for the dedicated researcher, it often assumes a prerequisite understanding of esoteric brewing terms like IBU, ABV, Plato, OG and FG. This does not represent what the average guest at the table wants to hear when they inquire about a craft beer. In fact, these terms will more than likely overwhelm guests, and drive them away from craft beer — and therefore push an operator away from increasing its craft beer offerings.
CraftBeer.com Beer & Food Course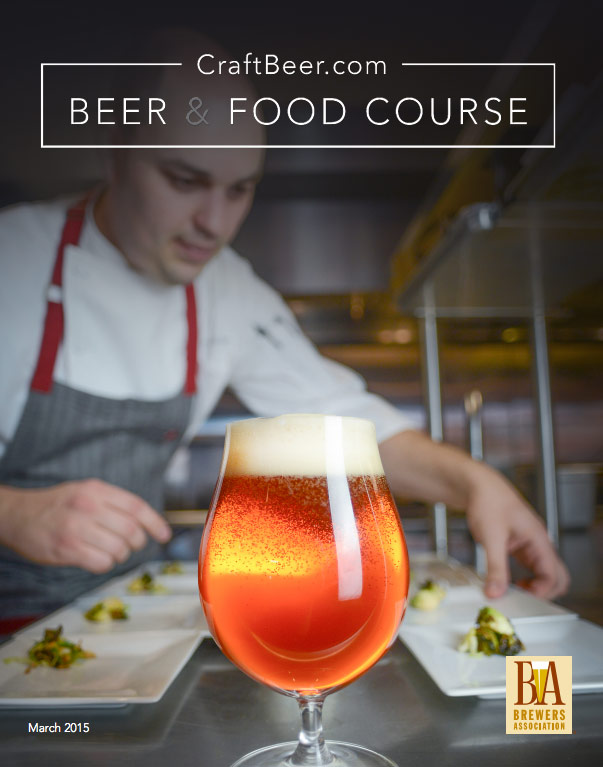 To answer the call for craft beer resources tailored to chefs and chef educators, the Brewers Association wrote and published the free CraftBeer.com Beer & Food Course. This course is the first of its kind to approach craft beer through the combined eyes of a chef (that's me!) and a Certified Cicerone® (CraftBeer.com publisher Julia Herz).
At about the same time as the CraftBeer.com Beer & Food Course was published, several of the top culinary and hospitality schools began promoting education around craft beer and food:
The Culinary Institute of America (Hudson Valley, New York) built a brewery on its campus and integrated craft beer into all degree programs.
Cornell introduced craft beer into its hospitality management course.
Denver's Metro State partnered with Tivoli Brewing Co. to create a program for hospitality students.
Several culinary schools across the country began enthusiast courses pairing locally sourced, sustainable cuisine with craft beer.
What we are seeing is the new history of craft beer and food being written in our lifetimes. As more and more chefs embrace what craft beer can do for their menus, culinary schools are responding by adding educational opportunities for the next wave of chefs and restaurateurs. Publishers are looking for books that embrace everything that craft beer can do with food, and guests are getting more comfortable than ever before with trying new craft beer pairings.
Cheers to the culinary schools that are preparing our next generation of chefs and restaurateurs to give craft beer the culinary respect and rightful place at the table it deserves!
And for everyone out there wanting to learn more about craft beer, we at the Brewers Association and CraftBeer.com will be here to guide you through style changes, draught quality guidelines, glassware selections, and best practices for ordering, storing, serving and pairing — everything that supports your craft beer menu.
CraftBeer.com is fully dedicated to small and independent U.S. breweries. We are published by the Brewers Association, the not-for-profit trade group dedicated to promoting and protecting America's small and independent craft brewers. Stories and opinions shared on CraftBeer.com do not imply endorsement by or positions taken by the Brewers Association or its members.