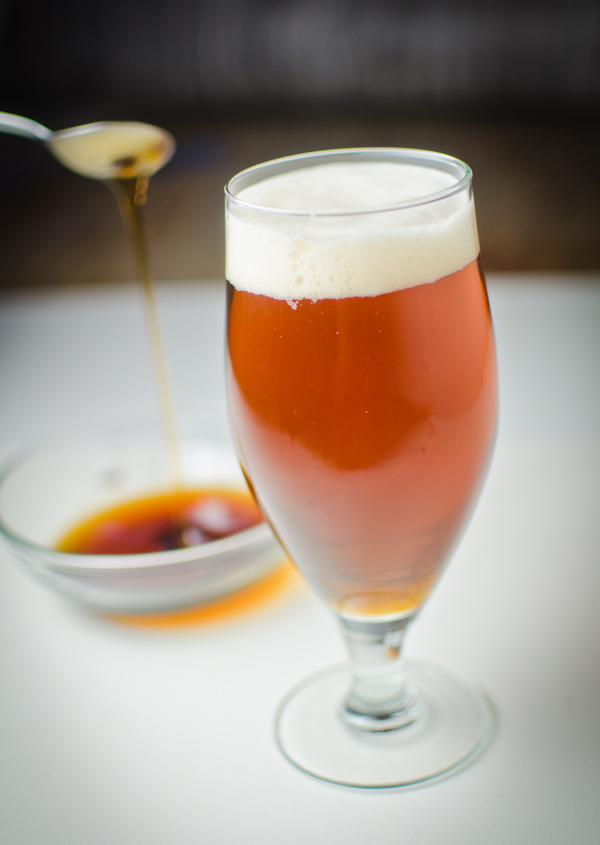 Local Ingredients Bring Local Beer to the Next Level
"This is an amazing wheat," I remarked, sipping an unfiltered beer at Topeka's local microbrewery.
"Well, we are in Kansas," my drinking buddy replied.
How true.
In a state known for sunflowers and wheat crops, it became clear that the beer in my hand should be fresh, vibrant and special—it should be the color of thick sunlight playing across a wheat field.
At Blind Tiger Brewery & Restaurant in Topeka, Ks., three of the six flagship beers are wheat based. The Raw Wheat and the Country Seat Wheat use grain purchased from a local farmer in Berryton. When John Dean, co-owner of the brewery, buys wheat, he easily recognizes its quality.
"When you test wheat, you grab big handfuls and sniff, allowing you to get the whole character of everything it's been through," Dean said.
Sometimes, it's the local ingredients that obviously or subtly set a craft beer apart. It's the wheat in Kansas, hops in Oregon, bourbon in Kentucky, maple syrup in Vermont and the "Aloha" in Maui that adds a little something extra to the character and heart of our local brews across the nation.
Oregon | Cascade Hops

In Oregon, the Cascade hop is a distinguishing ingredient in Northwest pale ales and IPAs. Commercially released more than forty years ago, the Cascade hop was bred in Oregon by the USDA. It's often used in West Coast beers that accentuate a strong citrus and floral hop presence.
Deschutes Brewery's Red Chair, a Northwest pale ale brewed in Bend, Ore., is a prime example of a beer that features Cascade hops. This award-winning beer has a bright and potent aroma, according to Deschutes brewmaster Cam O'Connor.
"It's a really complex beer, and people are looking for those types of flavors," said O'Connor. Red Chair melds an upfront hop flavor with a backdrop of unassailed depth. This clean and balanced brew is an ideal pairing with fiery Mexican food or spicy finger-lickin' hot wings.
Part of Red Chair's bright aroma and character stems from the fresh hops—most of which Deschutes obtains from nearby fields in Oregon and Washington. The brewery uses whole-hops, choosing fresh, green hops over those that are processed into pellets or plugs.
Kentucky | Bourbon

Freshness also factors into other regional specialties, such as Alltech's Lexington Brewing and Distilling Company's flagship beer, Kentucky Bourbon Barrel Ale.
The Kentucky brewery receives decanted bourbon barrels from local distilleries typically a day or two after the casks are emptied. The barrels are sometimes so fresh that the wood inside is still damp with bourbon goodness.
Alltech's flagship beer only needs to age in the barrels for six weeks to produce clear flavors of caramel, toffee and vanilla. The year-round ale, with an unmistakable bourbon taste, complements the sweetness of smoked pork and brisket.
Vermont | Maple Syrup

Sean Lawson, co-owner of Lawson's Finest Liquids in Warren, Vt., brews a handful of different maple ales including an imperial stout, amber ale and a beer featuring concentrated sap collected by Vermont sugar makers.
Their Maple Tripple Ale, a late spring seasonal, ages for a year in maple liqueur barrels from Saxton's River Distillery in Vermont. Made of concentrated sap, barley, hops and ale yeast (notice there is no water), the Maple Tripple clocks in at around 10 percent ABV.
According to Lawson, these maple brews make great breakfast and dessert beers, perfect with a maple-glazed donut and coffee at the start of a day, or with chocolate and cheese at the end of an evening. The strong maple finish will make you happy to be in Vermont—the only place you can find Lawson's Finest.
Hawaii | "Aloha"

To celebrate the distinctiveness of island life, Maui Brewing Co., based in Lahaina, Hawaii, experiments with many local ingredients, including the spiritual element of "Aloha." Their coconut porter is a favorite on the mainland, according to owner Garrett Marrero, but the brewery has also produced brews that highlight local mango, pineapple, sweet Maui onion and lilikoi (passion fruit).
For Marrero, brewing is about innovation, integrity and a sense of place. "Taking the local agricultural products in whatever region you may be, and applying them to a traditional style of beer—taking tradition and standing it on its head—showcases what the area is about," said Marrero.
Maui Brewing Co. beers are "brewed with Aloha." Some customers ask the brewery's owner if aloha is an actual ingredient, and Marrero admits that in a way it is. Aloha is a spiritual element with emotional significance, representing the generosity, respect, appreciation and love inherent in Hawaiian culture.
Local ingredients can emphasize a beer's story, character and heart. So, when we drink a local beer, we can taste a little more about what makes it distinct and special.
Other Regionally Specialized Craft Beers
CraftBeer.com is fully dedicated to small and independent U.S. breweries. We are published by the Brewers Association, the not-for-profit trade group dedicated to promoting and protecting America's small and independent craft brewers. Stories and opinions shared on CraftBeer.com do not imply endorsement by or positions taken by the Brewers Association or its members.