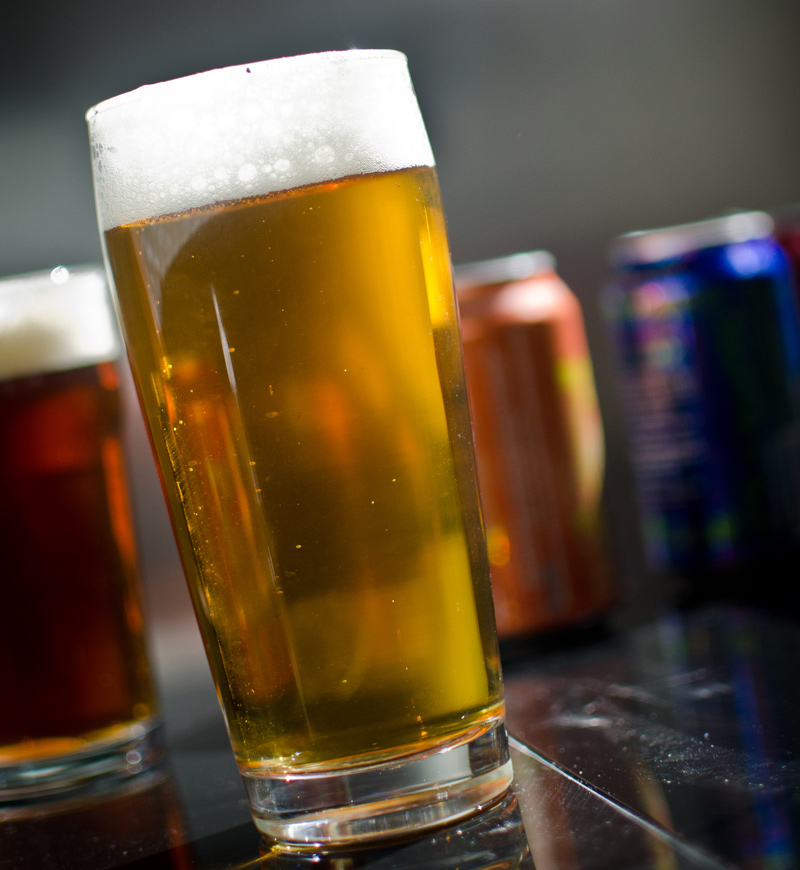 12 Summer Seasonals New to Cans
With summer right around the corner, we're taking a look at a few of the many craft beers that are making their first appearance in cans this season. A number of breweries are releasing cans for the very first time, including the nation's largest craft brewer, Boston Beer Company, makers of Samuel Adams. You'll finally be able find their flagship Boston Lager and Summer Ale in cans.
Michigan's Founders Brewing Company will also be joining the can parade with the much anticipated release of their All Day IPA in a more portable package. It's exciting to see so many great beers available to pair with all your outdoor barbecues, hikes, camping trips and trips at the beach. Cheers!
Ethos IPA | Tallgrass Brewing Co. | Manhattan, KS
Style: American IPA | CraftCans.com review
A brand new beer from Tallgrass, Ethos is dry-hopped twice and brewed with "six types of hops…gathered from the corners of the world [are used] to make this legendary brew. This is no earthly IPA." Cans have just started to hit shelves so keep an eye out. (6.8% ABV and 110 IBUs)
SUM'R Organic Summer Ale | Uinta Brewing Co. | Salt Lake City, UT
Style: American IPA | CraftCans.com review
Sum'r will be the fifth brand to be canned at Uinta Brewing Co. With the installation of a their new German canning line in early March, Uinta has released Cutthroat Pale Ale, WYLD Extra Pale Ale, Baba Black Lager and Hop Notch IPA. SUM'R will also be available in "Duo" 12-packs that include six cans of SUM'R and six cans of their WYLD Extra Pale Ale.
Summerfest | Sierra Nevada Brewing Co. | Chico, CA
Style: Czech pilsener | CraftCans.com review
With all the success Sierra Nevada has seen with the release of their Pale Ale and Torpedo in cans, why not release Summerfest in cans too? Look for Summerfest to hit shelves around Memorial Day.
Estival Cream Stout | Ska Brewing Co. | Durango, CO
Style: cream stout | CraftCans.com review
Estival Cream Stout will be released on summer solstice, and will be the fourth installment in the brewery's seasonal stout series. It is brewed with orange blossom honey and aged on oak and dried orange peels.
Helles Golden Lager |Sly Fox Brewing Co. | Pottstown, PA Style: Munich helles lager | CaftCans.com review
Helles Golden Lager is a new brand for Sly Fox, and their newest year-round canned release. Helles is also one of two beers that they're putting into cans with the new 360 "SuperEnd™" which allows for the lid of the can to be easily removed so the can itself becomes a drinking vessel.
Sockeye Belgian Style Summer Ale |Sockeye Brewing Co. | Boise, ID 
Style: Belgian-style witbier | CraftCans.com review
Sockeye continues to add to their impressive lineup of canned offerings. Their Sockeye Belgian Style Summer Ale will be sold in four-packs of 16 oz. cans.
Westbrook Gose | Westbrook Brewing Co. | Mt. Pleasant, SC 
Style: gose | CraftCans.com review
Gose is a rather old style of ale originating in Germany. Westbrook's version is the first to be canned here in the U.S. and is described as, "A traditional German-style sour wheat beer brewed with coriander and salt."
Shipyard Summer Ale | Shipyard Brewing Co. | Portland, ME
Style: American pale wheat ale | CraftCans.com review
Canned or the first time, Shipyard's Summer Ale will be available in New England and Florida. "With its inviting golden color and mellow malted wheat flavor, Shipyard Summer Ale is sure to please those looking for a clean, cool taste sensation on long, hot summer days."
El Steinber Dark Lager | Anderson Valley Brewing Co. | Boonville, CA
Style: dark lager | CraftCans.com review
El Steinber is Anderson Valley's first 16 oz. can. "El Steinber is brewed with roasted Indio-Hispano® blue corn to create a toasty flavor and lighter body, while Midnight Wheat malt imparts a slight sweetness and deep ruby/brown hue. The earthy, spicy flavors of fresh Saaz hops are balanced by German Pilsner malts creating a smooth, clean finish to this highly drinkable American-style Dark Lager."
Lemongrass Saison | Maui Brewing Co. & The Lost Abbey | Lahain, HI & San Marcos, CA
Style: saison | CraftCans.com review
The most recent canned collaboration from Maui features Tomme Arthur from The Lost Abbey and Port Brewing. Lemongrass Saison "is a 5.5 percent ABV beer utilizing White Wheat, Oats, Pilsner malt, Lemongrass, Citra and Nelson Sauvin hops."
Samuel Adams Summer Ale | The Boston Beer Co. | Boston, MA 
Style: American pale wheat ale | CraftCans.com review
Produced since 1995, Sam Summer Ale is available in cans for the first time this summer. Brewed with lemon peel and Grains of Paradise, this is an easy drinking and refreshing beer.
Dog Day's Dortmunder-Style Lager | Two Brothers Brewing Co. | Warrenville, IL
Style: dortmunder lager | CraftCans.com review
Dog Day's, is Two Brothers' summer seasonal. Brewed "in the style of Dortmund, Germany, this golden lager has a delicate caramel malt character, balanced by a light body and mild German noble hops, creating a crisp, refreshing finish."
CraftBeer.com is fully dedicated to small and independent U.S. breweries. We are published by the Brewers Association, the not-for-profit trade group dedicated to promoting and protecting America's small and independent craft brewers. Stories and opinions shared on CraftBeer.com do not imply endorsement by or positions taken by the Brewers Association or its members.