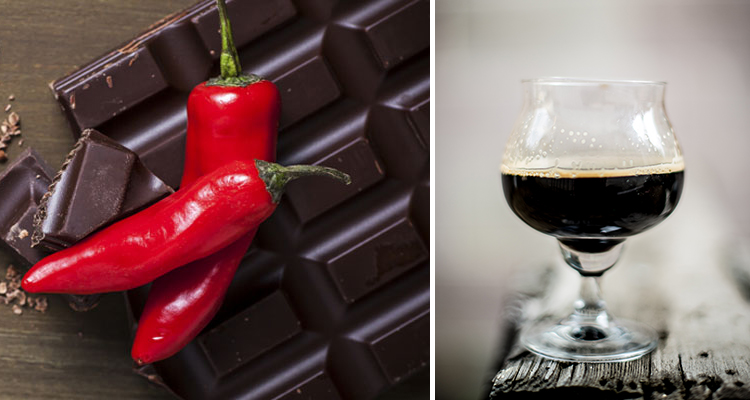 Chili and Chocolate Beer
Craft brewers are always looking to spice up their lineups, and playing around with beer recipes is one of the most creative and rewarding brewhouse activities. The very definition of craft beer involves the use of traditional ingredients and traditional methods to make a beer that showcases the brewer's art in a glass.
Recently, many craft brewers have been inspired to combine the flavors of chili peppers and chocolate beer, and people are taking notice. Several of these beers have achieved cult status.
The combination of chocolate and chili peppers evokes a taste of history dating back to the origin of chocolate in the Americas, before European contact. The Aztec and Mayan people were known for making a liquid chocolate mixture from cacao beans that included other ingredients, like corn and local chilies, to curb the bitter taste of the beans. When this local drink was offered to Spanish explorers, they took it back to Europe with the addition of sugar—and the world's chocolate obsession began.
Here's a look at a few of the chili and chocolate beers being made by America's small and independent craft brewers:
Theobroma | Dogfish Head Craft Brewed Ales | Milton, DE
This beer has become a staple of Dogfish Head's Ancient Ales series. Based on analysis of pottery shards in Honduras, this beer recreates the recipe for the earliest known alcoholic chocolate drink, dating back to 1200 B.C.
The beer gets its name from the scientific name for chocolate, Theobroma cacao, which translates to "food of the gods" in Greek. The combination of chocolate and chili peppers is usually seen in a stout, but the Dogfish interpretation is a light-colored ale that uses Aztec cocoa powder and cocoa nibs. The addition of chilies marries the sweetness with a somewhat spicy and earthy tone.
---
Chocolate Oak-Aged Yeti | Great Divide Brewing Co. | Denver, CO
Chocolate Yeti began, as many great beers do, with an experiment. The Great Divide Brewing Co. brewing team wanted to add chocolate to its Yeti Imperial Stout. Coincidentally, one of the brewers brought in a Mexican-style chocolate bar that had "a healthy dose of spice," according to brewery director Ryan Fox. The inspiration from the chocolate led the brewers to incorporate cayenne into their beer to showcase what spice and chocolate can do together.
"We chose cayenne pepper mostly because we felt it was good for heat without imparting too much pepper flavor," says Fox. "We can purchase several different heat ranges that really helped in getting the balance correct."
Great Divide recommends pairing this beer with raw oysters, grilled New York strip, chicken mole, blue cheese, crème bruleé or chocolate raspberry mousse cake.
---
Jackie O's Oro Negro | Jackie O's Pub and Brewery | Athens, OH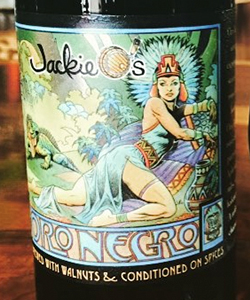 Jackie O's brewer Brad Clark took inspiration from beers like Cigar City's Hunahpu, Westbrook's Mexican Cake, and Perennial's Abraxas to create a new twist on his Oil of Aphrodite Imperial Walnut Sout.
Clark had previously made a stout using Eastern spices, and he could not resist the temptation to make a chocolate-and-chili-pepper version he dubbed Oro Negro. Jackie O's regulars were thrilled with the idea, and it became very popular on draft and during bottle releases.
The recipe has seen further development as Clark has played with the amount of heat in the beer. Testing both habanero peppers and ghost peppers showed mixed results. Ultimately, brewery staff felt that increased heat did distract from the overall balance, flavor and experience of the beer.
To balance the flavor, Clark uses organic toasted cacao nibs. "If you let the beer warm a bit, the pepper starts to emerge," he says. "There is a slow building heat in the back of the throat that begins to emerge about half-way through the glass."
What's next for this flavor combination? Clark has a bourbon barrel-aged batch in the works for 2016.
---
Mexican Cake | Westbrook Brewing | Mount Pleasant, SC
Westbrook Brewing's Mexican Cake was created in honor of the brewery's first anniversary in January 2012. It was so popular that it now makes an annual appearance, including several barrel-aged variations, that sells out faster than a Black Friday doorbuster.
All of this came from a very personal place for marketing director Morgan Westbrook and her husband.
"Mexican Cake started as a beer that Edward and I brewed as a party favor for our wedding," Westbrook says. "We were inspired by picking a destination for our honeymoon. At the time, we thought Mexico because it would be a quick flight. Mexico has spicy food—like the peppers we cook a lot with—so we decided that would be a great add-in."
For good measure, the Westbrooks added habanero peppers to the mix of vanilla, cinnamon and cocoa nibs to plumb the spicy depths of this stout.
---
Cigar City Brewing | Hunahpu | Tampa, FL
Cigar City Brewing has helped to put the city of Tampa on the national and international map with the release of Hunahpu's Imperial Stout, a beer that sprang from the mind of CCB head brewer Wayne Wambles.
According to Wambles, the inspiration for Hunahpu came from an unexpected source: an ice cream that combined mole ripple with cayenne-dusted pecans.
"I had never experienced a cold dessert that was also spicy at the same time," Wambles recalls. "I began to wonder about the origins of chocolate consumption and how it might have been originally implemented as a food source. That is when I came across a reference to Mayan usage of chocolate, which also included chiles and other spices."
Wamble's research eventually led to a recipe that combined the spicy power of guajillo, ancho and papilla chilies—which he calls "the holy chili trinity of mole"—with cacao nibs, vanilla and cinnamon in a roasty, viscous imperial stout.
The release of Hunahpu has now become a one-day celebration of craft beer for the Tampa Bay area, and the culmination of Tampa Bay Beer Week.
These are just a few examples of how American craft brewers are putting unique new spins on this historical recipe. As brewers continue to explore the intricate blend of sweet and spicy, beer lovers will have even more chances to try beers with the classic combination of chili and chocolate.
CraftBeer.com is fully dedicated to small and independent U.S. breweries. We are published by the Brewers Association, the not-for-profit trade group dedicated to promoting and protecting America's small and independent craft brewers. Stories and opinions shared on CraftBeer.com do not imply endorsement by or positions taken by the Brewers Association or its members.