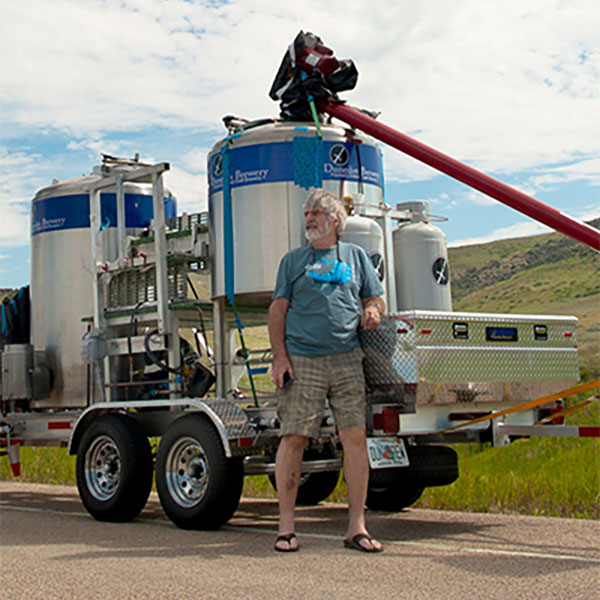 Collaboration On the FL-ORegon Trail
At first glance, the crowd at Black Shirt Brewing Co. seemed much like any in Denver on the second evening of the 2013 Great American Beer Festival—locals and travelers sampling the creations of nearby breweries while thousands of their beer geek brothers and sisters navigate the festival floor a few miles away.
The difference on this night was a group in attendance from Dunedin Brewery, located in a funky little town of the same name on Florida's Gulf Coast. Some of them had returned from a previous visit in August, when they brewed a collaboration beer: Sangre de la Carretera—Blood of the Road. No literal blood went into the beer, but it contained plenty of the road, and it was being released that night.
The brewhouse used in its creation traveled on a flatbed trailer to Black Shirt's backyard while being towed from Dunedin to Portland, Ore., and back during the Florida brewery's five-week-long FL-ORegon Trail road trip.
To explain the journey's genesis, Mike L. Bryant, Dunedin's general manager, reaches back to 2000, when Trace Caley, one of Dunedin's head brewers, began annual pilgrimages to the Oregon Brewers Festival (OBF). In 2006, he invited some of his co-workers to accompany him.
"He brought me, Big Mike (his father, Michael N. Bryant, Dunedin Brewery's founder), my mom and a couple of other people out there for the experience," he said. "We went to the OBF, fell in love with Portland, and fell in love with the Northwest."
When OBF invited Dunedin Brewery to pour its beer at the festival in 2012, the first FL-ORegon Trail became a reality.
"Instead of freighting the kegs out there, we decided we'd take that money and put it toward gas and bring it out ourselves in a box truck," Mike Bryant said.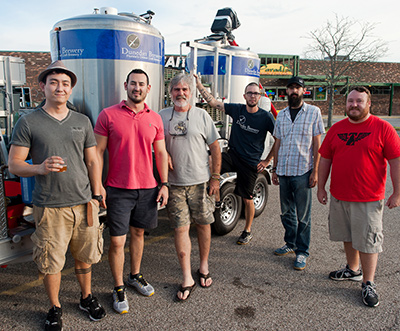 While in Oregon, the gang from Dunedin brewed a collaboration beer with their friends at Fort George Brewery & Public House in Astoria—the Oregon brewery had made a batch at the Florida operation a few months earlier.
When the Dunedin crew was invited back to OBF the next year, plans for the second FL-ORegon Trail trip went into overdrive. Not only were they going to bring the refrigerated truck, they also were going to pull a mobile brewery and chronicle the journey on social media.
Making a Mobile Brewhouse
The tanks were Dunedin Brewery's original system, and had been gathering dust for several years. The elder Bryant took the helm for putting the seven-barrel brewhouse on wheels, something he'd already contemplated doing as a way to help local startup breweries. That plan had yet to come to fruition when his son approached him about bringing it on the trail, compressing a timeline of several months to just a few weeks.
"So now I've got to get it done," Michael Bryant recalled, and work continued up until the night before the trip started.
The decision to collaborate with Black Shirt on the way back east had been made because of the relationship with Adam Deimling, a longtime friend of the younger Bryant and an assistant brewer at the Denver operation who had left Dunedin less than a year before.
So the brewers—Deimling and Black Shirt co-owner Branden Miller in Colorado, and Caley and Rick Crance in Florida—led the recipe development. They ended up using a farmhouse ale yeast, Nelson Sauvin, Galaxy, Simcoe and Citra hops, and seven pounds of grapefruit peel.
"The grapefruit brings a little bit of Florida out here to Colorado," Caley said.
The FL-Oregon Trail
On July 12, 2013, the caravan set forth.
The box truck, a pickup pulling the brewhouse, and the photographer's car made their way to Chicago, before turning west to Seattle. Then it was off to Portland. The return trip took them south to California and then to Denver to brew the collaboration. There were a few roadside breakdowns, but they carried the tools and had the knowledge to fix any problem quickly. They visited breweries and beer bars along the way, and stayed in five-star hotels, no-star motels, and friends' homes. They sometimes camped in tents, or under the stars.
"We relied on the bartenders and owners of the different bars and breweries to guide us to the next destination, which is the best way to do it," the younger Bryant said. "We put our faith in a lot of people out there in the industry, and we never had a bad experience."
The mobile brewery garnered attention. In Montana, a homebrewer and pizza shop owner approached the group, asking if they'd be interested in doing a brew at his business. When Michael Bryant asked if he had fermenters, the man paused, then replied, "You coming back next year? Tell me what you need, I'll have them next year."
After the crew rolled into Denver, exhausted, it was brew time. The weather did not cooperate. First a wind storm showered them with sand, followed by blinding rain. Sporadic power outages hampered the brewing, and there were the logistics of running hoses from the brewery to Black Shirt's fermenters. But after 12 hours, beer began happening, and the heavens seemed to offer a blessing.
"There was a killer double rainbow over the top of the entire brewhouse once it cleared up and everything was done," Deimling said.
The caravan made its way back to Florida, finally pulling into Dunedin with a truck full of beer collected along the way, stories to tell and memories to treasure.
"We hit every type of weather, every type of landscape, met all kinds of people, and saw what the country had," Mike Bryant said.
The end result, poured in October in Denver, defied the style parameters of a farmhouse saison, though that is what it was called. Sangre de la Carretera—Blood of the Road clocked in at 8 percent ABV, poured blood red and assaulted the nose and palate with big hop spiciness fueled by a citrusy bitterness brought on by the grapefruit peel. The ingredients blended into a powerfully delicious brew that mirrored the teamwork that went into its making.
"This is what I truly love about brewing," Deimling said. "It's not just brewing. It's a humanity thing, and I really think it brings people together."
Photos © Blake Coleman
CraftBeer.com is fully dedicated to small and independent U.S. breweries. We are published by the Brewers Association, the not-for-profit trade group dedicated to promoting and protecting America's small and independent craft brewers. Stories and opinions shared on CraftBeer.com do not imply endorsement by or positions taken by the Brewers Association or its members.