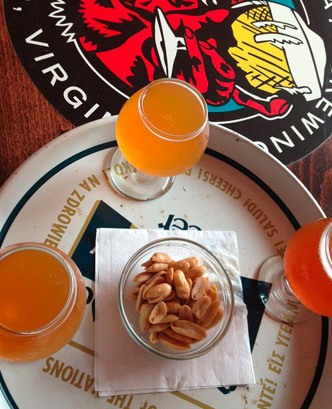 What Craft Beer Is Bringing to Richmond, Virginia
The craft beer scene has become so vibrant in Richmond, Va., that it was one of four factors that prompted Frommer's travel resource to name the city a worldwide must-see destination for 2014. The other three factors—world-class food, the outdoor scene and local history—actually contribute to the success of the city's beer industry.
Having lived in the region since 1978, I've witnessed the forces behind the growth of Richmond's beer culture, starting when some forward-thinking, beer-loving residents founded the James River Homebrewers Club in 1983 and continuing through today's microbrewing boom. Similar forces are at work all over the country, but some unique facets of our community have been particularly favorable to beer and make Central Virginia worth a visit.
The Culture
"While you weren't looking," Frommer's told its readers, "Richmond got cool."
But Richmonders were looking. We had already seen what Frommer's noticed: the farm-to-table restaurants with appreciation for local products, white-water sports on the James River that bisects the city (the only urban Class IV rapids in the country), and the "growing slate of breweries."
We saw our city's art galleries and wall murals, walked the parks and trails that skirt our waterways, and felt the entrepreneurial spirit thrumming through the community.
We also recognize the loyalty that's part of being a Richmonder. We show our love not merely as consumers, but also in the popular vote. Voter support earned Mekong Restaurant the title of CraftBeer.com's Great American Beer Bar in 2012 and 2013, got Richmond dubbed "Best River City" by Outside magazine in 2012, and led to a recent $33,000 grant for bike trails.
Restaurants & Distributors
It was back in the mid 90s when Mekong, an Asian restaurant in Richmond's West End, first began to pair Vietnamese fare with Belgian beers. Owner and Chief Beer Officer An Bui's passion for beer was contagious. His list and fan base expanded and his bar became the city's craft beer "Cheers."
Mekong, where "Beer Is the Answer!," now has 50 stellar taps. As if that weren't enough, Bui is building a brewpub adjacent to his current restaurant, also with about 50 taps, to serve his brews and collaborations as well as other local beers. The Answer brewpub is scheduled to open in stages beginning mid-July 2014.
In 2002, Capital Ale House opened downtown, with an astounding (at the time) 51 taps. Not only did Capital whet patrons' appetites, they trained employees who went on to work in other beer industry jobs, spreading their knowledge and enthusiasm.
A few years ago, one Central Virginia distributor dominated the import and craft market, but competition among distributors has increased, bringing more brands to bottle shops and restaurants. Simultaneously, many of our independent restaurants expanded their food philosophies to include craft beer. Though consumers had long been forced to choose between a quality meal and a worthwhile beer selection, we now have both!
Taste the Local
The craft and import department of Brown Distributing began a campaign in 2011 to support local beer, creating festivals and other beer-centric events, promotions, social media outlets and swag, all to encourage area residents to drink beer from Richmond and other Virginia breweries.
The preeminent Taste the Local event is November's Beeristoric Tour. Combining Richmonders' appreciation of beer and history, the tour takes the sold-out crowd to historic brewery spots around the city while enjoying local food and beer.
Politics
In the past three years, local beer industry activists have worked to improve Virginia laws. The most influential step was passage of SB 604 in 2012, which allows breweries to serve tastings and sell beer for onsite consumption. That same year, the Virginia legislature proclaimed August as Virginia Craft Beer Month, making late summer a great time to visit.
In 2014, Lickinghole Creek Craft Brewery was a driving force behind SB 430, which removed stifling restrictions from farm brewery operations. As Virginia's first farm brewery, LCCB is growing hops, barley, and other crops to use in its beers.
Tourism and Partnerships
Local tourism organizations have begun to recognize the power of agritourism and are incorporating breweries into the promotional fold. Virginia Tourism Corporation is now a source for information on breweries statewide, through its website and its annual travel guide. Richmond Region Tourism promotes our ales and lagers, too, featuring a video celebrating the diversity of flavors and fun at breweries, special events, and restaurants.
Richmond sports teams are collaborating with breweries to up their tap game at the stadiums. The Richmond Flying Squirrels minor league baseball team, for example, has expanded ballpark beer concessions to include six Richmond craft taps. One of these is Chin Music, an amber lager from local Center of the Universe Brewing Company, co-owned by retired professional baseball pitcher Chris Ray.
The State Fair of Virginia has gotten in on the act, too, tapping Midnight Brewery to produce Virginia Midway, an unfiltered American wheat ale, to be sold at the fair.
Brave Entrepreneurs
Opening any new business is risky, but the craft beer craze has inspired many entrepreneurs to create new bottle shops, homebrew supply stores, beer-centric restaurants, web sites, and apps. Richmond's brewery count is now in the double digits, with more on the way.
If you visit Richmond, you'll want to check out the Trinkin.com website and app. Using GPS location services, Trinkin provides updated lists of nearby beers on tap and in bottles, and participating restaurants where you can find them. Another useful online source is The Virginia Beer Trail, which also lists festivals and homebrew stores. Or you could let Richmond Brewery Tours bus you around.
Richmond's senior brewery, in operation since 1994, is Legend Brewing Co., known for a patio view of downtown and especially for Legend Brown, a drinkable brown ale that won many folks over to craft beer.
In 2012, two out-of-town entrepreneurs established a new business here. Having scoped out possible locations for the brewery they had been planning for years, they decided on Richmond, noting that our culture and enthusiasm were ripe. Hardywood Park Craft Brewery was the first new brewery of the rising tide and the first to introduce many locals to the fun that could be had at a brewery.
They started with a single flagship—the easy-drinking Singel, a Belgian blonde ale—and became nationally recognized for their Gingerbread Stout, which quickly became a hot item on beer trading boards.
The area's most unique brewery opened in 2013. Strangeways Brewing was noted by Bon Appetit as one of "10 New U.S. Breweries to Watch" after it was discovered at the Brewers Association's beer and food event SAVORSM. Strangeways' 25 taps and creative infusions please hard-core beer fans and newbies alike.
Other local breweries are Extra Billy's in Midlothian, for beer and barbecue; Ardent Craft Ales, Isley Brewing Company and Triple Crossing Brewing Co. (named after Richmond's one-of-a-kind three-tier train trestle), all in the city; and Rusty Beaver Brewery, a few miles north of Richmond but an easy stop off Interstate 95.
Pay Richmond a visit and see if you agree with Frommer's assessment. Along with a few great beers, you might even take home some ways to help your own town grow.
CraftBeer.com is fully dedicated to small and independent U.S. breweries. We are published by the Brewers Association, the not-for-profit trade group dedicated to promoting and protecting America's small and independent craft brewers. Stories and opinions shared on CraftBeer.com do not imply endorsement by or positions taken by the Brewers Association or its members.