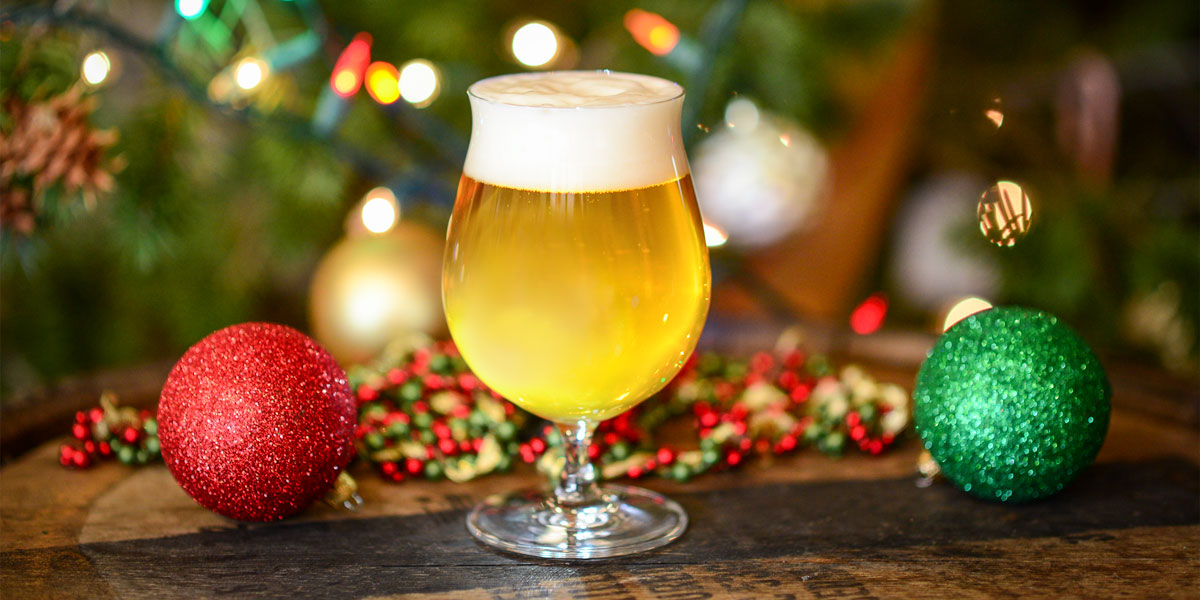 Craft Beers to Unwrap Christmas Morning
Experiencing the holiday season as an adult is nowhere near as exciting as it once. It's actually pretty damn stressful. And there certainly no piles of presents with your name on them just waiting to be opened. Whether you're the one playing Santa in the middle of the night or just trying to fend off awkward questions about politics or having kids, adults deserve some joy on Christmas morning. Here's a helpful guide for beers to unwrap on Christmas morning that bring back that innocent wonder you felt back in the day.
Cranberry-Quince | North Coast Brewing | Fort Bragg, CA
If you're throwing a festive Christmas brunch for a group, North Coast's Cranberry-Quince Berliner Weisse is a great beer to start the holiday off right. Brewmaster Chuck Martins grew up with quince trees in his family's orchard and thought their subtle sweetness would be the perfect complement to the tanginess of Oregon cranberries. The unique blend of cranberries and pear-like quince creates a fragrant and fruity Berliner Weisse that will be a delightful crowd pleaser for any Christmas brunch.
(MORE: How to Host a Winter Beer & Food Pairing)
Orange County IPA | Left Coast Brewing Co. | San Clemente, CA
Oranges are one of those delights that somehow provide instant warmth even in the most frigid, gray winter. You may have even gotten an orange in your stocking when you were a kid. As an adult, a citrusy beer can carry on this tradition with a little more excitement. Left Coast's Orange County IPA is light bodied with a slight sweetness and bitterness from California-grown oranges. It's brewed mainly with Mandarina Bavaria hops from Germany that give off even more citrus flavor and the sweet aroma of tangerine and orange. Kick back and enjoy one while the kiddos stare at you puzzled over the golden orb at the bottom of their stocking.
Serendipity | New Glarus Brewing Co. | New Glarus, WI
Famous for exceptional beers and only distributing in Wisconsin, any New Glarus beer would be a delight to sip on Christmas morning. One year, the Wisconsin cherry crop did not fare well, so the brewers used what they could. They added apple and cranberry to create a delicious accident. This fruit beer aged in oak melds the different fruit flavors perfectly, they almost dance across your palate. Like this beer, you never know what will happen around the holidays so raise a glass to the unexpected.
(Related: Reindeer Grains: Brewery Finds Use For Spent Grain)
Prim | Upland Brewing | Bloomington, IN
Perhaps made famous in Charles Dickens' "A Christmas Carol," plum pudding has graced many tables during the holiday season. Technically, there are no plums in the traditional pudding, but no matter. You should forgo this meat and dried fruit concoction for a delicious beer with actual plums. Upland Brewing Company's Prim is a little sweet and savory with bright tart plum flavor up front with a subtle savory and spicy finish courtesy of cardamom. The beer pairs well with rich holiday dishes such as roasted duck and plum sauce.
Running with Axes Pale Ale | Finnegans Brew Co. | Minneapolis
The brew is a fresh hop pale ale brewed exclusively with Minnesota-grown Mighty Axe Hops. It's a classic pale ale with earthy, pine and citrus notes. Finnegans also donates 100 percent of profits to charities working to eliminate hunger. If that doesn't say Christmas spirit, I don't know what does. To top it off the label will match your most festive plaid Christmas jammies.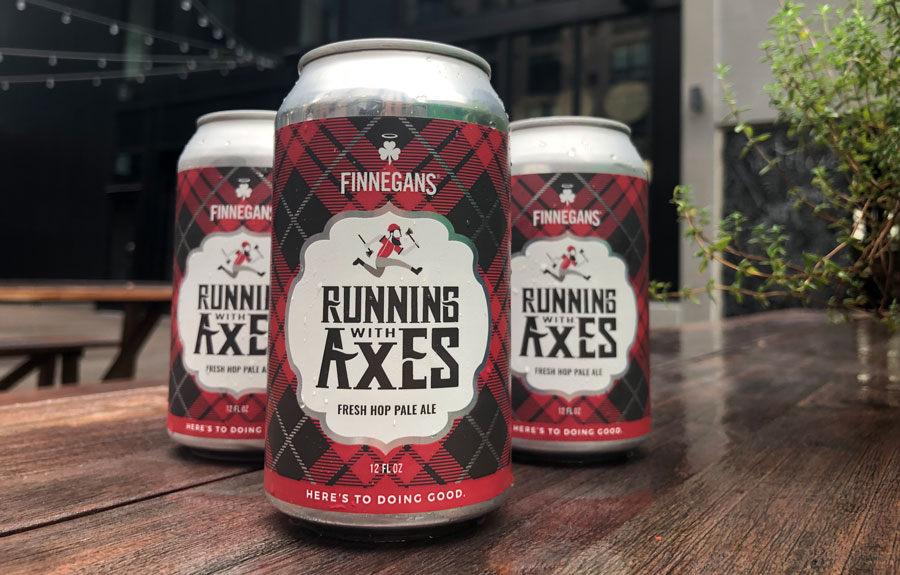 (Watch: Meet the Brewery Who Makes Tree Beers)
Oakspire Bourbon Barrel Ale | New Belgium Brewing | Fort Collins, CO
Christmas is a time for celebrating and any brew that pairs great beer and Kentucky bourbon deserves a seat at the table. New Belgium brewed Oakspire Bourbon Barrel Ale in collaboration with Knob Creek. It's aged with bourbon-steeped oak spirals and char from inside the barrel. With notes of toffee, vanilla. and caramel, this brew pairs perfectly with Christmas morning coffee for the perfect eye opener. It will carry you through to brunch and pair perfectly with bacon and pancakes.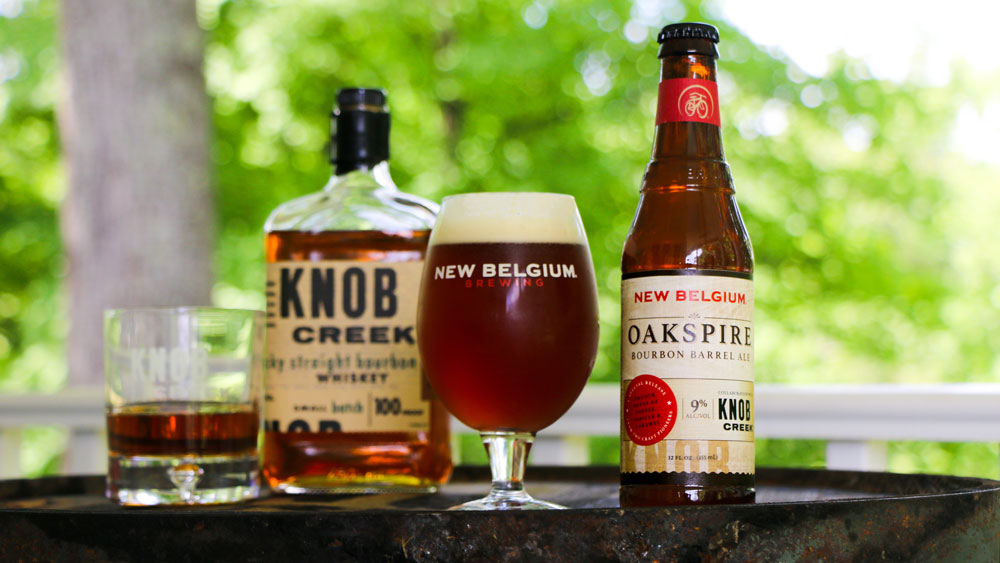 Lee Hill Series Volume 18, Wild Christmas Ale with Balaton Cherries | Upslope Brewing | Boulder, CO
Named after Upslope's original North Boulder brewery, the Lee Hill Series is a tribute to its commitment to experimentation. Volume 18 Wild Christmas Ale is aged in oak barrels for 12 months with the house sour culture before being racked onto 1,000 pounds of Balaton cherries. Then it re-fermented for eight weeks. Boasting an ABV of 9.1%, this flavor-filled beer features aromas of cherry pie, leather, clover honey and almond, followed by mulling spices, and a touch of orange peel. Enjoy it Après Everything, preferably in your finest Ugly Christmas sweater. This one is served up in 19.2 ounce cans, making it a great beer for now or a cellar keepsake for next year.
(Related: Interesting Ingredients in Winter and Holiday Beers)
Mad Elf | Troegs | Hershey, PA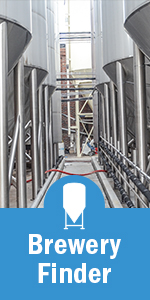 The scheming elf on the label lets you know this one is going to be a dangerously good beer. Mad Elf is on plenty of holiday beer roundups but rightfully so. The cheerful ruby red color immediately gives you a festive vibe and tastes of ripe cherries, honey, and a hint of cinnamon, clove and allspice. This Belgian Strong pairs so well with all the Christmas fixin's that you might want to wait for dinner to crack this one, not to mention the 11% ABV. Try it alongside rich baked brie cheese to compliment the bright cherry flavor or alongside the Christmas ham to intensify the malt character and sweet honey.
Christmas Morning | Hardywood Park Craft Brewery | Richmond, VA
It doesn't get more festive than gingerbread and coffee, now does it? This beer from Hardywood Park adds more complexity and decadence to their original Gingerbread Stout (seriously tastes like a liquid gingerbread cookie) through deep conditioning on locally roasted Mexican Chiapas coffee beans from Black Hand Coffee Co. Hints of sweet honey and oven-baked gingerbread greet the comforting nuances of freshly brewed morning coffee in this imperial milk stout.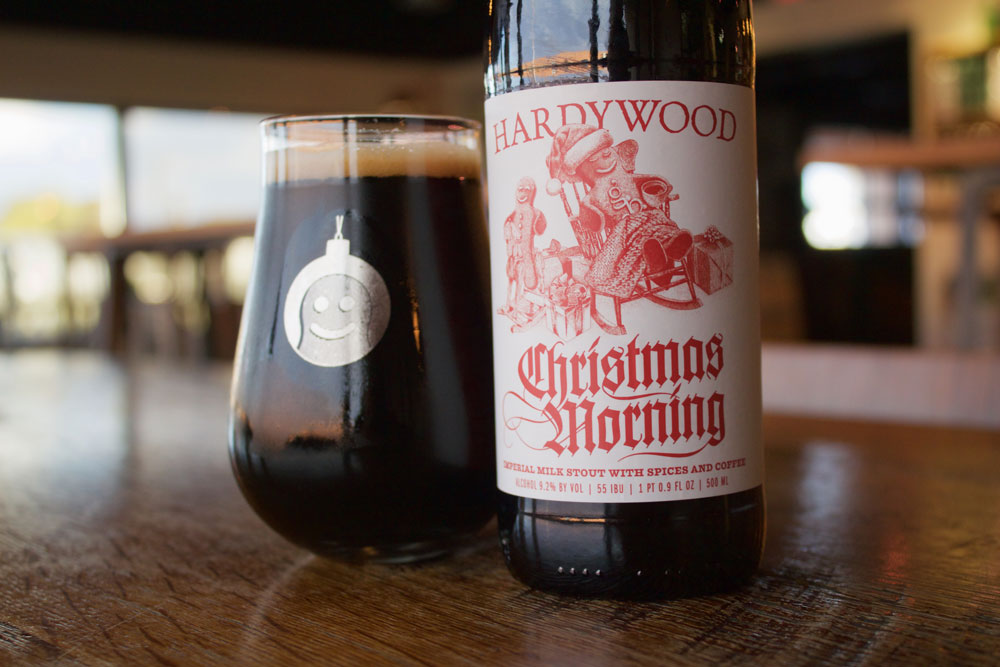 The holidays can be stressful and unpredictable, so you may as well have some delicious beers stocked up to enjoy. Whether you have a house full of guests for Christmas brunch or you plan on a holiday movie marathon with a leftover cookies for breakfast, pop one of these beers to bring back feel that Christmas morning anticipation and fun from your childhood.
CraftBeer.com is fully dedicated to small and independent U.S. breweries. We are published by the Brewers Association, the not-for-profit trade group dedicated to promoting and protecting America's small and independent craft brewers. Stories and opinions shared on CraftBeer.com do not imply endorsement by or positions taken by the Brewers Association or its members.