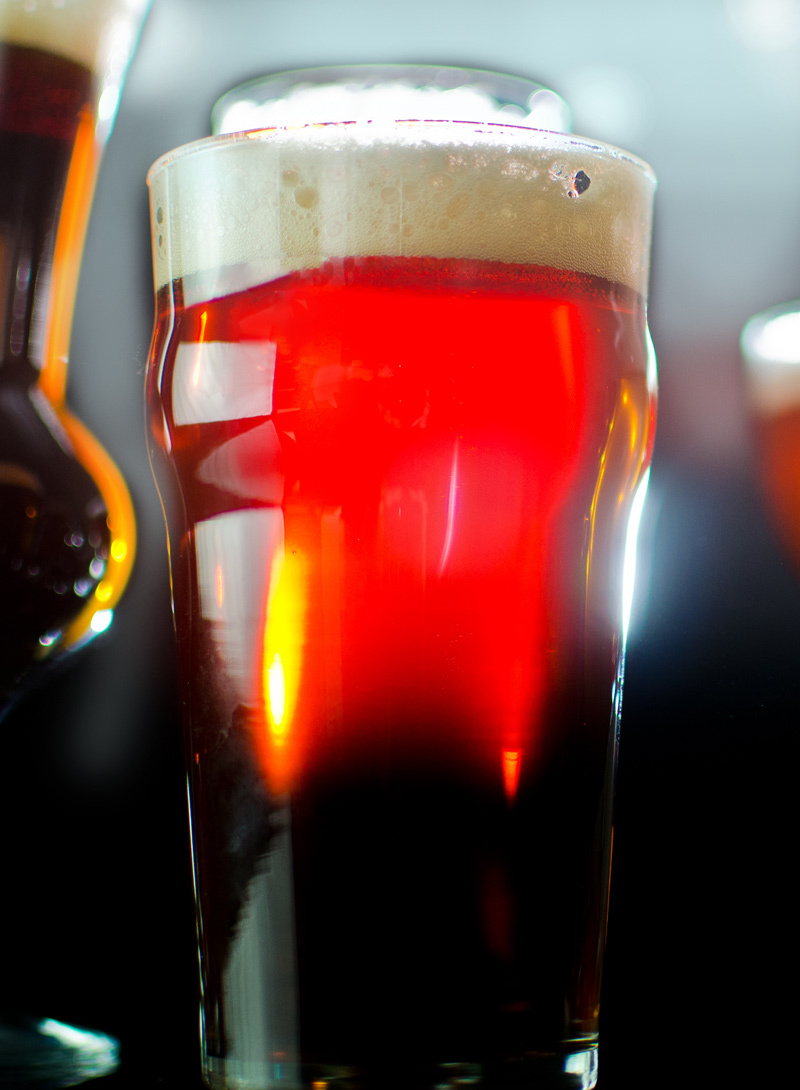 Craft Beer Summer Seasonals 2013
It's time to dust the cobwebs off your grill, patio furniture and cooler—summer is almost here! America's craft brewers have planned ahead and are set to help you celebrate the warmer weather with craft beers that embody the summer months. Whether you're headed to the beach, a music festival or just mowing the yard, summer seasonals from your local brewery will be the perfect partner.
"It's that time of year when beer lovers seek out lighter-bodied and sessionable craft beers," said Julia Herz, craft beer program director of the Brewers Association. "Small brewers have taken summertime seasonal offerings to a new level with palate-pleasing beers that help combat the long, hot days ahead."
To celebrate craft beer summer seasonals, we asked Brewers Association member breweries to share their latest releases. Here's what they had to say:
---
Anchor Summer® Beer | Anchor Brewing Company San Francisco, CA
Released each year in advance of the summer season, Anchor Summer® Beer is an all-malt beer, with over 50 percent of its malt derived from malted wheat. It is fermented with a traditional top-fermenting "ale" yeast, yielding a clean, balanced flavor that highlights the refreshingly light flavor of malted wheat.
Availability: national distribution
Whitsun Wheat Ale | Arcadia Brewing Company
Battle Creek, MI
Brewed in the style of a mid-19th century English festival ale, this unfiltered wheat beer displays a translucent orange color topped with a creamy, white head. Wheat enhances the mouthfeel of the beer and produces pleasant bread-like notes, while Michigan honey provides a caramelized sweetness in the flavor profile. This beer is spiced with orange peel and coriander and small amounts of three hop varieties perfectly counterbalancing the sweetness.
Availability: IL, KY, MI, MO, OH, PA
Barth Berry Blast | Arvada Beer Co.
Arvada, CO
A golden-style ale with the addition of 84 pounds of fresh pureed raspberry and blueberry into the secondary fermentation. We name all of our brews after something historic here in Olde Town Arvada and Barth is named for a historic building just steps away from our brewery.
Availability: Denver metro area
Bell's Oberon Ale | Bell's Brewery, Inc. Comstock, MI
The heart of Bell's summer lineup, Oberon Ale offers a refreshing mix of malted wheat flavor and fruity notes, wrapped up in a distinctively citrusy hop aroma. Brewed around the concept of balance, Oberon brings a moderate bodied yet full-flavored ale to the table that complements all manner of summer activities.
Availability: AL, AZ, FL, GA, IL, IN, IA, KY, MI, MN, MO, NC, ND, OH, PA, SC, VA, WI, Washington D.C. and Puerto Rico
Picnic® | Blackstone Brewing Company
Nashville, TN
Picnic® is an English summer ale and is a lighter version of a classic pale ale. It retains the wonderful flavors and aromas of British pale ale malt and hops, while using a significant portion of wheat for a lighter body and crisp finish. Picnic is a hot weather refresher, without sacrificing flavor and character.
Availability: TN
Kinda Blue Blueberry Wheat | Boulder Beer Company Boulder, CO
Perfect for summer, Kinda Blue is as cool as the day is long. A refreshing American wheat with just the right amount of sweetness, aroma and blueberry. For those beer geeks out there, the blueberries are not added to the mash like in many fruit beers. Rather, we add the organic Oregon blueberry puree to the cold fermenting wheat beer—much like dry-hopping—which gives this beer subtle notes of flavor.
Availability: AL, AZ, CA, CO, CT, FL, GA, IL, IN, KS, KY, LA, MD, MA, MI, MN, NE, NH, NJ, NM, NY, NC, ND, OH, OR, RI, SC, TN, UT, VT, VA, WA, WI, WY and Washington, D.C.
Lake House | Capital Brewery Middleton, WI
This helles-style lager is slightly malty, lightly hopped and golden in color, perfect for quenching your summertime thirst. The beer is inspired by our award-winning Capital Bavarian Lager that was awarded a gold medal in the 2000 World Beer Championships. This beer has not been available since 2005, and is back for the 2013 summer season.
Availability: FL, IA, IL, MN, WI
Finger Lakes Summer Wheat | CB Brewing Company Honeoye Falls, NY
CB's Finger Lakes Summer Wheat is the perfect beer for summer. It's a light bodied beer that offers up great complexity. The Bavarian hefeweizen yeast strain used creates flavors of banana and spicy clove that enhance the delicate flavors of the Pilsner and wheat malts.  The use of German Nobel hops balance this brew perfectly, and at 4.9 percent ABV, Summer Wheat is a refreshing beer, pint after pint.
Availability: bars, restaurants and retail grocery chains throughout WNY and the Finger Lakes region.
Scenic Route Kolsch | Crazy Mountain Brewing Company Edwards, CO
Scenic Route Kolsch utilizes a unique strain of yeast that gives it a very distinct flavor profile. Light straw in color, this beer has a very balanced crispness that is followed by a slight sweetness. Have a pint, relax and take the scenic route today.
Availability: CO, CA, TX, FL, NM, MN, OR, NH, NC
Twilight Summer Ale | Deschutes Brewery Bend, OR
The vigorous, yet easy-drinking hop essence of this brew is as essential to the season as baseball, BBQs and the smell of freshly cut grass. Twilight Summer Ale's crisp wafer-like body complements its clever medley of four hops and malts. Whole flower Amarillo, Northern Brewer, Cascade, Tettnang and Brambling Cross hops sing next to subtle Cara-Pils and Carastan malts. Twilight Summer Ale is magic guaranteed to make the summer even more rewarding.
Availability: BC, WA, OR, CA, HI, AK, NV, UT, CO, ID, MT, WY, NM, AZ, TX, KS, ND, SD, MN, MO, IL, Alberta
Solace – Unfiltered Fusion Wheat | Firestone Walker Brewing Company Paso Robles, CA
Tropical fruit, citrus and a hint of clove aroma are derived from Bavarian yeast. Tangy, dry malt flavor is followed by banana notes and a silky finish that rounds out this easy-drinking brew. This beer has been left unfiltered to retain all of the flavors derived from the malt and yeast to create a truly unique flavor profile. No fruit required, all the flavor you need is in the glass.
Availability: CA, NV, AZ, WA, OR, ID, IL, TX
Woody Creek Belgian White | Flying Dog Frederick, MD
Woody Creek Belgian White is an homage to Woody Creek, Colorado, a small town outside out of Aspen that was Gonzo Ground Zero and home to our founder George Stranahan and Hunter S. Thompson. This traditional Belgian wit is brewed with orange peel and coriander.
Availability: AL, CA, CO, CT, DE, FL, GA, IL, IN KY, ME, MD, MA, MI, MN, NH, NJ, NY, NC, OH, OK, PA, RI, SC, TN, TX, VT, VA, WV, WI, and Washington, D.C.
Hoptitude | The Fort Collins Brewery Fort Collins, CO
What's better on a warm day in the mountains (or at sea level, for that matter) than relaxing with a strong beer that drinks easy? Hoptitude has an aromatic orange rind nose courtesy of a late addition of Pacifica hops from New Zealand, a bready malt backbone, a refreshing hop flavor reminiscent of dry grapefruit and a palate cleansing finish.
Availability: AR, CO, FL, GA, IA, IL, KS, KY, LA, MI, MS, NC, NJ, NY, OH, PA, SC, TN
All Day IPA | Founders Brewing Co. Grand Rapids, MI
All Day IPA keeps your taste buds satisfied while keeping your senses sharp. Naturally brewed with a complex array of malts, grains and hops, this IPA is balanced for optimal aromatics and a clean finish. The perfect reward for an honest day's work, and the ultimate companion to celebrate life's simple pleasures.
Availability: AL, CT, FL, GA, IA, IL, IN, KY, MA, ME, MI, MO, MN, NC, NH, NJ, NY, OH, PA, RI, SC, TX, VA, VT, WI
Stormchaser | Free State Brewing Company Lawrence, KS
This bold, blonde American IPA employs a healthy dose of wheat malt and generous amounts of Crystal, Centennial and Citra hops. The hops provide a great citrusy bouquet and abundant notes of grapefruit and orange, while the wheat malt provides a crisp tartness to this lighter-bodied IPA.
Availability: select Missouri markets
Chris's Summer Delight Berliner Weiss | Full Sail Brewing Company Hood River, OR
Chris's Summer Delight is an unfiltered, refreshingly tart small batch beer, brewed with 50 percent wheat malt and just a touch of Hersbrucker hops. A perfect German-style sour brew with a dry finish for a hot summer day.
Availability: AK, AZ, CA, CO, CT, FL, GA, ID, KY, LA, MD, MA, MN, MT, NV, NH, NJ, NM, NY, NC, OH, OK, OR, PA, RI, SC, TX, UT, VA, WA, WY
Windansea Wheat | Karl Strauss Brewing Company San Diego, CA
We brew our hefeweizen true to the Bavarian style, using 50 percent malted wheat and Noble Tettnanger hops. A centuries-old strain of German weissbier yeast lends its trademark banana and clove flavors that linger through a refreshingly smooth finish. Save the citrus wedge for a beer in need, you'll thank us.
Availability: CA
Clementine Lemon Thyme | Liberty Street Brewing Company Plymouth, MI
Clementine Lemon Thyme is a light American wheat beer brewed with clementine and lemon zest and dry hopped with fresh thyme for a savory aroma. The herbal character of this beer lends itself well to almost any food pairing, thanks to the cleansing effect of the citrusy finish.
Availability: Clementine Lemon Thyme is on tap in the brewery tasting room, and available throughout southwest Michigan from  better beer providers.
Mayflower Summer Rye Ale | Mayflower Brewing Company Plymouth, MA
Mayflower Summer Rye Ale is the ultimate summer session beer. Brewed with Pilsner, Rye and wheat malts and plenty of American hops, this beer is dry and spicy with mild and fruity bitterness.
Availability: CT, MA, NH, RI
Meltdown Double IPA | Midnight Sun Brewing Company Anchorage, AK
In Alaska, the summer days are long but the season is short. So what gives? Sleep! After doing more before midnight than most Outsiders do in a week, Alaskans deserve some down time. And these moments of relaxation demand more than that ordinary, non-distinct lawn mower beer. Celebrate a day well done with a beer done well—a seriously delicious IPA with scorchin' hops.
Availability: AK, WA, OR, CA, NYC
Radiant | Ninkasi Brewing Company Eugene, OR
Crisp and flavorful, Radiant Ale is a clean-finishing summer offering in the Ninkasi tradition. The smooth malt character is balanced by an elegant hop bitterness, the perfect complement to a glorious summer day. A touch of Caramel malt is used to sweeten-up this beer in addition to some Vienna malt for balance. The multiple hop varieties are grassy and earthy in tone and differentiate Radiant from most of the citrus-forward Northwest pale ales!
Availability: OR, WA, CA, ID, MT, AK, and Vancouver, British Columbia
St. Lupulin | Odell Brewing Co. Fort Collins, CO
A mystical legend echoes in our brewhouse—that of St. Lupulin (loop-you-lin) the archetypal hophead. He devoted endless summers to endless rows of hops, tending to the flowers and the beloved resin within—lupulin. Extraordinary oils in this yellow resin provide this dry-hopped extra pale ale with an undeniably pleasing floral aroma and clean, crisp finish. One sip of this seasonal summer ale and you too, will believe.
Availability: AZ, CO, ID, KS, MO, MN, NE, NM, SD, WY
GUBNA | Oskar Blues Brewery Longmont, CO
GUBNA cranks up the complexity of hops by piling Cascade hops on top of copious amounts of Summit hops, balanced by the backbone of German Dark Munich Malt and Rye Malt. North American 2-row barley combines with the other grains to lay the foundation for the hop onslaught to come. Post-fermentation dry-hopping allows this monstrosity to gently coax the citrus rind and grapefruit aroma while providing a rye malt-induced, spicy-yet-round middle and a brisk, clean bitter finish.
Availability: 25 states
Downright Pilsner | Port City Brewing Company Alexandria, VA
Downright Pilsner is a deep, golden color and medium-bodied, with a soft, round malt profile and crisp, spicy hop character on the finish. This lager is brewed in the traditional pilsner style, using authentic Pilsner malt and noble Saaz hops. Downright Pilsner gets its carbonation completely naturally as it lagers in our fermentation tanks for six weeks.
Availability:DC, VA, NC, MD and NJ, and in our Tasting Room.
Samuel Adams Summer Ale | Samuel Adams Boston, MA
With its hazy golden color and bright character, this flavorful American wheat ale says summer. The crisp citrus notes in the Noble hops, wheat and lemon peel combine with the subtle peppery spice of Grains of Paradise for just the right kick in this lively, flavorful and refreshing brew.
Availability: nationwide
Sunbeam Pilsner | Sawtooth Brewery Ketchum, ID
This single malt, single hop pilsner brewed with Czech Saaz hops, Pilsner malt and American Pilsner yeast is named after the Sunbeam area on the Main Fork of the Salmon River and inspired by summer days spent rafting on the river!
Availability: Sunbeam Pilsner will be available at the Tap Room in Ketchum with distribution across south Idaho on draft only.
Summer Lager | Schlafly Beer St. Louis, MO
Our helles-style summer lager is a bright, golden beer, perfect for summertime. The malts we use impart a wonderful, fresh grain character, reminiscent of European lagers. The German Noble hop, Mittelfrüh, lends a mild lemony, spicy flavor.
Availability: Throughout the dedicated distribution area of 300 miles around St. Louis (minus the Chicago market). May also make appearances on a more limited scale in Washington, D.C., Maryland, Delaware, New Jersey, Manhattan and Virginia.
Nicie Spicie | Short's Brewing Company
Bellaire, MI
Nicie Spicie is a spiced wheat ale made with a 50/50 blend of malted barley and malted white wheat. Packed with fresh citrus zest, then spiced with coriander and a three peppercorn blend, this light-bodied ale is complex yet scrumptious. Pouring a gorgeous golden color, this beer is crisp and refreshing and perfect for the summertime.
Availability: MI
Summerfest | Sierra Nevada Brewing Co. Chico, CA
Summerfest, a bohemian pilsner, has bright, spicy and floral hop notes and a delicate lager-malt sweetness, which combine to make this crisp and clean beer remarkably refreshing and perfect for summertime.
Availability: nationwide
Indians Lager | Sun King Brewing Company Indianapolis, IN
Balanced malt flavor finishes with crisp Noble hops to create a beer that is perfect for a day at the ballpark or a summer cookout. It is the official craft beer of our AAA Baseball team, the Indianapolis Indians. We tap the beer on opening day at the brewery and then the Mayor of Indianapolis, Greg Ballard, leads over 250 bicyclists on a 1.5 mile ride from the brewery through the city to Victory field on an annual ride we've dubbed, Bike to the Ballpark.
Availability: on draft and in cans at Victory Field as well as bar/restaurants and liquor stores throughout Indiana.
Sal's Paradise Saison | Triple C Brewing Company Charlotte, NC
Saison brewed with North Carolina-grown malt from Riverbend Malting in Asheville, N.C. Brewed with predominantly Sorachi Ace hops.
Availability: Charlotte, NC
Sunshine Pils | Tröegs Brewing Company Hershey, PA
Hop fans rejoice! Sunshine Pils combines the crisp taste of European-style pilsners with a kicked-up hop character to create a balanced, refreshing seasonal beer. Golden in color with a fluffy white head, Sunshine Pils is the perfect beer to combat the sweltering heat of summer. GABF 2012 Gold Medal winner (German-Style Pilsner).
Availability: DC, DE, MD, MA, NJ, NY, OH, PA, VA
Prehistoric Dog – Salted Wheat Beer | TRVE Brewing Co. Denver, CO
Prehistoric Dog is an American wheat beer with Hawaiian black lava salt and coriander. Floral aromas and an umami-laden mouthfeel. A great beer for the summer heat.
Availability: DC, DE, MD, MA, NJ, NY, OH, PA, VA
La Petite Saison | Twisted Pine Brewing Company Boulder, CO
La Petite Saison is unfiltered like traditional farmhouse ales and pours a hazy straw color with a snow white head of micro-fine bubbles. Aromatics of lemon peel with a dash of black pepper and a gentle, pleasant funk waft up from the glass and bear evidence of the unique yeast strain used to ferment this ale. Fruity esters carry over from smell to sip and effervescent carbonation spreads the mélange of flavors across the tongue, while subtle earth tones from the hops softly punctuate the finish.
Availability: CA, CO, FL, IA, LA, MD, MO, ND, NE, NM, PA, TX, VA
Fields Ablaze | Valiant Brewing Company Orange, CA
A tart, lemony and clean malt character thrives with the floral yet spicy aroma. There is a light malt sweetness and a slight grainy texture. The low bitterness develops a flavor profile that gives a crisp refreshing finish.
Availability: Bru Market and Grille – Lake Forest, CA; Smoqued BBQ – Orange, CA; Valiant Brewing Tasting Room – Orange, CA
CraftBeer.com is fully dedicated to small and independent U.S. breweries. We are published by the Brewers Association, the not-for-profit trade group dedicated to promoting and protecting America's small and independent craft brewers. Stories and opinions shared on CraftBeer.com do not imply endorsement by or positions taken by the Brewers Association or its members.