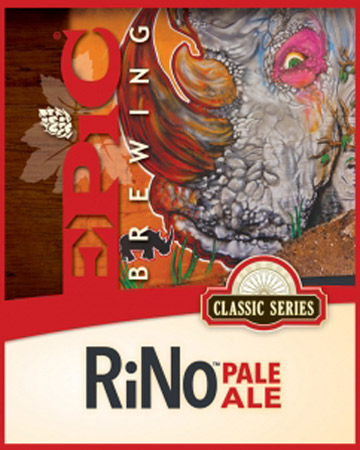 Epic Brewing Embraces Denver's Graffiti Artists
At Denver's Epic Brewing Company, dedicated men and women have been putting in long hours, starting early in the morning and finishing, sometimes, late into the night. It's a common theme around many small breweries, but what's unique about this story is that I'm not referring to the artists on the inside of the brewery—I'm referring to the ones on the outside.
"I love seeing it on the rail cars," explains Epic's co-founder Dave Cole, referring to how graffiti and mural artists get their work noticed by fellow artists. "I've always been fascinated by good graffiti [art]."
Cole, originally from LA, grew up appreciating the vivid colors, lettering and line work created, not by brush, but by "fat cap" spray can.
Today his brewery is a vibrant canvas for local artists, coated with original graffiti murals. It's the culmination of Cole's early vision for Epic's visual style.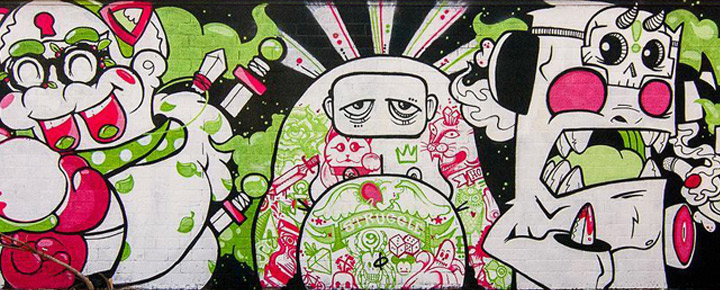 Flash back in time to a different city and a new art discipline—this time in a glass—when Cole and fellow founder Peter Erickson teamed up with brewer Kevin Crompton to create Epic Brewing Co. in Salt Lake City.
Epic became a reality in 2008, when a law was passed in Utah allowing for the the production of higher strength craft beers, like the ones Cole enjoyed during his time in California. Early on he suggested that Epic's beer labels should depict urban graffiti art. The idea didn't go over well in the brewery, and most likely wouldn't have been welcome in the brewery's neighborhood. "That would not fly here," says Cole.
Even though Utah's laws were becoming more favorable for brewers, overall the state's support remained lacking. Epic set sights on an expansion east of the Rocky Mountains, to Denver's up and coming RiNo (River North) neighborhood.
The New Brewery in Town
Just north of the bars and restaurants of LoDo (Lower Downtown) stretches a vast area of mostly nondescript warehouses. Rockies fans fleeing north through RiNo toward I-70 after a ballgame may not even notice the subtle signs of urban renewal–such as residences, art galleries, and, yes, craft breweries colonizing formerly industrial spaces.
Epic took up residence in one of these buildings, on the corner of 30th and Walnut, in 2013. While the expansion allowed the brewery to produce more of the beers they had begun to win awards for, Epic chose to release three beers specifically commemorating their new digs.
RiNo Pale Ale
One such beer was a nod to the neighborhood itself. RiNo Pale Ale became part of the brewery's Classic Series. While the pale ale is comprised of base Maris Otter malts and American hops for a "complex and robust" beer drinking experience, it's the beer's label that is likely to initially catch your eye.
RiNo's bottle is dominated by a boldly decorated rhinoceros that stares back, proudly defiant. The artwork was found in the wild–it's a piece by artist Think426, captured on the beer label as a photograph by graffiti and mural promoter Gary Glasser (TheAnarchivist).
Glasser, who started photographing area murals to capture this style of "finite art for fun, and got obsessed," introduced Cole to Think426. The label became a reality, and the artist is credited right on the bottle. Glasser believes it's the only beer produced by a craft brewer that depicts this style of art and credits the artist.
Everything worked out nicely: Cole got his label, Think426 got the credit and RiNo got its own beer to toast the neighborhood's growth and success. But Epic's close relationship with local graffiti artists was only just beginning.
In the Eye of the Beer Holder
One label turned into a mural on the brewery's courtyard wall; then another adorned a back wall. Now Epic has offered up its alley wall to be run as a "permission wall." A permission wall allows multiple artists to use portions of the wall as a canvas for a set amount of time. Artists are respectful of the system, in which requests are sent to an anonymous email and approved by committee.
"Artists love the chance to be on a permission wall," says Glasser. "They feel lucky and proud of their work."

The murals aren't what many would refer to as "traditional" art, but beauty is in the eye of the beholder. Craft brewers have always supported all types of art, through events like Amber Waves, or by displaying art pieces in their tap rooms. And just as craft brewers are pushing the boundaries of beer, mural artist are pushing the boundaries of art.
Like Glasser says, graffiti art is inherently finite, just like a pint of great craft beer. When the time comes to refresh Epic's permission wall, the existing art will be wiped away–only to be replaced with a new mural for craft beer fans to appreciate on their way in or out of the tap room. The endless cycle of artistic renewal fits right in to the revitalization of the RiNo neighborhood.
In the end, both canvas and keg seem to meet in the middle, symbiotically forging two communities into one. And that's exactly what Dave Cole and Epic Brewing Co. wanted.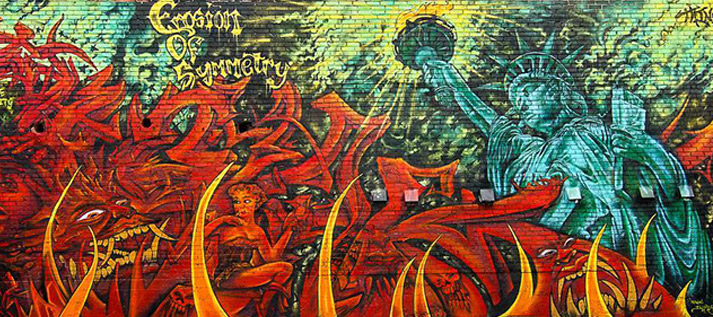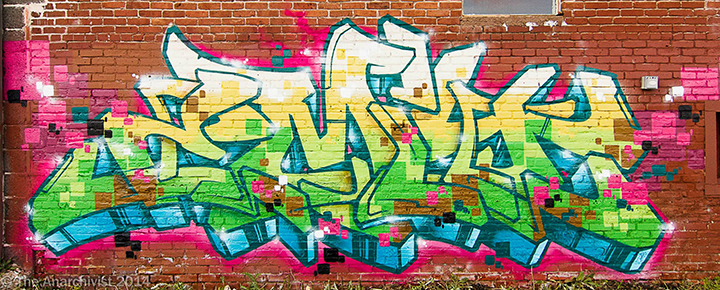 Artist Credits(top to bottom): Epic Rino Pale Ale Label by Think426; North Wall piece by P.L.A.A.N.T and 84 Pages; yellow "retina destroyer", R-A-P-E-S; "Erosion of Symetry/ Lady Liberty piece by Think426; Red brick backdrop piece by EMIT. All photography by Anarchivist Digital Photography. Visit Epic Brewing Company to see all of the works featured.
CraftBeer.com is fully dedicated to small and independent U.S. breweries. We are published by the Brewers Association, the not-for-profit trade group dedicated to promoting and protecting America's small and independent craft brewers. Stories and opinions shared on CraftBeer.com do not imply endorsement by or positions taken by the Brewers Association or its members.