Humans have been caught up in a love affair with chocolate in its liquid form dating back to 1900 BCE when the earliest known traces of the rich flavors produced by cacao nibs were discovered.
Celebrated as a super food, chocolate is nutrient-rich and filled with an abundance of antioxidants and flavonoids, boasting more iron and magnesium than any other food.
It's a natural stimulant and mood enhancer, and because chocolate borders on a major food group for some people, it doesn't come as much of a surprise that craft brewers have embraced the stuff. It's one of the few ingredients in the industry that has outlived trends and become a mainstay on most taproom menus.
Beer drinkers just can't get enough of the sweet and roasty character that chocolate adds to beer, which has left brewers in a perpetual state of experimentation. Brewing with cacao nibs often results in clogged pipes, hoses and valves, and aside from transforming a good brew day into a massive clean-up project, the fatty nature of cacao nibs has a tendency to suck the foam retention right out of a beer — leaving brewers on a hunt for a way to get authentic chocolate flavors, without the mess.
(READ: 10 Peanut Butter Beers You'll Crave)
A Go-to Ingredient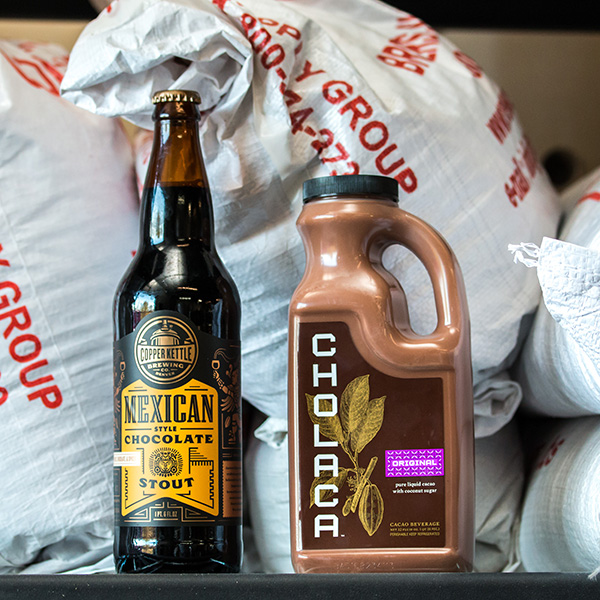 Enter Cholaca — a Colorado-based chocolate company gaining a big following in the craft beer industry. In 2012, owner Ira Leibtag founded the business with one goal in mind: "to bring healthy, organic and regeneratively farmed liquid cacao to the world, while curating sustainable economic partnerships with farmers throughout Peru and Ecuador."
Made with just cacao, water and coconut sugar, Leibtag's sustainably minded, 100 percent pure cacao product has become a staple in coffee shop drinks, on chocolatiers and baker's go-to ingredients list, and most importantly for beer drinkers, in brewhouses across the country.
(READ: Movie Inspired Beer Names and the Stories Behind Them)
Great American Beer Festival Event
During this year's Great American Beer Festival week, Leibtag enlisted three Colorado brewers to sit on a panel at an educational "How to Brew the Best Chocolate Beer" event thrown by Cholaca. Brewers and homebrewers in town for the fest packed into Tap Fourteen, a local craft-beer-focused hangout, to learn more about best brewing practices when it comes to creating chocolatey beers.
Over the course of an hour, Leibtag and his panel made up of Left Hand Brewing's Steven Brockwell, Jeremy Gobien of Copper Kettle, and Christopher O'Connor of Sleeping Giant discussed the evolution of chocolate beers and the benefits of brewing with Cholaca.
(READ: Chocolate and Chili Beers)
Suggested dosage rates were shared, praise was given for the product's ability to create a rich, smooth chocolatey taste that brewers previously using cacao nibs, extracts and powders were unable to attain, all while keeping a solid foam retention.
"I always shied away from making chocolate beers because they never tasted like chocolate," Gobien told the crowd at Leibtag's GABF event. "Cholaca is much easier to process and you can pull a lot of rich chocolate flavor from it."
Oskar Blues Approves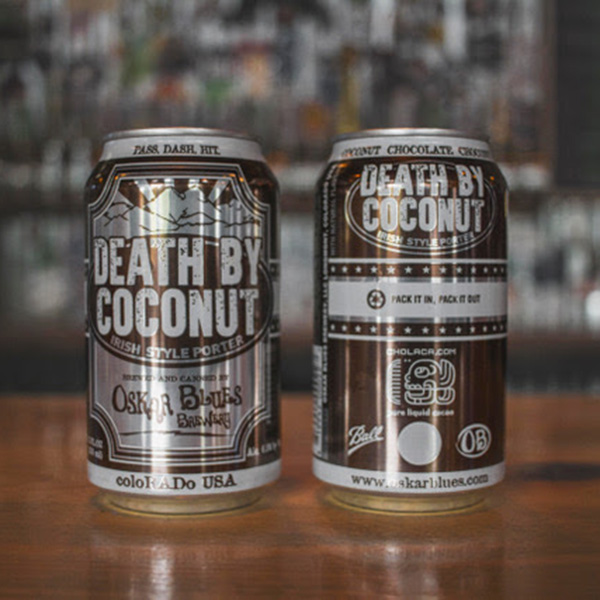 It was that rich flavor that Oskar Blues' brewmaster, Tim Matthews, was after when he first took a chance on Leibtag's liquid cacao product. Looking to breathe some new life into the brewery's award-winning Death By Coconut — an Irish Porter that boasts a backbone of chocolate flavors so intense, some beer drinkers compare it to an Almond Joy candy bar — Matthews experimented with Cholaca and quickly became one of Leibtag's top customers in the craft beer industry.
Applauding the product for its ability to boost different layers of flavor already in the beer, Matthews also noted how easy the liquid cacao was to the work within the brewing process, and in the clean-up phase.
(READ: Stone Brewing Takes Down Instagram Troll)
Liquid Cholaca can be added in an unsweetened, lightly sweetened or sweetened form into a brite tank post-fermentation, where the level of chocolate flavor is easily controlled and the liquid byproduct is much easier to clean up than cacao nibs, which must be enclosed in a mesh bag when added to a brew to avoid the nibs clogging up the major arteries of a brewhouse.
"Using cacao nibs is kind of a tricky subject," Brockwell said. "It's hard to get repeatability. It's hard to get something that is dependable."
Cholaca's liquid form also proved to be less wasteful, saving brewers money along with headaches in the long run. Brewers found that less of the product was needed to obtain a strong chocolate flavor in their beers. For breweries making small batches of chocolate-inspired beers, Cholaca offers a 1.5 gallon jug. It also offers a 5-gallon bucket for breweries using a moderate amount of chocolate, and a 50-gallon jug for larger breweries such as Oskar Blues who fly through Cholaca to keep iconic beers like Death By Coconut on the shelf.
Try a Chocolate Beer
If you can't get enough chocolate, track down one of the following beers and be the judge on whether Cholaca's revolutionary liquid cacao is indeed the future of chocolate beer.
238 Brewing | Partyline Porter
Aardworlf Brewing Co. | El Mariachi Imperial Stout & Biere Joie
Alluvial Brewing | BA Imperial Stout with Cholaca and Coconut
Alter Brewing | Altered Cake Dream
Bellefonte Brewing | Chocolate Stout
Bent River Brewing Co. | Chocolate Milk Stout
Black Bottle Brewery | Scrumdiddlyumptious Bock
Bluebird Brewing | Cholaca Milk Stout
Bosque Brewing | Imperial Chocolate Coconut Stout
Boxing Bear Brewing | Chocolate Red Ale
Coopersmith's Pub & Brewing | Mocha Milk Stout
Copper Kettle Brewing Co. | Mexican Chocolate Stout
Crazy Mountain Brewing | Cholaca Banana Wit
Dead Lizard Brewing Co. | Komodo "Koko" Dragon Chocolate Stout
Diamond Knot Brewing | Mexican Chocolate Brown Ale
Explorium & Cigar City Brewing | Chocolate-Cherry Imperial Stout
Fate Brewing Co. | Raspberry Chocolate Stout
Figueroa Mountain Brewing Co. | Weapon of Mass Seduction
Foothills Brewing | Sexual Chocolate Imperial Stout
Front Range Brewing | Colorado Fall Golden Co ee Stout
Gilman Brewing Co. | Oil Pan Chocolate Stout & Blackberry Chocolate Stout
Great Divide Brewing Co. | Yeti Chocolate Stout
ICONYC Brewing Co. | Salted Caramel Porter
Jagged Mountain Craft Brewery | Chocolate Stout
John Harvard's Brew House – Framingham | Edge of Forever Imperial Stout
Joyride Brewing Co. | Dr. Friese's Breakfast Stout
Left Hand Brewery | Lotta Cholaca Love Porter
Mockery Brewing | English Dutchmen Oatmeal Stout
Next Door Brewing Co. | Wonka Tonk Chocolate Stout with Coffee and Cocoa
Ocelot Brewing Co. | Baltic Porter
Oskar Blues Brewery | Death By Coconut & Rum Barrel-Aged Death by Coconut
Paddle Hard Brewing | Milltown Java Porter
People's Brewing Co. | Milk Money Coco Milk Stout
Shine Brewing Co. | Whiskey Barrel Aged Porter
Six Ten Brewing | Butterfinger CBGB (Berliner Weisse)
Spada Farmhouse Brewery | Rye Barrel Belgian
South Park Brewing | S'mores Imperial Stout
Sudwerk Brewing Co. | Three Best Friends
Thirsty Nomad Brewing | Flying Snake
Tilted Mash | Chocolate and Vanilla Bourbon Winter Brothers Stout
Tommyknocker Brewery & Pub | Tommyknocker's Cocoa Porter
Triple Rock Brewery | Holiday Stout
Troegs Brewing Co. | Chocolate Stout Nitro Beer
Two Bandits Brewing Co. | Crooks Christmas
Urban Artifact Brewing | Sliderule Chocolate Raspberry Gose
Ursula Brewing Co. | Colorado Buckeye Chocolate Stout
Verboten Brewing | Little Nonsense Barrel Aged Imperial Stout
Wicklow Brewery | Coconut, Vanilla & Cholaca Stout
Wilmington Brewing Co. | CaCow Chocolate Milk Stout
Zwei Brewery | Saluu
CraftBeer.com is fully dedicated to small and independent U.S. breweries. We are published by the Brewers Association, the not-for-profit trade group dedicated to promoting and protecting America's small and independent craft brewers. Stories and opinions shared on CraftBeer.com do not imply endorsement by or positions taken by the Brewers Association or its members.