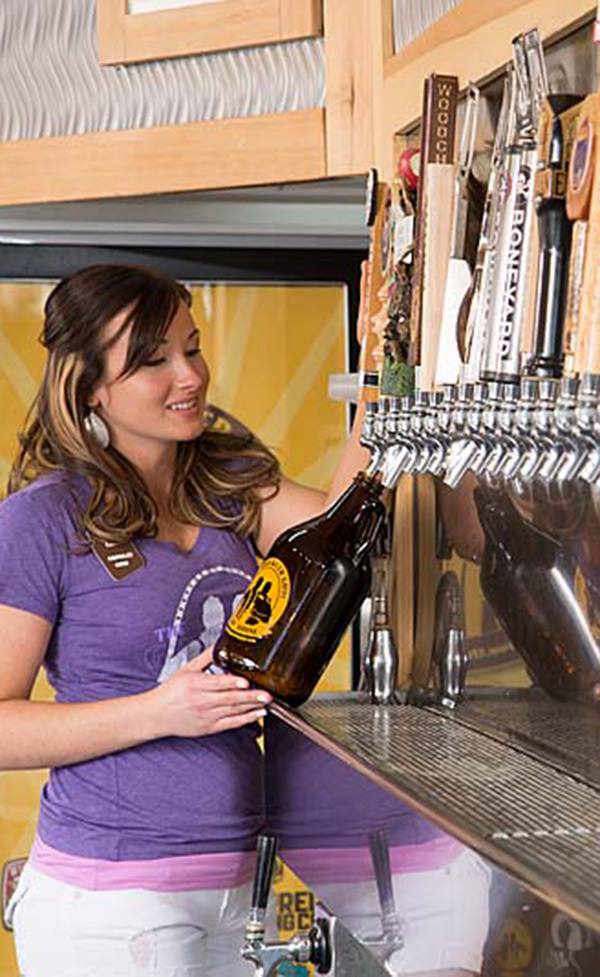 Growlers On the Prowl
Talk to anyone who has started a craft brewery, and you'll almost always learn they relied on word-of-mouth marketing to get customers. And, if word of mouth lays the track to the taproom door, the growler is the lubricant greasing the skids.
The 64-ounce growler, as well as the emerging 32-ounce "growlet," has become a prominent fixture for both brewery startups, and new craft beer point-of-tap businesses. So prominent in fact, that some states are changing laws to allow growlers to be taken home.
In 2013, North Carolina, Delaware, Arizona, Georgia and California were among states that relaxed their interpretation of the three-tier system that had prevented or restricted growler sales. Other states are under pressure to change or update existing laws to keep up with the growth of craft beer and its sale in growlers.
Here are a just a few of the growing number of breweries and businesses in Washington and my home state of Colorado, that have found growlers to be the perfect vehicle to share the beverage of craft beer. Please share other examples of growler-loving breweries and businesses from your neck of the woods in a comment below!
Bartell Drugs | Seattle, WA
For Bartell Drugs, a family-owned, full-service operation, the growler is a powerful marketing tool used to get customers to its new store in the trendy South Lake Union district of the city. The company included six taps in its new drug store, as well a cooler case of 50 craft and premium beers.
According to spokeswoman Helen Neville, they arrived at this marketing strategy after a focus group interview with its new neighbor—Amazon. One of the Amazon employees suggested Bartell include draft beer taps. "We listen to our customers," Neville said.
On the day the store opened, 45 customers waited in line to fill growlers. Neville also confirmed the obvious; their growler customers buy other Bartell merchandise while they are in the store. "The growler station concept has exceeded our expectations," Neville said. "It is a really effective fit for young adult customers."
Whole Foods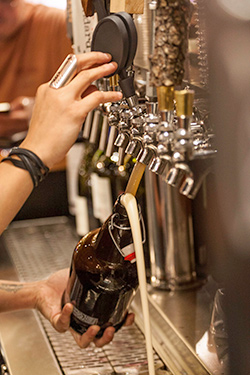 Whole Foods, a national grocery and fresh food retailer, is also a big believer in the growler trade. The upscale food store has rolled out 40 growler stations in nine states since 2006.
According to a company spokesman, its growler stations are especially effective in locations where a big craft beer scene has not yet emerged.
The Pike Brewing Co. | Seattle, WA
Brewery owners report their growler business in the past year has ignited. Charles Finkel, owner of The Pike Brewing Company in the historic Pike Place Market, reports a noticeable increase in his growler business. He cites freshness and the economy as the two most-often heard reasons for growler purchases.
"I'm not at all surprised to hear that retailers of other services and products are discovering craft beer is a good way to drive their business," said Finkel, a craft beer founding father who helped introduce Belgian craft beer to the U.S. and fostered the reemergence of the oatmeal stout style worldwide.
Colorado Boy Brewing Co. | Ridgeway & Montrose, CO
Brewer Tom Hennessy at Colorado Boy Brewing Co., producer of the legendary Frankenbrew: How to Build a Micro Brewery training video, likens the growth of growler sales as a mirror of what is happening in the artisan food movement.
Even in his little mountain town of 800, there is a steady stream of customers filling growlers. "Customers tell me they want to drink fresh, local beer with their fresh, local food," said Hennessy.
Powerhouse Restaurant & Brewery | Puyallup, WA
Dan Tweeten, the owner of Powerhouse Restaurant & Brewery, said that he hears customers speak about collecting growlers, especially from unusual breweries like his, which operates out of a converted railroad power station building.
NW Caps 'n Taps | Bonney Lake, WA
NW Caps 'n Taps offers an entire wall of 700 packaged craft beers on one side of the 1900-square foot store, while the other side features 19 taps (16 dedicated to beer, two for wine and one for cider) and a small bar with handmade, salvaged timber-top tables.
"From open until about three, our revenue mainly comes from the growlers and the cooler," co-owner David Monahan explained. "And then from three to close, the revenue is predominantly from pints. So it's been a great way to even out our revenue flow throughout the day and maximize the investment in our space."
Monahan said that many customers tell him they drink a pint in the pub and then take a growler home to avoid driving after drinking. He also said that more than a few regulars did not know what a growler was, but that they took to it right away. "The growler has done a lot to increase our business," Monahan said. "It helps to turn our kegs over faster which gets our customers into the store more often to try new beer."
The Growler Guys | Bend & Eugene, OR
If craft beer could catch fire, you might see it happen at The Growler Guys' three locations. So far, The Growler Guys have opened two locations in convenience stores and one stand-alone store in Eugene. Featuring 30-48 taps, the Growler Guys are selling 5-6,000 fills a month per location. They are expanding faster than a foamy pour, with stores opening in Nebraska and other states soon.
"We love craft breweries," said Mark Knowles, one of three partners in Growler Guys. "It's their job to make great beer, and it's our job to fill as many growers as possible."
The Growler Guys are keen on providing exceptional customer service. Their staff is trained to educate the customers about craft beer. "The starting point is what they like, and then our staff guides them through the taps to try different styles of beers," Knowles explained. "We're liberal with samples, and you can tell that magic moment when customer tastes that beer they end up taking home in their growler."
Prices rage from as low as $8.99 to $29.99 for imported beers. Their newest location in Eugene features an innovative computer screen tap display for easy reading. All the stores' taps are linked to proprietary software, which immediately updates the Growler Guys social media, websites and in-store sign boards with the current craft beers on tap.
It's clear that growlers certainly are on the prowl around the American craft beer landscape. Their impact has been so great that even state laws are changing to allow for this innovative container to continue to thrive.
Photos © The Growler Guys & Whole Foods Market
CraftBeer.com is fully dedicated to small and independent U.S. breweries. We are published by the Brewers Association, the not-for-profit trade group dedicated to promoting and protecting America's small and independent craft brewers. Stories and opinions shared on CraftBeer.com do not imply endorsement by or positions taken by the Brewers Association or its members.