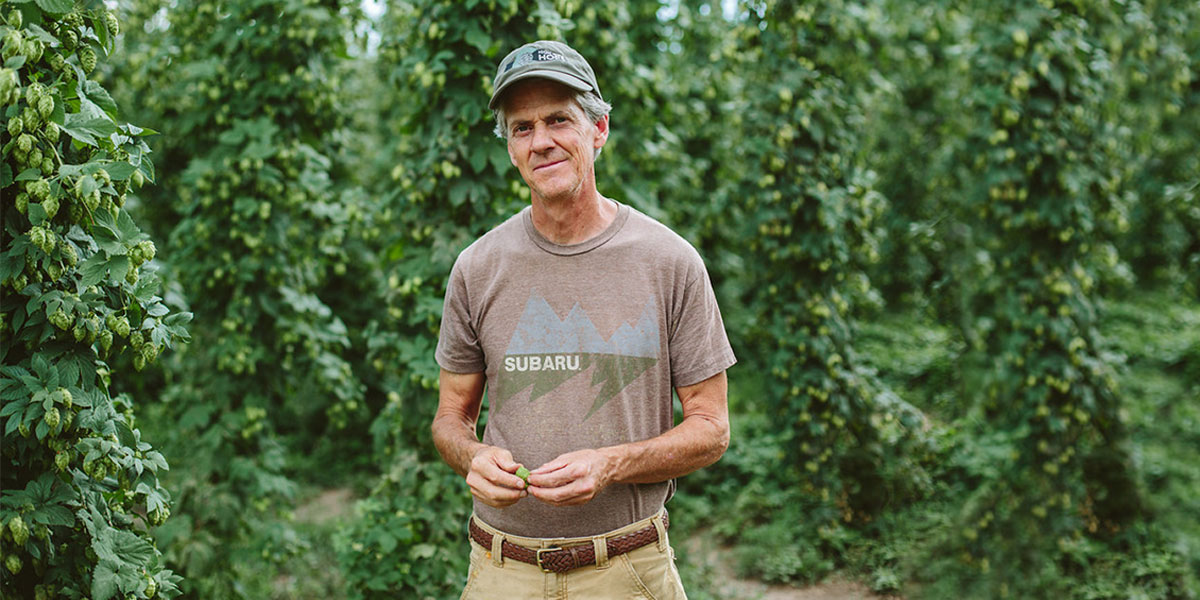 High Wire Hops: The Harvest Time Balancing Act
Imagine standing on a hill perched over a sweeping valley of orchards and mesas to the north and west, the Rocky Mountains surrounding you to the south and east. Now close your eyes and recall the smell of your favorite brewery on brew day, the intoxicating aroma of citrus and pine with a dozen other scents permeating your nose. This spot isn't just an imaginary vista, it actually exists. This is where you'll find the home of High Wire Hops, perched on that very hill with acres of Colorado-grown hops. What first started in 2010 as a glimmer in owner David Warren's eye is now a full-fledged, 8-acre operation on Colorado's western slope, right outside Paonia, a part of the state known for its rich agricultural heritage.
The Hop Operation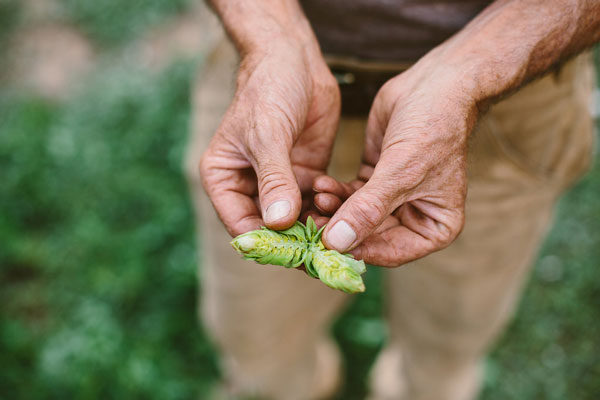 Coloradans love their craft beer, and Warren is no exception. After learning about the success that Colorado State University was having doing trials growing hops in the area, Warren decided to combine his extensive organic farming background along with his love of craft beer, and jumped headfirst into growing hops. CSU's trials proved that certain varieties such as Cascade, Nugget, Chinook and CTZ especially flourished in the region. By 2011, Warren had High Wire Hops up and running with a half-acre each of Nugget and Cascade. He kept adding acreage every year, until the spring of 2014, when he got the farm up to its current size.
(New: Hop River Brewing Taps Into Fort Wayne's Watershed Moment)
Hops grow as a rhizome, a branching, vine-like root system. The plants send up above-ground vines, which are called "bines," which can grow upwards of 20 feet into the air. It takes about four years for a young hop plant to reach full maturity. One secret to productive hops is a reliable source of good-quality water. Thankfully for Warren, his farm sits atop a spot with some of the most senior water rights in the area. The hops are watered on a very efficient drip system that, combined with the unique climate and soil of the area, produce hops that have a distinctive flavor and aroma.
All Hands on Hops
Each spring it takes a lot of hands and time to get the bines trained to climb their trellises. "It takes about 10 to 15 people to work the farm. We have about 1,100 plants per acre and two trellis ropes for each plant," Warren explains. "It isn't year-round work, but it is definitely a lot of work most of the year."
(MORE: The Precarious Future of Wild Hops of the American West)
Even though hops love to climb, when the plants first emerge from the ground in March they have to be convinced to climb where the farmers want them to go. "Hops grow clockwise, following the movement of the sun. When we train them on the trellises, we have to be sure to wrap them the right direction."
The hop harvest comes around the beginning of August — and when it does, it's all hands on deck. Warren and his crew harvest six days out of the week for about a month, and for their efforts they bring in about 1,800 pounds of hops per acre for every variety they grow except CTZ, which yields about 2,300 pounds per acre. If you've ever been to a hop yard, you know that the bines tower overhead and grow thick like a forest. To deal with this, the crew slowly drives a special truck with a tower down each row. One person at the top of the 20-foot tower truck cuts the rope loose from the trellis, while their coworker at the bottom of the bine cuts it loose from the plant. Together they stack the 20-foot bines on the back of their truck and then process them mechanically.
(IN-DEPTH: The New England Style IPA, The Anti-IPA)
"The machine is amazing to watch as it expertly strips hop cones off the bines and deposits them into holding bags. Breweries in Denver that use High Wire's hops can expect them in their kettles within 18 to 24 hours from the time they leave the field.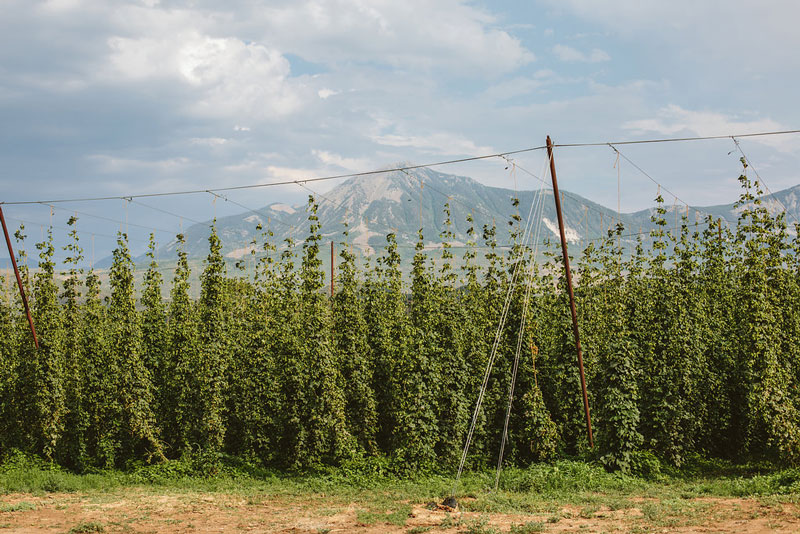 Farm to Brewery
About 85 breweries across Colorado, New Mexico and Wyoming are now using Hire Wire's hops. Beers brewed with their hops have won national awards, including several from the World Beer Cup and Great American Beer Festival. One of the newer breweries working with Warren is Primitive Beer, headed up by Brandon and Lisa Boldt, also of Odd13 Brewing fame.
Brandon had only great things to say about Warren and High Wire Hops: "They are taking a holistic approach to hop growth and harvesting, specifically conversing with brewers about our goals for the use of hops, and how to best integrate with our respective beer making techniques," he says. "David's passion for supporting local Colorado business, including neighboring farms, is infectious"
(NEWS: BA Unveils 'That's Independence You're Tasting' Beer Campaign)
High Wire has responded to brewers' desire for more aromatic and flavorful hops, and not just bittering qualities, by shifting their processes. By harvesting the hops a little earlier in the season, they produce hops with slightly less alpha acid and more of that fruity flavor that brewers are looking for.
"I am thankful that David required me to sample his hops blind," Brandon adds. "The rich influence of Paonia's soil and climate means that traditional American cultivars often sourced from the Pacific Northwest yield a crop here that is altogether different and bolsters what can only be described as 'North Fork Valley Terroir.'"
Reaching New Hop Heights
From working with one of the Denver area's newest breweries to one of its oldest, this year has marked a special year for the farm, with Great Divide Brewing Company brewing their annual Fresh Hop Pale Ale with hops 100-percent sourced from High Wire. Previously, Great Divide has sourced their fresh hops from the famous hop-growing region of Yakima Valley in Washington state. But this year, with head brewer Brandon Jacobs at the helm, the pieces fell into place for them to source their hops much more locally.
(Meet You Upstairs: Great Brewery Rooftop)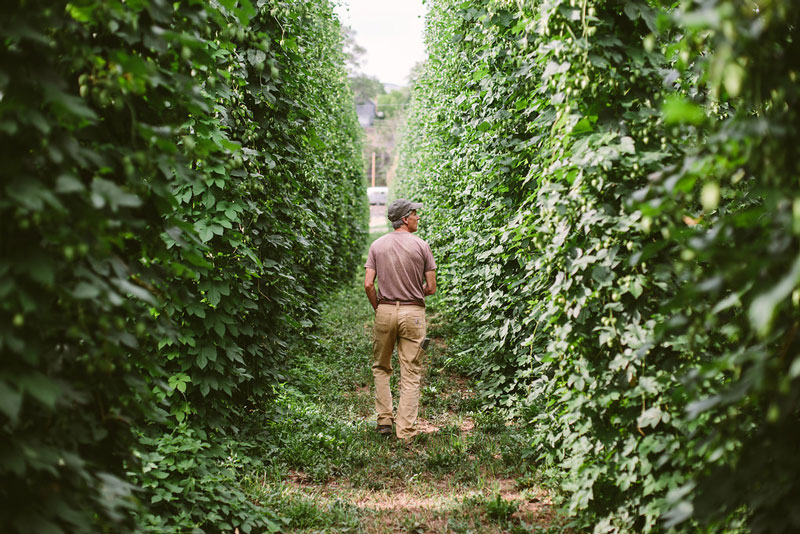 "Utilizing hops at their peak freshness from bine to kettle presents a significant logistical challenge. You pay a premium for refrigerated, expedited transport. You have to pay a two-person team of drivers so that the truck stays on the road continuously from the field to the brewery three states away," he explains. "Last year we brewed a different and smaller version of our Fresh Hop recipe using ingredients solely sourced from Colorado on the pilot system. During that adventure, we developed a fantastic working relationship with David at High Wire Hops. He invited us to camp amongst the hop trellises just before harvest and it really grounded the brewing team to be able to touch the hops that would later end up in our own kettle."
(More: 10 Beertography Tips from the Pros)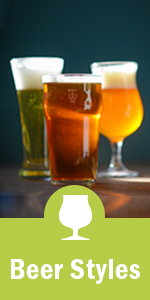 Building on the excitement of that experience last year, Jacobs and his team decided that it would be great to approach this year's large-scale version of Fresh Hop with that same Colorado-centric mindset. "We partnered with High Wire to source all of our hops and worked with Proximity Malt to source our base malt locally as well," he says. "We have a close relationship with the Brewing Science Institute based outside of Colorado Springs as our main yeast source. Finally, we draw our water primarily from the South Platte River." This year's Fresh Hop Pale Ale is an all-Cascade version, with even the bittering pellet hops coming from High Wire's 2017 harvest.
While High Wire Hop Farm may not offer as wide a variety as some of the larger vendors, their hops are of the highest quality. They show that being dedicated to the craft and having a true understanding of the place in which you cultivate makes all the difference. David Warren and his "North Fork Valley Terroir" have already yielded great things for the brewers of Colorado, and they are sure to continue to be a shining example of what really getting in touch with the land can do for craft beer.
CraftBeer.com is fully dedicated to small and independent U.S. breweries. We are published by the Brewers Association, the not-for-profit trade group dedicated to promoting and protecting America's small and independent craft brewers. Stories and opinions shared on CraftBeer.com do not imply endorsement by or positions taken by the Brewers Association or its members.