Earlier this year New York debated whether to expand beer and liquor sales to all movie theaters in the Empire State. While that legislation hasn't moved forward, the trend of bringing beers to the movies — meaning theaters that serve — continues to expand. But that convergence isn't just happening at the theater, it's happening at breweries too. Craft brewers are bringing a little Hollywood flair to their creations — both in the brewing process and on the label. Here are the stories behind some of our favorite movie inspired beer names.
(MORE: 7 Offbeat Places for People Who Like Craft Beer)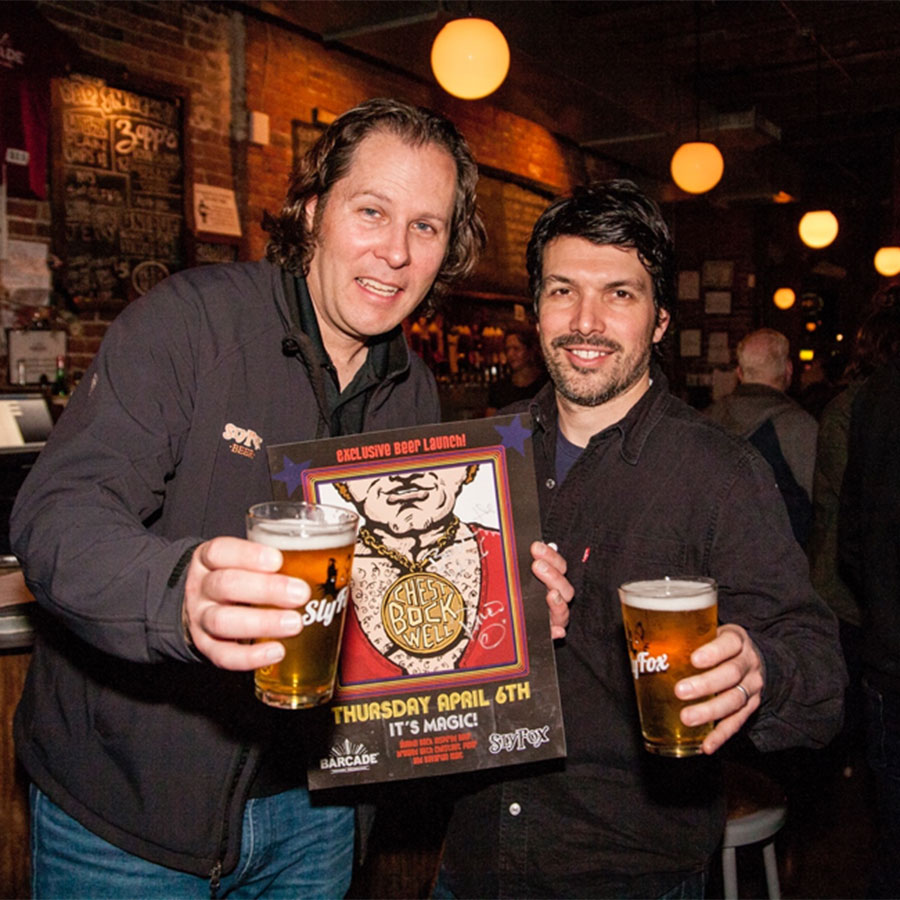 Sly Fox Chest Bockwell | Sly Fox Brewing Company | Pottstown, PA
This Dunkel Bock inspired beer — featuring chestnut flour added to the mash — was brewed in February and released in April as part of an "extremely limited" one-off creations between Sly Fox and Barcade, the video game-friendly beer bar.
Named for the fictional crime-fighting character Chest Rockwell played by John C. Reilly in "Boogie Nights," the beer is part of Barcade's collaboration project started back in 2010. To date, the project has featured Captain Lawrence Simpsons Did It! IPA, Shmaltz Pastrami Pils, Smuttynose Coily, Harpoon Sriracha Blonde, and more.
This year's creation was born "out of over a decade of mutual respect," says Paul Kermizian, CEO and co-founder of Barcade. The Dunkel Bock draws on rich Vienna, Munich, caramel and roasted malts from Bavaria for a toasted flavor profile, but it was the chestnuts that brought the magical movie tie-in.
(MORE: 2017's Great American Beer Bars)
During the collaborative brewing session at Sly Fox, brewer Brian O'Reilly warned of "evil forces" locked inside of chestnuts. "When we started discussing the brew with the group, the idea of a Chestnut Bock stuck out to me. It was a challenge bringing an unusual ingredient like chestnuts into such a traditional style, and I am proud to say we pulled it off," says O'Reilly. "The chestnut flour really added an interesting depth to this malt-forward beer in a balanced and delicious way."
"Chestnut Bock was the style we chose, which instantly made us think of Chest Rockwell," says Kermizian. "The name magically turned from Chestnut Bock into Chest Bockwell in about 45 seconds."
Sly Fox Chest Bockwell (7.4% ABV) is available at Barcade locations in Philadelphia, New Haven, Brooklyn, Jersey City, Newark, and St. Mark's.
Imperial Stout Trooper | New England Brewing | Woodbridge, CT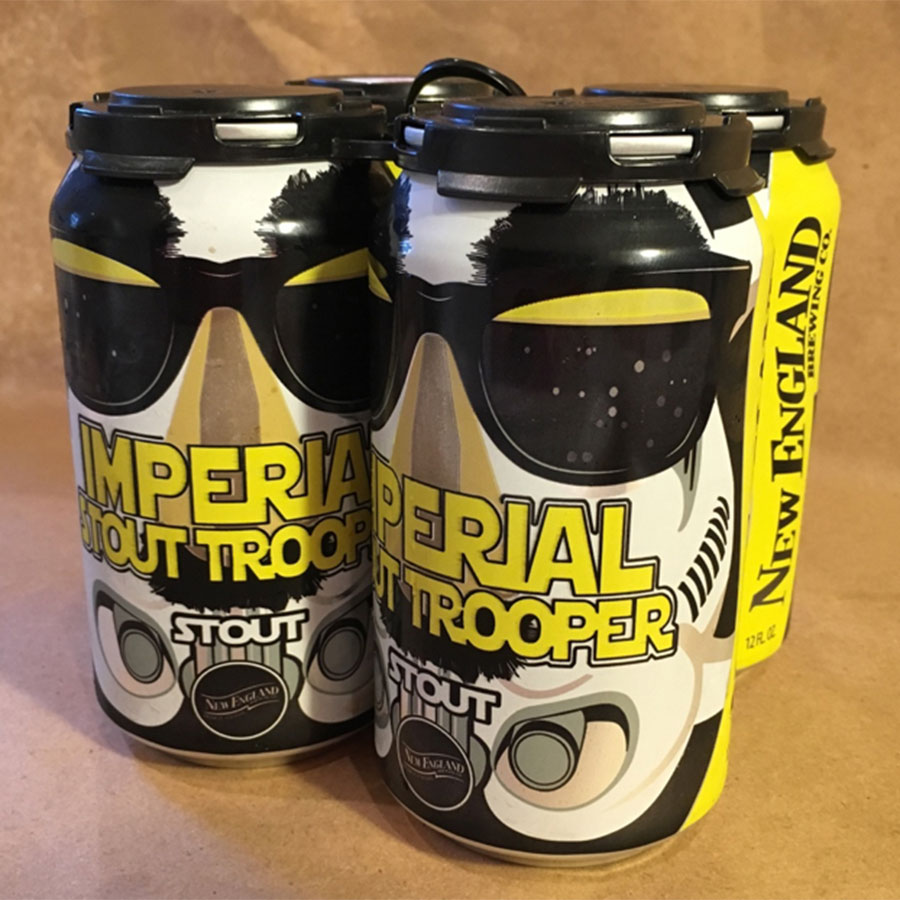 When visiting New England Brewing you'll see more Elvi (the plural of Elvis) images than you will from A Galaxy, Far, Far Away, but Imperial Stout Trooper has become one of NEB's most recognized offerings.
First crafted in 2006, this Russian Imperial Stout (8.5% ABV) was named as a tribute to the "Star Wars" Imperial Stormtroopers, and is definitely on the dark side says brewer and owner Rob Leonard.
"It is absolutely one of our most sought after beers, even with label in disguise," says Leonard. Imperial Stout Trooper's original label was apparently a little too close to Star Wars' imagery so the brewery updated to design to include glasses and a moustache. "There was a filmmaker who had a similar looking character," Leonard says, noting "fan mail" he received from Lucasfilm after the third year of brewing Imperial Stout Trooper.
(MORE: 7 Dark Lagers Great for Beginning Beer Drinkers)
Imperial Stout Trooper is a once-per-year release in December — around the same time the new Star Wars: The Last Jedi will hit theaters. New England Brewing also offers a Bourbon Barrel-Aged Imperial Stout Trooper each February.
"While the popularity started with beer fans and Star Wars fans, word has really spread and Stout Trooper has become a heavy hitter in our lineup," says Leonard.
Pulp Fusion Blood Orange IPA | Boulder Beer | Boulder, CO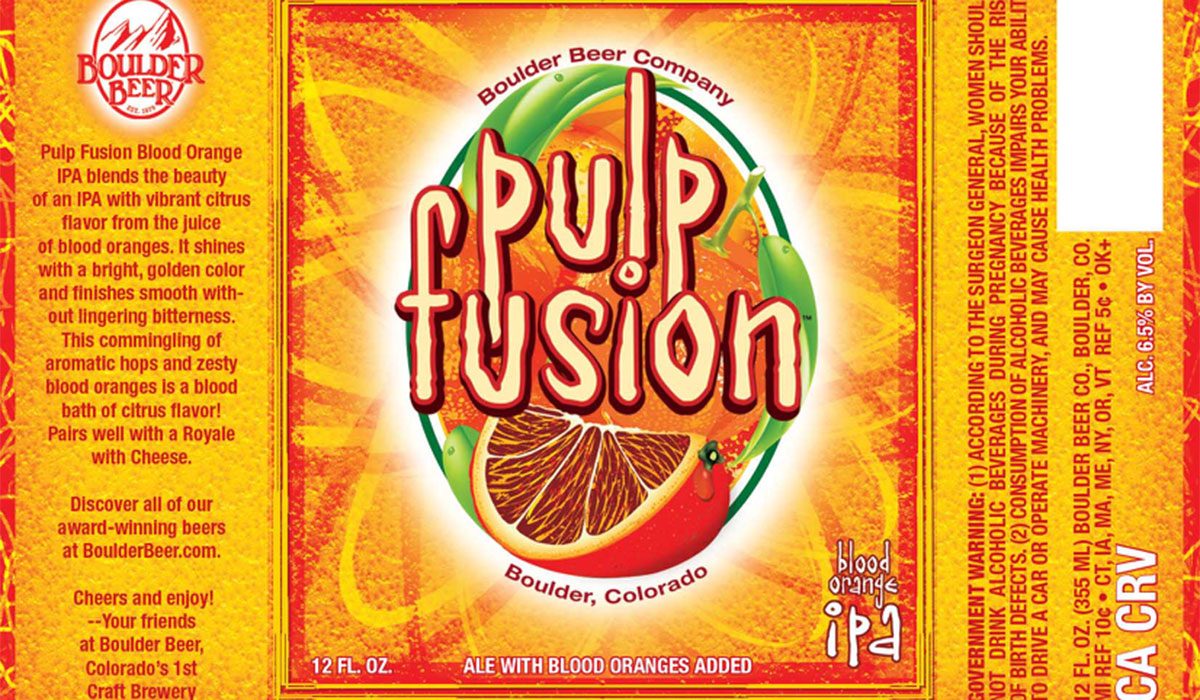 The brewery who brought us Hazed & Infused (think "Dazed & Confused," the 70-styled coming-of-age comedy by Richard Linklater), offered up Pulp Fusion Blood Orange IPA as its summer season beer.
While Boulder Beer avoids infusing Quentin Tarantino's favorite four-letter combinations into the brew's description, they do acknowledge Pulp Fiction's inspiration.
"Since it's a Blood Orange IPA, we kept thinking 'blood bath of citrus flavor' while we were pondering its name, and the word 'pulp' kept popping up. 'Pulp Fiction' seemed a natural tie!" says Tess McFadden, marketing director. "To give it our own twist we came up with Pulp Fusion and incorporated the fusion swirls into the label design on top of the orange peel. And, of course, say that it pairs well with a Royale with Cheese."
(MORE: Find a U.S. Brewery)
And just as Pulp Fiction fans wanted more Jules Winnfield in the film, Boulder Beer's fans wanted more too. Pulp Fusion Blood Orange IPA (6.5% ABV) found life beyond limited summer release and it's now a year-round offering.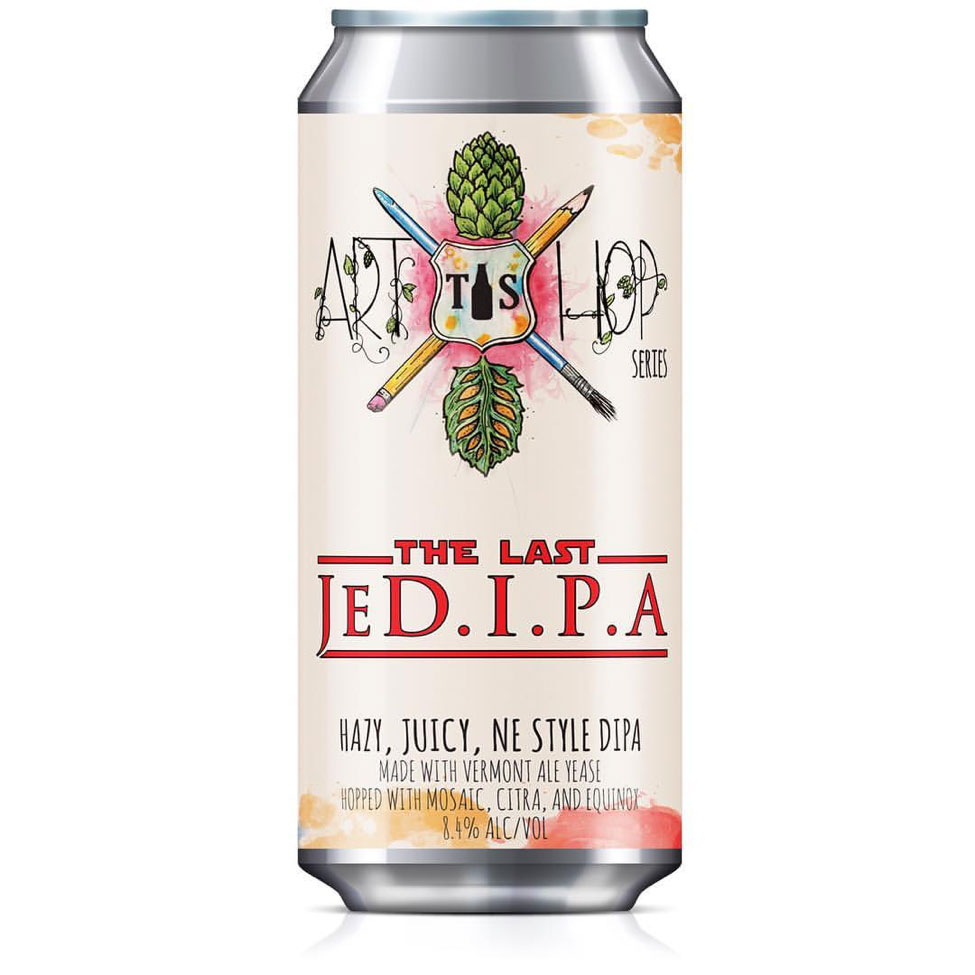 The Last JED.I.P.A | Tioga-Sequoia Brewing Company | Fresno, CA
The team at Tioga-Sequoia Brewing Company dropped their Episode VIII teaser on April 14, the same day Star Wars fans were burning up the internets for a glimpse of the movie's new trailer but the beer itself has meaning beyond the epic film franchise.
The Last JED.I.P.A is part of Tioga-Sequoia's monthly limited Art Hop release series that is part of Fresno Arts Council's monthly Art Hop event which supports the downtown district's arts, music, museum and gallery scene. Since January the brewery has released a new I.P.A. each month to coincide. In May, the first Thursday lands on May 4, a.k.a Star Wars Day.
"We want to support art in all its forms and that was the idea behind the Art Hop series," says Mike Cruz, President of Tioga-Sequoia Brewing Company. "We couldn't miss this opportunity."
The Last JED.I.P.A (8.4% ABV) is a Double India Pale Ale and is brewed with Vermont ale yeast and hopped with Mosaic, Citra and Equinox.
The Last JED.I.P.A is also a very limited edition, says Cruz. Tioga-Sequoia is brewing and canning 900 gallons, half of which will be sold on site at the brewery and beer garden, and the rest is marked for limited distribution. While previous Art Hop offerings have sold out in two days, Cruze expects this one to go even faster. He says people are already reaching out to get their hands on the limited release before it's canned. "We hope they'll drink the beer rather than let it sit on the shelf as a collectible," says Cruz.
(LEARN: CraftBeer.com's Beer 101 Course Online)
In addition to the Fresno Arts Council event set for May 4, Cruz says the brewery has also partnered with YouthBuild Charter School for a fundraiser on Star Wars Day. In addition, the brewery will host live music, a Star Wars costume event, and one of the food trucks will be offering up a Star Wars inspired menu offering.
"It's all about being part of the community and culture," says Cruz. "That's the real experience."
Tell us about your favorite movie inspired beer names from small and independent craft breweries.
CraftBeer.com is fully dedicated to small and independent U.S. breweries. We are published by the Brewers Association, the not-for-profit trade group dedicated to promoting and protecting America's small and independent craft brewers. Stories and opinions shared on CraftBeer.com do not imply endorsement by or positions taken by the Brewers Association or its members.