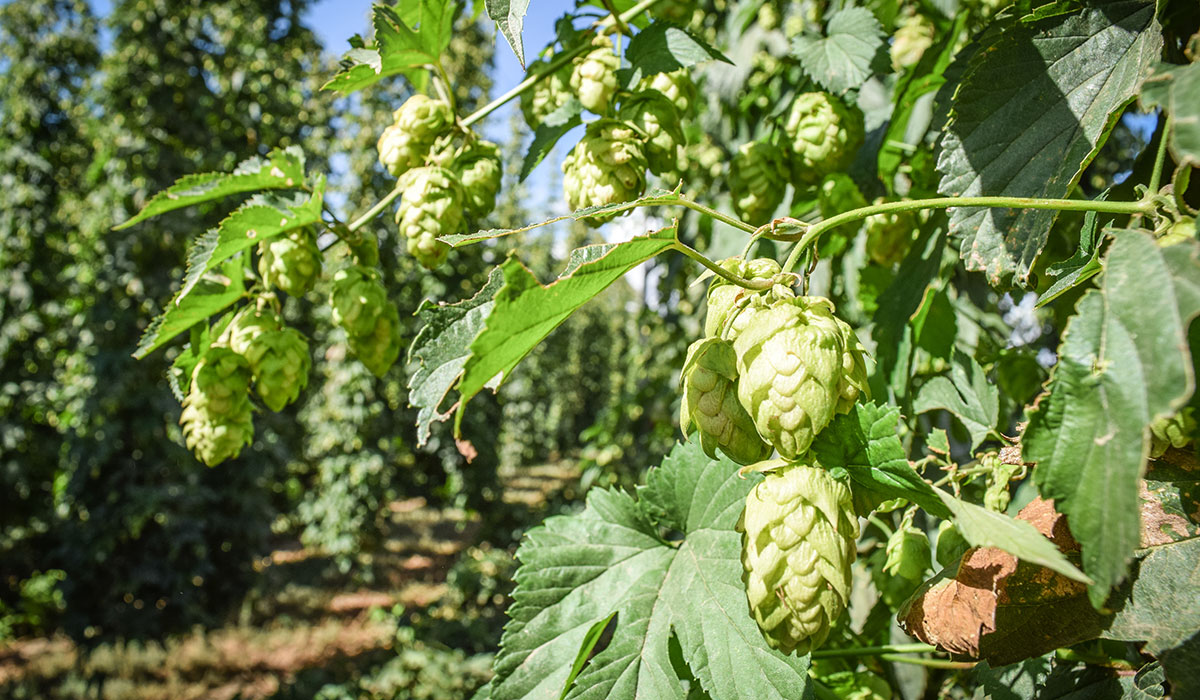 This Oregon Beer Spa Will Change How You Feel About Spas
You know beer makes you happy, but a lot of people ask the question: Can beer actually be good for you (in moderation, of course)?
One Oregon therapist will wholeheartedly tell you "Yes!" Her latest venture, among the first beer spas in the country, was founded around the health benefits of beer and hops — and it's attracting men and women alike.
(MORE: Top 50 US Craft Breweries)
Hop in the Spa is Born
In late 2015, inspiration struck when Sally Champa, a naturopathic practitioner, herbalist and massage therapist, treated her client (and now business partner) Mike Boyle after a car accident, offering therapeutic massages to hasten the healing process.
She was eager to have him help market some of her homemade products, while he raved about beer spas after a trip to Prague. They both knew Oregon's strong culture of small and independent breweries made it an ideal spot for their beer-based spa concept.
(RECIPES: CraftBeer.com's Big Online Recipe Finder)
"Hops is a fantastic herb, but I don't think many people have caught on to that," Champa notes. "We started making these bath brews with beer and hops and barley, plus some of my herbs, in a proprietary blend."
When Boyle personally tested the soaks, he reported a much faster recovery. The pair had hit on a winning formula. Hop in the Spa was born.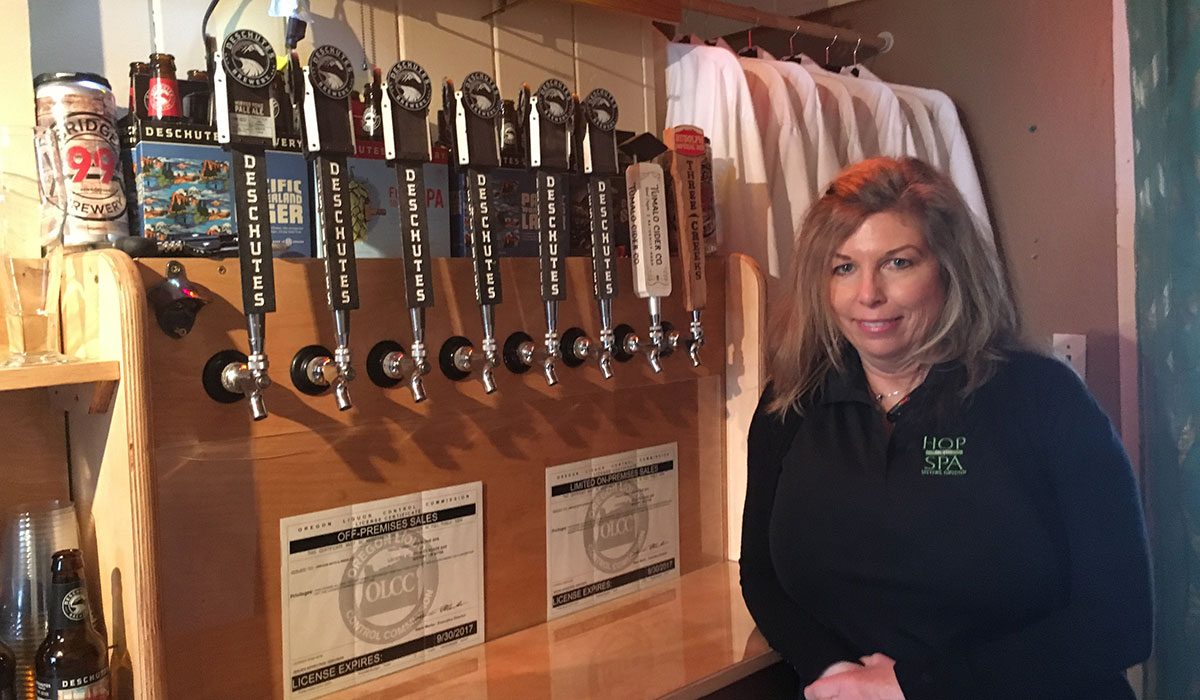 Restorative Power of Beer and Hops
Construction was soon under way for Hop in the Spa, America's first beer spa. But the concept wasn't about gimmicks or novelty; Champa envisioned a true wellness center utilizing the restorative properties of beer and hops.
After touring local hop farms, she experimented with blends for soaks made with beer ingredients, then tapped the plant's power for massage oils, sugar scrubs and facial products. Now, its menu offers a series of craft beer soaks, hop oil massages, hop body masks and herbal hop steam services, among other beer-based treatments.
"Hops is a great moisturizer and ideal for any skin condition, including psoriasis and eczema," Champa explains. "But hops is also helpful internally, so drinking it offers additional benefits: It helps with the digestive system, calms the nervous system and is great for insomnia. It's also an anti-inflammatory and analgesic, perfect for body massages on clients with aches, pains, rheumatoid arthritis and skin conditions."
Nestled in a rustic three-story house, Hop in the Spa brews its soaks in the basement for pumping into the tubs on the main floor, where treatment rooms reside. Out back, the Hop in the Garden beer garden pours brews, while Hop in the Cup serves up hop-infused coffee and tea, German sausages and pretzels.
Deschutes Brewery, one of central Oregon's largest and best-loved small and independent craft brewers, made the ideal partner, and today its beers grace the spa's tubs and taps.
(MORE: 9 Breweries You'll Want to Follow on Instagram)
The Growing Market for Beer and Health
Hop in the Spa may have been first to capture the niche market of the beer spa concept, but it certainly isn't alone in touting the mantra that beer is good for you. Beer spas and skincare products are surging in popularity around the world. Another beer-focused spa is being planned for Columbus, Ohio—think hop-infused face masks and malted barley massages.
A Longmont, Colorado-based skincare company, Colorado Aromatics, incorporates hops into its products and hosts spa nights at a local brewpub, where therapists incorporate beer into facials.
"Hops can decrease dermatitis, increase water content of skin and decrease inflammation," explains Cindy Jones, Ph.D., a biochemist and owner of Colorado Aromatics. "Xanthohumol, one of the bitter acids in hops, helps to stimulate matrix proteins of the skin, including collagen, elastin and fibrillins. Various hop-containing preparations can reduce hot flashes, making them particularly good for women."
Other components of beer, she adds, are also beneficial: Malted barley is rich in minerals and B vitamins, while brewers yeast also boasts plentiful B vitamins and can help moisturize the skin.
Jones notes that beer and its ingredients are versatile, making them ideal for a range of applications: in a face mask, steam bath, foot or hand soak, hair rinse or salt scrub.
(MORE: Northern California's Up and Coming Hot Spot for Beer)
"In our Beer Spa program, we use beer in a clay mask that attendees apply to their face; then they can sit back and enjoy a beer," she says. "We also use hops extract in products, including an aftershave lotion and a beard oil."
Lauren Eckert Ploch, M.D., M.Ed., FAAD, a dermatologist at the Georgia Dermatology and Skin Cancer Center in Augusta, Georgia, adds that hops have been used in herbal medicine in the past, since they contain essential oils and a pleasing fragrance.
"Some people find the fragrance to be relaxing, so hops are touted to have benefits for anxiety," Ploch explains. "Hops also have antimicrobial properties."
No surprise, then, that skincare companies are hopping on the bandwagon: BioClarity, a health-science startup in San Diego, uses oat kernel (used for brewing oatmeal stouts) in its acne treatment gel; the ingredient calms inflammation, moisturizes and soothes irritation, while treating skin conditions like acne, eczema, psoriasis and dandruff. And SMD Cosmetics, a Korean skincare brand, incorporates beer yeast extract in its Saromae Radiance line; a solid source of selenium, chromium, protein and B vitamins, the extract contains essential amino acids, smooths skin, improves moisture, and revives tone and texture.
(MORE: Everything You Want to Know About the American IPA)
Beer for Soaking and Sipping
Clearly, beer and its components are establishing themselves as proven superstars when it comes to soaking, sipping and slathering on skin.
Hop in the Spa started as a labor of love and fittingly celebrated its one-year anniversary on Valentine's Day. The concept now attracts hordes of loyal locals, traveling beer buffs and spa lovers alike.
Champa already has plans to offer beer lovers even more when they visit. This summer, the spa will be adding beer tours of central Oregon as well as beer classes hosted by a certified Cicerone. New beer-infused treatments and products are perennially in the pipeline, too (beer shampoo, anyone?).
"We're the 'un-spa'—you can come in, have a beer, relax, soak and get massaged," Champa says. "People say it's the best massage they've ever received, or that they feel so amazing after a soak. We get rave reviews."
CraftBeer.com is fully dedicated to small and independent U.S. breweries. We are published by the Brewers Association, the not-for-profit trade group dedicated to promoting and protecting America's small and independent craft brewers. Stories and opinions shared on CraftBeer.com do not imply endorsement by or positions taken by the Brewers Association or its members.