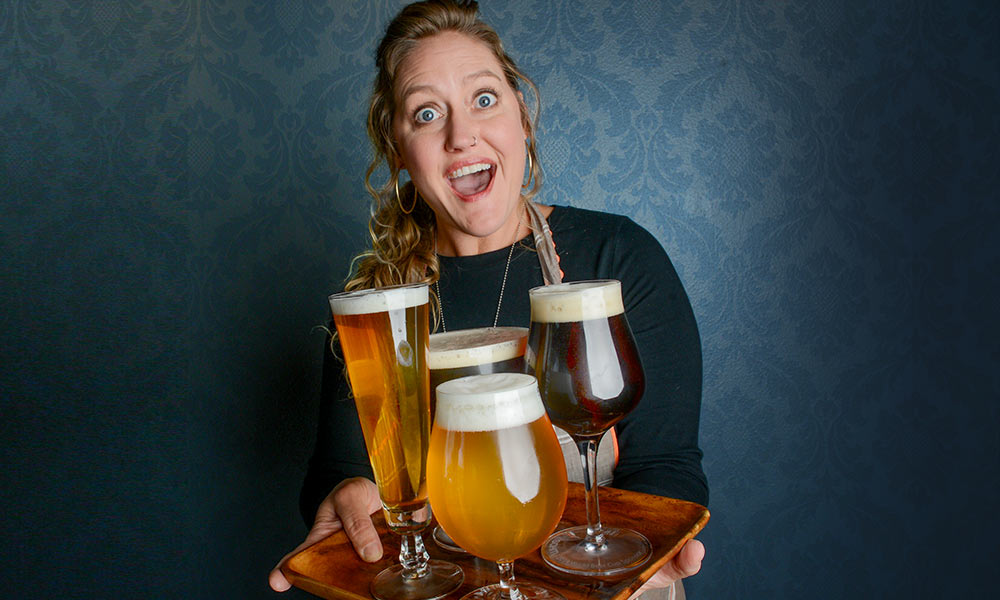 Thanksgiving in a Glass: Sage Beers You Should Try
Many a craft brewery t-shirt is adorned with a quote about beer by a celebrated or historical figure that, alas, was never uttered by said celebrity. Benjamin Franklin said nothing about beer being proof that God loves us and Plato didn't proclaim, "He was a wise man who invented beer." But I am going on record as saying this: He or she was a sagacious (i.e shrewd) person who invented sage-infused beer.
Hops, assuredly, are a brewer's preferred bittering agent and have been for the past 500 years, but foraged herbs have performed that function for over 1,000 years. In this modern era of rediscovering that beer is the ideal accompaniment to a great meal, more small and independent craft brewers are turning to their spice cabinet and herb gardens to conjure up culinary beers with savory palates to complement various dishes.
During this autumn season when we're quick to reach for a delectable Märzen or serve a pumpkin beer at the Thanksgiving table (because who can wait for dessert to enjoy some pie), perhaps seek out one of these small handful of sage-infused beers to match the flavors in the turkey brine and/or stuffing. It's a wonder how well this herb, itself with its distinct varieties, plays well with various beer styles.
(READ: Awesomely Affordable Gifts for Craft Beer Fans)
Triple White Sage | Craftsman Brewing | Pasadena, CA
The oldest American craft beer to utilize sage that I could find is Craftsman, where owner/brewer Mark Jilg has been foraging for native white sage in Pasadena's nearby San Gabriel foothills since the late '97 or '98. "If you spend time in that environment," says Jilg, "particularly in late August into October it's the predominant aromatic plant. Just before sunset. That was the inspiration." Jilg decided an esthery Belgian tripel made sense to build this beer on. "I really like using ingredients that I pick off of the plant because there's a certain inherent genuineness of going into the wild. We only pick a basketful, a few pounds, usually the day before we brew. We then use the sage-like an aromatic hop addition at the end of boil." The end result, is a big 9 percent beer built on pale malts that play up the herb and the fermentation. Yet it's comparatively dry and while it presents a fragrant bouquet, it still leaves nuance for pairing with the rich dishes you're likely to find in a Thanksgiving spread. Pick up a growler as it's draft-only.
White Fuzz | Hollister Brewing | Goleta, CA
Some hundred miles up the coast from Pasadena, Hollister brewer Eric Rose has used Craftsman's beer as an inspiration for a few different beers incorporating farm-fresh white sage, which Rose feels is the perfect and most interesting variety for Belgian-style beers. Because there's a farm that maintains a single acre of this native white sage and clips the tips as maintenance, Rose gets those oily clippings and uses them in this hazy, golden beer as fragrant as a walk through Santa Barbara's Rattlesnake Canyon.
(VISIT: Find a U.S. Brewery)
Sagefight Imperial IPA | Deschutes Brewing | Bend, OR
For such a rare ingredient in beer, as expected you don't find it in many Great American Beer Festival winning beers. But Deschutes from the high desert of Central Oregon has earned two medals—silver in 2013 and bronze in 2014—in the Indigenous Beer category. Imperial IPAs are practically indigenous to the Bend brewing scene, and this one is packed with both sage and juniper berries creating a perfumey mélange botanicals. For the IPA lovers who are more interested in hops over other herbal notes, this is the happy medium hiking through a field of sagebrush with your favorite hoppy beverage in hand.
Utah Sage Saison | Epic Brewing | Salt Lake City, UT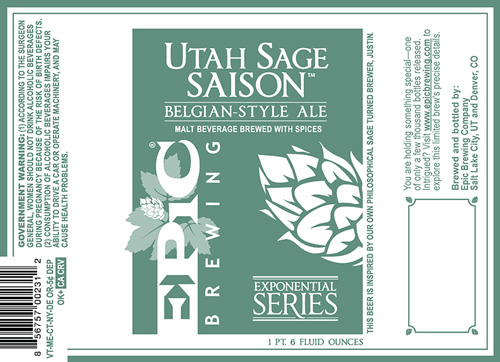 Utah Sage Saison from Epic Brewing, incidentally, is the other GABF-winning sage beer (bronze in the Herb and Spice Beer category in 2012). Brewed in, and exclusively for, Utah, this bready and rustic saison imparts the aroma of Simon and Garfunkel's hit since it also features rosemary and thyme, and the herbal quality of this farmhouse-style beer makes it a winning combo with lighter or vegetarian fare at the table.
(READ: 10 Crave-Worthy Peanut Butter Beers)
White Downs | Brasserie Saint James | Reno, NV
This artistic saison from Brasserie Saint James transitions away from the above's autumnal roots into winter squash. This Nevada brewery elected to use roasted butternut squash in the mash to flesh out the body and mouthfeel letting the white sage—harvested at nearby Great Basin Co-Op—become the workhorse as it's added to the boil for maximum pungency. After more than a year in red wine barrels, where it develops its tartness though the fermentation-derived spice and funk remains, making it an exceptional complement to turkey or just about any fowl or fauna for that matter.
Sweet Potato and Sage Saison | Ardent Craft Ales | Richmond, VA
Sweet Potato and Sage Saison from Ardent Craft Ales includes fistfuls of sage from nearby Victory Farms as well as sweet and earthy tubers found in Thanksgiving's renowned casserole. The sage does the heavy lifting of this lighter, dry beer custom-made (and available by the growler) for thirsty pilgrims in the first American colony.
Saison Savoureuse | Tahoe Mountain Brewing | Truckee, CA
From their Récolte Du Bois series, Tahoe Mountain's Bretted farmhouse ale began not in response to the current sour trend but as eventual owner and brewer Aaron Bigelow's homebrewed love letter to his wife back in 1995. Said wife, more of a wine-drinker than a beer-lover, discovered an affinity for vinous, oaked, wild ales. This saison incorporates hand-rubbed Dalmatian sage that's steeped into a concentrated tea (befitting the Bigelow surname) that's then poured in after 16 months of aging in French oak red wine casks. The result is a tinge funky, a tinge tart, and wholly ideal for a family meal (Thanksgiving or Independence Day as it's available year-round).
(LEARN: Explore 75+ Craft Beer Styles)
Colorado Wild Sage Brett Saison | Crooked Stave Artisanal Ales | Denver, CO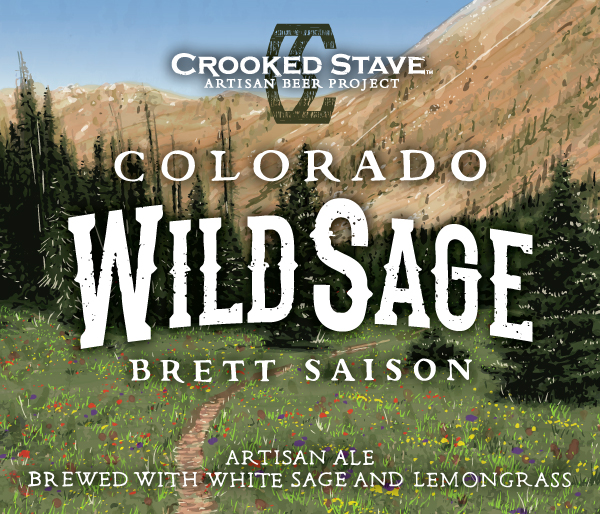 Also available year-round, and now in cans no less, is Crooked Stave's prodigiously food-friendly wild saison, with a bright, Brettanomyces-led tartness complemented with lemongrass, is herbal and earthy. The herbs are sourced throughout Colorado's Rockies. While there's a pleasing hint of lemon pepper in the finish making it one you wish you could brine the whole bird in, it's the sage that carries the day.
Dreamland Sage | Black Project Spontaneous and Wild Ales | Denver, CO
One of the most difficult to come by beers on this list since it's released biannually, Black Project's Dreamland Sage's rarity is due to being coolship-inoculated and blended solera-style. That also makes it twice as rewarding. It begins as a golden sour ale aged in wine barrels. The sage, harvested from a community garden a few blocks away, is added by the fistful and dry-saged in the keg.
Ovila Abbey Saison with Sage | Sierra Nevada | Chico, CA
Twenty miles away from Chico's famous Sierra Nevada brewery redolent with hops you'll find the reticent monks of the Abbey of New Clairvaux. Brewed in the monastic old-world-style, this saison features malty notes befitting our daily bread as the foundation for a vibrant bouquet of native white sage grown on the abbey's grounds. Wild grass and citrus peel notes seep through. While monks are recognized for their pious wisdom, the idea to pluck the monastery's fresh herbs took real sagacity.
CraftBeer.com is fully dedicated to small and independent U.S. breweries. We are published by the Brewers Association, the not-for-profit trade group dedicated to promoting and protecting America's small and independent craft brewers. Stories and opinions shared on CraftBeer.com do not imply endorsement by or positions taken by the Brewers Association or its members.