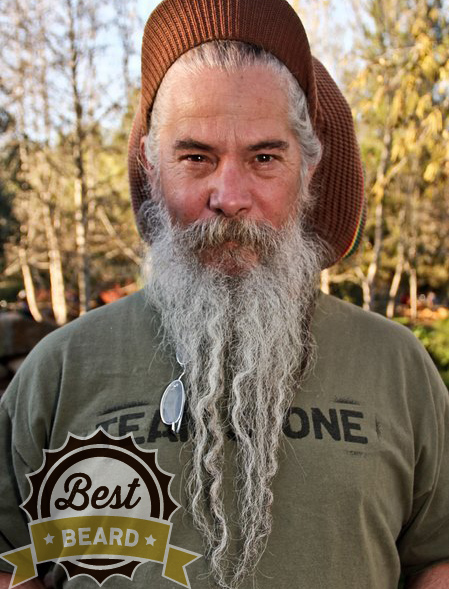 The Best Beard of Craft Beer
Beards rock! Craft brewers with beards rock even harder! Man oh man, the craft beer community sure does love them some facial hair.
From 73 original craft brewer contenders down to 20 finalists, you've now chosen the Best Beard of Craft Beer. Folks this was no small contest, more than 7,000 fans voted from 25 states and 48 countries.
And the Best Beard Goes To…
Congratulations to our winner, Chili of Stone Brewing Co., who won the title with 1,046 votes.
Chili—yeah, just Chili—Stone's official groundskeeper and gardener stole the show, surpassing the 19 other candidates with just over 14 percent of your votes.
"I am totally surprised. My beard isn't that big even though it took me 25 years to grow it," said Chili. "Thanks to all the fans who voted for me, it was really fun to participate."
When asked why he thinks the craft beer community is so fascinated with beards, Chili explained, "Brewing beer is one of the oldest crafts around, and I think growing facial hair is another old-fashioned craft. They go hand in hand in this industry because it's a very cultural, old-school thing to do."
Runners-Up
Second: Scott Witsoe | Wit's End Brewing Company | Denver, CO
Third: Bob Cannon | Samuel Adams | Boston, MA
History of CraftBeer.com's Best Beards of Craft Beer
This was CraftBeer.com's first ever Best Beards competition. Using the Brewers Association (BA) Forum, CraftBeer.com asked BA-member brewers to submit a picture of their "righteous stache, goatee, dali, old dutch, soul patch or just a simple beard."
A Facebook photo album was created with all 73 entries, and fans were given a week to "like" their favorites. The top 20 finalists had just over a week to promote themselves and their awesome beards, and more than 7,000 of you voted for your favorite.
Didn't vote? Don't worry, the Best Beards of Craft Beer competition will be back in 2014!
CraftBeer.com is fully dedicated to small and independent U.S. breweries. We are published by the Brewers Association, the not-for-profit trade group dedicated to promoting and protecting America's small and independent craft brewers. Stories and opinions shared on CraftBeer.com do not imply endorsement by or positions taken by the Brewers Association or its members.