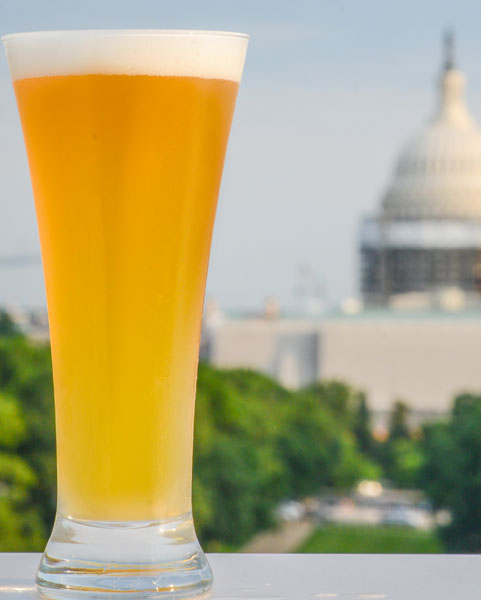 Washington D.C.: Craft Beer in a Politics Town
D.C. is first and foremost a political town, but in the past few years that has been starting to change — and I think that craft beer has a lot to do with it.
When I tell someone I live and work in Washington D.C., the inevitable question is: "Is it like House of Cards?"
The conversation quickly changes when I tell them that I am the lobbyist for the Brewers Association. Ninety-nine percent of the time the reaction is, "That is so cool!" They are right, it is super cool. I have the best job.
(MORE: BeerCation Destination: Charleston)
Lately, I have noticed that it isn't just out-of-towners who are happy to talk about beer instead of politics. When I am on the Hill or at an event I'm seeing conversations turn quickly from "Who do you work for?" to "What are you drinking?" Recently, Bon Appetit Magazine named D.C. its Restaurant City of the Year, and the Washington Post wrote a piece about Day Drinking (not the three martini lunch kind).
So what's at the heart of the transformation from a politics town to a beer town? There are three big reasons:
1. A Welcoming City Council
D.C. is a great place for small and independent breweries, not just the ones located here but also the ones that distribute here. That is thanks in part to a local government who is interested in promoting the growth of the industry.
D.C.'s production brewing scene is fairly new. In addition to passing the laws that made it possible to start producing in the District the D.C. Council has passed legislation allowing breweries to sell pints, approved outdoor seating and the sale of beer at farmers markets. There are still states that don't allow some of these things and you can see the positive effects they have on the local breweries.

2. D.C. Beer Week
Thanks to the internet I was able to find a small recap of events to go to during the 2009 D.C. Beer Week. It's a pretty solid list. I would absolutely go to a beer dinner with Rob Tod from Allagash. At that time D.C. didn't have any local production breweries. Out- of-state brewers who distributed in D.C. were a welcome addition to brewpubs like District Chop House and Capitol City.
Compare that list with the 2016 D.C Beer Week Calendar. Events at local breweries abound. Collaborations between breweries, local chefs and retailers make for some great events. They even have educational sessions and a policy panel to honor D.C.'s favorite pastime.
(MORE: Should You Bring Your Dog to Breweries?)
3. A Love of Their City
Both the people who are born and raised here and the ones who make it their home are fiercely proud of all of D.C.'s history. The local brewers are no different, and it comes through in their beers and their support of the city. You'll find all of D.C.'s local brewers and their beers at sports venues from hockey to ultimate frisbee, playing in bands, DJ'ing and supporting the local music scene, at embassy and state department events and even on the Hill helping to educate congress about the brewing industry. They even poke fun at the seriousness of this town with beers named Corruption, Home Rule and Two to the Dome.
D.C. will always be the Nation's Capital, but there is so much more going on than just lobbying and legislation. Thanks in part to D.C.'s breweries people are starting to take notice.
Also, D.C. is nothing like House of Cards, it's definitely more like Veep.
---
Katie Marisic is federal affairs manager at the Brewers Association. Based in Washington, D.C. she plans and executes legislative, regulatory and political strategies to drive the associations federal affairs presence on Capitol Hill. Prior to working for the BA, Katie was vice president of political affairs at the National Association of Federal Credit Unions. She got her start in politics working on congressional campaigns during the '06 and '08 elections. A Pennsylvania native, Katie is a long time craft brewing supporter. In 2013 she helped to open Atlas Brew Works in Washington, D.C. When she is not advocating for the craft brewing community on Capitol Hill you can sometimes find her pouring beers at a local tasting room.
CraftBeer.com is fully dedicated to small and independent U.S. breweries. We are published by the Brewers Association, the not-for-profit trade group dedicated to promoting and protecting America's small and independent craft brewers. Stories and opinions shared on CraftBeer.com do not imply endorsement by or positions taken by the Brewers Association or its members.