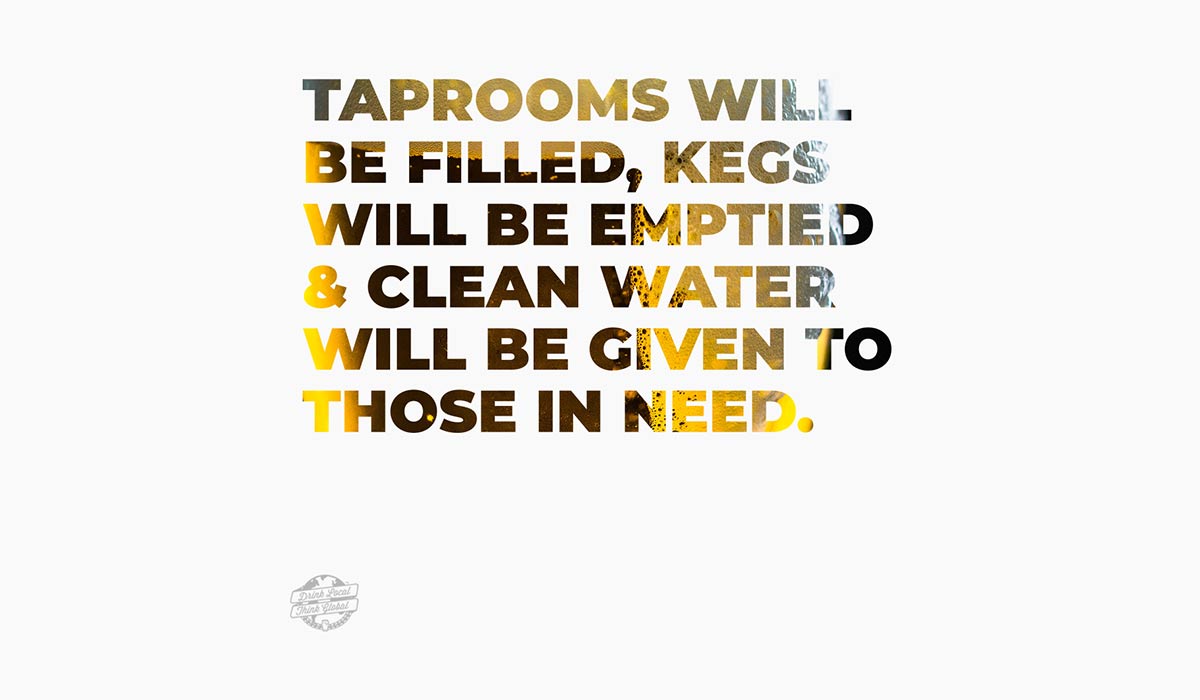 'Drink Local Think Global' Rallies 100+ Breweries for Clean Water Campaign
When Brent Patterson saw an image of a child getting sick after drinking dirty water, he admits he was shaken.
"I just remember seeing a photo of this little girl drinking dirty water and [the girl] throwing up," he says. "She has nothing else. So it's either she dies of thirst or she drinks this water and takes her chances of getting sick."
That image, and the realization that hundreds of millions of people worldwide don't have access to clean water, compelled Brent to start a fundraiser which would eventually become Drink Local Think Global. What started as Brent's inclination to help others in need has become a tight partnership with the American craft beer community to tackle the global issue.
"In my opinion, everyone deserves access to clean water," he says. "That should be just a basic human right and hopefully someday we'll get there."
(Related: Can Craft Brewers Save Arizona's Verde River?)
As part of Drink Local Think Global's Craft Beer Week, October 21-27, more than 100 craft breweries in 33 states are donating a portion of taproom sales to combat the lack of clean drinking water. The breweries range from small neighborhood taprooms to more advanced producing brewers, including Boulevard Brewing Co., Melvin Brewing and Infusion Brewing Co.
According to Drink Local Think Global, there are more than 600 million people in the world that do not have access to clean drinking water—that's nearly double the size of the U.S. population. The organization says a lack of clean drinking water results in medical issues that cause 2,000 child deaths per day.
When Brent first formulated the idea to partner with breweries to raise money for clean drinking water, he partnered with five local breweries and a pair of homebrewers for a beer tasting event in Omaha, Nebraska, in April 2016. They raised $12,000 to donate to Charity Water, a large non-profit organization that is also passionate about solving the world's water crisis.
Patterson wanted to do more, and has since started Drink Local Think Global. He and co-founder Lindsey Gregory turned Drink Local Think Global into a 501(c)(3) non-profit organization, believing they could create something that would have a greater impact than any single event. 2019 is the first year the organization is extending the fundraiser to a week.Many of the original brewery partners have continued working with Drink Local Think Global as they've embarked on a bigger mission.
(More: 2019 Great American Beer Festival Competition Medals Announced)
"When Brent and his team approached Infusion about their vision with Drink Local Think Global, I would have to say their passion and energy for raising awareness for clean drinking water for those in need inspired us to want to help raise awareness as well," says Michaela Lucas of Infusion Brewing Co. in Omaha.
"I think it connects to every one of us at the Infusion brewery. We are lucky enough to have accessible water here," says Lucas. "Knowing that there are still 663 million people in the world who do not have the same access to clean water like we do is heartbreaking."
"It's just a simple fact that so many people don't have access to clean, safe water for consumption of any type. And it's dope to have a small, non-profit in our backyard with a network of brewers and engineers already in motion," said Bryan Stewart of Double Shift Brewing, a brewery partner from Kansas City, Missouri, where Drink Local Think Global is based.
Inspired by Charity Water, Drink Local Think Global partnered with Water for Good, which drills wells and provides communities in the Central African Republic with education about sanitation and good hygiene.
(More: Craft, Community, and Children: The State of Parenting in the American Beer Industry)
In an industry that has access to clean water, Drink Local Think Global's mission is resonating with its brewery partners, and hopefully with craft beer drinkers too.
"What inspired me is something a lot of breweries and consumers take for granted: not water, but how much we use," added Double Shift's Stewart. "Drink Local Think Global helps communities that don't have simple access to water, let alone the amounts we take for granted."
You can see which breweries are participating on the Drink Local Think Global website.
CraftBeer.com is fully dedicated to small and independent U.S. breweries. We are published by the Brewers Association, the not-for-profit trade group dedicated to promoting and protecting America's small and independent craft brewers. Stories and opinions shared on CraftBeer.com do not imply endorsement by or positions taken by the Brewers Association or its members.