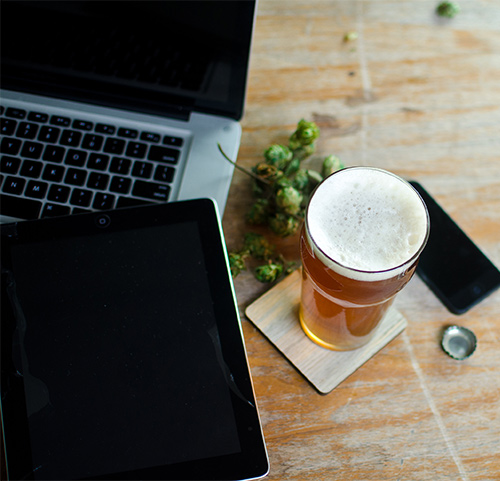 A Sunday Puzzle
Why do beer lovers stop searching for "craft beer" on Sundays?
One of my favorite new ways to conceptualize how beer lovers interact with the craft segment is Google Trends. While not a perfect measure, it allows up-to-date insights on a variety of topics via data on google searches.
While sifting through Google Trends data recently, I came up with a puzzle: why do beer lovers stop searching for "craft beer" on Sundays?
All of this is based on the last 90 days of Google Trends data (stopping short of American Craft Beer Week, which tends to increase searches). Here are the days of the week that people search for "beer" and "craft beer."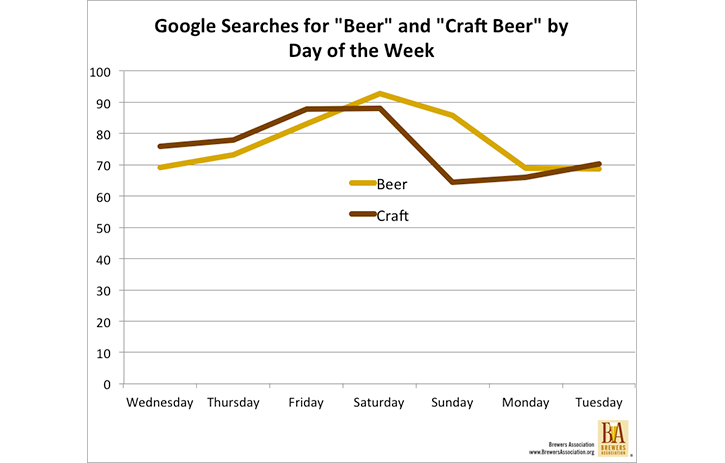 As expected, Saturday is the peak for both searches, there are a lot of searches on Friday and people aren't searching a lot Monday or Tuesday for either.
Sunday, however, is where the trends diverge. The next graph presents this divergence in all its puzzling glory.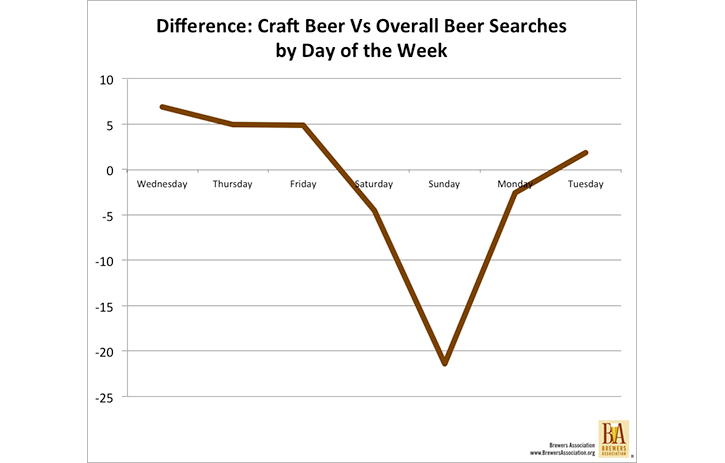 As an economist, I usually try to answer questions, but here I'm just going to stop by posing one. Why do you think craft beer searches drop so precipitously on Sunday? Before you say "blue laws," notice how many searches there are for "beer" on Sunday. If it were rules on purchasing beer, you would expect both searches to drop.
In no particular order, here are some hypotheses various members of the Brewers Association (publishers of CraftBeer.com) staff have come up with:
Craft beer lovers are highly active—out riding bikes and climbing mountains on Sundays (The Brewers Assoc. is based in Boulder…)
Craft beer drinkers are cross-drinkers and switch to other beverage alcohol options on Sunday (mimosas anyone?)

If true, this represents a tremendous marketing opportunity for craft beer to "take back Sunday!"

Sunday is a day of rest for craft beer lovers
What other hypotheses can you come up with? Do you drink craft beer on Sundays?
---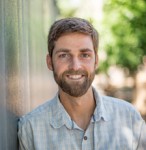 Bart Watson, Staff Economist for the Brewers Association, is a stats geek and beer lover. He holds a PhD from the University of California, Berkeley, where he took it upon himself to conduct an extensive survey of Bay Area brewpubs.
CraftBeer.com is fully dedicated to small and independent U.S. breweries. We are published by the Brewers Association, the not-for-profit trade group dedicated to promoting and protecting America's small and independent craft brewers. Stories and opinions shared on CraftBeer.com do not imply endorsement by or positions taken by the Brewers Association or its members.