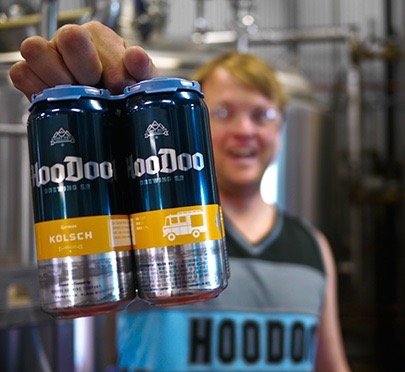 Alaska's HooDoo Brewing Finds Big Solution to Small Problem
It's summer—the best time of year to get outside. As craft beer enthusiasts though, we want to take our favorite craft beers with us. Unfortunately—but with good reason—many outdoor destinations do not allow glass. And for those of us who seek out the less traveled areas of the world, weight plays a big factor into how much beer you're able to pack. In a state as ruggedly beautiful as Alaska, it makes sense that Fairbanks' HooDoo Brewing Co. recently decided to can their German-style Kolsch.
"We are pleased to announce that our German Kölsch will now be available in cans, our first canned offering!" Hoodoo reported in their blog post "HooDoo Brewing Co. Brings Its Craft To Cans."
Brewmaster and Owner Bobby Wilken is looking forward to the opportunity to enjoy his beer deep within the Alaskan wilderness, "I actually get goosebumps thinking about being in the middle of nowhere, up river, with a super fresh beer in my hand."
Though aluminum packaging will aid Bobby in keeping his pack weight down, as well as the transportation costs to ship the lighter cans, the expense of simply purchasing the cans is the largest obstacle, not only for HooDoo, but for any small brewer looking to offer cans.
"A minimum order for empty can production at Crown or Ball is enormous, which, when you look at the numbers and amount of space you have to dedicate to the project, can be quite daunting for a small, new brewery like ours," says Wilken. "We knew we wanted to can the Kölsch first, but we didn't want to be locked into a single can design which would limit our ability to release other styles of our beer."
The ever innovative and industrious company has come up with a design solution giving them the ability to package multiple styles of beer from one order of cans. Wilken enlisted the help of his sister, Karen and Mint Designs of Seattle to develop a nifty label that would affix to the original can design.
"The base can has all of the requirements pre-printed on it with the logo and the old panorama photo, Karen Wilken explains. "The label is the thin pop of color with the style info. So, for instance, if we want to release our American IPA, we update the label art, change the color to a green, and update all the associated descriptions that goes along with our IPA. The base can stays the same."
As one of the most northern breweries in the U.S., HooDoo is all about making the most of their summers. The genius label solution ensures that if you find yourself in Fairbanks, you won't be limited to their Kölsch in cans.
"We don't have to print a massive amount of cans for one particular style and we can release styles in the cans as supply and demand allow," said Karen. "We are hyper-local, focusing on our community first and we self-distribute. These are two other reasons why this design works for us."
CraftBeer.com is fully dedicated to small and independent U.S. breweries. We are published by the Brewers Association, the not-for-profit trade group dedicated to promoting and protecting America's small and independent craft brewers. Stories and opinions shared on CraftBeer.com do not imply endorsement by or positions taken by the Brewers Association or its members.