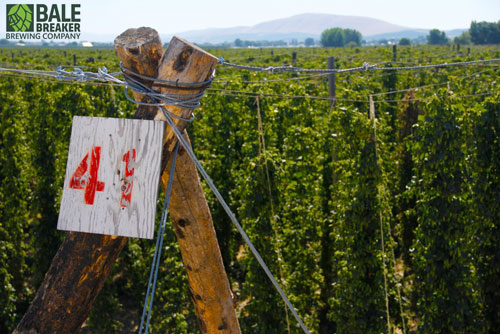 Bale Breaker Brewing Company Opens on Yakima Hop Farm
On an worn wooden sign in faded red paint is the number 41. This sign hangs prominently atop a 20-foot piece of timber in the middle of Yakima, Wash., the world's premier hop-growing region. The sign marks Field 41, a hop farm planted in 1932.
Bale Breaker Brewing Company (BBBC) recently opened its doors on the site of the Field 41 hop yard. The agricultural awe of a hop farm and the innovation of craft brewery is a perfect match. (BBBC) opened with two beers, Field 41 Pale Ale and Top Cutter IPA.
The great-grandparents of BBBC owners Patrick Smith, Meghann Quinn and Kevin Smith first planted hops in the Yakima Valley a year before Prohibition ended. The family hop farm surrounds the new 30-barrel production brewery.
"We're thrilled about the excitement and the support we're getting from our local community, but no one is more anxious to get this place open than us," said BBBC's Meghann Quinn. "It's time."
Keeping with its rich hop history, the brewery and its beers are named after different tools and machines used in hop farming. Even the brewery's name, Bale Breaker, is named after a piece of equipment that opens the compacted, dry bales that hops are often packed in for shipping.
BBBC's IPA is named Topcutter IPA, which is derived from the machine used during the hop harvest that cuts the top of the hop bines from the trellises, dropping the hops onto a truck which transports them off the fields.
BBBC beer was released to the local Yakima market on April 12, and the taproom opened its doors on April 13 with an all-day grand opening party.
Initially, Field 41 Pale Ale and Topcutter IPA will be distributed draft-only in Eastern Washington and Northern Idaho, with plans to eventually enter the Seattle market.  The brewery is hoping for an early summer release of their 12-ounce cans. For more information, check out BaleBreaker.com.
---

Andrew Kaczmarek, is the current Craft Beer Program Intern, hop farmer, beer writer for the CU Independent, homebrewer and student at the University of Colorado in his final semester. When not pursuing hoppiness, as a Colorado native, he spends his free time skiing, camping or biking in the Rocky Mountains.