California brewery Ballast Point is now officially part of Kings & Convicts Brewing Co., a Chicago-area brewing company. Kings & Convicts Brewing Co. announced in December it would purchase the makers of the popular Sculpin IPA from Constellation Brands.
Ballast Point employees marked the next chapter in ownership by publishing an open letter that celebrates the San Diego brewery's 24-plus years of making beer.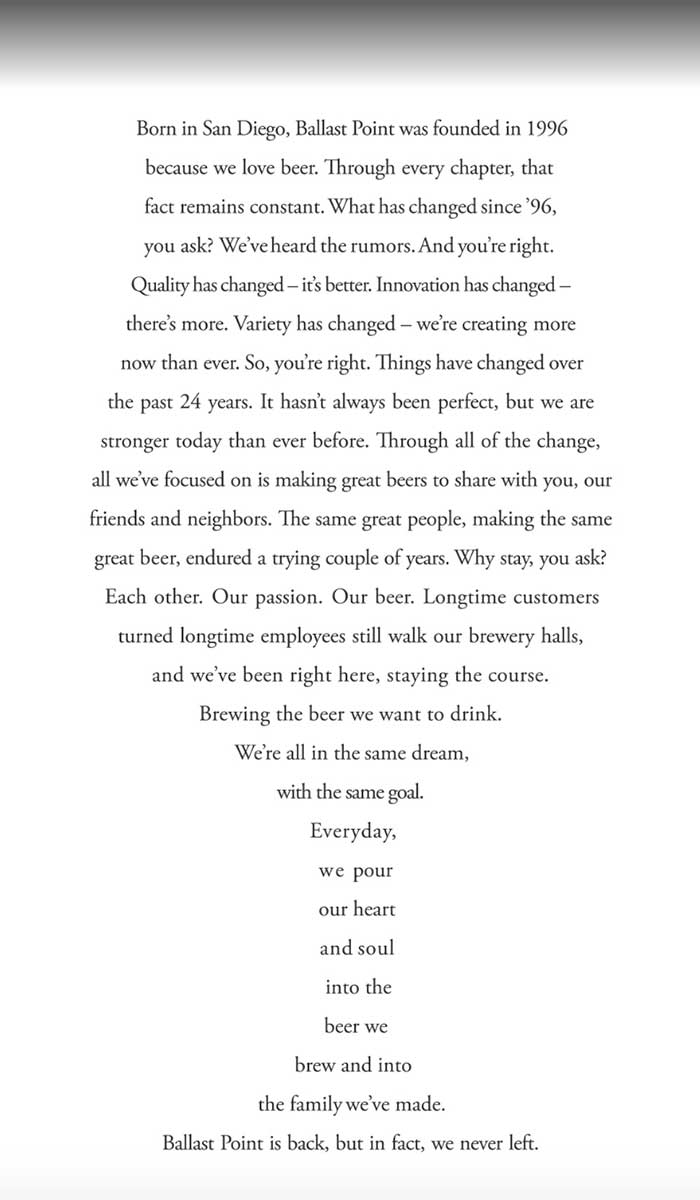 The letter appears on the brewery's website in the shape of a beer glass. It reads:
Born in San Diego, Ballast Point was founded in 1996 because we love beer.
Through every chapter, that fact remains constant.
What has changed since '96, you ask? We've heard the rumors. And you're right.
Quality has changed — it's better.
Innovation has changed — there's more.
Variety has changed — we're creating more now than ever.
So, you're right. Things have changed over the past 24 years.
It hasn't always been perfect, but we are stronger today than ever before.
Through all of the change, all we've focused on is making great beers to share with you, our friends and neighbors.
The same great people, making the same great beer, endured a trying couple of years.
Why stay, you ask? Each other. Our passion. Our beer.
Longtime customers turned longtime employees still walk our brewery halls, and we've been here staying the course. Brewing the beer we want to drink.
We're all in the same dream, with the same goal. Every day, we pour our heart and soul into the beer we brew and into the family we've made.
Ballast Point is back, but in fact, we never left. 
The letter appears to follow the plan to return "flair" to the San Diego brewery, as Kings & Convicts co-founder and CEO Brendan Watters told CraftBeer.com in a December interview: "Kings & Convicts has always been a little roguish, a little anti-authority, and we're going to bring back that little bit of flair that's been lost as Ballast Point being part of a larger company."
Ballast Point's ownership by Kings & Convicts, which is another craft brewer, means the San Diego brewery now classifies as a craft brewer under the Brewers Association definition.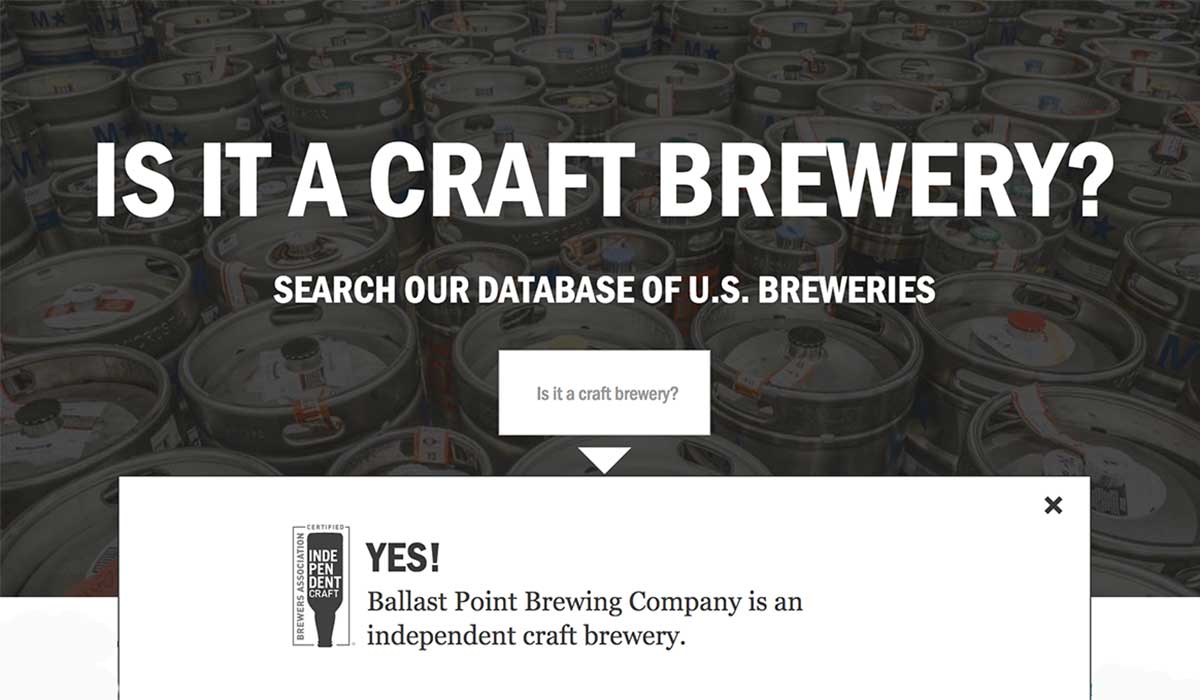 The Brewers Association, the Boulder-based trade group for craft brewers as well as publisher of CraftBeer.com, defines a craft brewer as small and independent. The BA's definition allows the group to keep data that helps support and inform its membership.
The BA says Ballast Point has adopted the Independent Craft Brewer Seal, the certified logo that helps inform beer lovers which breweries are indeed craft breweries. Kings & Convicts displays the seal on its beer cans. Watters told us in December, "Independence is not something we take for granted."
You can see the open letter from Ballast Point employees on the brewery's website.
CraftBeer.com is fully dedicated to small and independent U.S. breweries. We are published by the Brewers Association, the not-for-profit trade group dedicated to promoting and protecting America's small and independent craft brewers. Stories and opinions shared on CraftBeer.com do not imply endorsement by or positions taken by the Brewers Association or its members.