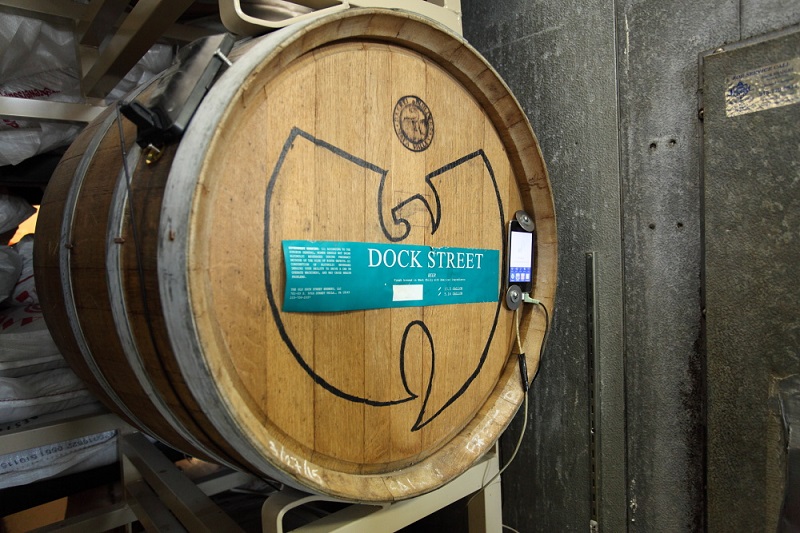 Dock Street Beer Ferments to 24/7 Loop of Wu Tang
Dock Street Brewery, one of the first post-Prohibition craft breweries to open in Philadelphia, is taking a 90s hiphop spin on barrel-aging beer with their upcoming release of Dock Street Beer Ain't Nothing to Funk With golden saison. The brewers at Dock Street have been serenading four red wine barrels full of their golden saison to a non-stop Wu-Tang Clan track list for the past six months.
The idea first came from head brewer Vince Desrosiers, who always wanted to do a music series paying homage to his favorite rap dynasty. With the help of brewer Sasah Certo-Ware, they created a speaker hook up to bump the music of the Wu-Tang Clan into the barrels 24/7.
"We wondered if the bass would cause enough vibration to move the yeast around and create some different flavors during fermentation," Desrosiers explains.
The idea that yeast will respond to music is not new. For years, the Italian brewer, Teo Musso, has been experimenting with playing different styles of music to fermenting yeast. Vibrations cause yeast to grow, producing greater flavor compounds.
When walking into craft breweries across the U.S., you'll often find that they have their music cranked up, but, is the music affecting the growth of the yeast? Dock Street Brewery is putting the yeast vibration theory to the test.
@therealelp I'm aging a beer with Wu tang. @runjewels is up next. pic.twitter.com/v2kUE0XkN5

— vincethebrewer (@vincethebrewer) May 21, 2015
After six months of aging, the end result is a golden saison coming in at 6.7 percent ABV. The beer is fermented using wild yeast strains and has a "new level of tart and funk," as described by Dock Street.
Dock Street Beer Ain't Nothing to Funk With will be released on November 4 at Dock Street's West Philadelphia brew pub. The launch party will begin at 5 p.m. and Wu Tang Clan's own Inspectah Deck will be there for the festivities. The party will also feature Wu-Tang-inspired beats from DJ Matthew Law and a screening of "Shaolin and Wu Tang." Bottles will be available for purchase at the brewery with a two-bottle limit per customer. Bottles can also be purchased online at DockStreetBeer.com.
As for whether or not the beats of the Wu-Tang Clan affected the taste of the beer? You'll have to find out for yourself.
"Wu-Tang Clan may be forever, but this beer ain't!" – Dock Street Brewery
CraftBeer.com is fully dedicated to small and independent U.S. breweries. We are published by the Brewers Association, the not-for-profit trade group dedicated to promoting and protecting America's small and independent craft brewers. Stories and opinions shared on CraftBeer.com do not imply endorsement by or positions taken by the Brewers Association or its members.