At a community center in the industrial city of Orange, N.J., Joe Mettle and Roger Apollon, Jr. proudly stand in front of an arched stained-glass window before class starts. The two former New Jersey charter school teachers and craft beer connoisseurs are the founders of EEB, which stands for Entrepreneurship and Equity in Brewing, a 10-week training program that provides Black, Indigenous, people of color (BIPOC), and other underrepresented individuals in craft brewing an opportunity to learn how to brew, and in turn, run a business.
This inaugural semester of EEB offers classes in brewing history as well as tasting and evaluating beer (and the necessary vocabulary). More than half the class load covers how to make beer—breaking down styles, basic chemistry and safety, and procedures to begin brewing at home. Each student even gets their own 5-gallon kit to practice with.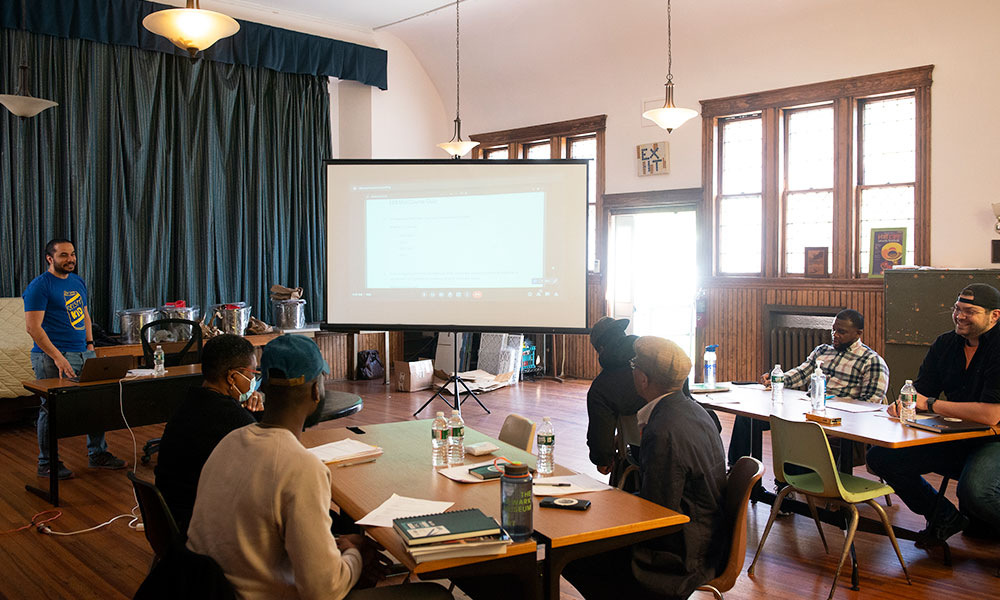 For Apollon, who's been homebrewing for the past decade and who opened Four City Brewing just footsteps from the Orange Transit station right before the pandemic, it wasn't until three years into running his brewery, that, as a Black man, he realized there weren't many others like him in the industry. With EEB, he hopes to extend the same kind of access he was lucky enough to have to everyone else.
Apollon has been a part of the craft beer world since creating the Brew Council, a tasting club run out of his living room, over a decade ago. "It was a once-a-month gathering that started with five guys and grew to 30. The idea was not only to drink beer, but also get educated," says Apollon. Guests like Thomas Maroulakos, owner of Skopos Hospitality Group in New Jersey, as well as Garrett Brown, regional sales manager for Firestone Walker, came to drop their knowledge on the group. "We even made polos and wore them to a beer fest (Essex County Turtle Back's Brew at the Zoo). Someone came up to me and asked where my brewery was, and that's when I started drawing up the Four City business plan," said Apollon.
While Mettle, a burgeoning entrepreneur, is admittedly a spirits guy first, his first foray into craft beer was through drinking with Apollon. Four City's The Keg Stand is his current go-to beverage, an American-style lager brewed with Heidelberg malt, flaked rice and corn, New Zealand Hallertau hops, and a house lager yeast that is designed for session drinking at 5.5 percent ABV.
If Apollon is the builder, then Mettle is the architect behind EEB. "The aha moment came at the height of Covid-19 when everything was shut down and we quarantined at home," says Mettle. It all started with a conversation by the fire pit in Apollon's backyard. "It was the day before Thanksgiving 2020, and we were talking about the lack of access to information for Black and brown people/minorities (in craft brewing)."
"We're creating this (EEB) out of necessity; there was no model," emphasizes Apollon. "People from all over the country are reaching out to us with similar ideas. There wasn't enough diverse talent in the industry when we looked around, so we had to grow it." They found their instructor, Michael Simone, at the brewery. When Covid-19 first emerged, Apollon lost his head brewer, and Simone, an avid homebrewer and frequent customer at Four City, stepped in to help—first brewing on the big system for six months, then turning his attention to educating others.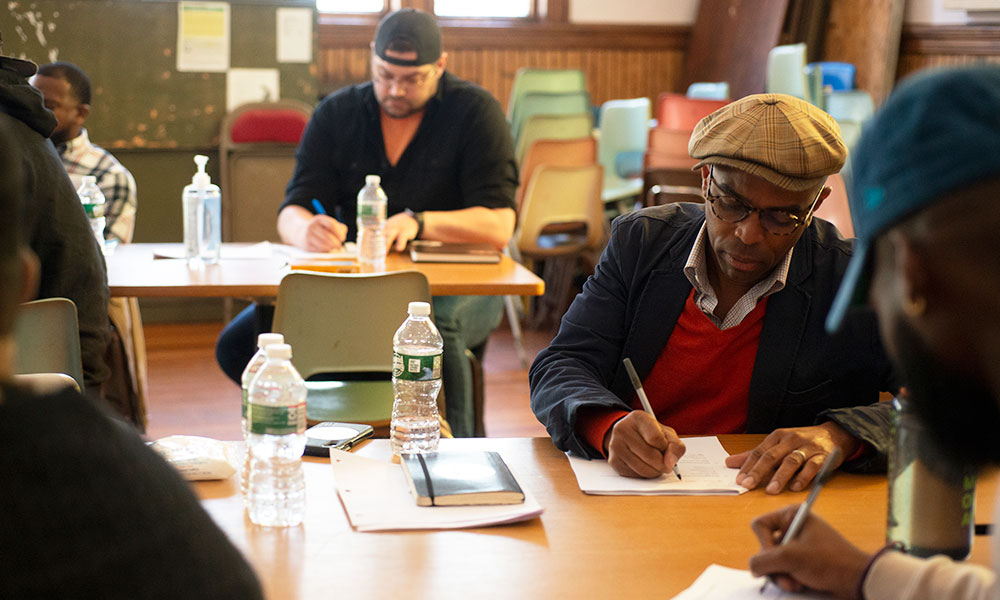 Mettle's longtime colleague and mentor, Dennis Thomas, is a seasoned corporate professional in marketing and sales, and an endless entrepreneur. He too offered his business expertise, beginning with developing a mission statement, as well as a marketing plan and budget proposals. Andrew Regenstreich, who's part of HANDS, Inc., a non-profit organization in Orange that supports local community development, is blocks away from the brewery and gives EEB space to hold their classes. "Ultimately, we'd love to have our own hands-on campus," says Apollon.
They've partnered with other brains in their community, but the guidance of Other Half Brewing in Brooklyn, N.Y., has really opened up the world of craft brewing to EEB. When Apollon worked at Pave Academy, a charter school in Red Hook, Brooklyn, he befriended Other Half owners Matt Monahan and Sam Richardson over beers during after-school happy hours, eventually dropping off homebrews for feedback. Even though Monahan and Richardson are not minorities, it was this shared sense of community that Apollon is trying to cultivate in New Jersey, and across cultures.
The inaugural class participants of EEB range from artists to healthcare professionals, all with varying interests in craft beer. Some just want to learn how to brew at home, while others are more than entertaining the idea of opening their own business. However, you don't have to pursue a path in beer to be a part of EEB. "I've learned a ton myself," says Mettle, who's now training to be a Certified Cicerone. "I've been studying for my certification, all self-paced and online, but being in front of Mike [Simone] and learning all the different details of beer has been extremely helpful, supplementing everything I've already been learning."
When it comes down to it, it's all about access. "Access to information," Mettle reiterates. "We're very familiar with being shut out just because of how we look, so we would never deny it to anyone." The initial aim for EEB was for BIPOC individuals, but it's not exclusive. "Discrimination or exclusion is bad," asserts Apollon. "We would never ask about how you identify," adding that the diverse cast of EEB students has added value to everyone's experience.
"Craft beer can be a way out, a freedom thing," Apollon preaches. "We're hoping the BIPOC population will find this as a great way to enter the industry. What we can do is open the doors."
CraftBeer.com is fully dedicated to small and independent U.S. breweries. We are published by the Brewers Association, the not-for-profit trade group dedicated to promoting and protecting America's small and independent craft brewers. Stories and opinions shared on CraftBeer.com do not imply endorsement by or positions taken by the Brewers Association or its members.