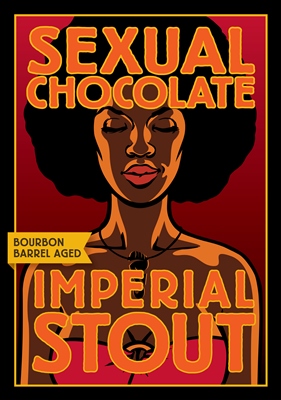 Foothills Brewing: Sexual History of Sexual Chocolate
When I came across a recent blog post by Foothills Brewing titled "Sexual History," I had to see what it was about. Turns out the brewery's annual release of the barrel-aged version of their imperial stout, Sexual Chocolate was released to their adoring fans on September 6. In honor of the release, Foothills shared the short history of the beer style, and what inspired brewer Jamie Bartholomaus to name this beer, Sexual Chocolate.
Beer History: The Russian Imperial Stout
Much like, India Pale Ale, the namesake country has little to do with the creation of the style. In this case, the name has more to do with the style's adoration by the Russian Emperor, Peter the Great. According to the Foothills blog, Peter the Great "took a trip to England in 1698 and, taking a brief respite from his native vodka, decided to try the dark local beer—and loved it. He thought, 'Hey this would go over big in the future Soviet Union.' Or something to that effect."
History of Sex-ual Chocolate
While the barrel-aged version of this beer is released in September, the original is released in February, to celebrate Valentine's Day. The cocoa-infused Sexual Chocolate weighs in at over 9 percent ABV, and attracts hundreds to the brewery every year to get their hands on this special release.
Check out the Foothills' blog Musings and Mashings, "Sexual History" to find out where the name came from.
CraftBeer.com is fully dedicated to small and independent U.S. breweries. We are published by the Brewers Association, the not-for-profit trade group dedicated to promoting and protecting America's small and independent craft brewers. Stories and opinions shared on CraftBeer.com do not imply endorsement by or positions taken by the Brewers Association or its members.