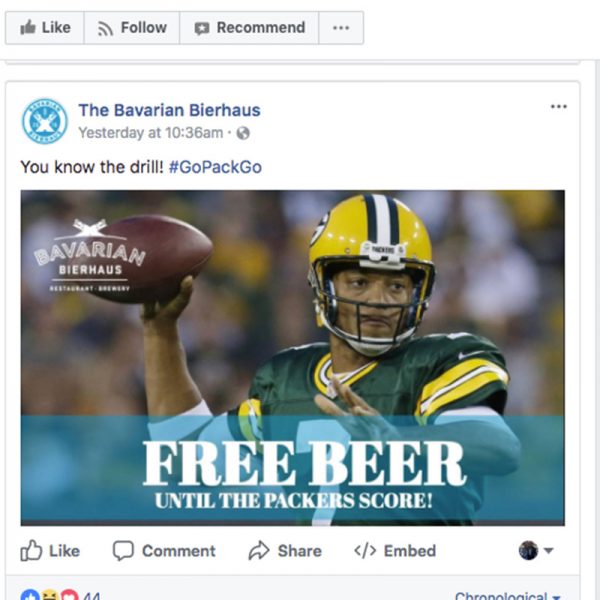 Brewery Offers Free Beer Until the Packers Score, But Here's the Problem …
Wisconsin loves their Green Bay Packers, but a Milwaukee brewery might be rethinking its show of team spirit after the Packers' lay a goose egg (translation for the non-sports initiated means they scored zero points) and it resulted in giving away a lot of free beer Sunday.
The Bavarian Bierhaus in Glendale, Wisconsin, a Milwaukee suburb, ran its "Free Beer Until the Packers Score" promo Sunday, Nov. 19. During a typical season, the free beer offer comes to a close pretty quickly.
But the Packers are dealing with a horrible string of games since quarterback Aaron Rodgers busted his collarbone in October. It's an injury that's been painful for Rodgers, painful for fans, painful for fantasy football owners, and now painful for the Bavarian Bierhaus.
(VISIT: Find a U.S. Brewery)
Sunday, about two hours before kickoff, the brewery posted to its Facebook page: "You know the drill! #GoPackGo," along with a graphic saying "Free Beer Until the Packers Score!"
Ouch. If only they had known …
As the game dragged on and the Packers remained scoreless, fans starting leaving classic comments on the brewery's post.
"You're going to go out of business!" Matt Hamrin exclaimed. Ron Fronsee asks "Free beer all week?!?!" (I mean, it IS the million dollar question, right?!)
(READ: Brewery Wants Your Old T-Shirts from Former Craft Breweries)
No word if the brewery plans to continue supporting the Pack by giving away free beer, but as of Monday at 2 p.m. ET, the free beer promotion was still front and center on the brewery's website. I guess we'll all have to wait and see. The Packers next game is Sunday night against the Pittsburgh Steelers.
CraftBeer.com is fully dedicated to small and independent U.S. breweries. We are published by the Brewers Association, the not-for-profit trade group dedicated to promoting and protecting America's small and independent craft brewers. Stories and opinions shared on CraftBeer.com do not imply endorsement by or positions taken by the Brewers Association or its members.