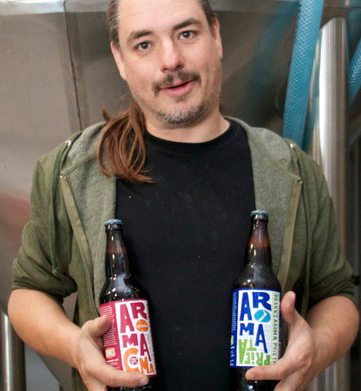 New Zealand Hops Offer Aromatic Options for Drake's Brewer
It's hard to overlook the deep appreciation—bordering on obsession—that craft beer enthusiasts have for hops. Most people understand that the use of hops in a beer provide a balance to other ingredients used in the beverage, particularly the sweetness of malt, but hops offer so much more than a refreshingly bitter bite.
Besides their natural preservative qualities, hops lend an array of flavors and aromas to your beer. Individual hop varieties exhibit various compounds which we perceive as distinct flavors and aromas. And similar to coffee beans or grapes, we find that the crops produced in the different growing regions of the world produce different hop qualities. Generally speaking, we describe American varieties as being citrusy, piney and resinous, while European hops range from floral, spicy and earthy.
In recent years, hops from the country of New Zealand have been well received by craft brewers and beer lovers for their intense tropical fruit and peppery character. One brewer that likes what these varieties offer is John Gillooly of  Drake's Brewing. Gillooly chose to use three of New Zealand's best known hop varieties in their latest release, Aroma Prieta.
In a recent Drake's Brewing blog post, "Head Brewer John Gillooly Talks New Zealand Hops," we learn a little bit about the brewer's preference for Kiwi hops and get the scoop on Aroma Prieta.
"When I stick my head into a box of New Zealand hops, I expect to get grassy notes with fruit overtones that smell more like melon than the usual citrus, with some higher spice notes thrown in," said Gillooly. "But better than smelling them is drinking them, so I'm glad to have another season to dig into Aroma Prieta and think about New Zealand hops."
Aroma Prieta India Pale Ale | 6.75% ABV | 75 IBUs
Shake out from Aroma Coma with Aroma Prieta. Aroma Coma's sister beer mirrors its twin starting with primarily American 2-row barley malt and a touch of Caramalt for body. From there, we turn things upside down. This time, Prieta leaves behind Aroma Coma's North American hops for some Southern Hemisphere hop action. New Zealand hops Nelson Sauvin, Pacific Jade and Motueka in the double dry-hop give Aroma Prieta huge notes of tropical fruit, gooseberries and grapefruit. Like Aroma Coma but different: breathe in these hops and enjoy. Available in July in limited release draft and 22-oz bottles.
Read more about Aroma Prieta and keep up with their latest brewery happenings on Drake's Blog.
---
CraftBeer.com is fully dedicated to small and independent U.S. breweries. We are published by the Brewers Association, the not-for-profit trade group dedicated to promoting and protecting America's small and independent craft brewers. Stories and opinions shared on CraftBeer.com do not imply endorsement by or positions taken by the Brewers Association or its members.