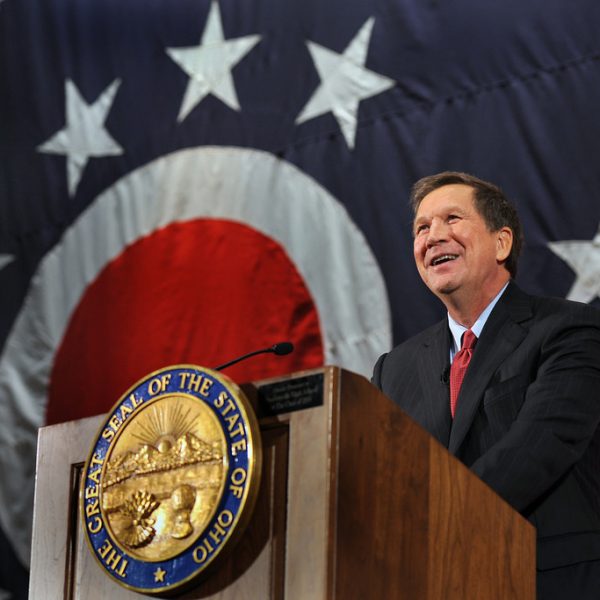 Ohio Craft Breweries Get Huge Boost as Gov. John Kasich Signs New Law
Ohio's craft breweries got a huge show of support this week as Gov. John Kasich signed House Bill 37, eliminating the state's ABV limit for beer.
The legislation removes the 12 percent limit on beers both made and sold in the state. As Ohio.com reports, the bill was specifically aimed at helping the Buckeye state's booming small and independent breweries.
Brewers explain removing the cap is about freedom to brew the bigger, bolder recipes that beer lovers demand.
"We can do something creative and not be restricted," Willoughby Brewing Co.'s Rick Seibt told Cleveland.com. Seibt said handcuffing brewers to a 12 percent limit was "like telling an artist he can only paint with three-quarters of his palette."
The move will also allow Ohio to be more competitive. Bordering states, including Michigan, Indiana, Kentucky and Pennsylvania already don't have limits. Rep. Dan Ramos points out the legislation is "important for leveling the playing field to let small business owners and brewers compete nationally."
Ohio was home to more than 140 craft breweries as of 2015, according to the most recent stats from the Brewers Association. Ohio's small and independent breweries attribute for about 2,500 jobs statewide, the Columbus Dispatch reports—a number that has tripled since 2012.
Some breweries, like Akron's Thirsty Dog, are already concocting recipes to celebrate the limitless cap. Co-owner John Najeway told Ohio.com they're working on a 16 percent British-style barley wine and a 14 percent Belgian-style strong ale.
HB 37 goes into effect in 90 days.
CraftBeer.com is fully dedicated to small and independent U.S. breweries. We are published by the Brewers Association, the not-for-profit trade group dedicated to promoting and protecting America's small and independent craft brewers. Stories and opinions shared on CraftBeer.com do not imply endorsement by or positions taken by the Brewers Association or its members.