My parents didn't drink much when I was growing up. Any alcohol that was in the house was hidden—hard stuff like vodka and tequila lived in a rarely opened cabinet in an armoire in the dining room, and what beer we had was stashed away in a second refrigerator in the garage. For years, the only beer that I ever saw in that fridge was Corona—and until I was much older, I thought that the only beer that existed was Corona.
Back then, it never occurred to me that Corona was only one type of beer—that it was a Mexican Lager. And while I'm not certain why it was my family's beer of choice, I have to posit that, as Cuban-Americans living in Miami, we chose this beer because it was marketed towards us in some capacity. When I asked my mom about it, she was surprised by the observation; it was never something she registered.
If so, it would hardly be the first time that Latinx people were targeted as one large bloc. Much in the way that my past self saw Corona as representative of all beers, most magazines, journalists, marketers—anyone who's talking to consumers—still tend to think of Latinx people as a single, homogenous group. As of this writing, Latinx folks make up 18% of the U.S. population, representing 33 distinct countries between Central and South American and the Caribbean, and account for 52% of the total population growth. Despite that range, just one style of beer, the Mexican Lager, has seemingly been nominated to represent us all, our backgrounds and countries of origin notwithstanding.
Painting in Broad Strokes
In applying such simplification to Latinx people, we invite assumptions about a vast group whose common threads are poorly understood and sometimes fabricated. (Even "Latinx" is an imperfect term that can be exclusionary of Black and Indigenous people.) This poor synthesizing has led to a muddled sense of what Mexican Lagers are and, more importantly, who they're for.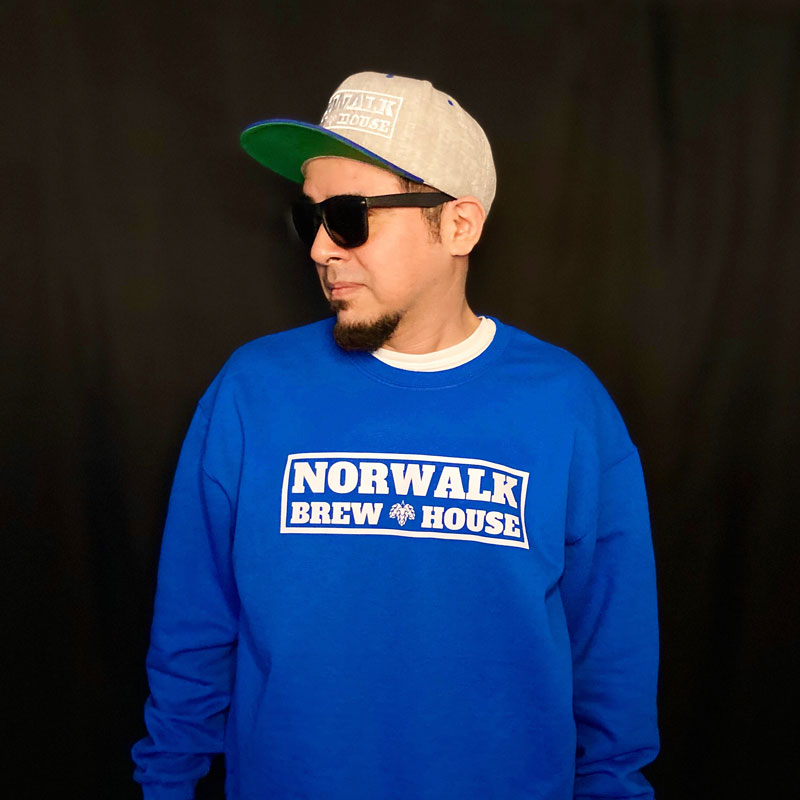 Mexican Lager isn't a recognized beer style according to the Beer Judge Certification Program, and without that direct guidance, brewers are often left to their own interpretations. Ray Ricky Rivera of Norwalk Brew House in Norwalk, California points out that it was German and Austrian settlers who came to Mexico and brought their own brewing techniques. This includes early variations of lager and pilsner.
"So, technically the Lager does not originate in Mexico," Rivera said. "Some argue that Mexican Lager is not a real thing, while others argue that it definitely has its own style and characteristics."
What is clear is how Mexican Lagers, made by white-owned craft breweries and multinational corporations, are so often marketed. Even if a brewery doesn't employ a potentially appropriative or simplistic image—like a sugar skull or a sombrero—many ads and labels borrow imagery from a few predictable places: a beach, the Mexican flag, an umbrella. To pretend the style has no clear-cut stance is to ignore the ways non-Latinx people in the United States perceive—and flatten—Latinx culture.
Adding to the confusion is the success and growth of Mexican-style Lagers over the last few years. Despite the style not having its own category in the Great American Beer Festival (GABF), Lone Tree Brewing in Colorado produced a Mexican Lager that won gold in the American-Style Pilsener or International-Style Pilsener category in 2017. Two Mexican Lagers—True North Ale Company's Cerveza and Cannonball Creek Brewing Company's Let's Talk About Mex!—won silver and bronze, respectively, at the 2020 GABF in the American-style Cream Ale category.
For the rise in prestige and recognition of these beers over the last few years, that goes against decades where the typical beer drinker—and the typical beer brewer—was not Latinx. In a 2020 Brewers' Association (BA) report on craft beer consumers, BA chief economist Bart Watson showed that even when Hispanic Americans' income rises, they don't consume craft at the same percentage rates as White Americans. Likewise, breweries tend to open in neighborhoods that are predominately white.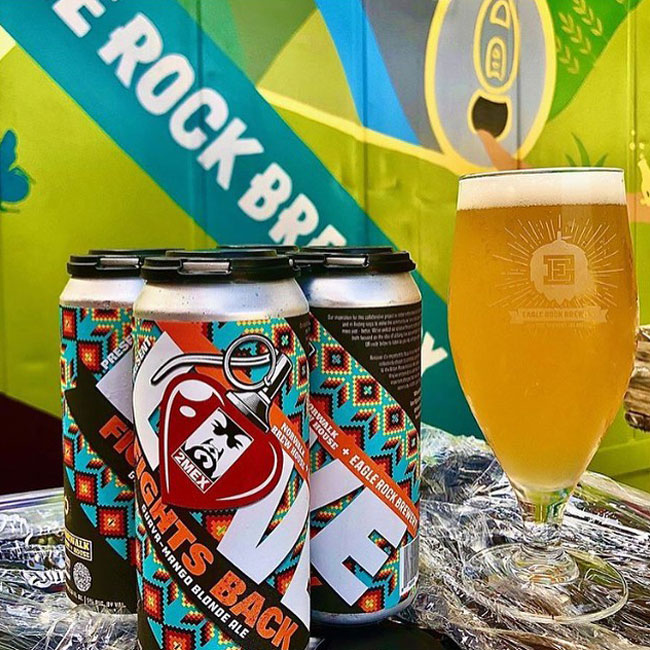 "Craft beer in general has largely left out the Latinx consumer," says Rivera, noting that this could change as more and more Latinx brewers enter craft—although many entrants have only found space in the craft beer scene in the last few years. "Today, Los Angeles now has 10 Latinx-owned breweries. Four of those opened in 2019."
For those breweries that aren't Latinx-led, Rivera has noticed some high-profile partnerships attempting to align with and appeal to Latinx consumers though celebrities like comedian George Lopez and actor Danny Trejo, or using marketing that borrows from Latinx culture, like Dia de los Muertos.
"My belief is that what we're seeing now with both big beer and independent craft beer is a scramble to catch up," he said. "In short, beer needs the Latinx consumer if it's going to continue to grow."
Politics and Beer Collide
This rhetoric—that the Latinx consumer must be appealed to in times of need, and that they can be marshalled to rescue the beer industry's future (a struggle familiar to other marginalized groups)—is one we've seen play out in the political sphere.
"For years, Latinos had been talked about as a constituency that could help Democrats create a durable political majority at the federal and state levels, but the party had struggled to effectively engage them," wrote Stephania Taladrid for The New Yorker. During the 2020 United States presidential election, Latinx people were either written about as a demographic who could step up and to help deliver victory for Democratic candidates—or as a confusing voting bloc too complex to understand. "Hence, the last-minute 'Despacito' mirage tactics that characterized Biden's appeals to Latinx voters, relying on the Hispandering view that trotting out a hit song at a Hispanic Heritage Month event is all it takes to reach Latinx voters, or that focusing on television ads rather than community building is enough," writes Arlene Dávila for Vice.
The last-minute "Hispandering" of Latinx voters that Dávila describes can be seen in beer, especially when we look at the rising popularity of imported Mexican Lagers over the last few years—in 2013, 1.8 trillion liters of beer were imported through Mexico. By 2020, that number was 3.1 trillion. As imported Mexican Lagers grow and prove their staying power during times of crisis like the COVID-19 pandemic, more brewers are taking notice, and attempting to add Mexican-style Lagers to their own tap lists to meet a growing demographic need—one that is perhaps long overdue.
It would be impossible to prove this definitively without better information about breweries that make Mexican-style Lagers (Watson mentioned there were no stats on this), but a quick peek at IRI-tracked data shows a number of Mexican-style Lagers joining brewery portfolios across the nation in the last few years. Some of the beers show up in breweries in California and Texas, which have the first- and second-largest Latinx-American communities (Revolver Brewing in California and Saint Archer in Texas both added Mexican-style Lagers to their lineup in 2019) but they also pop up in breweries in Alabama (Good People Muchacho Mexican Style Lager in 2018), Kentucky (West Sixth Cerveza Mexican Style Lager in 2018), and Wyoming (Melvin Heyzeus Mexican Style Lager in 2017).
More Latinx people are coming to the United States, they've proven their buying power through dominant Mexican-import sales, and, as Rivera mentioned, breweries are starting to notice. But is that what's really happening?
The use of language has shaped how we view Latinx communities in the United States. The idea of a word to define people of Latin American descent was only formally codified in the 1970s. "Despite the long history of Hispanic residents in the United States, there was no systematic effort to count this group separately in the census until the late 20th century," the Pew Research Center shares in a report on the history of the word 'Hispanic' on the United States Census. The Census Bureau didn't introduce the word "Hispanic" on forms until 1970, asking participants to answer the question: "Is this person's origin or descent: Mexican, Puerto Rican, Cuban, Central or South American, Other Spanish?" It wasn't until 1980 that the question of Hispanic identity appeared on all census questionnaires, and even though the exact question has changed and evolved, it still tends to skew toward grouping people together.
A Double-Edged Sword
In the face of this flattening of identity, a growing number of Latinx brewers are opting to produce beers that speak to their backgrounds and communities with more clarity and specificity.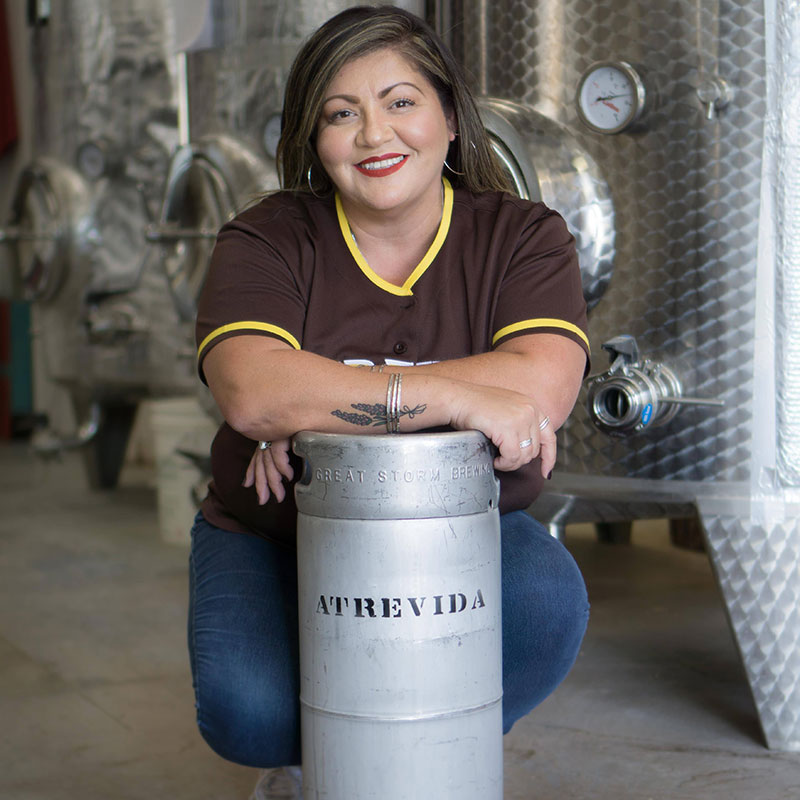 "Every single beer has some type of reference to either my culture or to someone else's," Jess Fierro, founder of Atrevida Beer Co. in Colorado Springs, said about her own tap list. Her menu is varied, borrowing not just from her own cultural touchpoints of growing up in a Mexican-American household, but collaborating with friends and colleagues to build beers with a story and a statement. "I make a beer to honor Juneteenth, a beer to honor Pride called Christopher Street, and beers to honor my friends."
And yet, the fact that she's of Meixcan heritage still invites stereotypical questions about the types of beers she should be brewing. "I've had folks come in and—it took me forever to make a chili beer because that's what everyone wanted. 'Oh, you're Mexican, where's the chili beer? Where's the mole beer?'"
Fierro opened her brewery in 2018, and it wasn't until a year later she brewed a Mexican-style Lager, which she named Dolores Huerta, after a labor leader who was the co-founder of the National Farmworkers Association. The Dolores Huerta Lager was part of a series of beers Fierro made that were all true-to-style, and in a way a response to comments she said she heard about her beers. "The rumor that was going around was that Jess—meaning me—was getting all this hype because she's playing the Latina card, she's playing the woman card. She makes all these beers, but they're spiced. They're fruited. Can she make any true-to-style beers?"
The dichotomy of expecting certain things from Latinx brewers—like mole and spiced beers—and then admonishing them for not following a set of rules deemed necessary to be considered legitimate is a reality people who occupy any marginalized identity must endure. And it's a reality Fierro has always faced directly.
"They want to put me in this box. And they can't because I refuse to stay in it," Fierro said. "I wake up as a woman and a Latina every day of my life. I don't get to play those cards. That is who I am."
Reclaiming Identity with Specificity
Some Latinx-owned breweries are also looking to move beyond the near-ubiquitous "Mexican" appellation. The Tank Brewing Co. in Miami is reverse engineering the process with Padron, a beer that it calls a Cuban-American Lager. Miami, like Los Angeles, is a city where the majority of the population not only identify as Latinx, but also identify as being from one particular country.
Initially, Tank Brewing Co. had set out to make a beer inspired by Mexican-style Lagers, but also wanted to acknowledge that its main demographic would be Cuban-Americans. Its beer is designed for the audience it serves, rather than based on a perceived trend. It's especially poignant that it labels the beer "Cuban-American" rather than "Cuban," further acknowledging its particular customer base.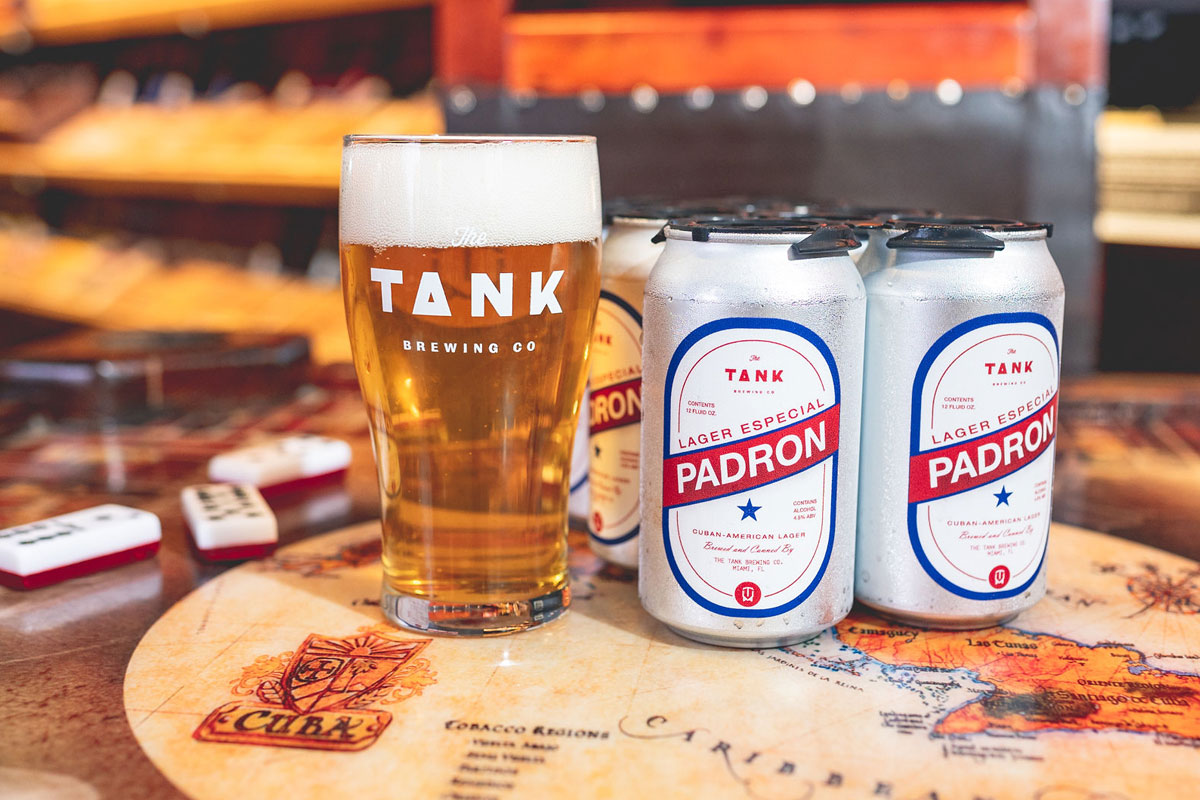 "I wanted to introduce a maltier, sweeter, less hoppy Lager to our portfolio. We had made a Mexican-style Lager, so I started thinking, 'Maybe we could call this a Cuban Lager,'" says Moh Saade, director of brewing operations for The Tank Brewing Co. (and a lifelong Miami resident). "I didn't really like the idea because it didn't feel like it hit home like for us. But then I was like, 'Well, you know, this is Miami, everybody's Cuban, but they're really Cuban-American.'"
The beer evokes a retro vibe, which makes sense—because of embargoes placed on Cuba by the United States, Cuba is known for its classic cars—but it also speaks to Miami residents without being predictable or overly simplistic. "What we're trying to do is to create meaningful stories behind the beer," Saade says. "It's not just like, 'Oh, let's put a Cuban flag on it and let's speak Spanglish.'"
Saade's effort shows there are ways to evoke identity and speak to a specific audience without lumping people together. At The Tank, it was as simple as looking at the customer base around the brewery, and being intentional when addressing that audience.
What Would We Be Drinking?
I'm not sure that, if The Tank had been brewing these beers when I was a kid, they would be something my parents gravitated towards. But it is interesting to see children who grew up seeing brands like Corona in their homes and grocery stores reclaim what a Mexican Lager can be. "These are the beers we'd see everywhere—you'd see them in corner stores but then you couldn't find fresh produce because the community is a food desert," says Alex Ruiz of South Central Brew Co. in Los Angeles.
Ruiz teamed up with two of his childhood friends and hopes to reclaim beer culture in their neighborhood, including using a tagline for their business of "Making it happen in our hood before them developers do," a callout to the harm of displacement and gentrification.
South Central's beers highlight tangible people, issues, and ideas within Ruiz's community. Los Vendors, a wheat beer with pineapple and mango, calls attention to street vendors and proclaims on the label that they should be legalized. A second iteration of that beer, Los CarWasheros, donates proceeds from sales of the beer to car washers, who have been severely impacted during COVID-19.
If Ruiz were brewing in Miami, his beers would be different. If The Tank released Padron in Los Angeles, it'd likely have a different name. Identities are personal, varied, and hard to simplify, and that's what breweries who co-opt imagery of wrestlers and piñatas are missing. No one wants anyone to stop brewing or enjoying Mexican Lagers. But a nuanced look at what you're brewing, how you market it, and who you consider your audience is key to brew respectfully and in a way that welcomes a diversity of drinkers.
The Brewers Association and Craftbeer.com are proud to support content that fosters a more diverse and inclusive craft beer community. This post was selected by the North American Guild of Beer Guild Writers as part of its Diversity in Beer Writing Grant series. It receives additional support through a Diversity and Inclusion Grant by the Brewers Association Diversity Committee and Allagash Brewing Company.
CraftBeer.com is fully dedicated to small and independent U.S. breweries. We are published by the Brewers Association, the not-for-profit trade group dedicated to promoting and protecting America's small and independent craft brewers. Stories and opinions shared on CraftBeer.com do not imply endorsement by or positions taken by the Brewers Association or its members.