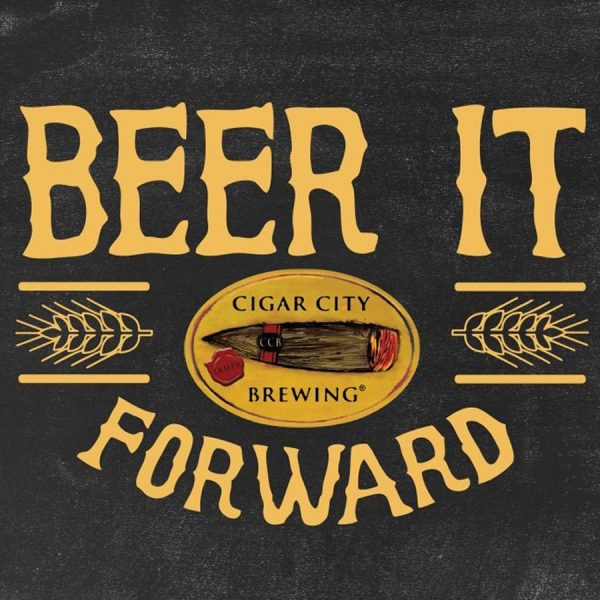 PHOTOS: Creative Ways to 'Beer It Forward' During American Craft Beer Week
Beer it Forward: the act of doing selfless deeds under the guise of craft beer. (It's basically Pay it Forward, but with beer).
We liked the idea so much that we dubbed it the theme for American Craft Beer Week this year. It mirrors the charitable and community ideals that are important to so many small and independent breweries.
(INFOGRAPHIC: How to Beer It Forward)
In addition to the theme being a fun hashtag, we are delighted to see breweries, retailers and beer lovers are taking it to heart.
The Beer It Forward photos below show creative ways people are giving back and spreading the word on Instagram and Twitter.
Don't forget to tag your own photos on Twitter and Instagram with #beeritforward. We want to see how you're celebrating.
But if you're stuck on how you can beer it forward this week, we hope these ideas give you inspiration.
American Craft Beer Week runs through May 21. There is lots of time to get out and visit a brewery, toast America's small and independent craft brewers.
(EVENTS: Find American Craft Beer Week Events Near You)
---
#BeerItForward to Friends AND Charities
Brewery Legitimus provided fans with steps to take part in American Craft Beer Week (ACBW) by Beer(ing) It Forward.
The Hartford craft brewer made it official by creating forms. Through ACBW, fans can request the form. Fill out the form and pay for a beer for a friend.
In addition to giving fans a way to #BeerItForward, they are donating $1 from each of those purchases to charity.
Won't You be My Neighbor?
Michigan mainstay The Livery has embraced the simplicity of how to beer it forward.
To kick off American Craft Beer Week, they walked to their nearest neighboring business to gift them some of their latest release.
The Livery crew visited Thayer Products, a cleaning supply company to drop off a growler of Bangtail Double IPA. How cool!
Honoring Teachers
American Craft Beer Week isn't the only reason to celebrate. In addition to Nurses Week and Burger Month, ACBW shares the week with Teacher Appreciation Week. Cigar City combined the two by encouraging people to show their appreciation to teachers.
"The Cigar City Brewing Tasting Room team will be "beering" it forward in a week-long extension of Teacher Appreciation Week during American Craft Beer Week. Our teachers help to craft future generations of beer-drinkers and deserve a beer at the end of a long school year," explains Cigar City.
The purchases are tracked on a board in the tasting room.
"Guests may advance purchase a pint (or equivalent size) of beer for $7 and leave a thank you note for the next teacher to come in and present their current teacher ID card."
If you'd like to buy a teacher a Cigar City beer, read all of the details here.
Craft Beer Cellar, Various Locations
The New England-based better beer shop has taken the beer board off-premise, making it possible for shoppers to beer it forward.
Cheers to the Troops
Like CraftBeer.com Publisher Julia Herz says, "What feels good, tastes even better."
Emily Bennett, aka @MittenBeerGirl on Instagram, knows what Julia means. She was able to #BeerItForward and show support to service members.
How can you #BeerItForward this ACBW?
CraftBeer.com is fully dedicated to small and independent U.S. breweries. We are published by the Brewers Association, the not-for-profit trade group dedicated to promoting and protecting America's small and independent craft brewers. Stories and opinions shared on CraftBeer.com do not imply endorsement by or positions taken by the Brewers Association or its members.