For beer lovers, is there anything more visually stunning than an expertly poured glass of beer? No matter the style, a beer poured into a beer clean glass enhances the overall experience. That's why we're celebrating the inaugural #BeerCleanGlassDay on April 25 and invite you to join the Cicerone® Certification Program efforts to highlight this simple, but sometimes overlooked aspect of beer enjoyment. Beer Clean Glass Day raises awareness about appropriate service standards and lets you thank those bars, restaurants and breweries who maintain them.
"To get a beautifully poured beer you have to have a beer clean glass," says John Scholl, marketing manager for Cicerone. "Even though many establishments have suitable cleaning procedures and sanitized glassware, it doesn't mean that it's truly beer clean glassware. Guests are rewarded when they visit a business that puts in extra effort to their beer program."
(Learn: CraftBeer.com's Beer 101 Course)
What is Beer Clean
It may seem obvious to want a clean glass for your beverage. Beer requires an elevated level of clean. Simply put, it's not clean until it's beer clean.
The Brewers Association's Draught Beer Quality Manual describes beer clean as, "free of visible soil and marks but also free of foam-degrading residues, like soap, grease or fat."
Beer's carbonation easily reveals residue on a non-beer clean glass by producing bubbles which cling to the dirty spots. A beer clean glass is free of bubbles clinging to the inside and produces a lasting cap of foam which will deposit lacing down the glass as the beer is enjoyed.
(Related: 5 Cardinal Sins of Craft Beer Service)
Celebrating a beautiful, beer clean glass and recognizing the beer-centric establishment that take pride doing it right is not a difficult ask. Cheers to beer clean glassware and a complete beer experience. To participate, tag #BeerCleanGlass in photos of beautifully poured beer across social media on April 27, 2019.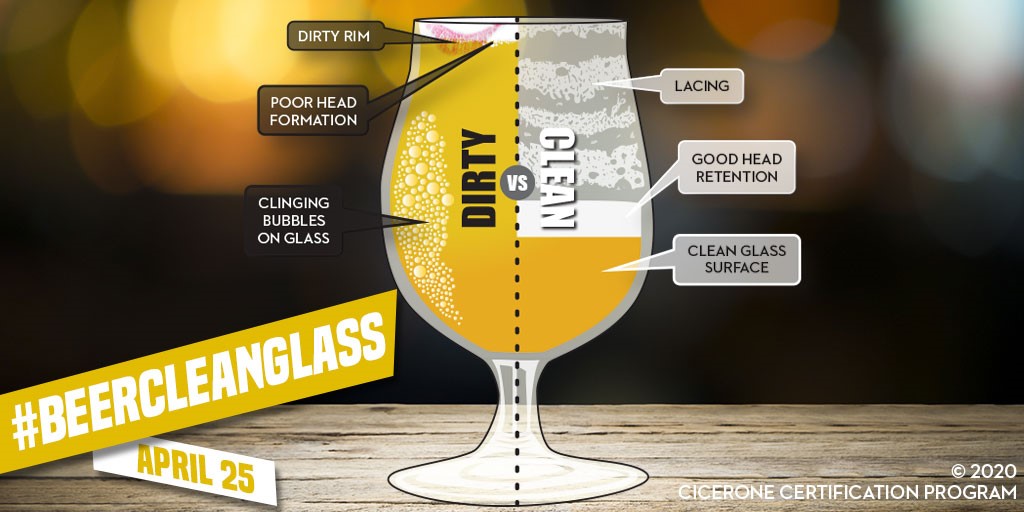 For more resources on beer service procedure, as well as, to download a free copy of the newly enhanced Draught Beer Quality Manual, visit DraughtQuality.org.
CraftBeer.com is fully dedicated to small and independent U.S. breweries. We are published by the Brewers Association, the not-for-profit trade group dedicated to promoting and protecting America's small and independent craft brewers. Stories and opinions shared on CraftBeer.com do not imply endorsement by or positions taken by the Brewers Association or its members.