Boulevard Comes to Brooklyn! A Boulevard Brewing Co. Tap Takeover at Covenhoven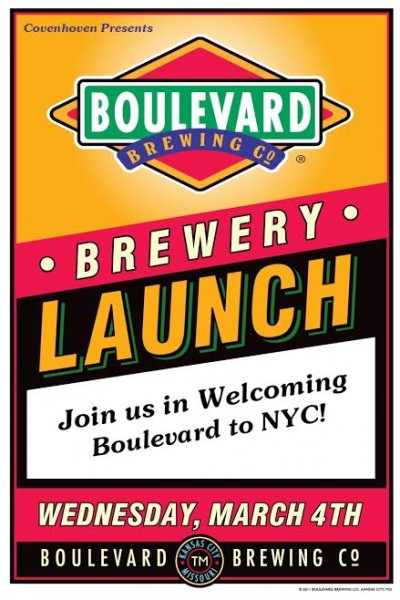 Beerded Ladies and Covenhoven are proud to present BOULEVARD COMES TO BROOKLYN, a tap takeover and brand launch featuring Kansas City's award-winning Boulevard Brewing Company!
On Wednesday, March 4th, Covenhoven will host an all-night tap takeover showcasing an exciting draft and bottle selection from one of the newest and most anticipated craft brands to enter the NYC market this year, Boulevard Brewing Company. A spirited mix of trusty IPAs, inventive Seasonals and Belgian-inspired mainstays dominate this Brooklyn launch lineup. Boulevard's reps will also be on hand to welcome the crowd and introduce their fleet throughout the evening.
Boulevard Comes to Brooklyn: Tap & Bottle List
Draft:
Tank 7
The Calling
80 Acre
Single Wide
Pop Up IPA
Spring Saison
Harvest Dance
Imperial Stout
Bottles:
Saison Brett, Imperial Coffee Stout, Chocolate Ale, Bourbon Barrel-Aged Quad, Collaboration No. 4 Spiced Saison, Spring Belle Saison
About Covenhoven: "There were a lot of big places with lots of beer that opened this year, but gems like Covenhoven don't come around very often." –Brew York