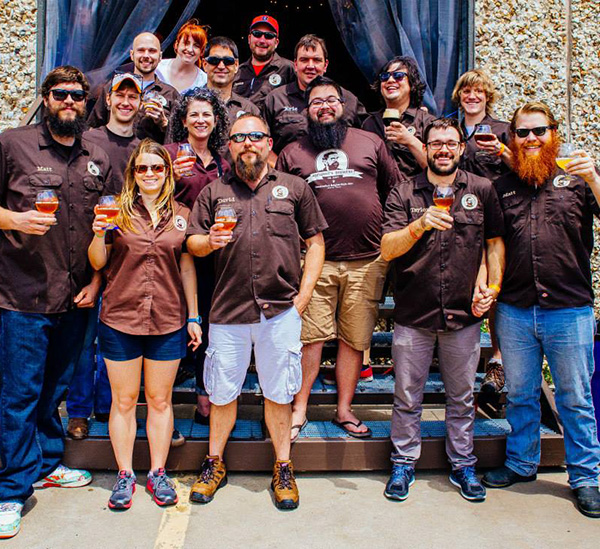 Adelbert's Brewery
In North Austin, in the heart of Texas, you'll find Adelbert's Brewery—a brewery dedicated to adding their own unique spin on Belgian-style beers. Adelbert's officially began production in 2010, and made its first official sale in late 2011. Founder Scott Hovey, wisely decided on a location that had plenty of room for expansion when he moved the brewery into a 10,000-square-foot facility in America's second largest capital.
Their lineup of core beers includes standouts like Black Rhino (Belgian strong dark ale), an earthy ale with hints of coffee and cocoa that pours as dark as the name suggests, and Scratchin' Hippo, a bière de garde brewed in the style of a traditional, rustic artisanal French farmhouse ale. Impressively, all seven core beers are versions of Hovey's original homebrew recipes.
After trying one of their Flyin' Monks a quadruple conditioned on oak cubes from Spirit of Texas Distilleries' Pecan Street Rum, you will see why Hovey was comfortable in turning his hobby into a career.
"Del" Hovey
Adelbert's is named after George Adelbert "Del" Hovey, Scott's brother who passed away in 2000. Each beer tells a different story from Del's loving and free-spirited life (the story behind Naked Nun wit is my favorite). This makes for an endearing experience when you sit down with an Adelbert's beer, look at the label, read the story and feel like a bit of Scott, his family and "Del" is being shared with you.
Being able to reach your customers on an emotional and intuitive level is something Adelbert's does well, and it creates a bond and a loyalty that I believe personifies the craft beer family. This customer connection with the brewery has contributed to their success as well. The brewery produced 3,000 barrels in 2013, nearly twice the volume they did the year before—creating the need to add fermenters in 2014 to increase their production capacity.
An Experience
"Our beers are about an experience" Adelbert's General Manager Sarah Zomper says. "They aren't the beer you drink floating down the river or at a tailgate. From the start with the presentation of the 750mL (corked) bottle and cage you get an experience. That continues into the Champaign-like pop you get when you open a bottle, which tells you that you are in for a good time with a great beer. In addition, on every bottle we put a story behind the beers name and recommend food pairings. This is not unlike many of the great beers, it's not just fermented liquid in a jar, it's an experience, there's a procedure and it makes it all the more worth-while and memorable."
Vintage Series
Adelbert's doesn't officially follow a seasonal format, instead they like to focus on special releases like their Vintage Series. With this series, they pick one of their year-round ales to age up to a year in barrels. This process is rare due to the time consuming nature of their beers to begin with. But, Adelbert's is excited to debut an addition to their Vintage Series this summer named Contemplating Waterloo—their Philiosophizer saison aged in gin barrels from Treaty Oak Distillery's Antique Waterloo Gin.
Reflections 
In the great state of Texas, craft beer is beginning to become easier to come by, and a number of remarkable breweries are beginning to emerge. There's something special about Adelbert's Brewery, the good natured people, knowledgeable beer-loving employees and warm Texas weather all seamlessly fuse to produce an atmosphere of craft beer nirvana.
"Del" lives on through the stories printed on the labels of Adelbert's corked monuments, which are shared by friends and vocalized in reverence by those who knew him. He led a life of adventure and love and his spirit is ushered forward by these stories which keep his memory alive.
---

Allan Wolfe is a craft beer brewer, reviewer and whisky connoisseur who also runs BeerandWhiskeyHQ.com. Allan's passion is finding out why and how different beers taste the way they do. Besides brewing, you'll find him playing music, reading books, playing with his dogs and enjoying his favorite pint or dram. He's always open to answering questions, talking beer or teaching anyone who is willing to listen about distilling!
CraftBeer.com is fully dedicated to small and independent U.S. breweries. We are published by the Brewers Association, the not-for-profit trade group dedicated to promoting and protecting America's small and independent craft brewers. Stories and opinions shared on CraftBeer.com do not imply endorsement by or positions taken by the Brewers Association or its members.